Stood above on the podium before, eventually made everyone expect the same again. Similarly, here's the biography of the British gymnast, Max Whitlock.
Whitlock is all set to present his best in the upcoming Olympics. As the Tokyo Olympics is his third Olympic game, the player is prepared mentally and physically. In fact, he had claimed medals on his previous games.
On the other hand, this time, as his small family member will support him, Whitelock is more excited about it. Thus, he is such a family boy who truly appreciates family support.
Besides Olympics, Whitelock also had claimed several national achievements and championships.
Accordingly, the athlete competes in artistic gymnastics in different forms.
Again, with very keen devotion and harsh competition, Whitlock motive himself to give his best. And for such motivation, he was so much prepared mentally from his first Olympics days at 19.
Leading life to successful athletic life, Whitelock also has the support of his brand endorsements and sponsorships.
Meanwhile, the athlete has been into so many countries representing his, with fullest.
Quick Facts
Knowing more about Max Whitlock, here are some of the bases of the quick fact on his life as shown below:
Full Name
Max Antony Whitlock
Known as
Max Whitlock
Nickname
Maxi
Birth Date
13th January 1993
Birth Place
Hemel Hempstead, Hertfordshire, England, United Kingdom
Residence
Basildon, Essex
Religion
Christian
Nationality
British
Ethnicity
White
Education
N/A
Horoscope
Capricorn
Father's Name
Brian Whitlock
Mother's Name
Madeleine Whitlock
Siblings
N/A
Age
30 years old
Height
5'6″ (167 cm)
Weight
62 kg (137 lbs)
Eye Color
Grey
Hair Color
Black
Body type
Athletic
Profession
Gymnast
Marital Status
Married
Spouse
Leah Hickton
Children
1
Name of Children
Willow Whitlock
Beginning of Professional Career
2008
Retirement
N/A
Sports team
South Essex Gymnastics Club
Coach
Scott Hann
Honors

The Prize for Elegance at the World Championships Member of the most excellent order of the British Empire
British Gymnastics' Most Outstanding Athlete of the Year

Net Worth
$1million-$5 million
Social Media
Facebook, Instagram, Twitter
Merch
The Whitlock Workout
Last Update
May, 2023
Max Whitlock | Personal Life & Family
Starting from, Max was born on 13th January 1993 in Hemel Hampstead. In brief, he is the son of mother Madeleine Whitlock and after Brian Whitlock.
In addition, Max himself is also the parent to his daughter Willow, with his wife, Leah. Physically, this artistic gymnast is 167 cm tall with 63 kgs of weight.
Furthermore, he has trained from the South Essex Gymnastics Club.
Relating more about sports, Whitlock's life partner Leah herself has worked as an artistic gymnast coach at South Essex Gymnastics Club, England. In fact, for better guidance, his coach Scott Hann is also his own brother-in-law.
With a motive to have many improvements, Max Whitelock usually trained for about 20 to 25 hours a week.
See Bobby Okereke Bio: NFL, Contract, Assault & Net Worth >>
Max Whitlock | Career
Beginnings
Earlier, one of the friends from a swimming club introduced Max to gymnastics at seven. Since then, he joined the Sapphire School of Gymnastics in Hemel Hempstead.
Consistently, after twelve, just after his coach came to Slovenia, Whitlock followed to Maribor to continue training.
Similarly, after three months of training, he joined South Essex Gymnastic Club in Basildon.
Finally, having coach Scott Hann, Max attended Longdean School in Hemel Hempstead.
Nevertheless, Whitlock claimed gold just at the age of 17 on pommel horse and floor. Also, he ranked second all-around at the Junior European Championships in Birmingham.
Senior Professional Career
Consequently, playing professionally from the age of 17, Max also got the opportunity to participate in the 2010 Commonwealth Games. There, he claimed the silver medal in the men's artistic all-around team event.
Additionally, he won the silver medal in the men's pommel horse and bronze for the men's horizontal bar.
Up until the year 2011, Max Whitlock was eligible to be a representative for the British men's team.
Thus, he went to one of the 2011 World Artistic Gymnastics Championships in Tokyo, Japan.
Summer Olympics
Immediately after competing in the global Championships, Max also was a member of Britain's gymnastics team. Meanwhile, the team was for the 2012 Summer Olympics held in London.
Adjacently, he succeeded in claiming the bronze medal, becoming the first men's team to win a medal since 1912. Similarly, he also received the bronze medal in the pommel event final.
In fact, the bronze he claimed in 2012 broke the record of the previous year's silver medalist player.
Accordingly, in 2016, Great Britain selected Whitlock and his teammates for Great Britain's 2016 Olympic gymnastic team. There, he claimed a bronze medal in an all-around gymnastics event.
Later, he won the gold medal in the individual floor exercise ranking as the third British gymnast to have gold. In fact, he claimed second gold in the individual pommel horse.
Here's Patrick Hausding Bio: Wife, Diving & Tokyo 2020 >>
European Championships
Moreover, Whitlock competed at the 2013 European Championship. The young athlete won the gold medal in the floor exercise, silver in the individual all-around competition.
Also, the Olympian claimed the bronze medal in the pommel horse with the point number 15.500.
Similarly, in the 2014 European Championship in Sofia, he claimed a silver medal with his four teammates. Max even won a gold medal in the pommel horse.
Watch Max Whitlock's Olympics Performances >>
The same year, Whitlock compete at the World Artistic Gymnastic Championships in Nanning, China.
Despite having some difficulties for qualification, Max later competed as replacing one of his teammates who suffered from a wrist injury.
After all, he made up to the silver medal-winning against Kohei Uchimura to have his fifth World All-Around Championship.
Commonwealth Games
Simultaneously, with his teammates at Commonwealth Games, Whitlock took gold, including artistic individuals all-around as well.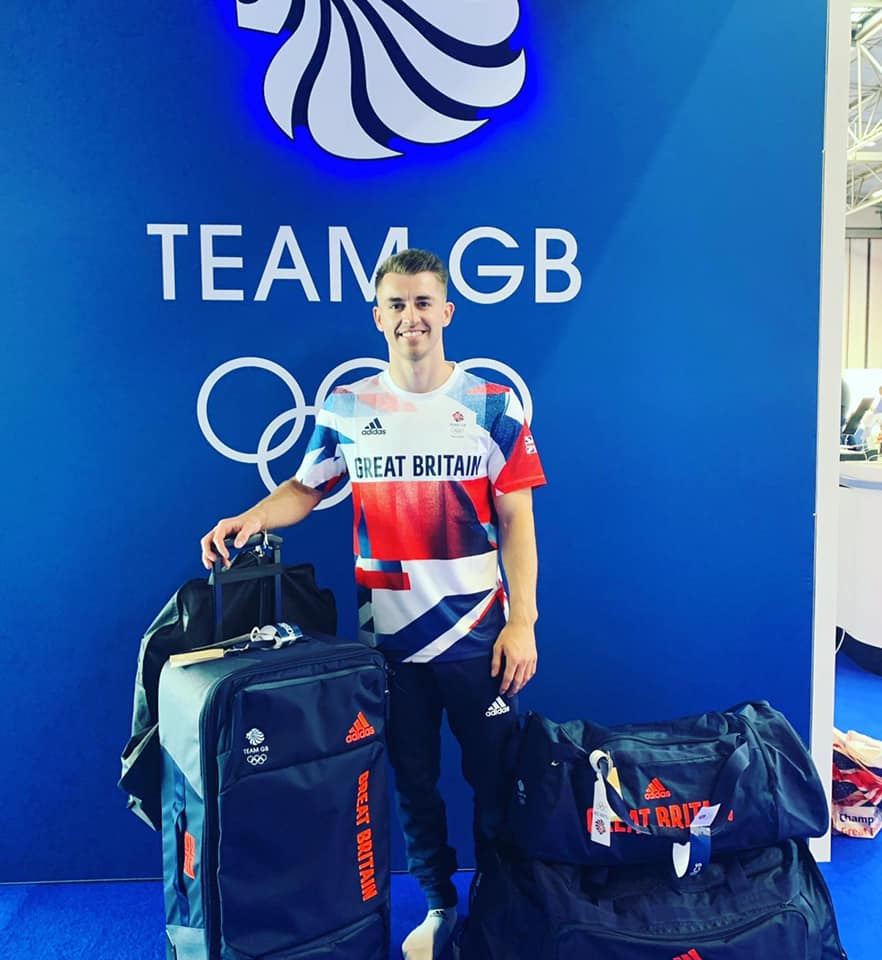 Altogether, he won his third gold in the Men's Floor final and silver in the Pommel Horse final. Likewise, bronze in the parallel bars is final.
Glasgow
Notwithstanding, Whitlock competed in the 2015 World Artistic Gymnastics Championships in Glasgow. Despite some mistakes during qualification rounds, Max got the place for the individual all-around final.
Although Whitlock did not compete as a group that year, individually, they finished strongly on the Floor to have a place for the top 8 players. Overall, he claimed the silver medal on the floor.
In fact, he won a gold medal, becoming the first British man to win World Championship on the pommel horse. While his other teammate to play individual claimed the silver medal.
In 2016, he won the all-around at the Glasgow World Cup, gaining the highest floor and pommel horse scores.
You might also have interest in Sebastian Coe Net Worth: Salary & Career Earnings >>
Max Whitlock | Injuries
In the middle of giving his best, in 2015, Whitlock had to withdraw from the Great Britain squad during the European Championships in Bern, Switzerland.
Similarly, he did not participate in the floor exercise and pommel horse events for the Championships in Montpellier, France.
Max Whitlock | Awards & Achievements
Delhi Commonwealth Games: 2X Silver, One Bronze (2010)
London Olympic Games: 2X Bronze (2012)
Glasgow Commonwealth Games: 2X Gold, 1 Silver, 1 Bronze (2014)
The Prize for Elegance at the World Championships in Glasgow, Scotland (2015)
World Championships: 1 Gold, 2X Silver (2015)
Rio Olympic Games: 2X Gold,1 Bronze (2016)
2017 Most Excellent Order of the British Empire [MBE] member
World Championships: Gold (2017)
Gold Coast Commonwealth Games: 1 Gold, 1 Silver (2018)
British Gymnastics' Most Outstanding Athlete of the Year by echo-news.co.uk
3X European Champion
6X World Medalist
Max Whitlock | Net Worth
Having such a remarkably inspiring athletic life, Max definitely lives in luxurious life.
Specifically, having primary earning as gymnastic, Whitlock's net worth is estimated to be between $1 million to $5 million.
Max Whitlock | Social Media Appearances
An athlete representing his country like Great Britain claiming several medals back to back, Max Whitlock has many fan followers on his social media accounts.
Hence he is active on his social media accounts like Facebook, Instagram, and Twitter. So, here are some of the detail of some of his accounts.
Instagram: 226K followers (@maxwhitlock)
Facebook: 180K followers (@OfficialMaxWhitlock)
Twitter: 101.1K followers (@maxwhitlock1)
Frequent Questions (FAQs)
Who is Max Whitlock married to?
Max Whitlock married Leah Hickton in 2017. Meanwhile, Hickton herself is Co-owner of Max Whitlock Gymnastics.
Likewise, they have a daughter named Willow.