Michael Finley is an American former professional basketball player who is the vice president of Basketball Operations for the Dallas Mavericks of the National Basketball Association (NBA).
Finley played in the NBA for 15 years with several teams, including Phoenix Suns and Boston Celtics.
He was quite a decent scorer from the midrange, a good ball-handler, and a passer, and he retained an unwavering stance to take his man off the dribble.
Finley played collegiate basketball for the University of Wisconsin-Madison and was named First-team All-Big Ten twice (1993 and 1995).
The former athlete started his NBA journey with the Phoenix Suns after he was picked as the 21st overall pick. He was labeled NBA All-Rookie First Team in 1996.
The 2007 NBA champion was named to the NBA All-Star twice and the NBA All-Rookie First Team once.
He was a classy player who displayed good defensive footwork, and his movements were sonnet and so orthodox.
Discover additional engaging information about the American-born former hoopster Michael Finley beneath. But first, let's start with the quick facts;
Quick Facts
Full Name
Michael Howard Finley
Birth Date
March 6, 1973
Birth Place
Maywood, Illinois
Nick Name
Fin Dawg
Religion
Christianity
Nationality
American
Ethnicity
Unknown
Education

Proviso East (Maywood, Illinois)
Wisconsin University

Horoscope
Pisces
Father's Name
Not available
Mother's Name
Bertha Finley
Siblings
Not available
Age

50

Years Old
Height
6'7″/2.01 m/201 cm
Weight
102 kg/225 lb.
Jersey no.
4, 40
Hair Color
Black
Eye Color
Black
Body Type
Athletic
Profession
Former NBA player
NBA Draft
1995 / Round: 1 / Pick: 21st overall
League
NBA
Active Years
1995–2010
Sexual Orientation
Straight
Marital Status
Married
Wife
Rebekah Finley
Kids
Three
Net Worth
$65 million
Position
Small forward/Shooting guard
Last played NBA Team
Boston Celtics (2010)
Social Media
Instagram, Twitter, Facebook
Merch
Basketball Card
Last Update

May 2023
Early Life & Career
Michael Finley was born Michael Howard Finley to his father and mother, Bertha Finley, in Maywood, Illinois, on March 6, 1973.
He self-claimed that his mother had been his great fan and supporter of his beautiful journey from day one.
Further information about his family and background is inaccessible as the player hasn't publicly talked about this subject matter.
Finley commenced playing basketball in elementary school, and during that period, his favorite basketball player was Michael Jordan.
Growing up, he was an adequate self, both athletically and academically. He graduated in business management from Wisconsin.
Body Features
Michael Finley was born in 1973, making him 50 years old.
About his physical stats, he stands at an elevated height of 6 feet 7 inches (2.01 meters), and his body weighs around 102 kg (225 pounds).
Finley prevailed bold and athletic physique while enacting on the court and still maintains his body, despite not being in the professional sport since 2010.
Basketball Career
High School Career
Michael Finley attended Proviso East High School in Maywood, Illinois.
During his senior season, he assisted Proviso in winning the 1991 IHSA Class AA boys basketball tournament and was named to the All-tournament team.
Hence, he was chosen as one of the 100 legends of the IHSA Boys Basketball Tournament in 2007.
College Career
Finley attended the University of Wisconsin-Madison from 1991 to 1995. He finished his collegiate career averaging 18.7 points, 5.6 rebounds, and 3.2 assists per game.
Later, the player was drafted by the Phoenix Suns as the 21st overall pick in the 1995 NBA draft.
Professional Career
Finley commenced his NBA career in 1995 playing with the Phoenix Suns and became only third rookie in Suns history to score over 1,000 points in a season.
He finished his rookie season averaging 15 points, 4.6 rebounds, and 3.5 assists per game and was named to the NBA All-Rookie First Team.
The former Suns shooting guard played all 82 games but missed the playoffs due to an injury he sustained during the final day of the regular season.
He was traded to the Dallas Mavericks along with Sam Cassell, A.C. Green, and a second-round draft pick for Jason Kidd, Tony Dumas, and Loren Meyer on December 26, 1996.
In his first season with the Mavericks, he led the team in scoring, assists, and steals. He became an integral part of the Mavs offense along with Steve Nash and Dirk Nowitzki.
He was selected to represent the Western Conference in the All-Star Game in 2000 and 2001.
The former shooting guard also played for the US National Team in the 2002 FIBA World Championship but failed to win the championship.
As he aged, he became more of a supporting player and was eventually waived by the Mavericks in 2005 to avoid luxury taxes.
Further
Later, he signed with the San Antonio Spurs despite getting offers from Detroit, Miami, Minnesota, and Phoenix.
Accordingly, he adjusted adequately to a secondary role as Manu Ginóbili's backup. Finley imposed the Spurs record for three-point field goals in a playoff game, making eight of nine attempts, shadowing the previous record of Bruce Bowen in 2003.
Michael finally won his first NBA championship in 2007 with the Spurs in his 12th NBA season.
The former shooting guard signed with the Boston Celtics on March 6, 2010, after he was waived by the Spurs at his request on March 1.
Moreover, Boston Celtics reached the 2010 NBA Finals but were handed a loss by the defending champion Los Angeles Lakers in seven games.
Finley then declared his retirement from his playing career at the end of the season.
Awards & Achievements
Michael is a former professional hoopster who commenced his NBA career in 1995 and wrapped up in 2010.
During his time in the NBA with four different teams, he earned several honors, showing his determination on the court.
NBA Championship (2007)
NBA All-Rookie First Team (1996)
First-team All-Big Ten (1993 and 1995)
NBA All-Star (2000 and 2001)
USA Basketball Male Athlete of the Year (1993)
No. 24 Jersey retired by Wisconsin Badgers
Medals
1994 Goodwill Games at St. Petersburg – Bronze Medal
1993 Summer Universiade at Buffalo – Gold Medal
Off-Court Activities
After retiring from his playing career, Finley works as the Vice President of Basketball Operations for the Dallas Mavericks.
Film
Apart from being a prominent basketball player and operator, Finley is also a producer.
He was one of the producers of the 2013 American historical drama film 'Lee Daniels' The Butler' and the 2016 American period drama film 'The Birth of a Nation.'
Net Worth & Salary
The retired NBA player, Michael Finley, had an estimated net worth of $65 million as of 2023.
Addressing his salary, Finley earned $2,500,000 in 2009-10 and reportedly took home $13,667,000 with the Spurs in totality. During his time with the Celtics, he garnered $268,976.
The former Spurs' shooting guard earned $628,000 with the Suns in his rookie season, and with the Mavericks, he garnered a total of $121,940,376.
His highest earning in a season was with the Mavericks in the 2006-07 season, when he bagged $18,593,750 in salary.
Wife & Kids
Michael Finley is married to a gorgeous lady, Rebekah Hosey. Rebekah is a supportive wife, liberal mother, fitness enthusiast, and Vice President of Community Affairs and volunteering for the Michael Finley Foundation.
Addressing their saga, Rebekah fell in love with Michael for his humbleness; she saw an unpretentious man who respects his mother and has a clean heart.
Even though Michael was a bit arrogant while in the court but he's quiet and humble off the court.
Their love story began when they met in their last year of college. They used to attend a weekly Bible study together every Wednesday at the start of their relationship.
The perfect two are blessed with three adorable children; two daughters and a son. Their first child, a daughter named Micah Finley, was born on September 3, 2003.
The Finley family seemingly looks joyous and delighted to have each other's companionship.
Philanthropy
Finley established the Michael Finley Foundation with a great vision, mission, and promise. The foundation is dedicated to inspiring, developing, and enhancing the skills of youth and their families.
On the flip side, the other core mission is to sow the confidence required to achieve personal and professional objectives.
"I created the foundation to empower children and their families to unlock tremendous results through education and life skills training." – Michael Finley
Furthermore, the foundation disseminates its mission through the G.I.F.T.4.S. Academy, which empowers students and their families with necessary training and skills to achieve their goals.
Michael Jordan Vs. Michael Finley
Michael Finley reaped the opportunity to play one-on-one against Michael Jordan, who he professed as his favorite player. It was a friendly game of H-O-R-S-E, organized by a Chicago TV station.
It was beyond imagination for young Finley, who was in high school, he would get the chance to confront one of the most promising players in the basketball world, the Chicago Bulls star Michael Jordan.
Furthermore, as a teenager, he attempted his level best to match most of Jordan's shots.
In the friendly match, Finley scored the first basket; Jordan came more rigorous, expressing no mercy to anyone, even Finley energetically guarding him.
Even though Jordan won the game, Finley got an exclusive shot to play one-on-one with his idol.
Interesting Facts
Finley enrolled at the same high school as the current head coach Doc Rivers of the Philadelphia 76ers.
His favorite player was Michael Jordan, and he periodically attended Chicago Bulls games.
Social Media Presence
The former NBA player likes to keep in touch with his fans and tries to make a post on his social media handles once in a while.
He is available on Instagram under the handle @michaelfinley4, Twitter @MichaelFinley, and Facebook @Michael Finley.
Twitter: 29.2k followers
Facebook: 4.3k followers
Instagram: 18.3k followers
Popularity
Finley earned quite a considerable number of fans from his professional basketball career.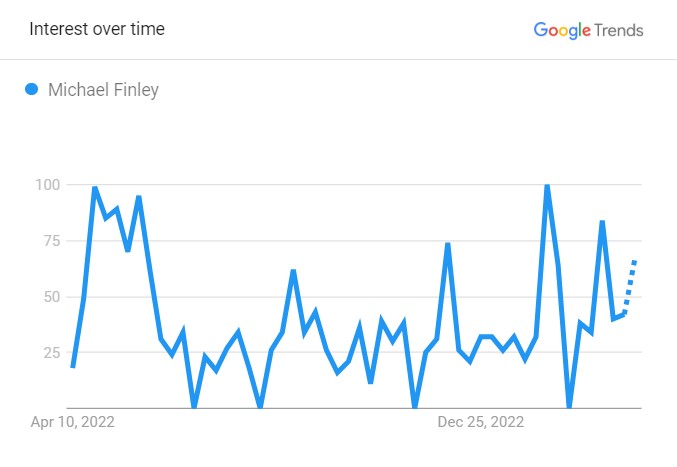 The above graph gives brief information about the popularity of Michael Finley based on Google searches in the United States over a year.
Frequently Asked Questions (FAQs)
Does Michael Finley have a ring?
The former NBA player won his only NBA championship with the San Antonio Spurs in 2007.
Is Finley a Hall of Famer?
Finley was inducted into the UW Athletic Hall of Fame in 2004 and was announced to a list of eligible candidates for the Naismith Basketball Hall of Fame Class of 2023.