Michael Pittman is a young American football player who has carved a niche for himself as an excellent wide receiver. He currently plays for the Indianapolis Colts of the National Football League (NFL).
Even though Pittman is just in his early 20s, the talented player has already managed to make himself one of the prominent football players through his incredible abilities.
Well, we have full confidence that his performances will grow even better in the upcoming years, and Pittman will soon become one of the best NFL players.
Today, let's dive into the life of Michael Pittman and discuss all the information from his personal and private incidents along with other exciting topics.
But, before diving into his life, check out some quick facts!
Quick Facts:
Full Name
Michael Pittman, Jr.
Birth Date
October 5, 1997
Age
25
Birth Place
Woodland Hills, Los Angeles, California, Bakersfield, United States
Nick Name
Pittman
Religion
Unknown
Nationality
American
Ethnicity
Mixed
Education
University of Southern California
Horoscope
Libra
Father's Name
Michael Pittman, Sr.
Mother's Name
Kristin Randall
Siblings
Mycah Pittman

Jett Pittman

Jordanne Pittman

Mykava Pittman

Height
6'4 inches (1.93 m)
Weight
101 kg (222 lbs)
Hair Color
Brown
Eye Color
Black
Body Measurement
Unknown
Build
Athletic
Married
In a relationship
Girlfriend
Kianna Pittman
Children
No
Profession
Football player
Current Team
Indianapolis Colts
Jersey Number
#11 ( Indianapolis Colts)

#6 USC

Position
Wide receiver
Draft year
2020 (Round: 2 / Pick: 34)
Net Worth
Under Review
Salary
$3,649,000
Career Earnings
$4,384,480
Affiliations
NFL
Active Since
2019
Social Media
Instagram, Twitch, Twitter
Merch
Jersey, Autographed Cards, Autograph,
Last Updated
June, 2023
Where is Michael Pittman from? Early Life, Education, & Parents
Michael Pittman, Jr professionally Michael Pittman, was born in Woodland Hills, Los Angeles, California, to parents Michael Pittman, Sr. and Kristin Randall.
Along with his parents, Pittman Jr grew up with his four siblings, Mycah Pittman, Jett Pittman, Jordanne Pittman, and Mykava Pittman.
Additionally, his father is also a former American football player who used to play in the running back position back then. Interestingly, Pittman, Jr was born six months before his father got selected by Arizona in the 1998 NFL draft's fourth round.
Moreover, growing up, the wide receiver was highly inspired by his father. Watching his father playing in the NFL inspired him to go outside and practice football.
So, since the early days, he decided to follow the path laid by his father and become a footballer just like him. Likewise, his father was pleased and supportive of his growing passion for the game.
He used to coach him all the time about the NFL and used to share his experience of becoming a successful footballer. Michael mentioned his father in one of his interviews, saying,
"He is basically like my crystal ball. He has pretty much coached me up to my whole life about the NFL, dealing with coaches, locker-room life, and basically teaching me to be a football player throughout my whole life."
As for his education, Pittman Jr first attended Valencia High School for his freshman year and Oaks Christian School for his sophomore, junior, and senior year. Similarly, after graduating, Pittman Jr enrolled at the University of Southern California.
How old is Michael Pittman? Age, Height, and Weight
Having been born in 1997 makes Michael's age 23 years currently. Likewise, the wide receiver shares his birthday on October 5, making his birth sign Libra.
And from what we know, they are known for being talented, passionate, and brave. Although he is relatively young, Michael has acquired a superb athletic body build and can easily set up his defenders using his size to shield the ball.
Likewise, the talented wide receiver stands at an astounding height of 6 feet 4 inches (1.93 m), weighing 101 kg (222 lbs), which is considered proportionate to his height.
Talking about his abilities, Pittman always keeps the right balance and excellent body control in the field. Further, the American native has incredible speed; and knows how to sink his hips and get defenders turned off the line by adjusting his speed.
In the same way, Pittman is not only good with his speed but is equally robust with his hands. Not to mention, his hands are known among the best of any receiver in the class.
Check out this video to see Michael Pittman's bench press in NFL.
Other than that, Michael has got short light brown hair and a pair of black eyes. However, anything like his body and other measurements is still not available for public knowledge.
Michael Pittman | Football Career
Going back to his early career, Michael played football from his high school days. At a young age, he even participated in the All-American Bowl and was named first-team All-America by Parade.
Also, in the 2015-2016 season, he was named USA Today All-California Offensive Player of the Year. Likewise, after enrolling at USC, Pittman had the best game-winning matches.
In the 2017 sophomore season, he played a vital role as a wide receiver and was named the 2017 All-Pac-12 first team. Similarly, he also got named as USC's Co-Special Teams Player of the Year.
Following his impressive records, he got named as the 2018 All-Pac-12 honorable mention and All-Pac-12 second team.
Not to mention he also won USC's Offensive Perimeter Player of the Year Award for his fantastic performance as a wide receiver.
In the 2019 season, Pittman proved to be one of the nation's top wide receivers as a senior in USC. That season for his outstanding performances, he won the 2019 Pop Warner College Football Award, awarded for the college's most impactful senior.
Notably, he was also named as one of 3 finalists for the 2019 Biletnikoff Award, which is presented to college football's outstanding receiver by the Tallahassee Quarterback Club Foundation.
NFL
After incredible achievements and a successful college career, the Indianapolis Colts selected the talented wide receiver as the 34th pick in the 2020 NFL Draft.
Likewise, he made his first professional career debut in NFL on September 13, 2020, against the Jacksonville Jaguars.
Sadly, just after playing for a month, Pittman suffered a leg injury in one of the games against the New York Jets. Due to which he got placed on an injured reserve missing almost all the games of October month.
Also, check out <<Jacquizz Rodgers Bio: Age, Career, NFL, Net Worth & Kids>>
After a month of recovering from his injury, Pittman came to action on October 31, 2020, and performed the best game of his career against the Baltimore Ravens.
Likewise, he kept his impressive performance and doubled the victory that same week by winning the match against the Tennessee Titans.
Not to mention in Week 11 in the match against Green Bay Packers, Michael caught 3 passes for 66 yards and made his first career touchdown reception on a 45-yard pass play in a 34–31 victory.
Well, this is just the beginning of his professional career and achievements at the NFL, and he has much more to achieve than this.
With his talent and outstanding skills, we hope Pittman will soon become an elite player and make his name in the league.
Michael Pittman | Career Stats, Highlights, and awards
2019: Second-team All-American, First-team All-Pac-12
2017: First-team All-Pac-12
2019: Pop Warner Award
Stats
How much does Michael Pittman get paid? Net worth and Income
Since his college days, Michael had a very successful football career and was destined to have an even brighter one later.
Although Michael is just 23 years old, he has already enjoyed a ton of success since his college and high school career and now in his professional career.
Sadly, Michael's exact net worth as of 2020 is unknown due to the lack of his past financial revenue. However, according to reports, he is currently earning a yearly wage of $610,000 as a wide receiver for the Indianapolis Colts.
<<Check out fantasy pros to see Michael Pittman projection>>
Moreover, he has signed a four-year contract with Indianapolis Colts, worth $8.162 million, which includes $3,823,892 as a signing bonus, $5,825,385 as a guaranteed income $2,153,213 as an average annual salary.
Also, this is just the beginning of his career in the NFL. Therefore, Michael still has many years left to make his name in the league and earn even more cash in the upcoming years.
Nonetheless, as Pittman has made it to the big league, we can fully expect his net worth to increase in the coming years.
Who is Michael Pittman's girlfriend? Personal life and Girlfriend
Just like any other NFL fan, Michael fans are also curious about his personal and love life. Pittman's talented skills, impressive personality, and charming looks have made many women fall for him.
Likewise, it is no wonder that he is the crush of many girls. Well, lots of hearts will be broken to know the fact that Michael is taken.
To be specific, the talented wide receiver is happily engaged to his longtime girlfriend, Kianna Pittman. The couple got engaged in October 2020.
Moreover, the couple is expecting their first child together. Michael announced the news on Twitter stating "WE'RE HAVING A BABY".
Michael and Kianna started dating since their high school. Kianna used to travel with Michael during his football matches from the beginning of his career and used to support him. She seemed to be the greatest fan of Pittman.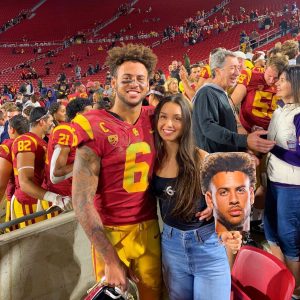 Moreover, the couple is also often seen together traveling to fascinating locations to spend their vacations. For instance, if you look at either of their social media handles, you can notice how deeply in love and happy these two are with each other.
Social Media Presence:
Michael Pittman is quite active on social media sites and likes to keep it updated. He has accumulated thousands of followers and has created an extensive social media profile on various social networking sites.
Moreover, he is on Instagram, with 169k followers, he mostly shares pictures of himself on the football field with his teammates. On top of that, he also posts a lot about his girlfriend and their pictures together of their beautiful moments.
Likewise, he also posts a lot of pictures of his dog Brusco. Not to mention, Michael has even created his dog's Instagram profile under the name @boscothecorso.
Moving on, Michael is also on Twitter with over 24.3k followers. After joining the site back in June 2011, he has tweeted around 3,925 times since then.
Besides that, the wide receiver also has a Youtube vlogging channel with his girlfriend. They have almost 363k subscribers and have posted 64 videos till now. They usually vlog about their daily life, workout routines, and NFL matches.
Some FAQs:
What injury did Michael Pittman have?
Michael Pittman Jr endured a lower leg injury in the second quarter of the game against the New York Jets on October 3, 2020.
Later, it was revealed that the injury was a compartment syndrome, caused due to increase in pressure in at least one of the lower leg compartments against different areas, like nerves, arteries, and veins.
Is Michael Pittman Jr going to the NFL?
Michael Pittman Jr went to NFL after getting selected by the Indianapolis Colts as the 34th overall pick in the 2020 NFL Draft.
Likewise, he made his professional debut on September 13, 2020, against the football franchise Jacksonville Jaguars.
Why didn't Michael Pittman give his No. 11 Jersey to his teammate Carson Wentz?
Michael Pittman Jr. told the former Eagles quarterback Carson Wentz that he is not giving up No. 11. Pittman asked very respectfully with Carson that he wants to wear No 11, and later Wentz agreed. Michael stated,
"I spoke to Carson, and he just saw how locked in I was to No. 11, and I told him I was locked in, and he was like, 'That's cool, bro because I'm probably gonna switch anyway."
Previously, Wentz wore Jersey No. 11 while at North Dakota State University and during his first five years with the Philadelphia Eagles.
Does Michael Pittman Slutter?
Michael Pittman battled a childhood stutter that greatly affected his self-confidence. Michael used to struggle so much with speaking that he often used hand gestures to make others understand.
He mentioned during one of his interviews with the Orange Country Register that he was being forced to attend speech therapy classes in the sixth grade.
"It was embarrassing. It would be like, 'Dang, here I go.' If somebody just gets up out of the room, that draws attention. As a young kid, that can be terrifying."
Now, as Pittman's profile grew he uses his various interviews and meetings as an opportunity to improve his speech. Michael now speaks fluently.
Who is Michael Pittman Jr dad?
Michael Pittman Sr. is the father of Michael Pittman Jr, who is also a former American football running back for the NFL. Moreover, he is also a Super Bowl champion and Second-team All-WAC Pacific Division winner.
What is Michael Pittman jr Madden 21 rating?
Michael Pittman is ranked #71 in Madden 21 rookie wide receiver ratings.
How much is a Michael Pittman rookie card worth?
Michael Pittman rookie card worth $3.00-$4.80.
What was Michael Pittman's 40-yard dash?
According to NFL Michael Pittman runs unofficial 4.52 40-yard dash at the 2020 combine.
Is Michael Pittman a free agent?
Yes, Michael Pittman is a free agent.