Back in 2012, Michelle Jenneke grabbed the attention of everyone after her warm-up dance went viral online. Straight from Australia, she is a professional hurdler and also a model. Not to mention, Michelle has tasted fame in both national and international contests.
Likewise, Jenneke is also a silver medalist at the 2010 Summer Youth Olympics, including the gold at the 2016 Australian Championships 100-m hurdles; it led her to qualify for the Rio Olympic Games.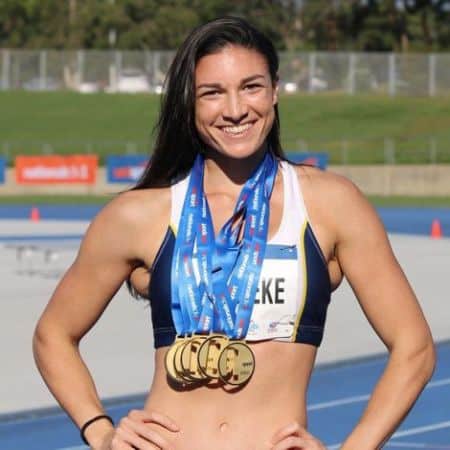 Just 27, Michelle has achieved a lot more and made some stellar records as we speak. And we are sure the journey is not over yet for this jubilant talent.
However, not many are aware of her family and personal life. Being a fan, it is common for them to take an interest in Jenneke's life. Hence, today we will be introducing some aspects of Jenneke to fans.
Michelle Jenneke: Quick Facts
| | |
| --- | --- |
| Full Name | Michelle "Shelly" Jenneke |
| Birth Date | June 23, 1993 |
| Birth Place | Kenthurst, New South Wales, Australia |
| Alias | Shelly, Dancing Hurdler, Jelly Beans |
| Religion | Unknown |
| Nationality | Australian |
| Ethnicity | Caucasian |
| University | Sydney University |
| School | The Hills Grammar School |
| Horoscope | Cancer |
| Father's Name | N/A |
| Mother's Name | N/A |
| Siblings | Sister |
| Age | 27 Years Old |
| Height | 5 feet 8 inches (172 cm) |
| Weight | 59 kgs (130 lbs) |
| Build | Athletic |
| Body Measurement | 36-26-36 inches |
| Eye color | Brown |
| Hair color | Brown |
| Profession | Professional Hurdler and Model |
| Active years | 2010-present |
| Team | Athletics Australia |
| Net Worth | $3 million |
| Salary | Unknown |
| Social Media | Twitter, Instagram |
| Merch of Athletics | Shoes, Leggings |
| Last Update | 2021 |
Who is Michelle Jenneke?- Where is she from?
Michelle "Shelly" Jenneke, widely known as Michelle Jenneke, is a professional hurdler and model who is from Kenthurst, New South Wales, Australia. Born and raised in Australia, the athlete has not revealed much about her parents.
Hence, at the moment, we have no idea who her parents are and what their names are even. Along with that, the young hurdler has not accurately disclosed information on their current whereabouts. But in some articles, Michelle mentioned having a sister.
Likewise, Michelle is an Australian citizen, and her ethnic background happens to be Caucasian. As for her religious practice, she follows Christianity.
How old is Michelle Jenneke?- Age and Body Measurements
Aside from being a hurdler, Jenneke is also a model, which means she has a stunning figure and a gorgeous face. Standing at 5 feet 8 inches(172 cm), Michelle poses gracefully in front of the camera.
Whether it is the jersey that shows her toned physique in the track or dresses that showcases her femininity, Michelle slays in all of them.
This Australian beauty was born in the year 1993, which means she is 27 years old at the moment. Not to mention, Michelle celebrates her birthday every year on the 23rd of June.
Similarly, Shelly weighs around 55 kgs(121 lbs) and has a stunning figure of 36-26-36 inches. Also, with her long brown hair and a pair of brown eyes, Michelle always steals the show.
Training and High-Calorie Meals
To keep her fit body and make it track-ready, Michelle consumes a lot of high-quality foods. She admitted to having six meals per day.
"I actually eat a lot. I talk to my sister, and she says she has three meals a day- sometimes two if she's busy- and I'm like 'I have to eat six times a day!"
Likewise, Michelle starts her day with a quick and simple meal like cereal or oatmeal and goes for her morning training session. Then she has a protein-packed smoothie and prepares a hearty meal consisting of bacon and eggs.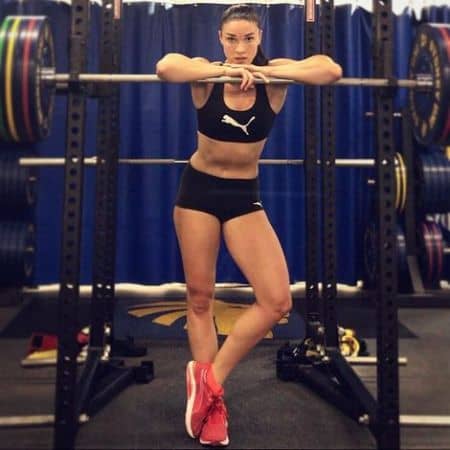 Aside from these, Jenneke's meal is relatively simple and convenient. Her lunch consists of a sandwich with a high-quality meal, and for dinner, Jenneke eats grass-fed meat with a bunch of vegetables.
For someone who consumes so much, her training regime is equally daunting and demanding. To stay fit, Michelle trains five times a week, has three track sessions, and two gym workouts, each lasting two-three hours.
Not to mention, her workouts are always intense, where she is lifting heavyweights. By the end of her routine, Jenneke has admitted to finding herself "lying on the ground."
Education and Early Career
The talented athlete Michelle Jenneke completed her education from Hills Grammar School. There she proved herself as an avid student and sportswoman both.
At the moment, the 27 years old is studying at Sydney University. There she is majoring in mechatronics, a combination of mechanical and electric engineering.
While growing up, Jenneke indulged herself in sports like soccer, handball, hurdle, quad biking, and spending time in nature. But as she grew older, Jenneke developed a passion for hurdles and decided to pursue it.
"My first memories of hurdling were at club competition at the Cherrybrook Little Athletics center when I was nine. I loved it from my first race because I remember thinking I could fly."
Hence, by the age of ten, Michelle was training to be a hurdler. Shelly's apt for hurdling and coaching helped her sharpen the skills, and by the end, she was able to run 90 and 200m hurdles.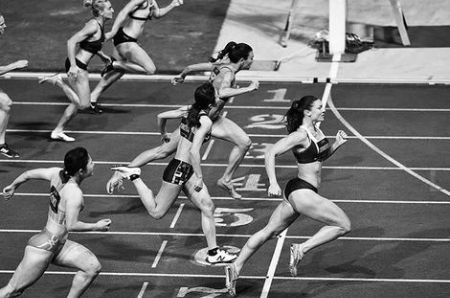 Likewise, in 2008, young Shelly took part in her first competition at the Pacific School Games hurdle in 200 and 90 m categories. But Michelle had to wait two years to claim victory.
That same year, Jenneke broke the Australian record at the 2010 Australian Junior Championship in the women's sprint medley race. It was then both she and her coach realized her potential to be a world-class athlete.
International Competition and Breakthrough
After her recording-breaking performance, Michelle made Australia's team at the 2010 Singapore Youth Olympic Games. In the 100 m hurdles, she came second with a time of 13.46 and set her personal best.
Aside from that, Michelle was the first Australia had ever won at the Games up to this point. By 2011, she competed in numerous international games, including Cooks Classic and the 2011 Australian Junior Championships.
However, her warm-up video in the 2012 World Junior Championships in Athletics in Barcelona elevated her stardom to the next level. Her pre-game ritual attracted many people, and even some who witnessed claimed that it was as fascinating.
Just in weeks, Michelles's dancing video was everywhere on the internet, and she was deemed a dancing girl. The video was featured on the American late-night talk show, The Tonight Show.
Similarly, in January 2013, Jenneke was ranked tenth on AskMen.com's 99 Most Desirable Women. That year, Michelle graced the 2013 Sports Illustrated Swimsuit Issue.
Apart from that, Michelle also became a part of Australia's team for the Commonwealth in 2014. Despite failing to win the match, she made a record as the youngest contestant to reach the final.
Moreover, Jenneke became the second-fastest woman to run a 100m hurdle in Australian history. Michelle achieved her career-best during the 2015 Australian Athletics Championships, which was 12.82.
In April of 2016, Jenneke qualified for the 2016 Summer Olympics in Rio de Janeiro. But she finished sixth with a time of 13.26.
Is Michelle Jenneke married? Who is her husband?
At the moment, Jenneke is a world-famous athlete and model who has amassed many fans and friends. Either from her world-class performance or dancing video that went viral, people know about her. But what do we know about Jenneke's personal life?
Well, from what we know, the beautiful Australian athlete is still single at the moment. It seems she is busy with her routine workouts and training to focus on having a relationship.
However, this has not stopped. Jenneke from taking inspiration from other people. She aspires to be equally talented and influential as many other athletes in the world.
On the other hand, Jenneke plans on setting impressive results and improving her records as she goes.
Here are some favorite things about Michelle Jenneke
Hobbies: Quad Biking, Futsal, Handball, Climbing Trees, Soccer
Favorite Foods: Nutella, Peanut Butter
Favorite Sports: Futsal, Handball, Soccer
Favorite Song: We found love.
Net Worth and Income- How much does she earn?
Thriving as an athlete and a model, Michelle Jenneke has acquired fame and wealth both from her career. The profession as an athlete is challenging as well as rewarding. Hence, as of now, Michelle's net worth amounts to $3 million.
Besides being a professional hurdler, she is also a model featured in some magazines. Not to mention, Michelle also makes an extra amount from her brand deals, endorsements, and so on.
However, all those income and salary as of now are not there for the public to see. So, we cannot be too sure about her total income.
Social Media Presence
Instagram – 514k Followers
Twitter-- 69.4k Followers