Mikaela Shiffrin, a two-time Olympic gold Medalist, is a four-time world champion in slalom. She secured the golden treble at the Semmering to book her 80th World Cup victory in the FIS World Cup series 2022/23.
Mikaela Pauline Shiffrin is an American alpine skier who won her first world cup alpine skier at 15 in 2011.
Mikaela is one of five Americans to win the World Cup overall title four-times. She has 80 World Cup wins, the third all-time and second among women in FIS Alpine Ski World Cup Career wins.
Skier is notably the only athlete to have won 17 races in the same calendar year in the history of Alpine Skier in 2018/19.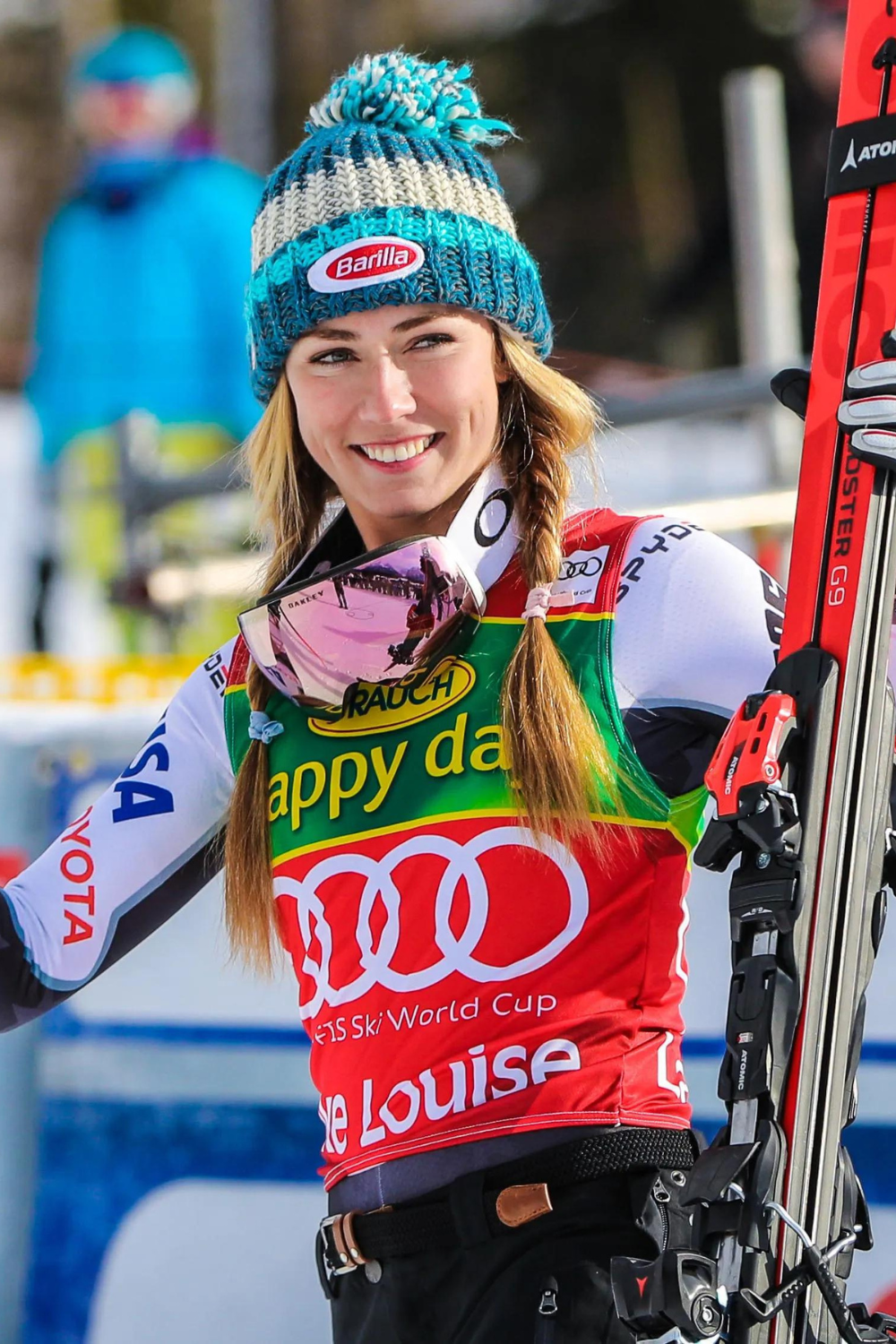 Hailing from a ski racing family, Mikaela is the second child of Eileen and Jeff Shiffrin. Thus, predictably, her love for skiing began at a young age.
More about Mikaela Shiffrin later, but before that, let's look at quick facts about her.
Mikaela Shiffrin | Quick Facts
| | |
| --- | --- |
| Full Name | Mikaela Pauline Shiffrin |
| Date of Birth | March 13, 1995 |
| Birth Place | Vail, Colorado, United States |
| Nick Name | Mozart of Ski Racing, Sir Naps A Lot |
| Nationality | American |
| Zodiac Sign | Pisces |
| Age | 28 years old |
| Height | 5'7″/1.70 m/170 cm |
| Weight | 64 kg/141 lb. |
| Hair Color | Blonde |
| Eye Color | Grey eyes |
| Build | Athletic |
| Father's Name | Jeff Shiffrin |
| Mother's Name | ­Eileen Shiffrin |
| Siblings | Taylor Shiffrin |
| Marital Status | Unmarried |
| Boyfriend | Aleksander Aamodt Kidle |
| Ex-boyfriend | Mathieu Faivre |
| Profession | Alpine Skier |
| Active Years | 2011-present |
| Club | Burke Mountain Academy |
| Olympics Teams | 2 (2014, 2018) |
| World Championship Team | 5 (2013-2021) |
| World Cup Seasons | 12 (2011-2022) |
| Total Gold Medals | 8 (International Competitions) |
| Net Worth | $3 million |
| Social Media | Facebook, Twitter, Instagram |
| Merch | Sports Illustrated (March Edition), Snowmobile Goggles |
| Last Update | November, 2023 |
Mikaela Shiffrin | Coming From A Ski Background
The American ski star Mikaela Shiffrin comes from a family with a glorious skier background.
Mikaela was born in Vail, Colorado, to former SKI racers Eileen Shiffrin and Jeff Shiffrin on May 13, 1995. Shiffrin's parents, Jeff and Eileen, were originally from the Northeastern United States.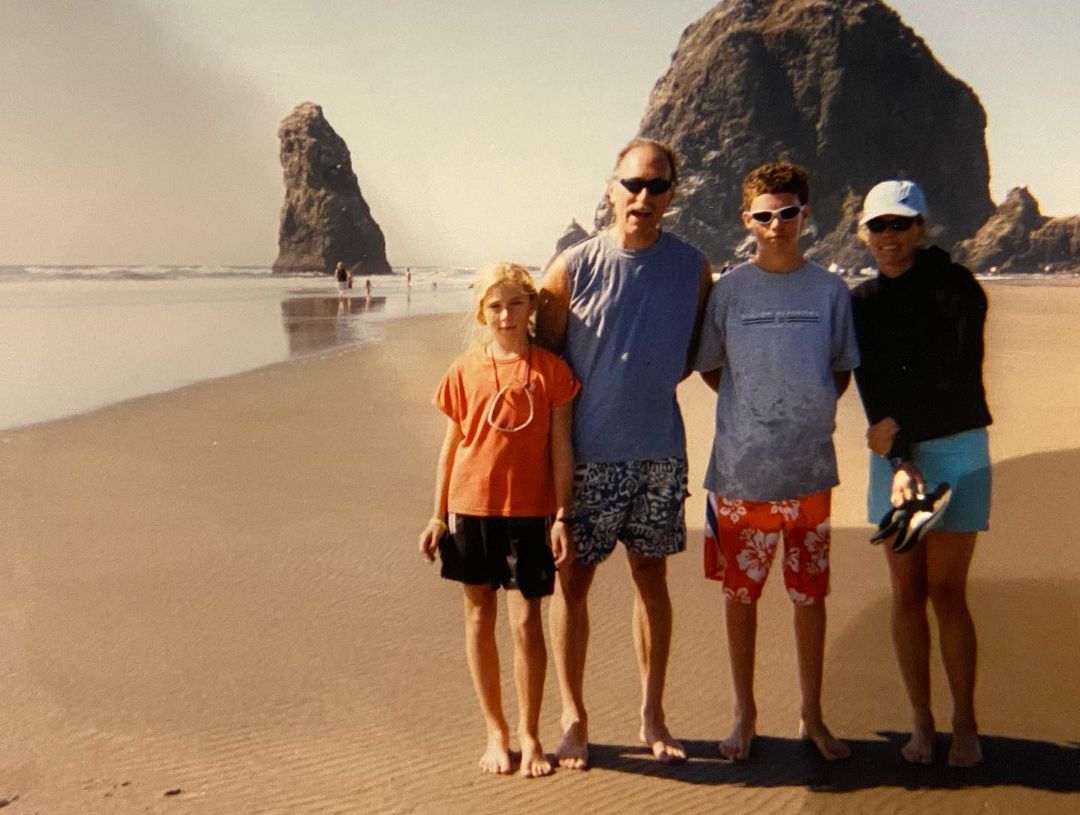 Mikaela Shiffrin's Father, Jeff, was an avid skier on weekends and raced for Dartmouth College in New Hampshire. Besides skiing, her dad was an anesthesiologist and worked at Dartmouth-Hitchcock Medical Center.
Shiffrin's mother, Eileen, raced in high school in Massachusetts Berkshires. Beautiful mama goose appears on her daughter's Instagram now and then.
Mikaela undoubtedly grew up in a happy household, and being the youngest kid of the family, she received extra love from her sibling, Taylor Shiffrin. Her older brother was in high school at Burke Mountain Academy, a ski academy in Vermont.
Alike Mikaela's brother, she also attended Burke Mountain Academy. She left an impactful legacy that continues to inspire the current alums of the academy.
Moreover, Mikaela is a very family-oriented person. She prioritizes her family over trivial things and dedicates a post on her social media handle to her family.
Mikaela Lost Her Father, Jeff Shiffrin
Olympic ski star Mikaela Shiffrin lost her biggest fan, her Father, Jeff Shiffrin.
Shiffrin died at 65 on Feb 2, 2020, in an accident at their family home in Colorado. Mikaela's Father was her biggest inspiration and a coach who taught her to focus and remain in the moment.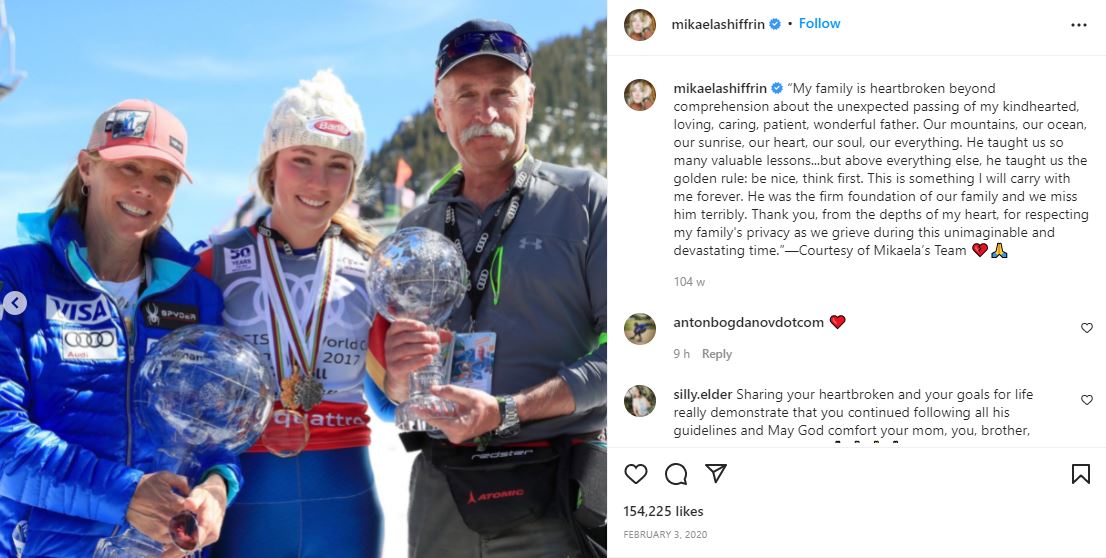 After losing the biggest hero of her life in 2020, she paid tribute to her Father by winning gold at 2021 Corina d "Ampezzo.
She was distraught by her Father's absence at Beijing Games as he was always there for her two previous Winter Olympics.
Mikael now lives with her mother, Eileen Shiffrin, who lost her decades-long partner. Although adjusting to her partner's loss, she manages to be the best parent for her two kids.
Mikaela Shiffrin | Age, Height, And Weight
The 28-year-old alpine skier, Mikaela Shiffrin, stands tall at 5 feet 7 inches and weighs around 64 kg (141 pounds).
The beautiful blonde has an enticing grey pair of eyes and an innocent face that has stayed the same since childhood. Moreover, her beautiful smile showcases her perfectly aligned teeth.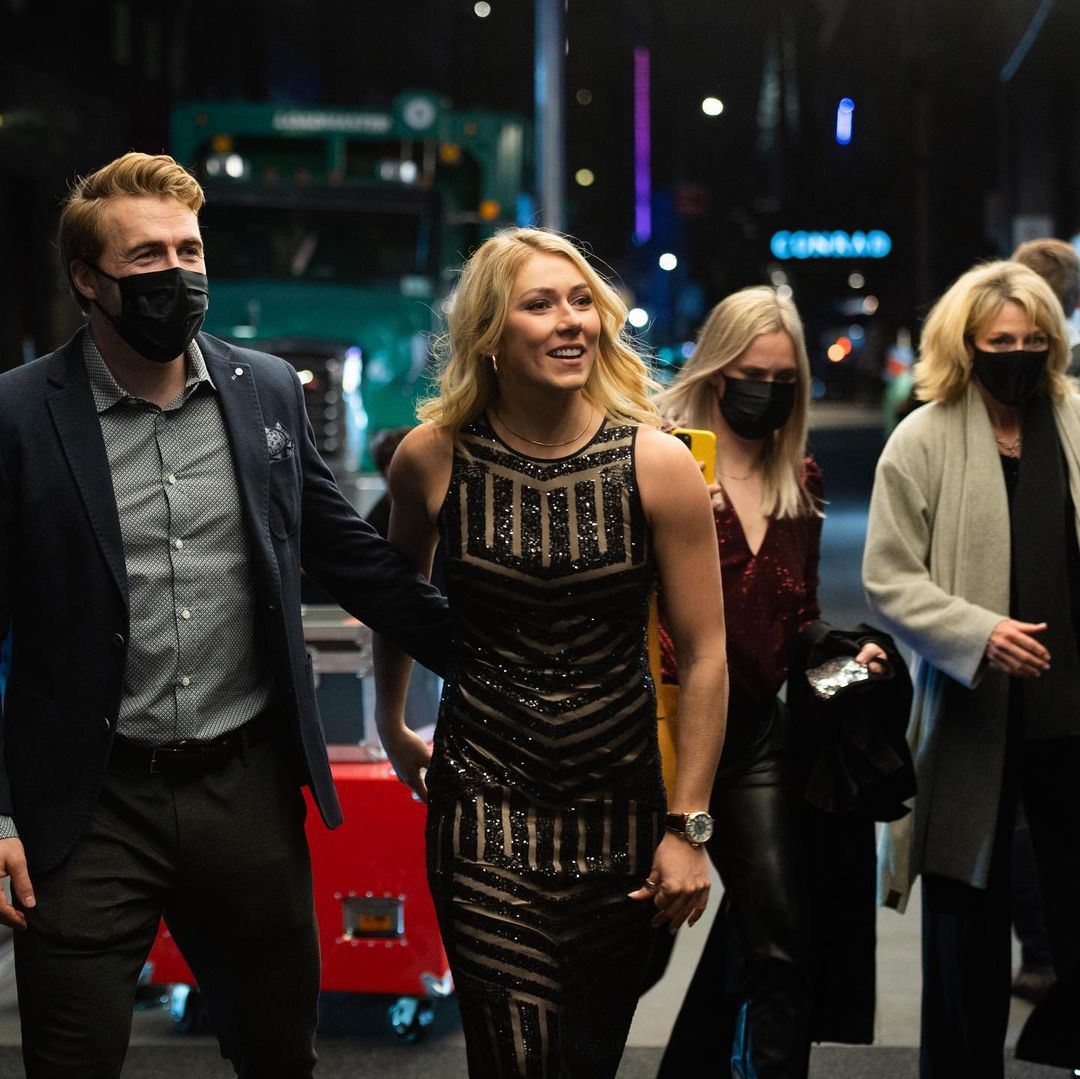 Mikaela Shiffrin looks like a snow goddess as she glides through the snow trail. Along with skiing, she is a good dancer and plays guitar.
Similarly, Mikaela has beautifully maintained an athletic body, props to her exercises, and other sports like football.
Mikaela Shiffrin | Career Highlights
As mentioned earlier, Mikaela started skiing at the young age of 7. She displayed strong results from a tender age and participated in major competitions.
As of 2023, Mikaela Shiffrin has won 80 World Cup races, including 50 W.C. slalom races, the most won by any alpine skier, both male and female.
Early Career
Shiffrin comes from a skiing family. Thus, she was enrolled in Ski Club at age 7 with her brother.
As skiing was a part of the Shiffrin family activity, Mikaela progressed rapidly. She kept getting faster as she won prestigious Topolino races in Italy at just 14.
A year later, in December 2010, Shiffrin won a Nor-am Cup super-combined race at Panorama in British Columbia. Furthermore, she won a pair of Nor-Am slalom races at Sunday River.
Mikaela bagged a bronze medal at Switzerland's FIS Junior World Ski Championships within a month.
Continued Success At World Cup
It is a matter of pride for Shiffrin and her fans that she has been a part of the World Cup since she turned 16.
Mikaela Shiffrin made her World Cup debut in March 11, 2011 at Czeh Repubic. Within a few weeks of turning 16, she won the slalom title at the U.S. National Championships, becoming the youngest American ski racer to claim a national alpine crown.
Similarly, in the 2012 Alpine Skiing World Cup, Shiffrin took her first World Cup podium on December 29, 2011, at Lienz, Austria. Although she finished 12th in the first run, she recorded the fastest time in the second run to secure third place.
She won her first World Cup race at age 17 in Sweden and registered her name as the second-youngest American to win an alpine World Cup.
After Mikael's victory at the World Cup finals in Lenzerheide, she opened the 2014 season in 2013 in Solden, Austria, with a career-best sixth in giant slalom.
She concluded the season as the reigning Olympic, World Cup, and world champion in slalom and was named one of ESPNW's Impact 25.
Furthermore, in 2015, Shiffrin had trouble at first but won the slalom world cup title once again. She also won the World Championship held in Beaver Creek the same year.
Big Season After Injury
In 2016, Mikaela bagged her 18th victory in Crans-Montana and won all five slaloms she started. However, she had to miss five other slaloms because of injuries.
However, the 2017 season was tremendous for her career. Still celebrating her prime, Mikaela had opened the 2017 season with a second-place finish at Solden in 2016.
At the World Championships in St. Mortiz, Shiffrin won the gold medal in slalom and bagged a silver in giant slalom. She dominated U.S. ski history as the first woman to win three consecutive gold in Slalom World Championships since Germany's Christl Cranz in 1939.
Similarly, in late February, Shiffrin grasped her first super-combined race at Crans-Montana. Before 22, she registered more World Cup victories than Ingemar Stenmark.
By the end of the 2017 season, Mikaela had won 8 out of 9 races on the World Cup circuit and made history by winning the first FIS parallel slalom in France.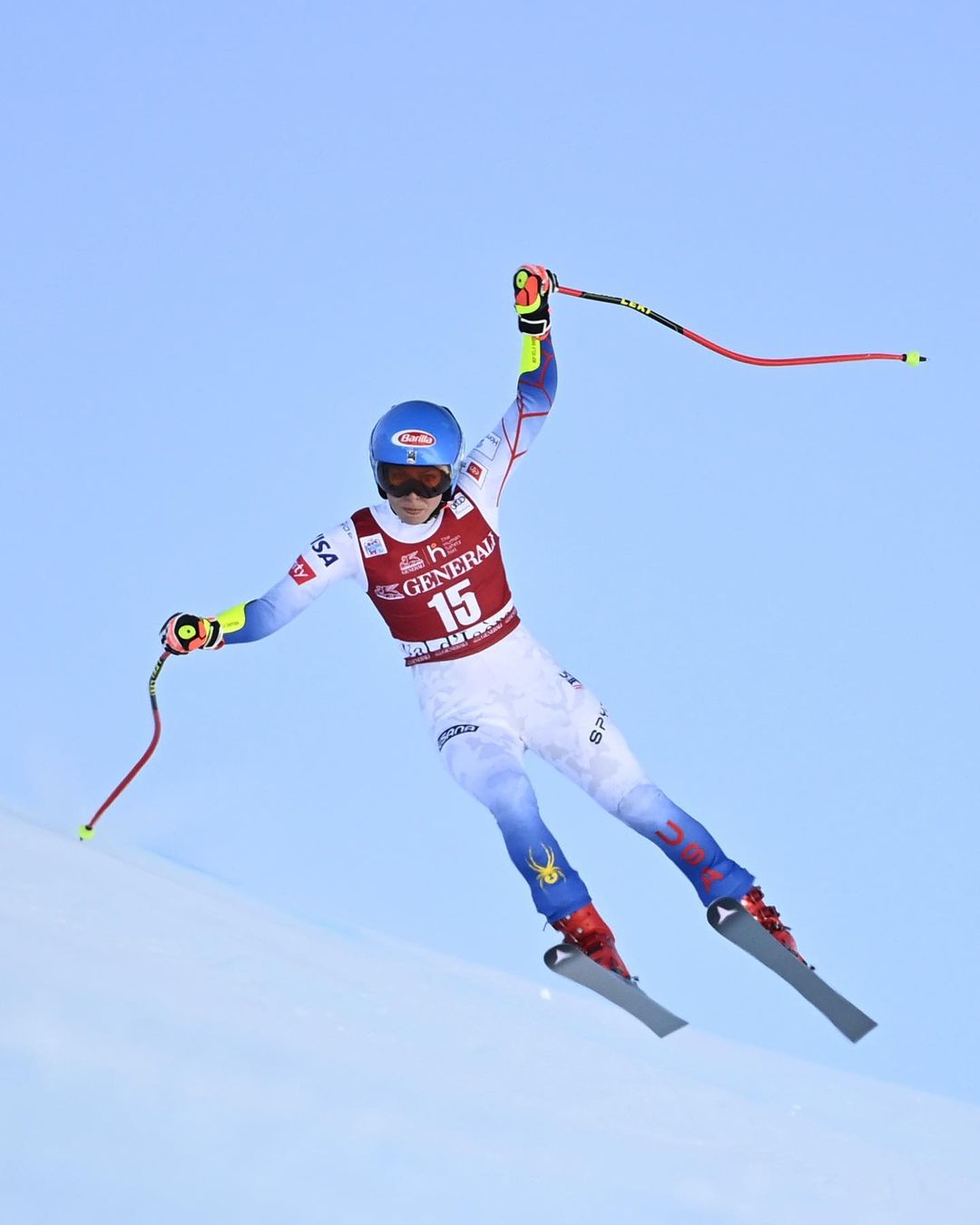 Shiffrin kick-started the 2018 season with the win in the City event in Oslo. At age 22, she clocked her 40th World Cup win and celebrated victory in Austria's slalom. She became the first woman to win five straight World Cup races.
By February 2019, Mikaela shifted into third place on the female list with the most World Cup race wins. She further won the gold medal in the super-G before claiming bronze in the giant slalom.
Shiffrin evolved as the first alpine skier to take 15 World Cup wins in a season, breaking her record in March 2019.
Likewise, she became the first skier to win World Cups in both technical and speed events in the same season. 2019 undoubtedly was a year full of victories for her.
Inconsistency And Missed Podium In 2020 & 2021
Unfortunately, 2020 was an inconsistent season for Mikaela Shiffrin, as her performance in the technical races during the first half wasn't top-notch. Similarly, her performance in the Giant Slalom fluctuated as well.
Mikaela Shiffrin's Father's unfortunate death caused her to take an indefinite break from the World Cup tour.
Shiffrin attended the final competition in Sweden, but the race was canceled because of the pandemic. Sadly, this marked the end of her three-year winning streak.
Initiating 2021, Mikaela had to miss the first race weekend because of her back issue. Although she had not managed to dominate with the same demeanor, she placed second during Levi's first two slalom races.
However, Shiffrin reigned on top at the 2021 World Championship in Cortina d'Ampezzo, winning four medals.
She became the most decorated American alpine skier in the World Championships with the sixth gold and ninth medal at Alpine Combined.
Olympic Games And Medals
The ultimate skier champ, Mikaela Shiffrin, has bagged three Olympic medals, two of which are gold and one silver.
She won her first gold in the 2014 Winter Olympics, another gold at the 2018 Winter Olympics in Pyeongchang, South Korea, and silver in super combined.
Losing her dad and mentor had left her wondering if she wanted to continue racing. However, while talking to People, she admitted that it only made her more robust and efficient.
Mikaela further confirms, "But every day, I feel that spark and motivation are returning. It's like healing from an injury."
The 28-year-old skier admitted that losing her Father had changed her perspective towards life.
Mikaela was determined to bring the gold back home at the 2022 Beijing Olympics. However, at the 2022 Winter Olympics in Beijing, she unexpectedly had a Did Not Finish (DNF) in the giant slalom and slalom.
The American skier finished 9th in the super-G and was not able to bag any medals in her other individual events. She competed for the first time in the mixed team event, but the U.S. team finished fourth.
Mikaela Shiffrin | Net Worth
The 28-year-old alpine skier Mikaela Shiffrin has established herself as one of the most decorated skiers in U.S. History.
According to some online sources, she has an estimated Networth OF $3 million as of 2023.
Hence, along with her legendary career, Mikaela Shiffrin's net worth has also increased parallelly.
Mikaela, a six-time world champion, earns a decent salary as an alpine skier and via endorsements.
Earnings From Career
Most of Mikaela Shiffrin's net worth is generated from her monstrous career since 2011. She has been one of the most sought-after skiers with the most winning streaks.
Shiffrin reportedly makes $515,000 per year enlisted top-paid athletes. She has recorded $885,000 in prize money throughout World Cup seasons.
Although it sounds all flashy here, the best players, like Lindsey Vonn, raised concerns about underpaying. With Vonn out of the picture, Shiffrin is enlisted amongst top-earning skiers.
Moreover, Forbes had estimated Shiffrin's potential to remain the prime focus of the ski scene and dominate for another decade earning $30-$40 million in the process.
Endorsements & Other Ventures
Skiers' earnings are mostly covered by their endorsements. And Shiffrin, one of the best, is sponsored by acclaimed brands like Adidas, Barilla, Visa, Longines, Bose, IKON Pass, and Oakley.
Shiffrin's other sponsors include Atomic, Reusch, and Leki. She currently boasts more than 1 million followers on Instagram, which explains why Adidas signed her in 2019.
Charity Works
Mikaela Shiffrin has earned respect for her resilience and achievements as a skier. She has made enough to afford comfort and luxury. However, she is also conscious about giving back to society as she is actively involved in charity work.
Shiffrin collaborated with Kindness Wins, which helped further to escalate their philanthropic works.
In 2020, she helped raise over $50,000 for COVID-19 relief in their respective communities and proceedings from any of Shiffrin's items were donated to the Colorado Covid Relief fund and food band Rockies.
She also helped Kelly Brush Foundation raise funds to support athletes with spinal cord injuries.
Mikaela also performed a song as a part of Goggles for Docs which provides ski goggles to healthcare workers.
Likewise, in honor of Jeff Shiffrin, the Shiffrin family announced Jeff Shiffrin Athlete Resiliency Fund (JSARF), a need-based funding source for U.S. Ski & Snowboard athletes.
The Shiffrin family and six families successfully raised more than $3,000,000 and contributed to the board. The fund will be used to sustain its training and competition schedule.
Mikaela Shiffrin | Home & Lifestyle
The two-time Olympic gold medalist bought a luxurious home in Colorado. By the looks of her home, she prioritizes luxury, classic, and fused European style.
Giving a tour to Today back in 2019, Shiffrin described her House as a "sanctuary" and ensured it had a more relaxing tone. She currently shares her home with her mother.
Mikaela is also a car enthusiast and loves classics. Hence, she loves her Range rover.
Besides cars and skiing, Shiffrin is an avid traveler. You can find some snippets of her life if you stalk her Instagram, full of nostalgic pictures mixed with insane career highlights and beautiful places.
Mikaela Shiffrin | Personal Life & Boyfriend
American ski star Mikaela Shiffrin is an outstanding sportsperson and a humble person. She is multi-talented and has an innate love for music, guitar, and dance. She is a loving person and is currently in a relationship with a fellow skier, Aleksander Aamodt Kilde.
The couple confirmed their relationship in 2021 via Instagram; Aleksander shared a post captioning, "If you know, you know… and now you know."
The 2020 men's overall World Cup champion Aleksander Aamodt Kilde revealed that he likes Mikaela as a person more than a skier. Moreover, he thinks being a skier is just a bonus, and the pair loves spending time together.
"I like her as a person more than anything else."

🇳🇴 Aleksander Aamodt Kilde opens up on why sharing experiences with fellow ski star Mikaela Shiffrin helps them "make each other better".@AleksanderKilde I @mikaelashiffrin I @idrett pic.twitter.com/KWhHQ9ZrbP

— The Olympic Games (@Olympics) January 21, 2022
Mikaela Shiffrin's boyfriend, Aleksander Kilde, also participated in the Beijing Winter Olympics and won one silver (combined) and one bronze (Super-G).
Both Shiffrin and Kilde go on exciting trips and do not shy away from sharing their pictures on their respective social media. Their captions are very witty, showing that humor is alive between them.
Previously Dated A French Skier
Although Mikaela has been in a happy relationship for years, she dated French skier Mathieu Faivre.
Shiffrin's ex-boyfriend, Mathieu, specializes in giant slaloms and has an impressive portfolio. The former couple was in a long-distance relationship.
They were young and were very devoted to their career. Presumably, the long-distance relationship did not work out for them, and they parted ways in mid-2019.
Mikaela Shiffrin | Social Media Presence
American skier Mikaela Shiffrin is very active on social media. From sharing her personal life to career achievements and being the face of Adidas, she has accumulated millions of followers across her different social media accounts.
Shiffrin can be found on Instagram under the handle @Mikaelashiffrin, on Facebook @Mikaela Shiffrin, and on Twitter @MikaelaShiffrin.
Instagram: 1.1m followers
View this post on Instagram
Twitter: 204.7k followers
Facebook: 781k followers
Mikaela Shiffrin | Popularity
Winning Gold in Olympics as the youngest skier and being a four-time Overall World Cup champion, Mikaela has surely worked her way up.
The above image gives brief information about the popularity of Mikaela based on Google searches in the United States of America over a year.
Mikaela Shiffrin | FAQs
How long did Mikaela Shiffrin sit on the mountain?
At the Beijing Olympics, after Shiffrin made a mistake and dropped to the ground. She sat in the snow with her arms cradling her knees and her head down until a member of Team USA eventually came to console her.
Mikaela sat there for more than 20 minutes.
When did Mikaela Shiffrin start skiing?
Mikaela Shiffrin, one of the most historic skiers in American history, started skiing at a young age. It was a family activity; she enrolled in ski school at age seven and has never looked back.
Furthermore, Shiffrin's professional career started in 2011, making her first World Cup debut at age 15.