The "Swingman" Mike Dunleavy is a former American professional basketball player who played with six different National Basketball Association (NBA) teams.
Currently, he's serving as an Assistant General Manager for the Golden State Warriors of the NBA.
Moreover, the jewel in the crown was when he earned the NCAA championship in 2001 and was named First-team All-ACC in 2002.
Following that, he attained McDonald's All-American in 1999. And he was also named as the consensus second-team All-American in 2002.
Indeed, just the first of many, he ran through his race and peaks, retained the hunger to make a clean sweep of the title, and set his name as the decent swingman.
Additionally, he is one of the league's top shooters with long-distance marksmanship, a decent finisher at the basket, and was considered a competent and willing passer.
Uncover more information ranging from career, family, and early life to net worth about former professional basketball player Mike Dunleavy.
But before reaching any further, look briefly at the quick facts.
Quick Facts
Full Name
Michael Joseph Dunleavy Jr.
Birth Date
September 15, 1980
Birth Place
Fort Worth, Texas
Nick Name
Michael Dunleavy
Religion
Christianity
Nationality
American
Ethnicity
Unknown
Education

Jesuit High School, Beaverton, Oregon
Duke University

Horoscope
Virgo
Father's Name
Mike Dunleavy Sr.
Mother's Name
Emily Dunleavy
Siblings
Two brothers

(Baker and James Dunleavy)

Age

42 years old

Height
6 feet 9 inches
Weight
104 Kilogram (230 lb)
Jersey no.
10, 34, 17, 3
Hair Color
Brown
Eye Color
Brown
Body Type
Athletic
Profession
Former NBA Player
Draft Year
2002 / Round: 1 / Pick: 3rd Overall
League
NBA
Active Years
2002 – 2017
Sexual Orientation
Straight
Marital Status
Married
Wife
Sarah Dunleavy
Kids
Not available
Net Worth
$30 million
Position
Shooting guard / Small forward
Social Media
Unavailable
Merch
Mass Market Paperback
Last Update

March, 2023
Mike Dunleavy: Early Life & Family
The basketball player with athleticism and perfectionism, Mike was born on September 15, 1980.
Moreover, he was born in Forth Worth, Texas, and was brought up and grew up in varied places due to his Father's placement.
His full birth name is Michael Joseph Dunleavy Jr., but he's adored mainly by the name Mike Dunleavy. Thus, he refers to American nationality and follows Christianity as his religion.
Dunleavy was the firstborn child among three of Mike Dunleavy Sr. and Emily Dunleavy.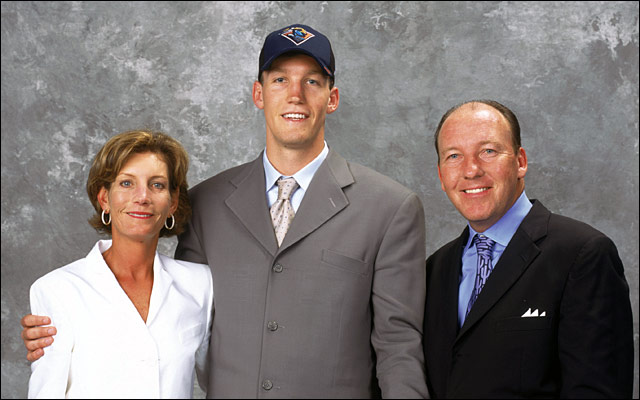 Mike Dunleavy Sr. is a retired basketball player, former Los Angeles Clippers, Portland Trail Blazers coach, and the former head coach at Tulane Green Wave Men's Basketball.
Further, he had spent almost three decades playing and coaching in the League.
Likewise, one of the younger brothers, Baker, is the head coach at Quinnipiac University in Hamden, Connecticut. Another brother James is an NBA player agent.
Hence, almost everyone in the family excavated their career in basketball, whether as a player, manager, or coach.
Furthermore, during his early life, Dunleavy heeded a residential sports camp in Eagle River, Wisconsin, named Camp Menominee.
Therefore, Camp Menominee cherished him by titling its basketball court, "The Mike Dunleavy Jr. Courts."
Mike Dunleavy: Basketball Career
High School Career
Dunleavy attended Jesuit High School, located in Beaverton, Oregon. Moreover, he helped the high school lead to the 1999 4A State Boys Basketball Championship with a 65-38 victory against North Salem High School.
Then, he went to the University School of Milwaukee for his first year and attended Homestead high school in Mequon for his sophomore year.
College Career
Mike Dunleavy attended Duke University from 1999 to 2002. Also, he got proper guidance and encouragement from legendary college coach Mike Krzyzewski.
Moreover, he played on Duke's National Championship team in his sophomore year, averaging a team-high 21 points, counting the three-pointers.
Mike became the first-team NABC All-American in his junior season, scoring 17.3 points per game and adding 7.2 rebounds against a 31-4 win over the Blue Devils.
Professional Career
Golden State Warriors
Mike Dunleavy was selected with the third overall pick in the 2002 NBA Draft by the Golden Gate Warriors.
Then, he signed a 5-year, $44 million contract with Warriors in November 2005.
In the 2005-06 season, he mislay his starting role as a small forward in numerous games due to a shooting slump.
Later, he won back the starting chore and start-up with his new position of power guard.
Indiana Pacers
Dunleavy was traded to the Indiana Pacers on January 17, 2007. Then, he started in all 82 games of Pacers, where he averaged a career-high 19.1 points per game.
Milwaukee Bucks
Dunleavy signed a two-year, $7.5 million deal with Milwaukee Bucks on December 10, following the 2011 NBA lockout.
Thus, he recorded his best score of 29 points and added 12 rebounds against the Cleveland Cavaliers in November 2012.
Chicago Bulls
Dunleavy signed with the Chicago Bulls on a two-year $6 million deal on July 10, 2013.
He logged a playoff career-high 35 points enclosing a franchise playoff record for most three-point field goals that is 8, over the Washington Wizards.
Again, he signed a $14.4 million with the Chicago Bulls in July 2015.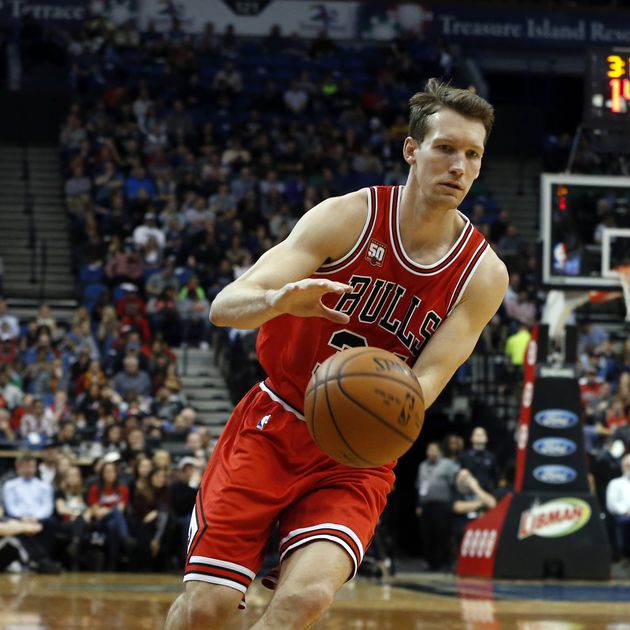 Consequently, on December 3, he was ruled out for four to six weeks due to injury.
Later, he was signed to the Santa Cruz Warriors, the D-League associate of the Golden State Warriors, to practice there while the Bulls were on a West Coast road trip in February 2016.
Then, he was recalled by the Bulls, and he made his debut with an average of five points in 14 minutes of action against the Minnesota Timberwolves.
Cleveland Cavaliers
Dunleavy was traded to Cleveland Cavaliers in July 2016. In October 2016, he debuted for the Cleveland Cavaliers in the team's season opener against the New York Knicks.
Therefore, he recorded four points, four rebounds, two assists, and three steals in 22 minutes off the bench and seized the 117-88 victory.
Furthermore, he scored 14 points in a 119-99 win against the Brooklyn Nets.
Atlanta Hawks
Dunleavy was traded to the Atlanta Hawks on January 7, 2017.
Then, he made his debut for the Hawks, averaging six points on two three-pointers against the Boston Celtics.
Likewise, on January 15, he scored his first 20 points performance off the bench since a first-round playoff game, in a 111-98 victory against the Milwaukee Bucks.
Thus, on March 3, 2017, Dunleavy suffered from a right ankle inflammation and was ruled out immediately. Then, he made his comeback on March 22 against Washington Wizards.
Retirement
Accordingly, on June 30, 2017, the Hawks waived Dunleavy, announcing his retirement promptly afterward.
However, his off-court troubles have given him more notice than the on-court play.
Therefore, he's compelled to decide on his retirement due to devastating injuries. Although he still had some time to grow as a great player, the crucial injuries didn't let him finish at good.
Awards & Achievements
Consensus second-team All-American (2002)

First-team All-ACC (2002)

McDonald's All American (1999)

NCAA champion (2001)

Third-team Parade All-American (1999)
Mike Dunleavy: Managerial Career
After his retirement, Dunleavy was hired by the Golden State Warriors on September 24 as a pro scout. Later, he was promoted to assistant general manager of the Golden State Warriors of the NBA.
Although he retired as a basketball player, he got the other more considerable responsibility to accomplish. Hence, Dunleavy must have progressed to wonderful life experiences from being a player to an assistant coach.
Discover more about Evan Turner Bio: NBA, Retirement & Net Worth >>.
Mike Dunleavy: Net Worth & Salary
The 6'9″ former productive shooting guard Mike Dunleavy had a net worth of $30 million.
Coming to his salary, in the season 2017-18, his salary with Atlanta Hawks was $1,600,000. And, in 2016-17 with the Hawks, he earned $4,837,500.
Furthermore, in the season 2015-16 with Chicago Bulls, his estimated income was $4,837,500. Then, he earned $3,000,000 in 2013-14 with the Bulls.
Therefore, his beginning salary with Golden State Warriors was $3,100,080.
Social Media Presence
Utmost NBA players forge their social media accounts to reach their enthusiasts and share their persistent on-court and off-court activities.
However, Mike Dunleavy didn't belong to that folks and had stayed out of social media. Alike, there must be some significant reasons for being absent from social media.
We will rationalize soon enough if we access his social media accounts.
On the other hand, his numerous fan pages prove his fans admired him. Thus, he is the stardom with authentic fanatics and supporters.
Age, Height & Weight
The former valued player Mike Dunleavy was born in Fort Worth, Texas, on September 15, 1980. So, according to his birth date, he is 42 years old.
About his physical stats, he stands at an impressive height of 6 feet 9 inches (2.06 m), and his body weight is around 230 lb (104 kg).
Additionally, he had a perfectly maintained physique that made a difference back in the arena, and he disclosed incredible lateral pace and had fast hands.
Hence, he was excellent for having a massive athletic body and considerable height.
Find out engaging information about Roy Hibbert Bio: Career, Wife & Net Worth>>
Who is Mike Dunleavy's Wife?
Addressing his relationship, Mike Dunleavy married elegant Sarah Dunleavy in 2008, and arguably, they are one of the finest-looking twos.
Alike perceiving many other NBA couples, Sarah and Mike solely are the best of the bunch.
Furthermore, his wife, Sarah Dunleavy, is a gorgeous-looking lady with blonde hair who often escorted Mike to events.
The couple is happily ever after; they are also delighted parents blessed with two children, an adorable son and a beautiful daughter.
In addition, Sarah, with a big heart, often attends charity and foundation events with Mike.
Moreover, the duo started dating each other during their University days at Duke. The duo's additional information is unavailable as they haven't disclosed their personal life to the general public.
Click here to read everything about Nikola Vucevic Bio: NBA, Career & Net Worth>>
Dunleavy took an Intense Hit on the Face.
Mike Dunleavy took one of the most hurtful hits in NBA history playing against the Houston Rockets.
Moreover, he strutted his floor over mighty Houston Rockets forward Chandler Parsons and took an unwitting elbow to the face that put him in the bloody aftermath.
Then, medical staff immediately took him to the locker room for a check-up and stitches.
Frequently Asked Questions (FAQ)
How many years did Mike Dunleavy play in NBA?
The striking power forward and the shooting guard put on his fifteen years for the NBA. He set a good impact over the course (2002-2017).