Indeed, life with just glamour and glitz doesn't bring constant pleasure and satisfaction to us. That's why we have sports, for the thrills and suspense in our dull life. Some fatal, some simple, and some that lead to death. This is the reason why sports are vicious alongside their soothing charm.
However, has anyone realized how we risk our lives for the thrilling validation that we seek? Having said this, losing something to gain something; that's given!
Every year, every day, and every hour, numerous injuries occur around us.
Today, we will discuss the top ten most dangerous sports. To spice things up, we will talk about their danger level and frequent injuries.
The Top Ten Most Dangerous Sports
10) Base Jumping | Most Dangerous Sports
Injury Rate: average of 25 athletes fatally injured in a year
Among the ten most dangerous sports, base Jumping is similar to sky diving as people will jump with parachutes. However, instead of throwing themselves off planes, they do it from high buildings. As the name suggests, they jump from one fixed object to another.
This sport started back in the late 1970s and athletes do it for the adrenaline rush.
According to the reports, the injury rate is 0.2-0.4% per jump, and one among every sixty participants is expected to be fatally injured.
Additionally, many are injured due to the malfunctions of their wingsuit. They also have a heavy strike with objects or canopy while jumping.
Most base jumpers suffer from ankle sprains/fractures, minor head concussions, or a bruised knee.
Altogether, it is about right times more dangerous than sky diving.
BASE competitions have been happening since the 1980s, with accurate landings or free-fall aerobatics used as the judging criteria for technical purposes.
9) Luge | Most Dangerous Sports
Injury Rate: average of 407 injuries per annum
Luge can be in different forms; ice, track, or road. Among them, the dangerous one would be the ice. It's all the gravity-based sports where the athlete will lie on a longboard and ride it.
As a fun fact, the board moves up to the speed of 140 km/h (87 mph). It brings the danger of the overuse of muscles and losing balance.
Although it hasn't bought numbers of deaths to date; however, it puts the athletes with serious injuries, making it one of the most dangerous sports even to attempt.
Comparing it with skeletons, luges are far more dangerous. Back in 2010 opening day of the Winter Olympics held in Canada, luge athlete Nodar Kumaritashvili died from the sport.
Athletes in the sport of luge must strike a balance between mental and physical fitness. A luger's physical requirements include having powerful neck, upper body, abdominal, and thigh muscles.
8) Gymnastics | Most Dangerous Sports
Injury Rate: 100,000 injuries per year
As we know, gymnastics is about balance, strength, flexibility, agility, coordination, and endurance. It depicts the high use of overall body muscles.
Some prevalent injuries in this sports are wrist fractures, cartilage damage, and anterior cruciate ligament (ACL) tears.
Even their small injuries later amount to be a big deal which results in low bone density.
To date, one death has been recorded from this sport. Gymnast Julissa D'Anne Gomez fell into a vaulting accident that left her quadriplegic. Sadly, she eventually died due to her injury.
Young, recreational, and competitive athletes at all ability levels participate in gymnastics-related sports.
7) Racing | Most Dangerous Sports
Injury Rate: approximately 1.2 per 1000 competitors per race
We have raced in many forms; with horses, cars, motorbikes, or cycles. All of them are one of the most vicious sports we indulge in.
The earliest evidence of races may be found in Greek pottery, which shows running men competing for the top spot. The Iliad by Homer describes a chariot racing.
If we talk about horse racing, it brings equal impact to the horses as it does to humans.
As per the sources, an average of ten horses die every week. Glancing at supercars or bike racing, they speed up to 200+ mph. The speed at that limit is insanely crazy.
Of course, several safety measures are used; however, numerous face car crashes.
Also, over forty deaths have been recorded in sports in just two decades. Additionally, they face nearly 220 crashes every year.
As for bike racing, they had about 84,000 injuries in a year. No wonder it took one of the top spots on our 'Most Dangerous Sports' list.
<<<6 Strongest Skate Deck For Newbie And Pro>>>
6) Big Wave Surfing | Most Dangerous Sports
Injury Rate: 2.2 injured people in every 1,000
It is an action of surfing that's done in a strong current of the ocean. Indeed their depth level results in several fatal injuries and even deaths. That's why is one of the ten most dangerous sports.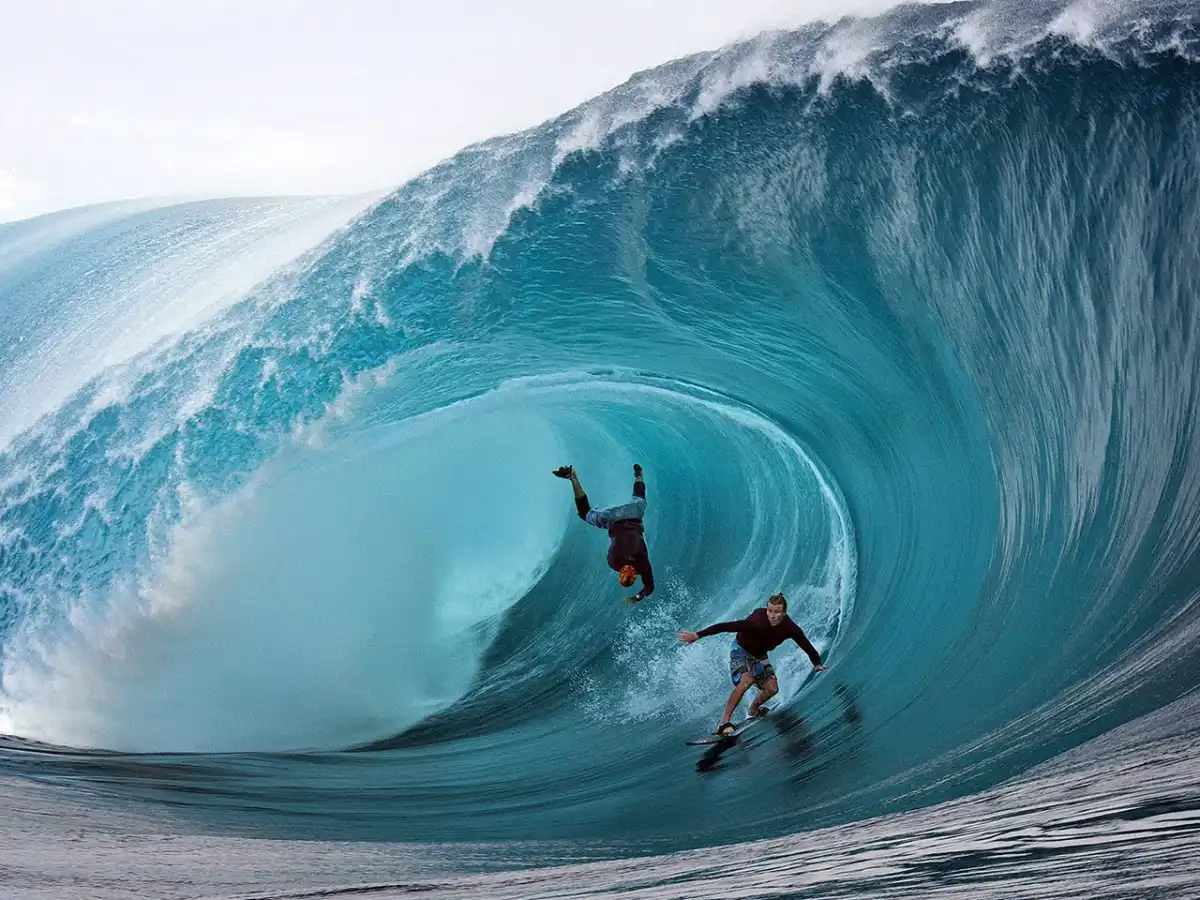 Some big waves that surfers indulge in can push them down to 20 to 50 feet (about 6.2 m to 15.5 m).
Consequently, some of the common injuries they face are to the leg, the head and face, the back, and the shoulder and arm. Among them, most of the injuries they faced are on their legs.
The first gold medal winners in the men's and women's surfing events in Tokyo 2020 were Carissa Moore from Hawaii and Talo Ferreira from Brazil.
5) Rugby
Injury Rate: average of 1,200 injuries per year
One of the highly enjoyed and paid sports in the world is rugby. Although this sports amount to tremendous excitement, it also is one of the deadliest sports.
Most of the injuries are concussions or brain-related. As per the sources, one out of four players get injured every season.
Some of the other common injuries rugby players face are hamstring muscle injuries, ankle sprains, head injuries, shoulder injuries, and thumb injuries.
4) Bull Riding |
Injury Rate: average of 32.2 injuries among 1000
Often mentioned as "the ten most dangerous eight seconds in sports," bull riding is different per different traditions in other countries. It is also termed as a sport more dangerous than football and rugby.
As a fact, bull riding results in significant injuries, mainly concussions. Also, injuries are common. However, fatal injuries occur rarely. Up until now, there have been three deaths recorded from this sport.
As players fall from the bull they are riding, some bulls stomp on the players.
The bulls are highly sensitive to any unfavorable stimulation, such as the riders trying to buck off because they have been selectively selected to have a propensity to buck.
3) Helicopter Skiing
Injury Rate: 600,000 people every year
Yes, they were skiing with the help of a helicopter rather than a ski lift. Nothing much could go wrong unless the athletes aren't careful; they could face muscular and skeletal injuries.
Once in Alaska, heli-ski crash killed five people, including Czech Republic's richest man. Also, the primary concern with this sport is the avalanche.
Powder snow, natural terrain characteristics, long descents, smooth corn snow, old-growth tree glades, and steep terrain are what most heli skiers seek.
2) Boxing |
Injury Rate: 7 deaths per year
Highly played and entertaining sport, boxing is deadly in the meantime. You can imagine yourself in the ring alongside big bulky fighters hitting you across the face.
Not a scene to fantasize about, indeed.
Each style has a distinct edge over the others, according to the boxing style. Boxer defeats brawler, brawler defeats swarmer, and swarmer defeats fighter in a scenario based on the rock, paper, scissors principle.
Well, safety gear and protective gloves have been developed over the years. Still, injuries are common in the octagon. If we go for the number of sports deaths, just between 1890 and 2019, there are 1,876 recorded deaths.
Similarly, in July 2019, Maxim Dadashev died after suffering from a brain injury during a fight against Subriel Matias. He was just 28 at the time.
Besides, 15% to 40% of boxers face chronic brain injury, and almost half of the professional fighters struggle with dementia.
Overall, boxers are prone to face severe neural problems later in their life such as Parkinson's or Alzheimer's disease.
1) Mountaineering
Injury Rate: 3,023 to 3,816 injuries every year
One of the most challenging tasks, mountaineering is one of the deadliest. It also includes extreme weather conditions that a climber has to deal with.
As per the sources, 5.6 injuries occur per 10,000 hours of mountaineering. Not to mention, one also faces about 30 deaths every year. In the meantime, some people go missing for years.
Mountaineering's effects on the environment can be seen in specific environmental elements (land relief, soil, vegetation, fauna, and scenery), as well as the location or zone of the activity (hiking, trekking, or climbing zone).
A simple misstep can lead them to fall to their death.
Do check out the best XFL players of all time!
Summary
Herewith this sums up our list of the ten most dangerous sports, have a quick look at the summary.
Mountaineering
Boxing
Helicopter Skiing
Bull Riding
Rugby
Big Wave Surfing
Racing
Gymnastic
Luge
Base Jumping
Bonus:
Overall, let's add an extra dose of fun facts regarding sports. We all have known cheerleading to be one of the beautiful synchronizations of their balance and skills.
As many might not believe, that stunning performance can also be deadly if not done right.
As per the statistics, 66% of college and high school females face catastrophic injuries from it.
It is one of the roughest sports that has led to a single death to date. Anyways, with this, we conclude the list.
You might be interested in learning about the top fights in the UFC!