The full and real name of MS Dhoni is Mahendra Singh Dhoni, a former Indian international cricketer. He remained as the caption of the Indian national team in limited-overs formats and also in Test cricket. His team won the inaugural 2007 ICC World Twenty20, the 2010 and 2016 Asia Cups, the 2013 ICC Champions Trophy, and the 2011 ICC Cricket World Cup under his captaincy.
Moreover, he is a right-handed middle-order batsman and wicket-keeper, who is also in the list of the highest run-scorer in One Day Internationals (ODIs). He is the most loved cricket player in India, but he announced his retirement on 15 August 2020 from International cricket.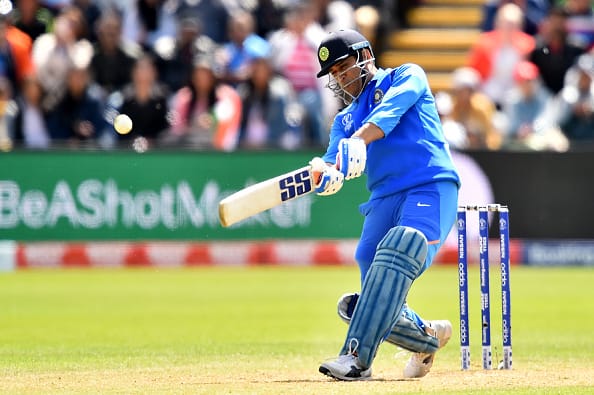 Following the top 116 quotes by MS Dhoni is helpful for his numerous fans.
"Winning the World Cup was very special because it meant so much to so many. One thing about our country that is constant is cricket. The smile it brought to people's faces was the thing I shall always remember. It reminded me, reminded all of us, of our importance to the lives of the Indian people less lucky than we are."― MS Dhoni
"Going out for rides with my friends and having lunch or dinner at a roadside hotel – that's my favourite time-pass."― MS Dhoni
"Cricket is not everything, not by any means, but it is a large part of who I am."― MS Dhoni
"One thing about our country that is constant is cricket."― MS Dhoni
"If you have forest, if you have green forest, the water table goes up. What happens with deforestation is the water level goes down and we all know how much importance drinking water has."― MS Dhoni
"If you are good at studies, and you want to play cricket, you may work harder than any other person, but you may not achieve it. So it's something you have to balance in life and be practical where you are good and then channelise your efforts in the right direction to be successful in life."― MS Dhoni
7th of 116 MS Dhoni Quotes
"If you don't really have a dream, you can't really push yourself; you don't really know what the target is."― MS Dhoni
"Getting up quite late in the morning, going and trying to clean my bikes – I have quite a few of them in Ranchi – spending some time with my family, my parents and friends. Going out for rides with my friends and having lunch or dinner at a roadside hotel – that's my favourite time-pass. These are the sort of things that really excite me."― MS Dhoni
"I live in the present with an eye on the future."― MS Dhoni
"Spirit of cricket is not about just the guidelines provided."― MS Dhoni
"What's more important is, rather than looking at it from a commercial point of view, what we have to make sure is, where there's existence of the sport, it keeps on increasing there, and at the same time, you look at some of the other countries where there's the prospect of playing cricket."― MS Dhoni
"It's important to learn and not repeat the same mistakes. What's done is done."― MS Dhoni
"You learn a lot more when you're going through a rough period compared to the good times when everything goes your way."― MS Dhoni
"I am always the one who is responsible for anything bad that happens in Indian cricket. Everything that happens is because of me."― MS Dhoni
"For me, it's important to build good partnerships rather than score centuries. Once, you have those partnerships, you will also get centuries."― MS Dhoni
"I have always believed that process is more important than results."― MS Dhoni
"If you play cricket for India, money is bound to come, and with IPL in and match money of the Ranjhi trophy, I think money is there. There's no good reason why you should not work hard, because at the end of the day, you want to play for your country."― MS Dhoni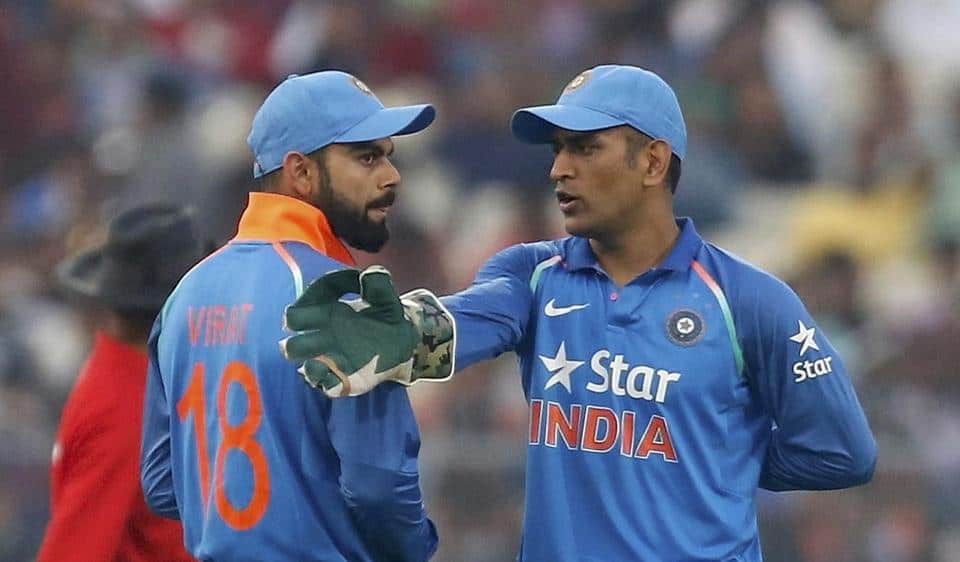 "You may earn whatever money you earn as a cricketer, but you want to play for your country. At the end of the day, you want to do something special. There are plenty of people who earn 50 crores or 100 crores as businessmen or big professionals or who are really doing well in business. But what gives pleasure to your mom and dad is the fame."― MS Dhoni
"Gut feeling is all about the experiences that you have had in your life. It is about being in difficult scenarios, knowing what worked, what did not work, and then taking a decision."― MS Dhoni
"I believe in giving more than 100% on the field, and I don't really worry about the result if there's great commitment on the field. That's victory for me."― MS Dhoni
"What is important is to have a positive intent right from the start, and positive intent doesn't always mean looking for the big shots. Positive intention when it comes to defending a ball or looking for a single."― MS Dhoni
"From when I was a young boy, I read books on weapons and tanks and combat. I was so interested in the army."― MS Dhoni
"Cricket is not everything, not by any means, but it is a large part of who I am. Therefore, I want to play in all formats of the game and to play as much as possible because, before long, it will be over."― MS Dhoni
"In Test matches, you have to play consistent cricket for a period of time."― MS Dhoni
"Self-confidence has always been one of my good qualities. I am always very confident. It is in my nature to be confident, to be aggressive. And it applies in my batting as well as wicketkeeping."― MS Dhoni
"You go through tough times. What I personally believe in is you should forget the stats. But also, it pushes you to see the areas where you have to work on to be a consistent team."― MS Dhoni
"The more allrounders you have, the more difficult it becomes for the opposition. The reason being, if you have players who can bat and bowl, and if they are proper allrounders – they may be spinning or fast-bowling allrounders – they add to the strength of the team."― MS Dhoni
"I don't study cricket too much. Whatever I have learned or experienced is through cricket I've played on the field, and whatever little I have watched."― MS Dhoni
29th of 116 MS Dhoni Quotes
"I resigned from captaincy because I wanted the new captain to get enough time for preparing a team before the ICC Cricket World Cup 2020."― MS Dhoni
"After one Olympics, if we invest in sports and say we will get a gold medal in the next Olympic, it doesn't work like that in sports. How it works is that you provide the infrastructure, provide education about nutrition and health."― MS Dhoni
"Movies are a big part of our Indian culture."― MS Dhoni
"I live for the moment – not the future, not the past."― MS Dhoni
"You need to perform consistently, and if you're raising the standard, you have to stand by it. You have to keep on doing well."― MS Dhoni
"I don't think I will ever make my all-time greatest India team. You cannot compare one era with another, as they will be different."― MS Dhoni
"The cameras used to pass by me; now they're stopping for me."― MS Dhoni
"Finishing is one of the most difficult things to do in cricket. A player can't be a finisher in just 6 months or one year. You have to be used to that responsibility, keeping on doing what is required from you over a period of time."― MS Dhoni
"I am touched by the admiration and ovation I receive from CSK fans, which will always remain close to my heart."― MS Dhoni
"Let me tell you, it is an absolute lie that I told a probe panel that Meiyappan was only a cricket enthusiast. All I said is he had nothing to do with the team's on-field cricketing decisions. I can't even pronounce the word 'enthusiast.'"― MS Dhoni
"Nobody really wants to bowl a bad over, but if it happens, the individual is more disappointed than anyone else in the stadium or the team. Ideally, it is best to leave him to this thoughts and then have a chat with him after the team is back at the hotel when he will be less frustrated and more accepting."― MS Dhoni
"I'm a person who lives very in the moment."― MS Dhoni
"If you don't perform, and you're part of the team, whether you're playing your first Test or 50th Test match, criticism goes hand in hand, so that's something you can't really get away from. If you don't perform, you will be criticised."― MS Dhoni
"In tennis ball cricket, even it's hit from the toe of the bat, the ball still travels a lot, but in normal cricket, it has to be the middle part of the bat, so it requires a lot of work."― MS Dhoni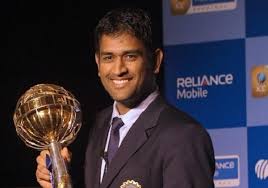 "I am in the hands of Deori Maa. Every time I come to Ranchi, I visit her temple. I still remember my first visit."― MS Dhoni
"I love being in the present. When I was playing for my school, the only thing I wanted to do was get selected for the under-16 or the under-19 district teams. When I was selected for the district, I would think about the next level, which was getting selected for the state side. I'm a person who lives very in the moment."― MS Dhoni
"Nobody wants to really play bad cricket."― MS Dhoni
"Everybody has views in life, and it should be respected."― MS Dhoni
"Maybe because I bat aggressively and go for big hits at times, people tend to remember my batting. But I have always done well as a stumper, too."― MS Dhoni
"When I was playing for my school, the only thing I wanted to do was get selected for the Under-16 or the Under-19 district teams. When I was selected for the district, I would think about the next level, which was getting selected for the state side."― MS Dhoni
"After the first ball is bowled, it's only chaos. What you are trying to do is you're trying to manage the chaos. It's not like a script that happens."― MS Dhoni
"The reason why people love T20 is the sixes and fours."― MS Dhoni
"You can't make three or four spinners bowl the exact number of overs. You don't see the number of overs bowled by them before you make a bowling change; you see who looks effective and make a bowling change."― MS Dhoni
"India-Pakistan matches always capture the imagination of people from either side."― MS Dhoni
"You have seen cricketers who are not god-gifted, but even then, they have gone far. That's because of the passion."― MS Dhoni
"I never allow myself to be pressured."― MS Dhoni
"I have three dogs at home. Even after losing a series or winning a series, they treat me the same way."― MS Dhoni
"Since 2005, I have not spent much time with my family. In fact I have spent more time at the Taj Landsend in Mumbai. It was my 100th visit recently, which means I have spent more than 400 days in that hotel, and that is a lot more than I have spent with my family."― MS Dhoni
"One of my theories is to be captain on the field and off the field, you need to totally enjoy each other's company. I don't like discussing cricket off the field."― MS Dhoni
"I used to play a lot of tennis-ball cricket."― MS Dhoni
"I love to be in the moment. I love to analyse things a bit."― MS Dhoni
60th of 116 MS Dhoni Quotes
"I love my country. I tell my wife she is only the third most important thing after my country and my parents, in that order."― MS Dhoni
"A sporting track doesn't always mean that it will only have grass on it."― MS Dhoni
"I like to make statements on the field."― MS Dhoni
"If the batsman is playing good shots, you accept it, but it is important that we bowl according to what the plan is and not go off it."― MS Dhoni
"We have always made sure that players who have played for CSK, even those who came from other franchises for whatever reason, have performed well."― MS Dhoni
"If you keep winning, you don't know the areas you've to work hard."― MS Dhoni
"Run Adam will play a significant role in aspiring sportspersons' life to achieve their dreams."― MS Dhoni
"I have faced challenges during the initial stages of my career, and I see Run Adam as filling a vacuum."― MS Dhoni
"I'm quite used to playing with few injuries, whether it is back, fingers, elbow, or something else. You have to be tough and get on with the game."― MS Dhoni
"I don't like discussing cricket off the field."― MS Dhoni
"I tell my wife she is only the third most important thing after my country and my parents, in that order."― MS Dhoni
"I have formed the Mahendra Singh Dhoni Charitable Trust which organises cricket tournaments in Jharkhand to identify promising cricketers so that we can help groom them, either in India or abroad."― MS Dhoni
"When people talk about South Africa, it's all about lions and elephants. But when we talk about India, we talk about tigers."― MS Dhoni
"For me, opposition is just another opposition."― MS Dhoni
"The era of playing aggressive cricket and to have the mid-on up is gone. You now try to read the mindset of a batsman."― MS Dhoni
"I care most about how people live their lives, what choices they make, and how they get the best from themselves."― MS Dhoni
"My wife wants me to eat fish; she says it is delicious. But I don't like fish, so that is that."― MS Dhoni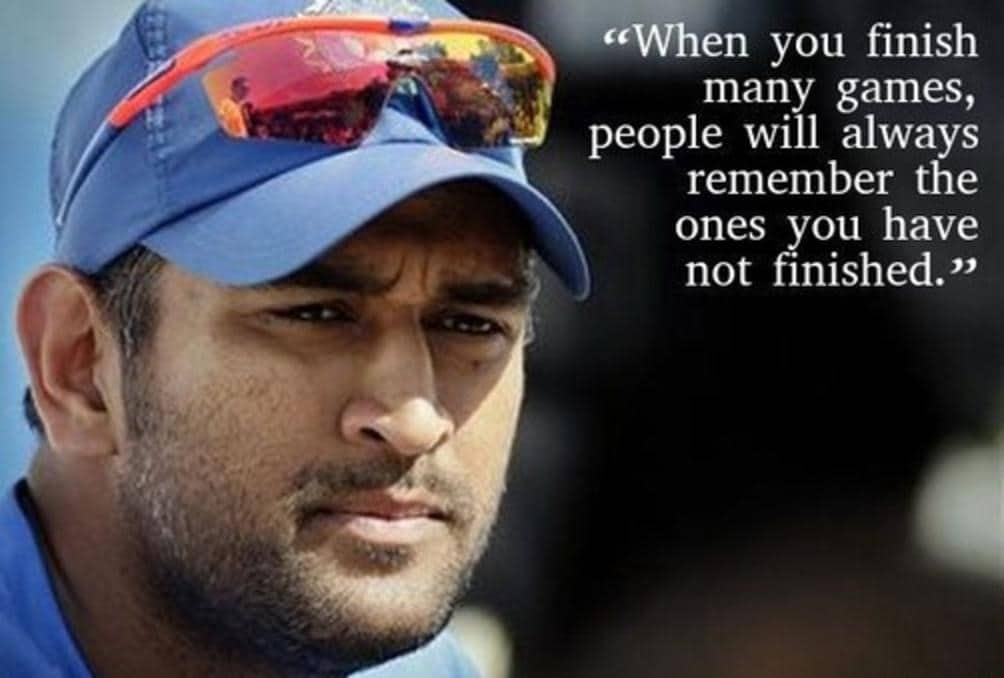 "Cricketers have a very short shelf life. On an average, you make money through cricket for five years, but you need to survive for sixty years."― MS Dhoni
"A lot of things have changed since I made my debut in 2004. The way cricket is played has changed. The kind of players that are coming in the Indian team are drastically different than what we were used to. My role is quite the same. You only evolve with time, and that's what I am trying to do."― MS Dhoni
"Frankly, I never thought that I would represent my country one day."― MS Dhoni
"I like to stay away from the game when I am not playing it."― MS Dhoni
"For me, fielding and running between the wickets are two things that are very important. For that, you need to motivate the guys about how much of an effect it will have on the game."― MS Dhoni
"If you're playing against an aggressive side, you need to play an aggressive game."― MS Dhoni
"Winning the World Cup was very special because it meant so much to so many."― MS Dhoni
"I really don't care what people say; I found Srinivasan as someone who was always there to help cricketers."― MS Dhoni
"I have more than I will ever need for one life."― MS Dhoni
"Please criticize me, but how can you accuse me of something like fixing a cricket game after all that the game has given me."― MS Dhoni
"My dad and my brother were more keen on football, but I used to play canvas-ball cricket while at school in Ranchi, and we would have cricket coaching camps in the summer vacations. That's how I started."― MS Dhoni
"When I'm at home, I love playing action-oriented computer games."― MS Dhoni
"Till the 10th standard, I was quite good – I got 66% that year. After my 10th, I got really involved with cricket, so I didn't have any time to study. And my parents didn't push me, either, which was very good for me."― MS Dhoni
"In front of 40,000 people, you don't really want to drop a catch or misfield. It's part and parcel of the game."― MS Dhoni
"We have to understand that the five-day format has its own uncertainties, unlike ODIs or T20s. In ODIs, you know that you have to field for 50 overs only, while in Test cricket, there may be a situation that a team might bat for one-and-a-half to two days."― MS Dhoni
92th of 116 MS Dhoni Quotes
"As a skipper, when you try to manipulate the field, you need to see the strengths of the fast bowlers."― MS Dhoni
"Whether a player has played one match or a hundred, we should give him respect for what he has achieved and leave it at that."― MS Dhoni
"You need more individuals who can do more than one job in the field. Especially if all of them are good fielders and if they can contribute with bat and ball if needed. Just adds to the strength of the side."― MS Dhoni
"Sometimes in T20, you need to bowl only one over, and once the captain has given you that one over, irrespective of whether it is good or bad, that one over is out of the equation. That actually helps you, that one over. By the time the batsman figures out what you are trying to do, you get rid of one over."― MS Dhoni
"You can't take any team lightly."― MS Dhoni
"One-day cricket is about aggression and flair, but Test cricket is a different ball game. One has to struggle through the hard periods initially and then look on to get a respectable score on the board."― MS Dhoni
"I don't believe in calling someone and having a big chat, because that puts a lot of added pressure on them. If somebody is doing something or involved in fielding practice, then a little chit-chat at that time helps because it's informal and doesn't add any pressure."― MS Dhoni
"You have to see that cricket is developing as a sport because what's very important is you want cricket to be a global sport when it comes to participation."― MS Dhoni
"You don't need to spoon-feed bowlers at the international level."― MS Dhoni
"Even when you bowl a bad over, try to restrict it in between 15-18 runs, because if you go higher than that, it has a bigger impact on the game."― MS Dhoni
"I think it is always a challenge when you go and play abroad. You are competing against the home team, and they know the conditions well. Their fast bowlers always know which length to bowl and also the areas in which they need to bowl."― MS Dhoni
"During a packed season, maintaining fitness becomes tough because you can't put too much effort into it. You're constantly monitoring workloads."― MS Dhoni
"I feel some of the sides are blessed when it comes to having allrounders."― MS Dhoni
"Strong characters are needed in the game."― MS Dhoni
"The biggest learning during my tenure as a captain was that, a lot of time, I used to think that this is common sense. But no, there is nothing called common sense."― MS Dhoni
"Unless you know the individual, it's very difficult to advise that individual as to what he needs to do."― MS Dhoni
"Our biggest strength has always been the fans. All over, wherever we have gone, CSK has got support."― MS Dhoni
"What captains want is players who move well in the field."― MS Dhoni
"It doesn't matter which year a player is born in, whether you are 19 or 20 – you have to be agile. You have to accept your shortcomings."― MS Dhoni
"Selecting a strong team without giving the new captain appropriate time isn't possible."― MS Dhoni
"I never thought of playing for any other franchise other than CSK. Chennai is my second home. Fans here have adopted me as one of their own."― MS Dhoni
"The biggest problem is when a player asks a captain why he is not playing but does not want an honest answer."― MS Dhoni
"Making important medicine more available and affordable is a great thing for the country, and Netmeds is one the mainstays in the space. They have a long legacy in the pharma business, and they are making it easier for people to stay healthy."― MS Dhoni
115th of 116 MS Dhoni Quotes
"When you help sportspersons achieve their full potential, you propel the sporting quotient of the entire country."― MS Dhoni
"What we have seen is that sports is definitely developing in India. I can see a lot of positive things happening in India. It may take a bit more time, but with proper guidance and people having passion for sports, I don't think we are far away from becoming a good sporting nation."― MS Dhoni