Naz Reid, who went undrafted in the 2019 NBA draft, currently plays for the Minnesota Timberwolves.
His NBA journey started as a two-way player for the Timberwolves before converting it to a standard NBA deal.
Reid's four-year deal worth $6.12 million lasts throughout the 2022-23 season. After that, he becomes an unrestricted free agent if no extensions or new deals are offered.
He scored his NBA career-high of 30 points against the Golden State Warriors on February 26, 2023.
His excellence in hoops is a testament to his dedication from his early days.
During his high school days at Roselle Catholic, Reid was even called for the 2018 McDonald's All-American Boys Game.
He also showcased his potential during his collegiate career at Louisiana State University, which he chose over the numerous scholarship offers.
However, his recruitment to LSU was filled with controversy following allegations that he had been offered $300k by the team's coach, Will Wade.
Despite the accusations, Naz Reid has denied receiving any such payment.
Read the full article to know more about the basketball star's NBA journey, family, relationship, allegations & net worth.
Quick Facts
Full Name
Nazreon Hilton Reid
Known As
Naz Reid
Date of Birth
August 26, 1999
Age
23 Years Old
Birth Place
Asbury Park, New Jersey
Nationality
American
Father's Name
Tahiem Reid
Mother's Name
Anashia Reid Smith
Siblings
Three
Zodiac Sign
Virgo
Relationship Status
Single
Height
6 feet 9 inches/ 206 cm/ 2.06 m
Weight
264 lbs/ 119 kg
Education

Roselle Catholic
LSU (2018-2019)

NBA Draft
Undrafted (2019 NBA draft)
Playing Career
2019-Present
Current Team

Minnesota Timberwolves (2019- Present)

Awards & Achievements

McDonald's All-American (2018)

Position
Center
Jersey Number
11
Annual Salary of 2022-23
$1.9 Million
Net Worth
$2.5 Million
Social Media
Instagram, Twitter
Last Update
June 2023
Family & Early Career
Naz Reid was born to Anashia and Tahiem Reid on August 26, 1999, in Asbury Park, New Jersey.
He grew up with three siblings, including one brother, Rahim, and two sisters, Toraya and Jakahya.
His interest in basketball began to shape his potential career when Reid attended Roselle Catholic High School & played for the varsity basketball team.
As a senior, he averaged 14.8 points and 7.7 rebounds per game.
No wonder Naz received an invitation to the 2018 McDonald's All-American Boys Game, during which he scored 15 points and recorded 11 rebounds in 20 minutes.
Age, Height & Body Measurements
As of 2023, Naz Reid's age is 23 years old.
He has a height of 6 feet 9 inches (2.06 m) and weighs 264 lbs (119 kg).
Additionally, Reid's wingspan measures 7 feet 3 inches (2.2 m) and has a standing reach of 9 feet 1 inch (2.76 m).
Collegiate Basketball
Reid decided to join LSU for college basketball due to coaches Wade, Heiar, and other coaches, whom he considered his coaching mentors.
During his freshman season, he participated in 34 games, starting in 32 of them, and averaged 13.6 points, 7.2 rebounds, and 0.9 assists.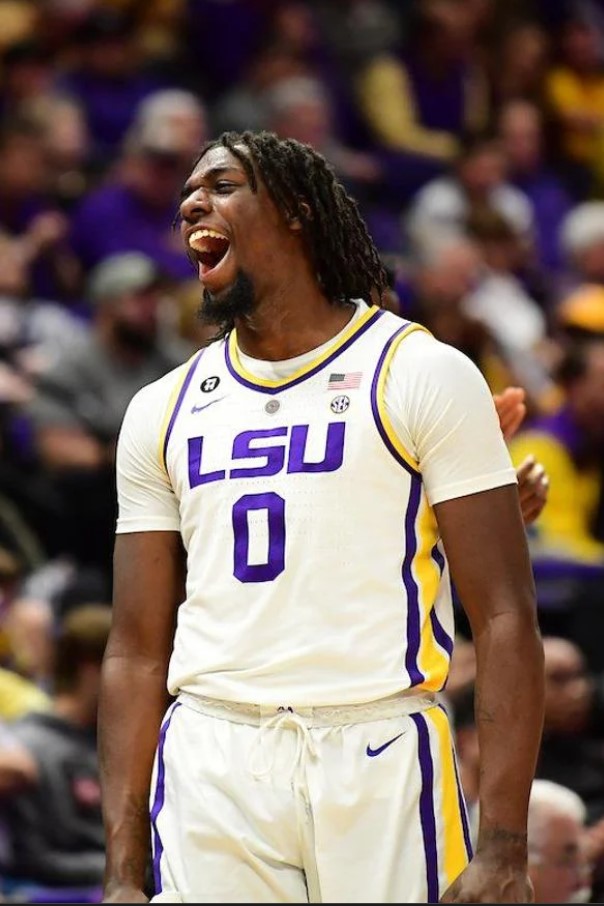 On April 3, 2019, Reid declared to enter the 2019 NBA draft, forgoing the remaining college year eligibility.
Was Naz Reid Offered 300K To Join LSU?
The LSU basketball coach, Will Wade, was accused of trying to pay $300,000 to recruit Naz Reid by Emanuel Richardson, who was involved in a federal investigation.
This accusation was made in a secretly recorded FBI video shown in court.
The conversation was recorded between the former coach and a convicted financial manager, who were discussing recruiting battles in the Southeastern Conference.
Richardson claimed that Wade approached him about offering money to recruit Reid for LSU while Arizona and LSU were competing for him.
However, Naz Reid denied the accusation and said he was not paid to play for LSU.
In the interview at NBA Combine on May 16, 2019, he denied any such deal, stating that it did not occur.
NBA Career
After being undrafted in the 2019 NBA draft, Naz Reid signed a two-way contract with the Minnesota Timberwolves and their G League affiliate, the Iowa Wolves.
During his rookie year in the 2019-20 season, he played in 30 games, starting 11 of them, and had an average of 9 points per game.
The following season, he played in 70 games, starting in 15 of them, and had an average of 11.2 points per game.
In his third season in 2021-22, Reid played in 77 games, starting in 6 of them, and had an average of 8.3 points per game.
In the 2022-23 season, on February 26, 2023, he recorded his career-high of 30 points in a game against the Golden State Warriors, despite his team losing 104-109.
Net Worth & Contracts
Naz Reid has an estimated net worth of around $2.5 million as of 2023, which came from his earnings as a basketball player.
Although he hasn't landed any major endorsement deals yet, many speculate that it's only a matter of time before he secures a lucrative deal, which would significantly add to his fortune.
After going undrafted in the 2019 NBA draft, Reid signed a two-way contract with the Minnesota Timberwolves on July 5, 2019, joining Rudy Gobert, Karl-Anthony Towns, and Mike Conley.
Just over two weeks later, on July 18, 2019, he signed a four-year contract worth $6.12 million with the Timberwolves, which guaranteed him $898k, and an annual salary of $1.5 million.
On July 29, 2022, the Timberwolves exercised their option to keep Reid for the 2022-23 season, which will pay him $1.93 million.
Following the end of the 2022-23 season, he will become an unrestricted free agent.
Relationship & Social Media Presence
Reports suggested that Reid had a girlfriend named Raven Farley during his time at LSU, and some sources claimed that he selected LSU partly because Farley was also a student there.
Farley spent her first year of college at LSU, playing basketball and participating in 25 games.
After that, she transferred to St. John's University for her sophomore year and played basketball during her junior and senior years.
She then attended Mississippi State University as a graduate student, taking advantage of the NCAA's additional COVID year for student-athletes during the 2020-21 season.
However, Reid and Farley have been keeping their relationship private, and neither of them has posted about the other on their social media accounts, leading some fans to speculate that they may have broken up.
Social Media Presence
The Timberwolves center is known for being active on various social media platforms like Instagram and Twitter.
He has amassed a sizable following on each of these platforms, with 149K followers on Instagram and 6.6K followers on Twitter.
His social media presence is primarily focused on basketball-related content, sharing pictures and reels of his NBA games.
Popularity Graph
According to the graph below, the search volume for Naz Reid over the past twelve months has varied.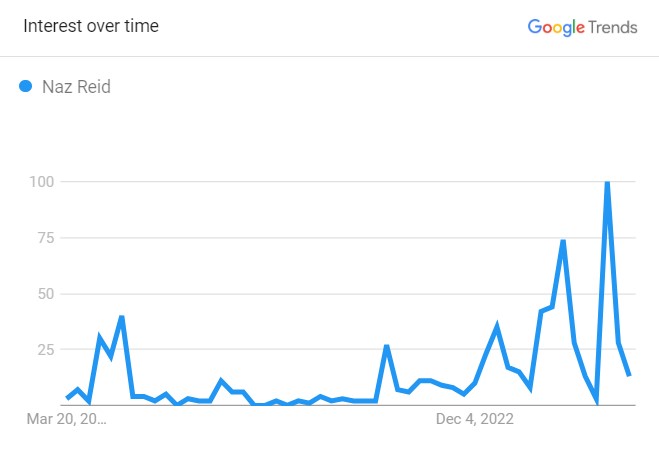 It is evident that there was a significant peak in interest in late February 2023.
Frequently Asked Questions (FAQs)
What is Naz Reid's full name?
The NBA player goes by the full name Nazreon Hilton Reid.
How much does Naz Reid make?
In the 2022-23 season, Naz Reid has a base salary of $1.93 million.