Playoffs have always been the most competitive event in basketball. All teams play their hearts out in the regular seasons to qualify for the playoffs and eventually clinch the title. Hence, let us discuss the top 12 NBA all-time leading scorers in playoffs.
It is not easy to go to the playoffs, especially when players and teams are changing and evolving each season.
Each team must rank within eight positions to secure a spot in the playoffs. Hence, to do this in each season is a very impressive thing.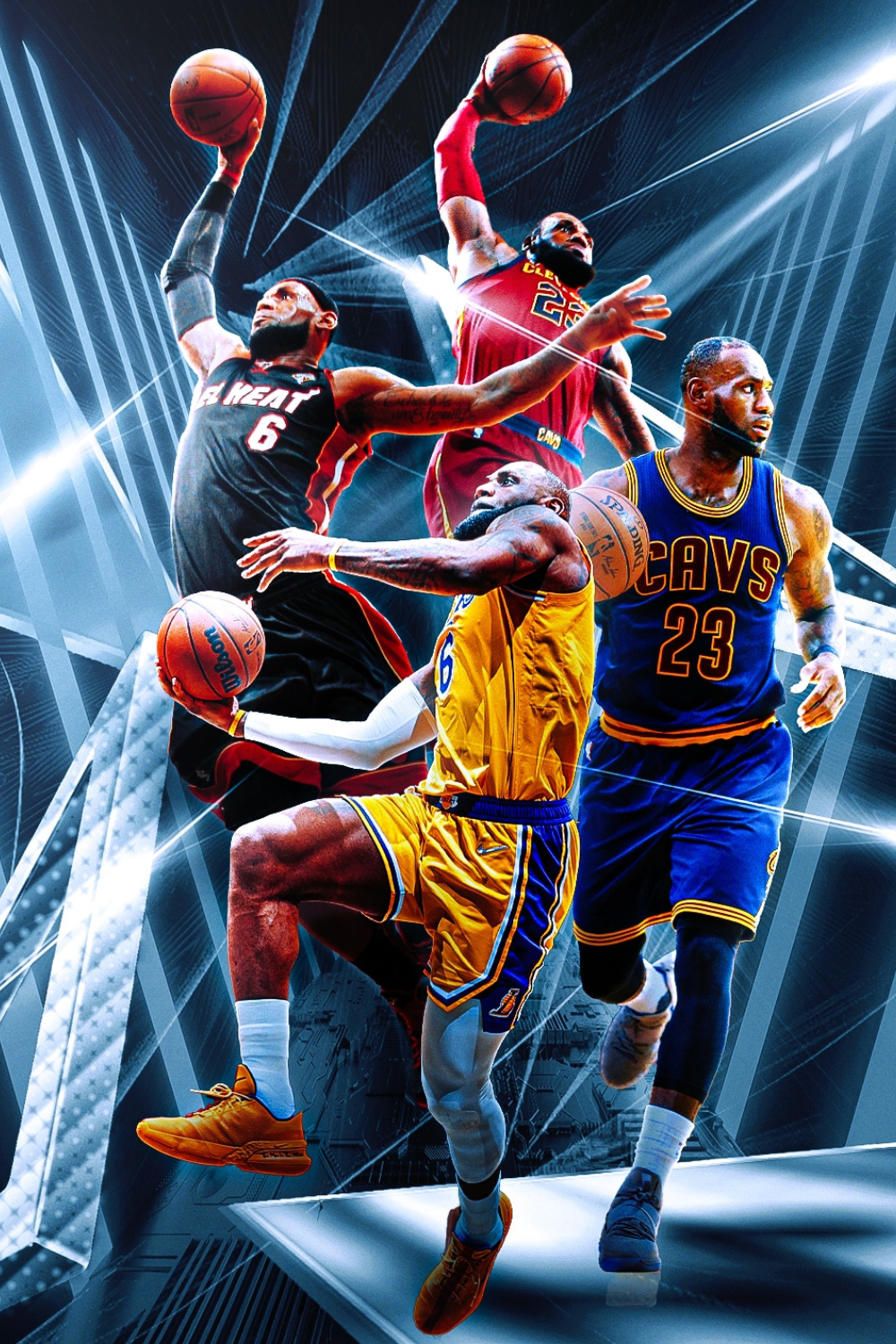 Likewise, having deep playoff runs each time in one's career takes a lot of effort. However, these players have endured the pain and reached playoffs each time.
Not only that, but they have also made an impact each time they got to the playoffs.
As a result, without further due, let's dive into knowing the top 12 NBA all-time leading scorers in playoffs.
Top 12 NBA All-time Leading Scorers In Playoffs
The players mentioned below are assembled based on their NBA scoring records in the NBA playoffs held each season.
Most of them are collected from Nba.com.

Further, before hopping into the details about the top 12 NBA all-time leading scorers in playoffs, let us quickly look at the names present in the list.
| | | |
| --- | --- | --- |
| NBA Players | Points | Playoffs Played |
| 12. Larry Bird | 3,897 | 164 |
| 11. Dwyane Wade | 3,954 | 177 |
| 10. Tony Parker | 4,045 | 226 |
| 9. Jerry West | 4,457 | 153 |
| 8. Kevin Durant | 4,559 | 155 |
| 7. Karl Malone | 4,761 | 193 |
| 6. Tim Duncan | 5,172 | 251 |
| 5. Shaquille O'Neal | 5,250 | 216 |
| 4. Kobe Bryant | 5,640 | 220 |
| 3. Kareem Abdul-Jabbar | 5,762 | 237 |
| 2. Michael Jordan | 5,987 | 179 |
| 1. LeBron James | 7,631 | 266 |
12. Larry Bird
A true basketball fan would never forget the name Larry Bird when naming top scorers in the playoffs. The former professional athlete has taken the Boston Celtics to twelve playoff seasons.
Furthermore, the athlete led the Celtics to three NBA Championships in 1981, 1984, and 1986. In addition, he has not missed the playoffs from 1980 to 1988.
Likewise, the former Pacers' coach continuously made it to the playoffs from 1990 to 1992.
Bird has scored 3,897 points in the playoffs and sits comfortably at 12 on our list.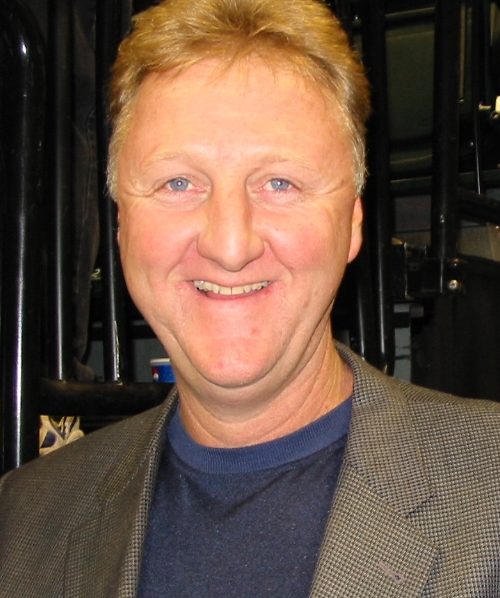 Similarly, the former basketball player has made 80 three-pointers in the 164 playoff games he has played in.
Besides being a player and coach, Bird served as the President of the Indiana Pacers.
However, the NBA executive stepped down from his role, citing that he is 60 years old and wishes to pursue things outside of basketball.
11. Dwyane Wade
The member of The Big Three, Dwyane Wade, stands at the 11th position for NBA all-time leading scorers in playoffs.
Along with LeBron James and Chris Bosh, Wade had an outstanding career with the Miami Heat. Not to mention, the athlete made it to the playoffs almost every time in his NBA career.
From 2004 to 2018, the former basketballer missed the playoffs only twice, in 2008 and 2015.
Likewise, he is a three-time NBA Champion, winning the title in 2006, 2012, and 2013. All of the Championship titles he won were with the Heat.
The former NBA player scored a total of 3894 after playing 13 playoffs, 177 games, and scoring 103 three-pointers.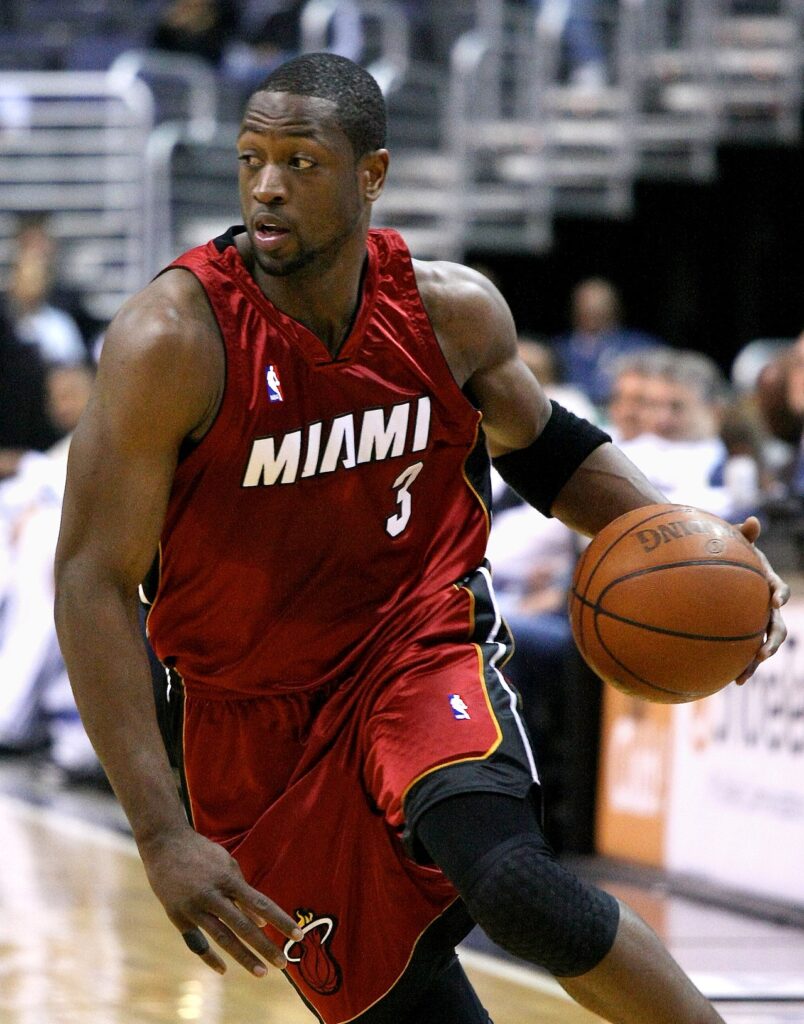 As of now, Wade is serving as a host for the American adaptation of 'The Cube.' Besides, he is also a part-owner of the Utah Jazz.
Although he was scared of heading to a post-NBA life, he said, "I mastered basketball. I'm great at this. This is what I know. This is what I've been doing since I was 5 years old, and now I've got to do something different."
Hence, he has started his own production company and released a series of wines since his retirement
10. Tony Parker
Tony Parker has been among the greatest generational players in the National Basketball Association (NBA).
The San Antonio Spurs drafted him in the first round of the 2001 NBA Draft as the 28th pick overall.
Since then, Parker has taken the Spurs to 17 playoffs and assisted them in winning four NBA titles in 2003, 2005, 2007, and 2014.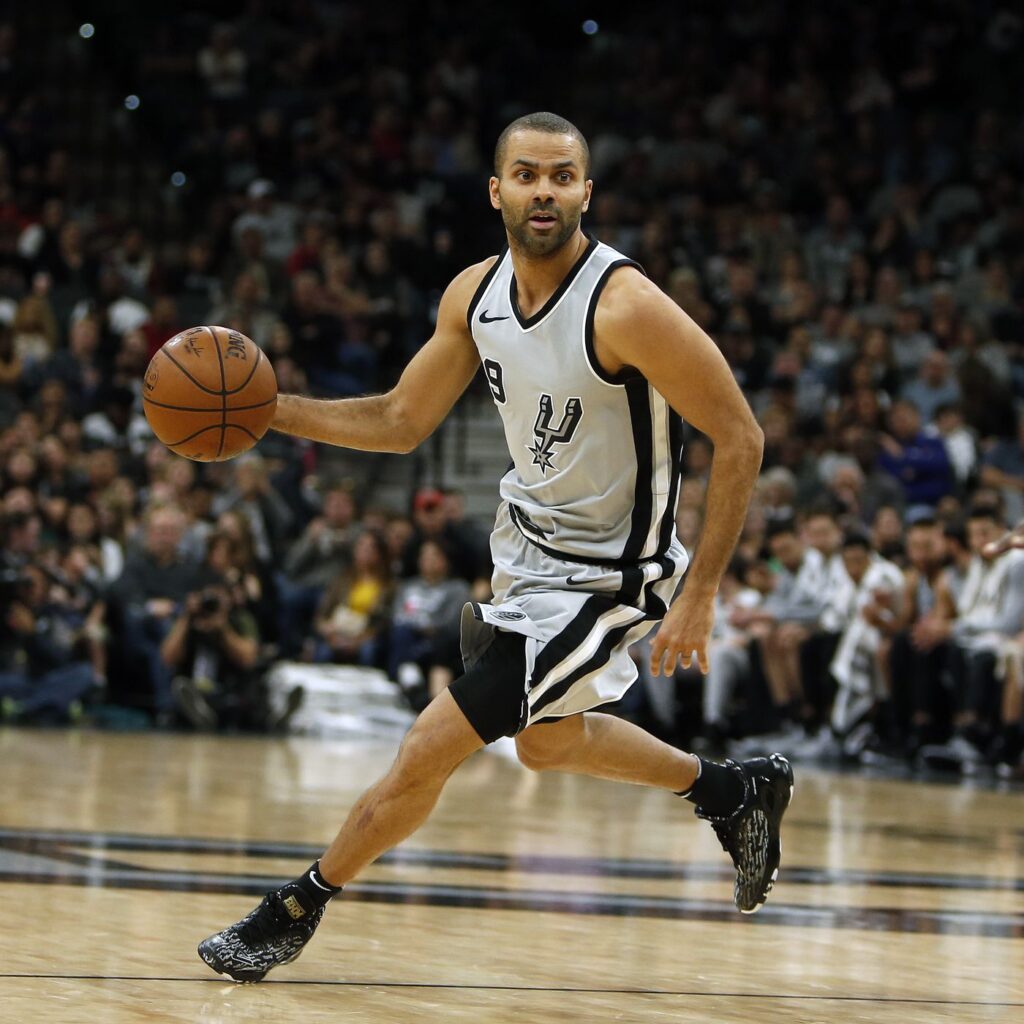 Not to mention, Tony did not miss a single playoff from 2002 to 2018. His NBA all-time playoffs score amounts to 4,045.
The former basketball player played 226 games and recorded 119 three-pointers in playoffs.
As of now, Tony is the majority owner of ASVEL Basket in LNB Pro A. Furthermore, he has been featured in many movies and television shows. His most recent big-screen gig was in the Netflix documentary 'Tony Parker: The Final Shot.'
9. Kevin Durant
The 2020 US Olympic men's basketball team captain, Kevin Durant, currently playing for the Phoenix Suns, has won two NBA Championship titles with the Golden State Warriors.
With Stephen Curry, Draymond Green, and Klay Thompson, Durant was part of an unbeatable team in the 2017 and 2018 seasons.
He has made it to the NBA playoffs 11 times in his career. Moreover, his NBA all-time leading playoffs score totals 4,559 points.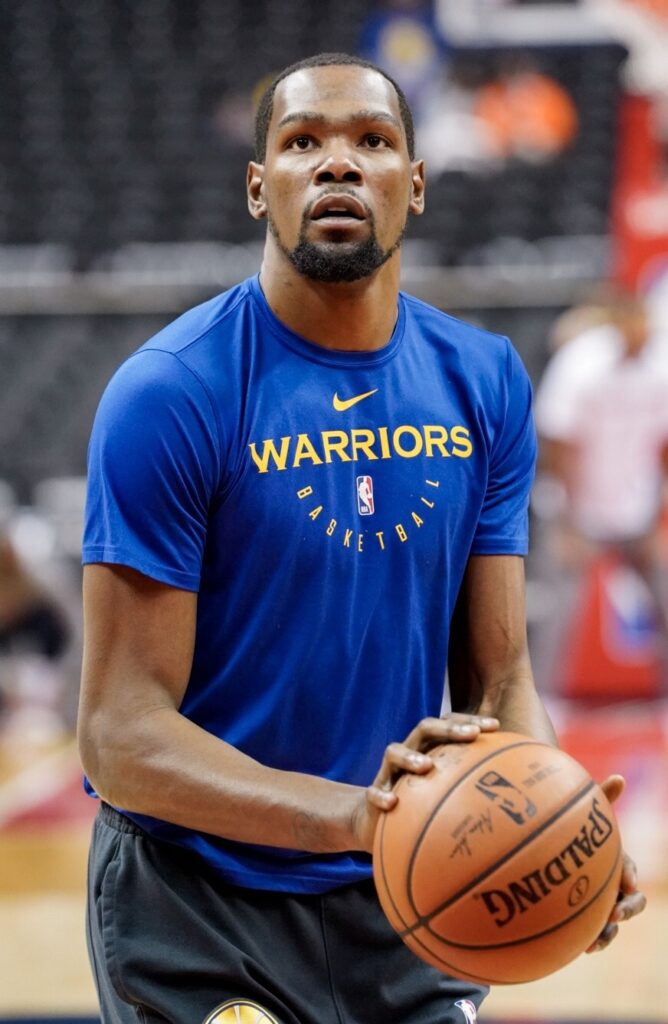 Likewise, the athlete has played 155 playoff games and scored 344 three-pointers.
The small forward was also the team captain during the All-Star game on Feb 21, 2022.
The Nets traded Durant, along with T.J. Warren, to the Phoenix Suns in exchange for Mikal Bridges, Cameron Johnson, Jae Crowder, four unprotected first-round picks, and a 2028 first-round pick swap on February 9, 2023.
8. Jerry West
You can't be an average player if the NBA logo is dedicated to you. We all remember Jerry West for his game-tying shot during the 1970 NBA Finals with less than a second left on the clock.
The buzzer-beating shot in Game 3 against the New York Knicks resulted in overtime, and the Lakers won.
However, the Lakers were unsuccessful in winning the 1970 Championship title. In his entire career, West has featured in 13 playoffs and won one NBA Championship title in 1972.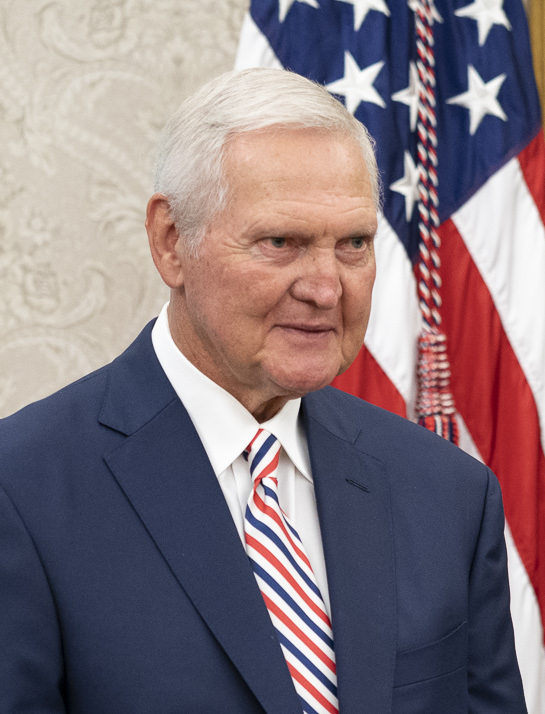 Jerry, in his entire professional career, played in 153 playoff games and scored a total of 4,457 points.
Besides being a player and a coach, he served as a general manager and an executive board member in the NBA.
Jerry was on the executive board of the Golden State Warriors and Los Angeles Clippers. With the Clippers, he was under investigation by the NBA for his recruitment of small forward, Kawhi Leonard.
7. Karl Malone
Being one of the outstanding power forwards in the NBA franchise, Karl Malone has the highest number of playoff appearances in league history, i.e., 19.
Besides that, he is the third-highest NBA career-scoring leader, behind LeBron James and Kareem Abdul-Jabbar. Moreover, the former athlete has also set a record for most free throws attempted and made.
The power forward has missed the playoffs only once in his rookie year throughout his career. Since then, he has always made it to the NBA playoffs.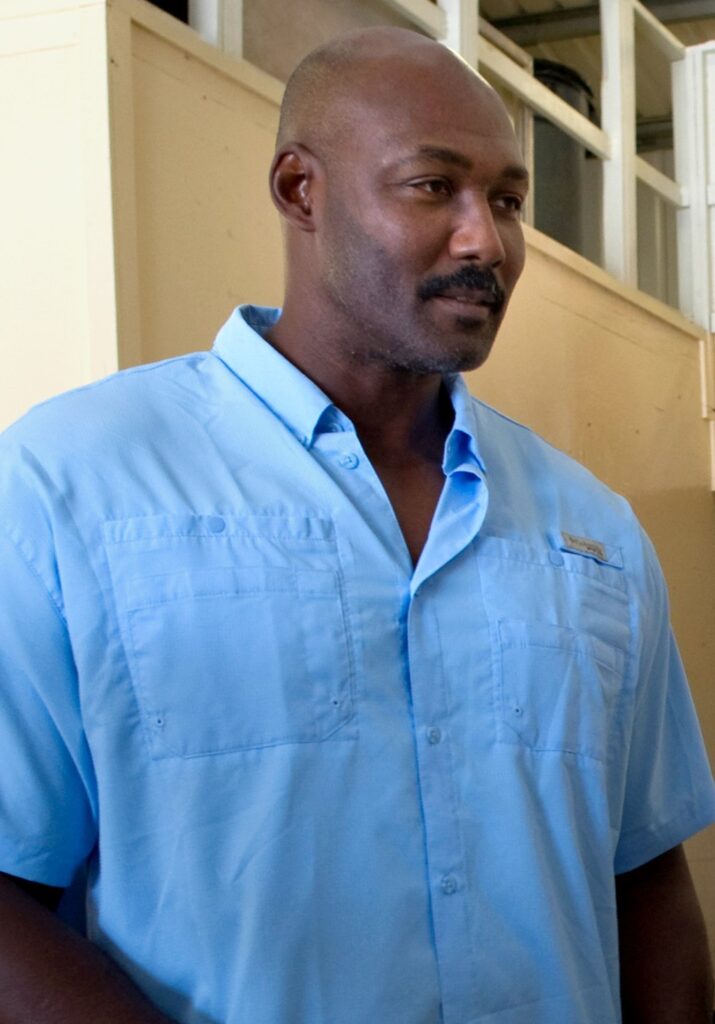 However, the power forward has never won an NBA Championship title. Nevertheless, he was the NBA's Most Valuable Player twice (1997 and 1999) and 14 times NBA All-Star.
Malone's NBA all-time playoff point is 4,761; playing 193 games and has made 1743 field goals.
On top of that, the former NBA player assisted the US Olympic men's basketball team in winning two gold medals in 1992 and 1996.
Since his retirement, he has been involved in professional wrestling, and acting, and owns several businesses.
6. Tim Duncan
Tim Duncan is one of the best power forward of all time. His off-the-glass shots are one of the most indestructible shots.
No one would have matched his height and intensity to play. He is the main reason behind the Spurs' achievements and the dynamic plays that they are known for.
Further, he is one of the players to win the NBA title in three different decades. Overall he is a five-time NBA champion who received three NBA Finals MVP awards.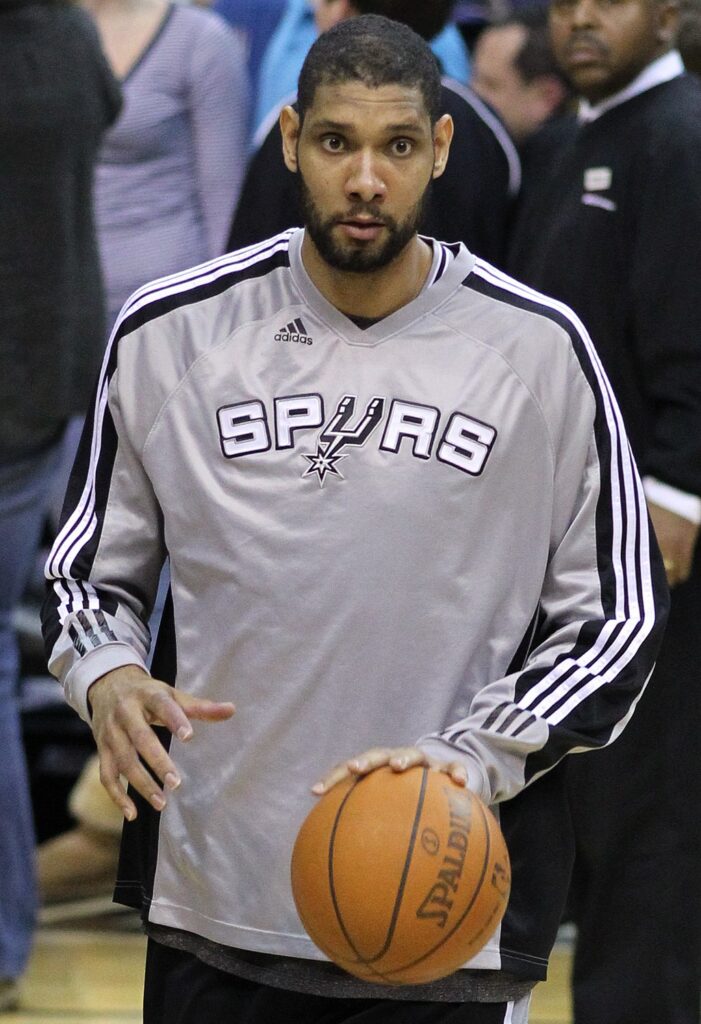 Besides that, the 2009 Hall of Fame inductee has scored all together 5,172 playoff points.
In his 19 professional years, Duncan has appeared in 18 playoffs and played 251 games. This is how good the power forward had been throughout his career.
Also, he and Tony Parker are the only two Spurs legend to be in the top 12 NBA all-time leading scorers in playoffs.
5. Shaquille O'Neal
In a generation where centers dominated the game, Shaq took the dominance into brutality. He is considered the most dominant center in the history of the game.
Despite not making a shot from three-point throughout his playoffs career, he still sits at no.5 in our NBA all-time leading scorers in playoffs.
To think of how he dominated the paint throughout his career. No one could stop him from getting to the paint. As a result, he scored 5,250 points in the playoffs.
Moreover, he has appeared in 17 playoff games while playing 216 games.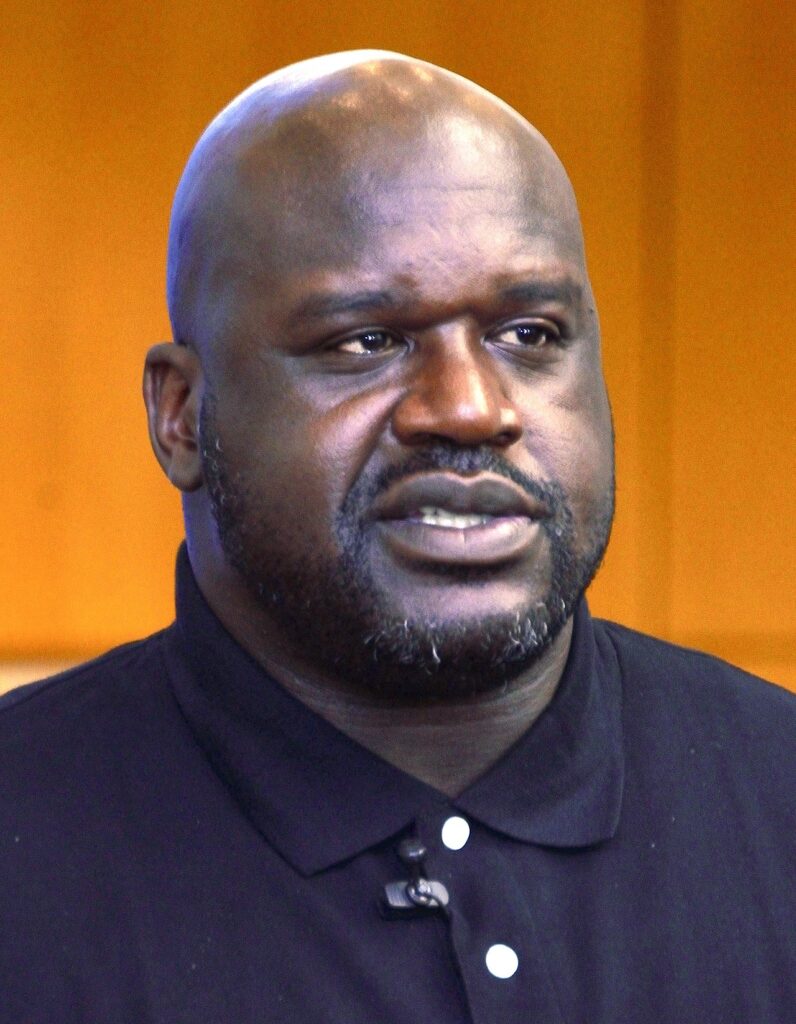 Shaq has only missed 3 playoff appearances in his 19-year career. Aside from that, he is a four-time NBA champion with two teams; the Lakers and the Heats.
To elaborate, he has won three consecutive NBA titles with the Lakers from 2000 to 2002, and consequently winning the MVP award in all three Finals. His fourth championship came with the Heats in 2006.
The late Mamba was a scoring machine—his mentality of getting a basket no matter what made him a fan favorite.
He recorded 5,640 playoff career points making him the fourth NBA all-time leading scorer in playoffs, despite playing in only 15 playoffs.
Bryant had played 220 playoff games in his 20-year NBA career. Also, he was a five-time NBA champion, including a three-peat from 2000 to 2002.
They also won the championship in 2009 and 2010. However, they failed to three-peat for the second time due to the Spurs dynasty.
If the super team of Steve Nash, Dwight Howard, and Paul Gasol had worked, he might just have more rings, more playoff appearances, and obviously more playoff points.
3. Kareem Abdul-Jabbar
Kareem Abdul-Jabbar ranks third on the list of NBA all-time leading scorers in playoffs with total points of 5,762.
He scored these points in 18 playoffs appearance, playing 237 playoff games. Out of 237 games, he has won 154 games.
Not to mention, he just missed 2 playoffs in only two seasons throughout his career. He took his team past the first round 14 times out of 18 playoffs.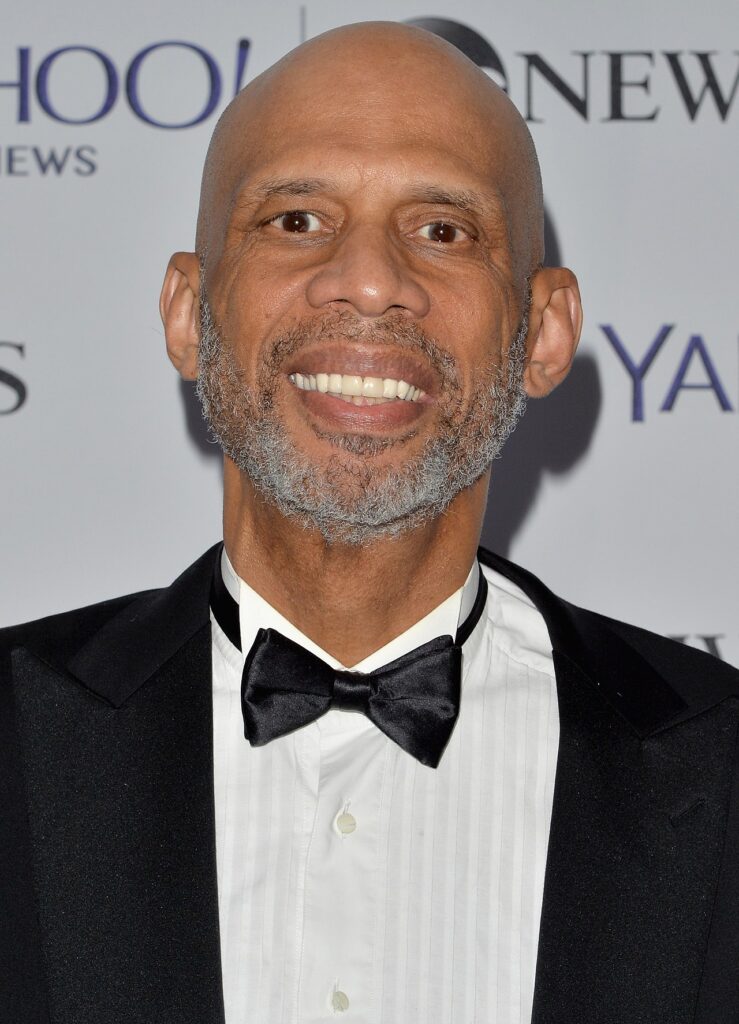 Abdul-Jabbar played with two teams, the Milwaukee Bucks and the Lakers. He has six NBA championships and two final MVP awards altogether.
The former NBA player only won one championship with the Bucks and the remaining five championships came with the Lakers.
He was a crucial part of the Laker Showtime era with Magic Johnson, James Worthy, and many more.
2. Michael Jordan
Michael Jordan is the only player with six of the most consecutive NBA rings. The NBA legend achieved this feat in 13 playoffs appearance.
He has just missed two playoffs throughout his 15-year career. He was a late bloomer when appearing in the NBA finals.
His first NBA final appearance was in the 1992 playoffs and his last final appearance was during the 1998 playoffs when the Bulls won.
All of his playoff appearances have been with the Chicago Bulls. No wonder why he is known to be the Bulls legend.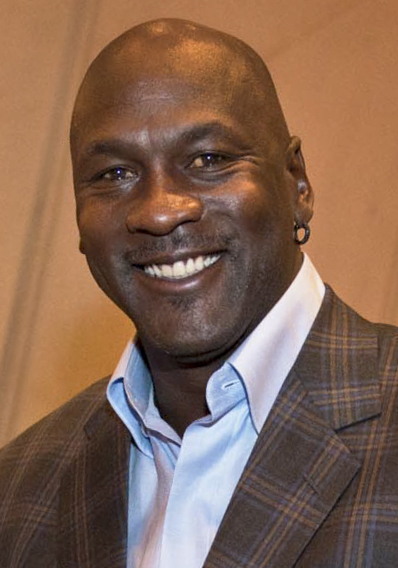 If Jordan had not retired early, he would probably have increased the number of playoff appearances and NBA championships.
Nonetheless, he logged 5,987 points in his 13 playoffs, playing 179 playoff games.
In the early 90s, not seeing Jordan in the playoffs was strange, like not seeing LeBron during the current playoffs.
1. LeBron James
By the time LeBron retires from the NBA, he will lead in every stat available, like rebounds, assists, and especially playoff. He has already surpassed Kareem Abdul-Jabbar in NBA career points with 38,450.
He has appeared in 15 playoffs as of now. James had twelve consecutive playoff appearances from 2006 to 2018.
He missed his first playoff games in 2019 due to multiple injuries. From 2011 to 2018, he always appeared in the NBA Finals.
Overall, James has just missed 4 playoff appearances in his career until now and played 2066 playoff games, the highest in the league's history.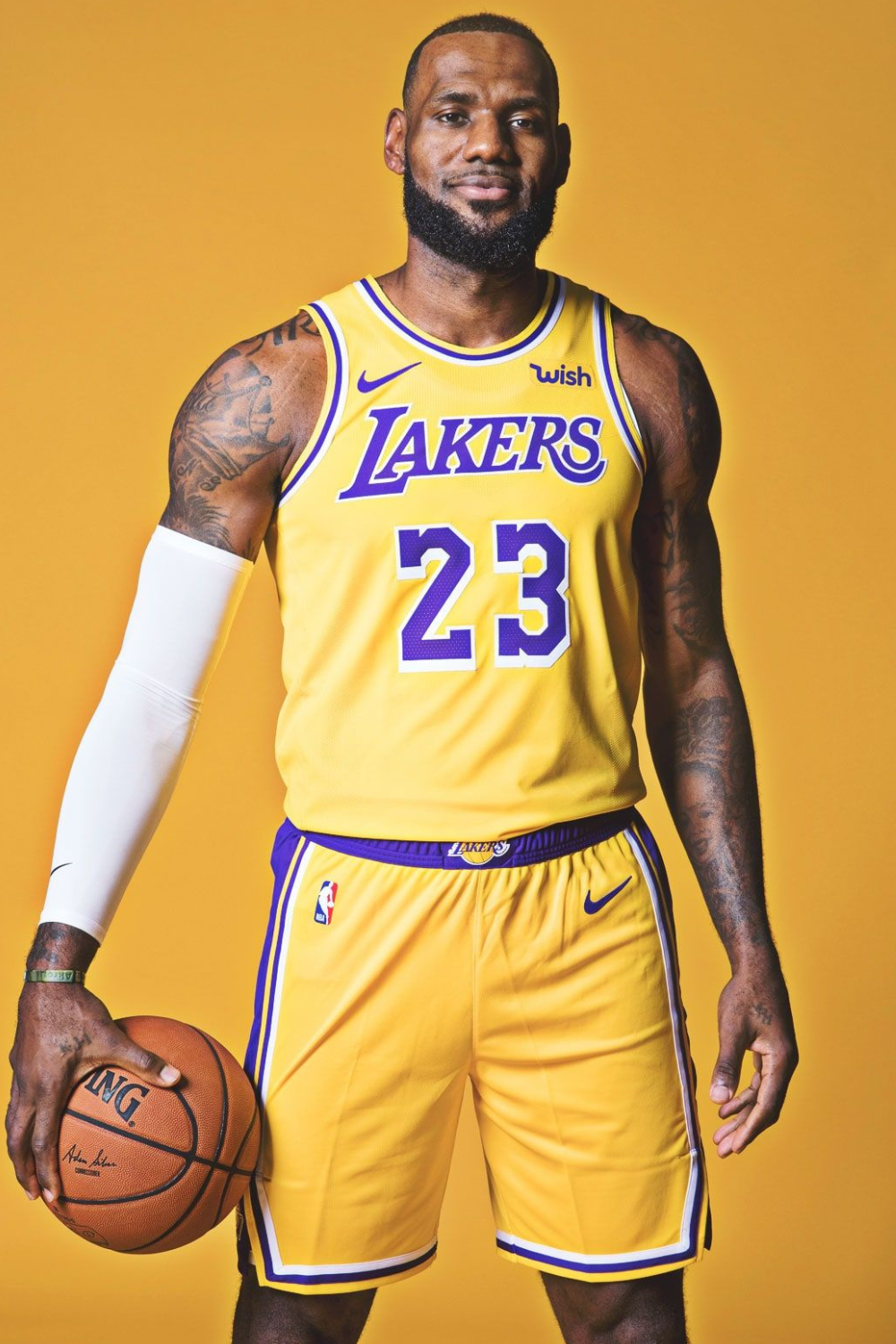 Hence, when it comes to playoffs, no one can compete with LeBron, as he is simply the greatest athlete to have ever played the game.
Furthermore, his total points in playoffs accumulate to 7,631, which is almost 1600 points more than the second, Michael Jordan.
Out of his 15 playoffs, he has won 4 playoffs. Also, he is the only NBA player to have won the NBA Finals MVP with three different teams.
Undoubtedly, he is the greatest scorer in the NBA, leading in regular season points and playoff points.
Conclusion
The players mentioned above are the greatest to grace the sport. They have repeatedly proven themselves and have featured in multiple playoffs.
Moreover, these top 12 NBA all-time leading scorers in playoffs have shown how teamwork makes the dream work.
Hence, let us cherish and admire these fabulous basketball players for their achievements and hard work.