Nelson Piquet's wife, Viviane de Souza Leao, runs a non-profit organization in her homeland in Brazil. Viviane shares two sons with Nelson, Pedro, and Marco.
The three-time Formula 1 Champion, Nelson Piquet, was always known for his eccentric lifestyle. One of the most successful Brazilian F1 drivers alongside Ayrton Sena, Piquet, has been involved in several controversies outside the racing tracks.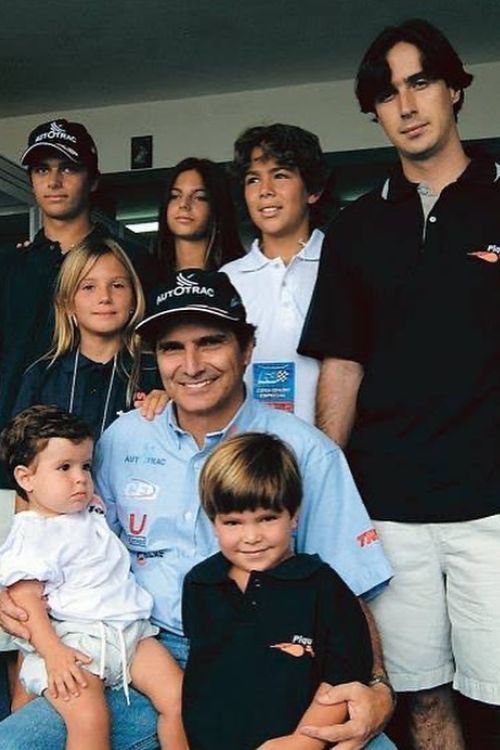 Known for his playboy image, Piquet married four times and has seven children from various relationships. His latest marriage came in 1998 to Viviane, a woman with Brazilian roots like him.
The former F1 champion also has current F1 champion Max Verstappen as his son-in-law, with his daughter, Kelly Piquet, engaged to him.
Nelson Piquet Wife, Viviane de Souza Leão
Nelson Piquet's wife, Viviane de Souza Leão, is a philanthropist and works closely with GPS Foundation.
Viviane is the president of the GPS Foundation, a non-profit organization that helps needy families in the federal district in Brazil. Viviane, who has Brazilian roots, has chosen to give back to the community where she was raised.
On her Instagram bio, Viviane has placed the link for the Instagram page for GPS Foundation, where she has shared pictures of charitable works done by her organization.
In the past, GPS Foundation collaborated with Avanzzo to launch an apparel collection, the Balneario collection. The collection consisted of kimonos, chemises, tops, shorts, pants, dresses, and shirts. The profits obtained from the sales would go to GPS Foundation.
Previously, with the help of her connections, Vivane collaborated with Tiffany & Co., and the famous jewelry company partly donated its sales income to the foundation. The organization has also previously arranged several Galas to help grow its organization.
On her Instagram handle, Viviane can be seen sharing photos of her family gatherings. She also shares a few workout videos time and again, which explains her youthful glow despite being in her late 50s.
Nelson Piquet, And Wife Viviane de Souza Leão Share Two Sons
Nelson Piquet tied the knot with his wife, Viviane, in 1998. Before being wed to Viviane, Nelson was married thrice and had one alleged relationship.
Nelson was first married to a Brazilian woman Maria Clara. The two tied the knot in 1976 and had a son. But the relationship didn't last long and were divorced a year later.
He then married a Belgian model, Katherine Valentin and even that relationship didn't stand the test of time. His next wife was Sylvia Tamsma, with whom he shares three kids.
Kelly Piquet, Max Verstappen's girlfriend, is one of the kids from the marriage. He then had a son from another relationship, and the women's has never been outed.
And finally, he crossed paths with his current wife, Viviane, and the two have been happily living ever since. They are parents to two boys, Pedro and Marco.
Pedro Piquet Is A Racing Driver
The firstborn of Nelson and Vivane Piquet, Pedro Piquet previously raced for Charouz Racing System.
He was born and raised in Brasilia, Brazil, and won the 2014 and 2015 Brazilian Formula 3 Championships. Pedro began karting at age eight and soon followed in his father's footsteps.
In 2020, Pedro competed in the FIA Formula 2 Championship and currently competes in the ROK Shifter Class in Karting in 2023.
He is available on Instagram with the username @pedropiquet1 and is in a relationship with an artist named Bella Salvati.
Nelson and Viviane's youngest son, Marco Piquet, was born on February 10, 2001, and has preferred to stay away from the public limelight. His brother has shared a few snaps of him on his social media.