Nick Bosa's Father, John Wilfred Bosa, is a former American defensive end player who played for the Miami Dolphins of the NFL for three seasons. Besides, he is an actor known for his roles in Holy Guy (1998) and Weekend Night Soccer (1987).
The Miami Dolphins drafted him in the first round of the 1987 NFL Draft with an overall choice of 16.
John Wilfred's sons, Joey and Nick Bosa play for the Los Angeles Chargers and San Francisco 49ers in the NFL, respectively. The Bosa was the second family to have three members in the first round of an NFL Draft.
The Bosa brothers are now playing in the playoff that started on January 14, 2023. Joey's chargers lost 30-31 against Jacksonville Jaguars on January 15, 2023.
Today, we are here with all the information about Nick Bosa's father, including his career, net worth, and family.
But before we dive deep into John Bosa's life, let's look at the quick facts about him.
Quick Facts
| | |
| --- | --- |
| Full Name | John Wilfred Bosa |
| Nick Name | Papa Bear |
| Date of Birth | January 10, 1964 |
| Place of Birth | Keene, New Hampshire |
| Age | 59 Years Old |
| Gender | Male |
| Nationality | American |
| Horoscope | Capricorn |
| Height | 6'4″/1.93m/ 193 cm |
| Weight | 122 kg/270 lb |
| High School | Keene High School |
| College | Boston College |
| Eye Color | Brown |
| Relationship | Married |
| Wife | Cheryl Bosa |
| Children | Two (Joey Bosa, Nick Bosa) |
| Profession | Professional Football Player |
| Played As | Defensive End |
| Total Games | 31 |
| Status | Retired |
| Retired on | 1989 |
| Net worth | $800K-$1Million |
| Social Media | N/A |
| Merch of Nick Bosa | Football trading card, Autographed NFL Photo |
| Last Update | November, 2023 |
Early Life
The former American defensive end, John Bosa, was born on January 10, 1964, in Keene, New Hampshire. He attended Keene High School and played football there.
Later, he received a full athletic scholarship, the last available scholarship to play football for the Boston College Eagles, and it was a God-sent for him.
Speaking in the Miami's dolphins podcast, John said, "Getting out of Keene was a great opportunity for me."
He played football starting his sophomore year at Boston College and appeared on the football radar. John also played in one of the most famous football games, the Orange Bowl.
By the mid-1980s, John stood out as one of the top defensive linemen in the college.
As a result, John was selected by the Miami Dolphins in the first round of the 1987 NFL Draft, and his career took off.
Career
The first year at the Dolphins went pretty well for John. He was naturally a grinder and would never miss a day at practice.
The former NFL player was named the team's outstanding defensive lineman in 1987 after leading the line with 50 tackles.
After a promising rookie year, John Bosa had 17 tackles and two sacks in the first five games of 1988. However, in the second half of 1998, his injuries started.
Following his injuries, his career went downhill, and he never recovered. Bosa's career had started with a lengthy contract holdout, costing him valuable practice time in training camp.
Then, with his injuries, the condition worsened, and he could barely progress.
Injuries
Nick Bosa's Father, John Bosa's first injury was on September 26, 1998, when he pulled a groin muscle in a game against Minnesota.
Again, on October 16, 1988, John injured his left knee and tore his ligaments and cartilage in a game against San Diego. Because of it, he was removed from the Dolphins' practices for ten months.
Bosa returned from the injury in August 1989 and joined his teammates. However, he frequently suffered pain throughout the training sessions.
He was decked out in shorts, shoulder pads, and a titanium brace running from his thigh to his calf and designed to give maximum protection to a knee. Moreover, his weight dropped from 275 pounds to 255.
Unfortunately, the retired NFL player again hurt his right knee on August 5, 1990, in a game against Tampa Bay.
John Bosa: A Bust
Nick Bosa's Father, John Bosa, had an injury-plagued NFL career. Unfortunately, he had to spend more time with doctors and therapy centers than with the players in the field.
During his time in the field, John rarely showed his potential to the audience. But he made little improvements while playing for the Dolphins.
As a result, John received many boos, taunts, and scathing insults from fans and the local media. He was called out as a bust.
In an interview with Dolphins, John said, "I don't think I would have stayed a bust if I had remained healthy."
He further added that he wanted to play a lot and had different dreams, but the injuries were devastating, and the medical technologies back then didn't help him recover quickly.
Retirement And Post Retirement
Nick Bosa's father's NFL career lasted only three seasons. John played for the Miami Dolphins as a defensive end and officially retired from his football career in 1989.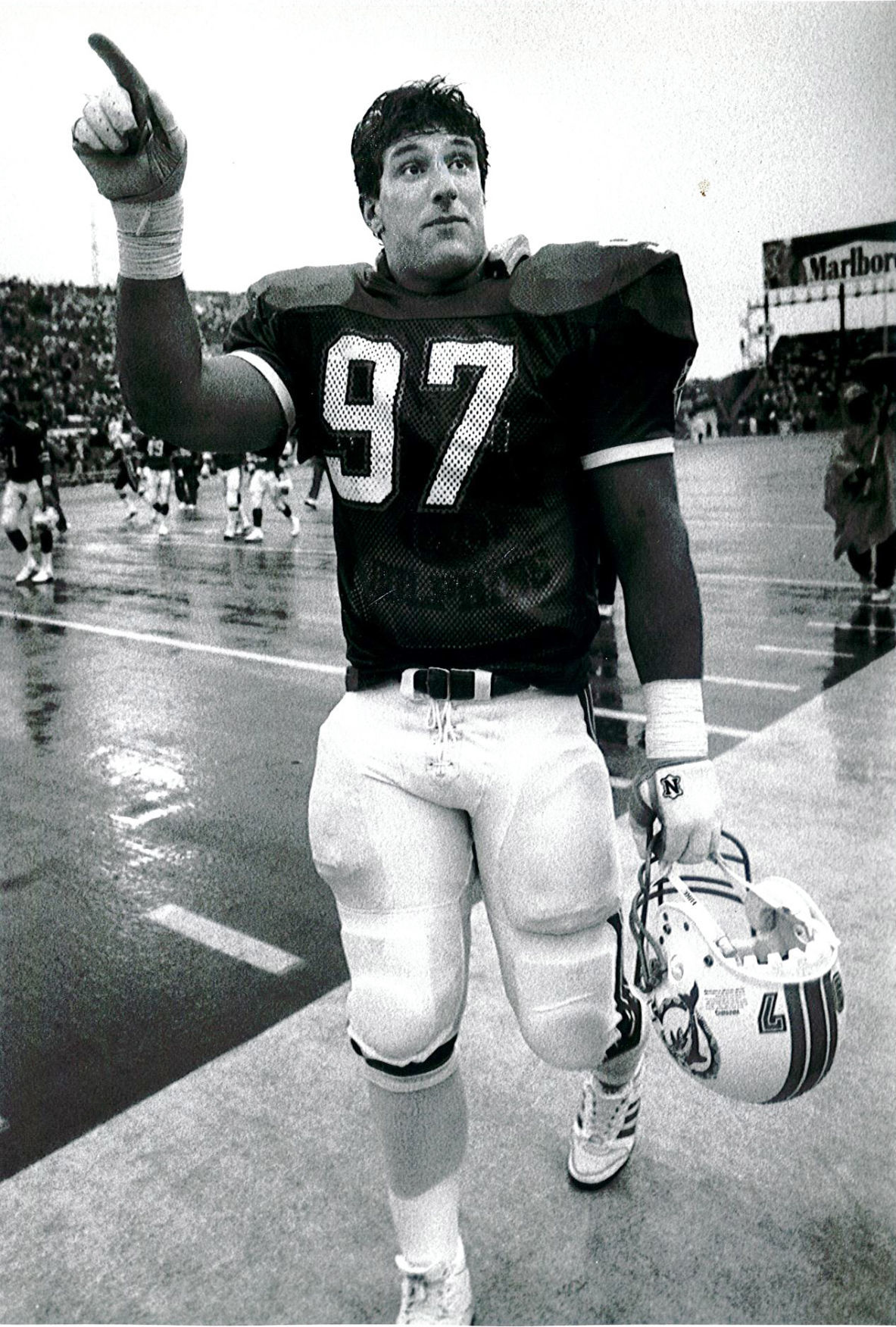 Though his football career didn't serve him well to John, his life after football has been fulfilling.
John invested his earnings in local real estate and businesses. He also started his gym with Eric Kumerow. It soon became a big success and came out as one of the best fitness facilities in South Florida.
Furthermore, John and Kumerow eventually sold the gym and got a significant return on their investment.
We can also say that Nick Bosa's Father's gym immensely helped Nick and Joey from an athletic and health viewpoint.
Wife And Kids
Today, John Bosa lives happily with his wife, Cheryl, and their two sons, Joey and Nick.
Brief Info On Cheryl Bosa
Cheryl Bosa is the wife of John Bosa and also a proud mother. Talking about her, she was born in Illinois and attended Oak Park and River Forest High School.
Likewise, she graduated from Ohio State University. Cheryl has a Bachelor's Degree in International Relations and Affairs.
Cheryl Bosa is the sister of Eric Kumerow, who was also a player for the Miami Dolphins. Eric and John were very close to each other, and it was through her brother that Cheryl met John.
Currently, she serves as a Fort Lauderdale Realtor specializing in buying or selling luxury homes. Cheryl is also a Real Estate Associate at Berkshire Hathaway HomeServices Florida Realty.
Brief Info on Joey Bosa
Joey Bosa is the firstborn child of John and Cheryl Bosa, born on July 11, 1995, in Fort Lauderdale, Florida.
Joey is a professional American football outside line breaker for the Los Angeles Chargers in the NFL. Unlike his Father, Joey has an up-and-coming football career.
He was among the five players from Ohio State University for the 2016 NFL Draft. Joey was named Defensive Rookie of the Year in his early career. Additionally, in 2016 he was also awarded AP Defensive Rookie of the Year.
Joey has an estimated net worth of $14 million. He signed a five-year/$135 million contract with the Los Angeles Chargers, including a $35 million signing bonus, $102 million guaranteed, and a salary of $27 million.
The football outside line breaker is active on social media and goes by the name @jbbigbear on Instagram and Twitter. You can follow him to learn more about him, his games, and his lifestyle.
Brief Info On Nick Bosa
On October 23, 1997, John and Cheryl welcomed their second son, Nick Bosa. Like his Father, brother, and uncle, Nick chose to pursue a career in football.
Nick got selected by the San Francisco 49ers in the first round of the 2019 NFL Draft. Soon, he signed a four-year multimillion dollars contract with the 49ers with a fifth-year option.
He was also named the 2019 Defensive Rookie of the Year. Nick Bosa's Father, John Bosa, had accepted the award on his behalf.
The defensive player, Nick, makes most of his net worth playing professional football. Nick's net worth is estimated to be $23.7 million.
Nick is available on Instagram and Twitter under the handle @nbsmallerbear. You can follow him to learn more about him.
The "Bosa Brothers" were one of the best sibling pass-rush duos in the history of the NFL.
John Bosa's children have certainly made John Bosa proud with their outstanding NFL careers. They are now playing in the playoff that started on January 14, 2023.
Additionally, both children are very close to their Father. Moreover, Joey Bosa even wore the iconic #97 shirt to honor their Father.
How Much Does Nick Bosa's Father Earn?
John Bosa: Net Worth
John Bosa accumulated a decent amount of money from his short football career. Additionally, he indulged in business after retirement and made a good deal for himself.
Bosa's net worth is estimated to be Between $800k to $1 Million. The estimated net worth includes all his stocks, properties, and luxury goods.
However, the in-depth details of his properties, earnings, and salary have not been revealed yet. We will get back to you with it soon.
Social Media Presence
The former American defensive end is not active on any social media platforms. However, one of his fans runs a fan account on Instagram under the handle @jbpapabear.
The fan's social media post primarily includes throwback pictures from his early days.
Popularity
John Bosa is well renowned for his short career at Miami Dolphins. Moreover, he is also famous for being the father of Nick Bosa and Joey Bosa.
The graph shows his search trend for 12 months.
Frequently Asked Questions (FAQs)
Is John Bosa in the Hall of Fame?
John Bosa was inducted into the NHIAA Hall of Fame in 2019, nearly three decades after he retired from the NFA. His mother, Doris, received the award because John could not attend the ceremony held on November 11, 2019.
Who did Nick Bosa's Father, John Bosa, play for?
John Bosa played for the Miami Dolphins from 1987 to 1989. Likewise, John also had dreamt about pursuing a career in football. However, this could not happen because of his health. His career was filled with injuries, making it physically impossible for him to continue playing.