The American football defensive end Nick Bosa has an estimated net worth of $23.7 million in 2023.
The competitive athlete Bosa got drafted in the 2019 NFL draft by the San Francisco 49ers. He got selected in the first round with the second overall pick.
Moreover, Nick was born in Fort Lauderdale, Florida, on October 23, 1997, into a football-rooted family. His Father, John Bosa, got drafted by the Miami Dolphins in the 1987 NFL Draft.
Similarly, the Los Angeles Chargers drafted his brother Joey Bosa in the 2016 NFL Draft.
In addition to his family members, Nick's other relatives, like his uncle Eric Kumerow and cousin Jake Kumerow also played for the NFL.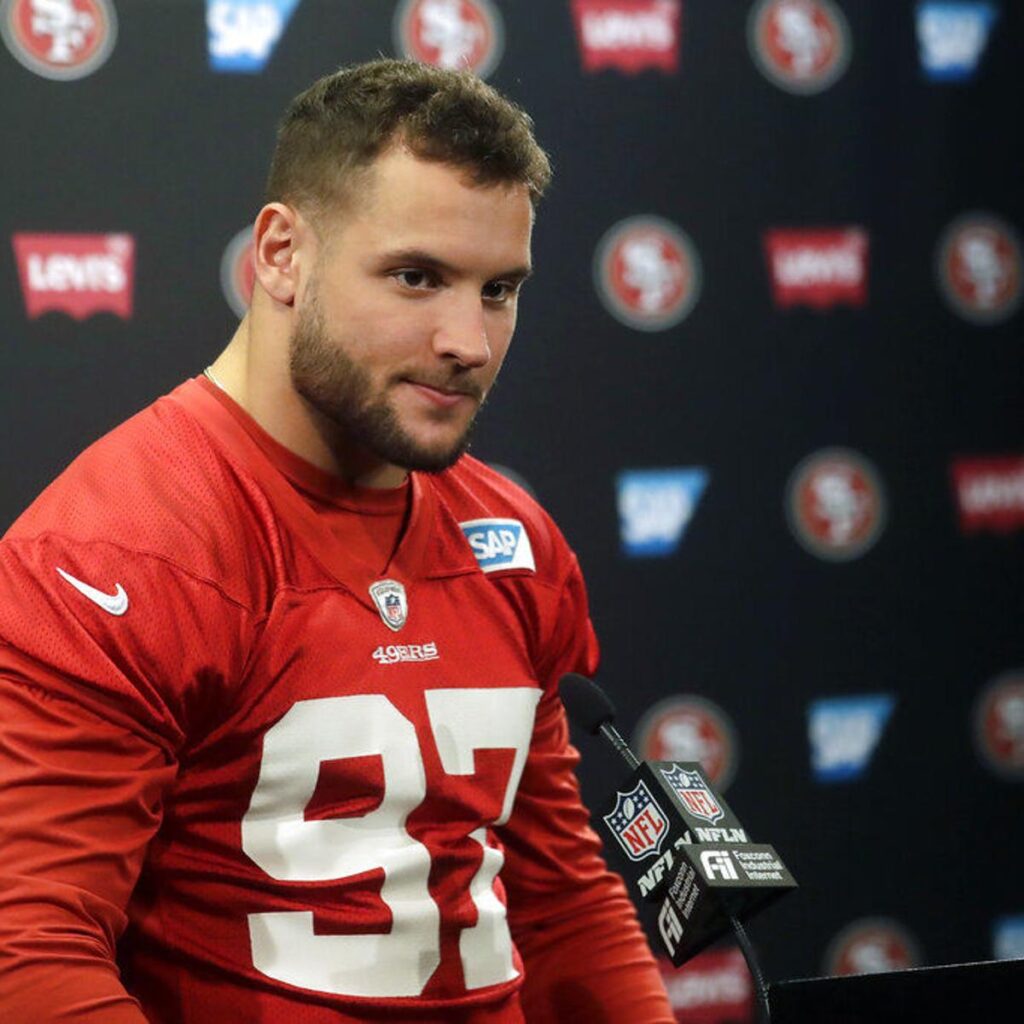 So far, the aggressive athlete Bosa has earned titles like NFL Defensive Rookie of the year 2019, Pro Bowl 2019, PFWA Rookie of the Year 2019, PFWA All-Rookie Team, and so forth.
Also, Nick was listed as a five-star recruit and ranked among the best players during his high school career.
At the young age of 23, Bosa made a massive fortune. And who knows what is still waiting for him in the future?
Let's check some of the quick facts about Bosa before we examine his success and worth in detail.
Quick Facts about Nick Bosa
| | |
| --- | --- |
| Full Name | Nicholas John Bosa |
| Birth Date | October 23, 1997 |
| Birth Place | Fort Lauderdale, Florida, USA |
| Nick Name | Smaller Bear |
| Religion | Not Available |
| Nationality | American |
| Ethnicity | White |
| Education | St. Thomas Aquinas, Ohio State University |
| Horoscope | Scorpio |
| Father's Name | John Bosa |
| Mother's Name | Cheryl Bosa |
| Siblings | Joey Bosa |
| Age | 25 years old |
| Weight | 121kg (266 lb) |
| Height | 6'4″ (1.93 m) |
| Build | Athletic |
| Profession | Professional Football Player |
| Position | Defensive end |
| League | National Football League (NFL) |
| Current Team | San Francisco 49ers |
| Marital Status | Single |
| Wife/Partner | Not Available |
| Net Worth (2021) | $23.7 million |
| Agent | Brian Ayrault, Tom Condon, Todd France |
| Agency | Creative Artists Agency |
| Sponsors | Electronic Arts, Kroger, Nike, Panini |
| Retirement | Active |
| Social Media | Instagram, Twitter |
| Merch | Jersey, Rookie Card, Poster, Signed Apparel |
| Last Update | March 2023 |
Nick Bosa Net Worth | Salary | Contract
The defensive player, Nick, makes most of his net worth playing professional football.
Moreover, his popularity has earned him sponsors like Nike, Panini, Kroger, and Electronic Arts.
To count his worth, we can start with his first contract with the San Francisco 49ers.
After a successful high school, followed by his college football career, the 49ers selected him in the 2019 NFL draft in the first round.
On July 25, 2019, the 49ers offered Nick a four-year contract worth $33.5 million.
Of the very agreement, he got $22,421,356 as a signing bonus and $495,000 as an annual salary in 2019. Similarly, in 2020, Nick earned $454,412 in compensation.
So far, Bosa has collected a total amount of $24,805,853 in his two-season career.
Moreover, by the end of 2021, Nick was expected to earn $3,720,170 (salary and roster bonus). Again in 2022, Bosa will get $5,070,254, making his total earnings $33,596,277 from his four-year contract.
Nick earned almost a million dollars from endorsing various popular brands off the field.
As of early 2022, Nick has built a net worth of $23.7 million, which is likely to grow with his growing popularity.
Net Worth of Nick Bosa in Different Currencies
Let's look at Nick Bosa's net worth in different currencies, including the cryptocurrency BitCoin.
| | |
| --- | --- |
| Currency | Net Worth |
| Euro | €24,079,556 |
| Pound Sterling | £20,123,513 |
| Australian Dollar | A$ 37,989,752 |
| Canadian Dollar | C$ 34,198,301 |
| Indian Rupee | ₹2,031,338,400 |
| BitCoin | ฿709 |
Nick Bosa Net Worth | Lifestyle | House
Soon after signing the NFL contract in 2019, Bosa purchased a two-story condo in the Thirty North Ocean developments. The luxury property is valued from $1.2 million to $1.55 million.
Being a beach boy, Nick could not think of living far from the ocean. He once said,
"I used to live in Lauderdale beach and have a lot of good memories as a kid."
Talking about Nick's condo is part of a 24-unit complex. It features a private elevator, opening into 2500 square feet of indoor and outdoor living areas.
Additionally, the complex offers sea views and open private terraces with summer kitchens, clubhouses, and beach club membership.
After buying this property, Nick joined Southern Floridian property owners like his parents (John and Cheryl) and his brother, Joey.
There is not much information available regarding Nick's rides and where he goes for vacations.
Either he is low-key about his time, or he is focused more on his career and does not have time to show off his lifestyle.
Nick Bosa Net Worth | Endorsements | Investments
When it comes to endorsements, Nick has been lucky. He has earned approximately—$ 1 million from various endorsements. Sponsors like Nike, Panini, Optimum Nutrition, Kroger, and Electronic Arts have backed him up since his arrival.
Regarding clothing, Bosa has often been seen wearing suits from famous personalities like Michael Strahan (TV personality, Journalist, and former NFL player).
On the day of Nick's NFL draft, he wore a suit from Michael Strahan's collection partnering with JC Penny.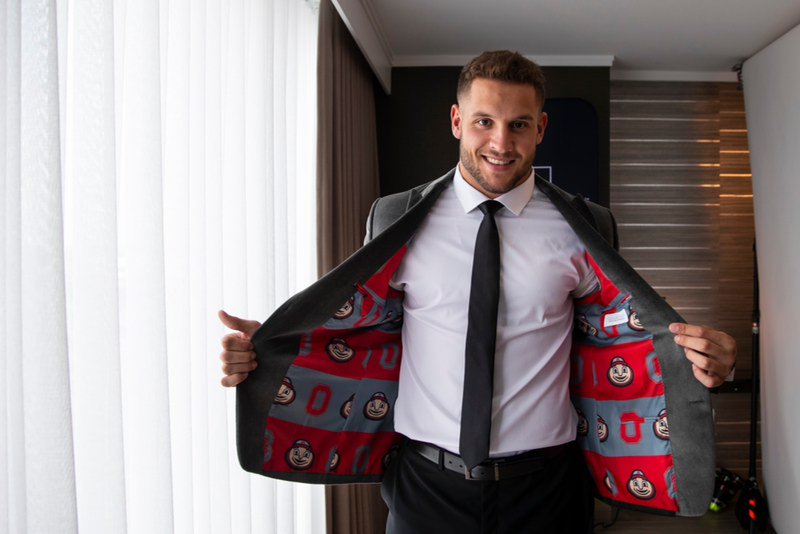 Bosa is still young in his football career; who knows what he might endorse in the upcoming days.
Nick Bosa | Contribution to Football
Nick was born and raised in a football-oriented family. He has learned a lot from his Father and brother. Also, he has great admiration for his family members in football.
Therefore, Bosa seems to believe in grooming younger athletes for a successful career.
Last year in June, he announced his eagerness to help kids learn football skills by partnering with Citibank and ProCamps.
ProCamps has been assisting young athletes in training with some of the biggest names in sports.
The defensive player, Bosa, is new to his thriving career and is likely to open up and contribute to various causes as he establishes himself well.
More than anything, Nick possesses the ability to learn from his mistakes.
Nick's Career Highlights
Being born into a football family is a significant achievement, as you will likely get early teaching and grooming.
The NFL defensive end Nick Bosa got a similar environment where almost everyone in the family understands and admires football.
Bosa said he dreamed of becoming a professional football player from the age of seven, which came true in 2019.
Many experts and analysts had optimistic predictions for Bosa's draft before draft day. As predicted, Nick got selected by the San Francisco 49ers in the first round of the 2019 NFL Draft.
Soon, Bosa signed a four-year multimillion dollars contract with the 49ers with a fifth-year option.
Nick completed his rookie year with 47 tackles, nine sacks, a forced fumble, two fumble recoveries, two pass deflections, and an interception.
In 2020, Nick got injured while playing against the New York Jets. The same year, Bosa was placed on the injured reserve.
Three Facts about Nick Bosa
Nick is a great-grandson of a long-time mobster, Tony Accardo. He served the longest time as boss of the Chicago Outfit.

Besides Nick's Father and brother, his uncle Eric Kumerow (Nick's mother's brother) and his cousin Jake Kumerow played for the NFL teams.

In 2019, Nick's licensed merchandise ranked second for defensive players after Khalil Mack.
Quotes
"The last drive, we've got to make something happen upfront. Many depend on us to make something happen, especially the back end."
"I was confident, but at the same time, I didn't know how close he was to the goal line. It was a bang-bang play."
"I don't think you learn by getting beat by only two points. It is just about football and getting better every week."
Frequently Asked Questions (FAQS)
Is Nick Bosa married?
No. Bosa is not married yet. According to rumors, he sees someone, but her name has not yet been disclosed.
Are Nick Bosa and Joey Bosa real brothers?
Yes. Joey Bosa is Nick's elder brother. Like Nick, Joey is also an NFL player and plays for the Los Angeles Chargers as an outside linebacker.
How tall is Nick Bosa?
Nick has a fit, muscular body that says a lot about how hard he works out. He is 6 ft and 4 inches (1.93m) tall and weighs around 121kg.