Obi Melifonwu is a professional football player in the National Football league. He has played for many exceptional teams in his career.
He recently played for the New England Patriots. However, the footballer started his career with the Oakland Raiders. Furthermore, he is also the 2018 Super Bowl champion with the Patriots.
Recently in April, the New England team released him after his contract fulfillment. Hence, the Nigerian American player is not associated with any NFL team right now.
Nevertheless, with his exceptional skills, it's not long before he is back on the field. Melifonwu wore jersey number 22 with the Patriots and served as a Safety for the team.
Although he was raised in America, the footballer was born in London. His parents immigrated to America when he was relatively young.
Obi developed profound love and respect for football as a kid. Hence, he relentlessly pursued his fierce desire to be a footballer, and in 2017 his dreams came true. The Raiders drafted Obiajulu in the second round.
Besides that, football player Ifeatu Melifonwu is his younger brother. He plays for the Syracuse Orange football team of Syracuse University.
Ifeatu is the youngest of five siblings and serves as a defensive back for his college team. Moreover, with his skills and hard work, he has a chance at a promising NFL career.
Before getting into details about the NFL Safety's life and football journey, here are some quick facts about him.
Quick Facts
| | |
| --- | --- |
| Full Name | Henry-William Obiajulu Melifonwu |
| Birth Date | April 5, 1994 |
| Birth Place | London, England |
| Nick Name | Obi |
| Religion | Odinani / Christian |
| Nationality | American |
| Ethnicity | African American |
| Education | University of Connecticut |
| Horoscope | Aries |
| Father's Name | Unavailable |
| Mother's Name | Tina Melifonwu |
| Siblings | Four; Three Brothers, One Sister |
| Age | 29 Years Old |
| Height | 6 feet 4 inches |
| Weight | 224 lb (102 kg) |
| Hair Color | Black |
| Eye Color | Brown |
| Build | Athletic |
| Profession | NFL player |
| Recent Team | New England Patriots |
| Position | Safety |
| Active Years | 2017 – Present |
| Marital Status | Unmarried |
| Girlfriend | Alyssa Okada |
| Kids | None |
| Net Worth | Over $3.5 million |
| Social Media | Instagram, Twitter |
| Merch | Poster, Football Cards |
| Last Update | December, 2023 |
Obi Melifonwu | Early Life, Family, And Education
Obi Melifonwu was born in London, England, to Tina Melifonwu and an unnamed father. His parents immigrated to London from their birthplace Nigeria.
However, when Obi was only three years old, they moved to Massachusetts, USA. There is little to no information available about his parents. Nonetheless, Tina is a nurse in a prestigious hospital.
The five children are very close to their parents and consider them their inspiration. In particular, Obi respects and honors his mother a lot.
He grew up in America with his four siblings; three brothers and a sister. The NFL player has an older brother named Michael Melifonwu. His two younger brothers are Nonso and Ifeatu Melifonwu.
Recently, Nonso graduated from the University of Massachusetts Amherst. He plays casual football. Meanwhile, the youngest Melifonwu child, Ifeatu, plays college-level football.
Furthermore, he studies at Syracuse University and has gained popularity for his defensive skills. Correspondingly, there are rumors about Ifeatu being a prominent choice in the 2021 NFL draft.
Obi played high school football at Grafton High School. He served as a defensive back, quarterback, and running back.
Moreover, he graduated with a good GPA score and chose to attend the University of Connecticut. The former Raiders Safety had a great college career with the UConn Huskies.
You Might Be Interested In Patriot Defensive End, Ufomba Kamalu Bio: Age, Early Life, NFL, Girlfriend & Net Worth.
Obi Melifonwu | Age, Height, And Weight
The NFL Safety turned 29 Years Old as of April 5, 2023.
Being an athlete, he is very conscious about his fitness, diet, and overall health. Obi weighs 224 lb, approximately 102 kg, and is 6 feet 4 inches high.
Obi Melifonwu | Football Career
School And College Career
As a Massachusetts school student, he served as a defensive back, quarterback, and running back for the team.
Furthermore, he has even played with his brothers as they attended the same school. The Grafton student was trendy for his football skills and defensive abilities.
Similarly, in his final year at Grafton High School, he scored 17 touchdowns and ran 1,394 yards.
After that, he attended the University of Connecticut, where he played college football for UConn Huskies. He was a redshirt in his first year and started playing in 2013.
In his second year at the college, he started 12 games where he made 70 tackles along with two interceptions.
In the following year, Obi had 88 tackles with two interceptions. Eventually, in his final year with the Huskies, he started all of 13 games, made 118 tackles and four interceptions.
Learn More About 2006 Super Bowl Champion, Reggie Wayne Age, College, Stats, Hall of Fame, Patriots, Miami, Contract, Net Worth, Wife.
NFL career
Pre-NFL Career
The NFL player was invited to a post-season college football all-star game, Senior Bowl, that displays the best NFL Draft prospects.
While he was a North team member, he raised his draft stock during practices and had three combined tackles. Recruiters were quite impressed by Melifonwu.
Furthermore, he went to the NFL Combine to complete his positional training. Although he skipped the three-cone drill and short shuttle, Obi performed exceptionally well in other drills.
He made a great first expression to 25 NFL scouts at Connecticut's Pro Day after completing his remaining drills. Moreover, eleven NFL teams invited him for private workout sessions.
Not to mention, most of the NFL draft experts and analysts predicted his selection in the second round.
Besides that, NFLDraftScout.com and NFL analyst Mike Mayock named him the fourth-best strong safety for the 2017 draft.
Meanwhile, ESPN claimed the former quarterback to be fifth best, and Sports Illustrated had him as the sixth-best.
Career With Oakland Raiders And New England Raiders
During the 2017 NFL Draft, Melifonwu was picked in the second round by the Oakland Raiders. However, after sustaining an injury, the Raiders put him on the injured list.
Nevertheless, he was on the field in less than two months. Then again, the safety underwent a hip surgery that put him back on the injured record.
In 2018, the Oakland team waived him and placed him on the injured checklist. Eventually, the Raiders released him on October 23, 2018.
Following an average career with his last team, Obi moved on to another NFL team. The footballer signed a two-year contract with the New England Patriots in less than a month.
After making three tackles in the two games he played, he made it to the Super Bowls finals. Along with the New England team, Melifonwu became the Super Bowl LIII champion. The Patriots team beat the Los Angeles Rams to claim the championship title.
However, the Patriots waived and re-signed him to the practice squad. Despite signing a future contract with the team, Obiajulu was released on April 27, 2020.
After the Patriots he signed a reserve/future contract with the San Francisco 49ers on January 4, 2021.
Don't Forget To Check Out Patriot Quarterback, Cam Newton Bio: Age, Career, Social Media, Net Worth.
Obi Melifonwu | Relationship, Marriage, And Kids
The former UConn Husky is in a relationship with fitness enthusiast Alyssa Okada. The two met at the University of Connecticut and have been together since.
Hence, they are college sweethearts. Okada has a degree in Public Relations and Communications. She mostly works in the gym and serves as a personal trainer.
Furthermore, the fitness enthusiast is excellent in academics. She was born in 1995 to her father of Japanese descent and her mother, a German American.
Alyssa quit her job as a gym trainer at Fort Myers due to racist comments. Two of her male co-workers made a racist remark about her boyfriend. Moreover, she releases their conversation online after they denied those allegations.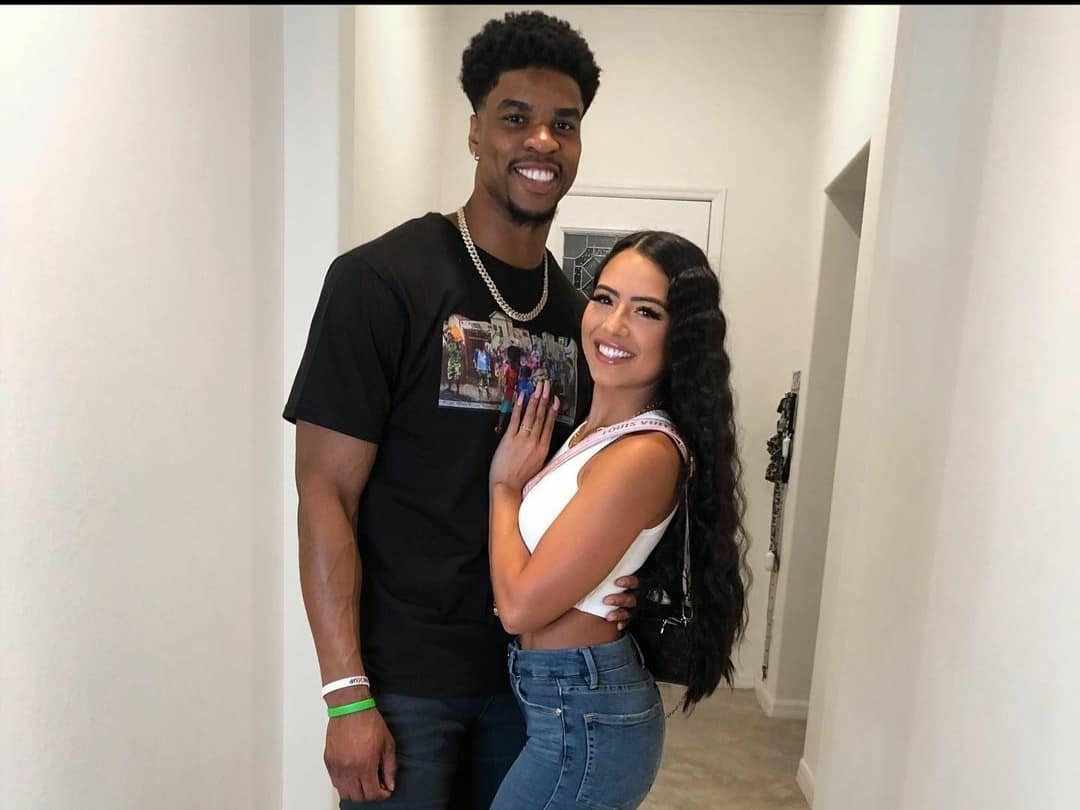 Okada is a strong supporter of the "Black Lives Matter" organization and movement and condemns racism. As of now, she appears as a model for a sportswear company called Physiq Apparel.
Obi and Alyssa don't have any plans to get married as they're both pretty focused on their career. Although having expectations of wedding bells in the upcoming years is not unrealistic.
Obi Melifonwu | Net Worth And Salary
Even though he has served as safety for four years now, he has earned quite well through salary.
His total earnings from NFL show his net worth to be $3,577,751. Nevertheless, his salary details are unknown to us. However, he reportedly earned $750,000 from Patriots in 2020 as per his contract.
Judging from his wealth and earnings, he leads a pretty comfortable life. Besides that, several well-known brands and companies sponsor him.
>> Eli Manning Bio: Age, NFL, Family, Career & Net Worth <<
Obi Melifonwu | Social Media Presence
The former Raider is quite active on social media platforms. He usually shares photos with his colleagues, football highlights, and training.
Besides that, he usually poses for pictures with his mother, brothers, and girlfriend. Furthermore, he occasionally showoffs his Super Bowl ring.
I grew up a Pats fan, and as a little kid I would pray that one day I would be a part of this team and end up going to the Super Bowl. All I can say is thank you God. If you knew what I've been through you would understand why I am so grateful, I am truly blessed beyond belief. pic.twitter.com/vuxDD1eK3k

— Obi Melifonwu (@Obi_1nOnly) January 21, 2019
Moreover, Melifonwu is on Twitter, with over 14 thousand followers. He joined in 2011, and many celebrities and fellow footballers follow him.
Obi generally tweets football-related news. From his Twitter account, you can quickly sum up that he is fond of kids and loves playing football with them.
Common Queries:
Who is Obi Melifonwu's brother?
The former Patriots' brother is Ifeatu Melifowu. He plays college-level football for Syracuse Orange. After graduating from Grafton High School, he joined Syracuse University to further his education.
Besides that, Ifeatu is well-known for his defensive skills as a footballer. Furthermore, he is also famous as the brother of NFL player Obi Melifonwu.
What team is NFL Player Obi Melifonwu playing for?
Currently, the NFL player is not playing for any team. He is a free agent as of now. However, he recently played for New England Patriots.
Furthermore, Obi was the Super Bowl LIII champion with them. He served as safety for Oakland Raiders before that. Moreover, he started his NFL journey after the Raiders picked him in the 2017 NFL draft.
Does Obi Melifonwu have a girlfriend?
Yes, Melifonwu has a girlfriend. Her name is Alyssa Okada. She is a fitness enthusiast and has worked as a trainer in gyms.
The two are college sweethearts. Besides that, she has a degree in Public Relations and Communications from the University of Connecticut.
What position Obi Melifonwu Plays for?
Obi plays for the safety position.
What's the Jersey number of Obi?
Obi wears the Jersey number of 20,22.