What makes you a good gymnast? Flexibility, agility, mental, and physical strength. Most importantly, the desire and motivation to work harder despite failing a day before. Oleg Verniaiev possesses each of these qualities.
The Ukrainian gymnast was the champion at the 2016 Summer Olympics for men's parallel bars. He also won a silver medal for individual all-around that year.
Also, Vernyayev became the champion for men's parallel bars at the 2012 World Artistic Championship.
Similarly, he stood up as the champion in European Men's and Women's Gymnastic Championship twice in 2015 and 2017. The parallel bars are totally his cup of tea.
However, Vernyayev has been banned from the competition through 2024 as he was tested positive for a banned substance, 'meldonium.' He has thought to appeal the decision.
Today, we will be talking about Oleg Vernyayev's personal and professional life. Happy reading!
Quick Facts about Oleg Vernyayev
Full name
Oleg Yuriyovych Vernyayev
Popular as
Oleg Vernyayev
Birthdate
29 September 1993
Birthplace
Donetsk, Ukraine
Nationality
Ukrainian
Horoscope
Libra
Age
29 years old
Father's name
Yuri Vernyayev
Mother's name
Tetiana Vernyayev
Residence
Kyiv, Ukraine
Marital status
Unmarried
Relationship Status
Not Known
Height
5'3″ (160 cm)
Weight
56 kg (123 lbs)
Body type
Athletic
Eye Color
Brown
Hair Color
Brown
Profession
Gymnast
Discipline
Men's Artistic Gymnastics
Level
International Elite
Club
Armed Forces of Ukraine
Coach
Gennady Sartynsky
National Team
Ukrainian
Participation in Olympics

The London 2012
2016 Rio de Janeiro

Medals and Achievement in Olympics

Gold medalist at 2016 Rio for men's parallel bars
Silver medalist at 2016 Rio for men's individual all-around

Participation in World Championship

2014 Nanning
2015 Glasgow
2017 Montreal
2018 Doha
2019 Stuttgart

Medals and Achievements in World Championship

Gold Medalist at 2014 Nanning for parallel bars
Silver Medalist at 2015 Glasgow for parallel bars
Silver Medalist at 2017 Montreal for parallel bars
Bronze Medalist at 2019 Stuttgart for all-around
Silver Medalist at 2018 Doha for parallel bars

Participation in European Games
Medals and Accomplishments in European Games

Gold Medalist at 2015 Baku for all-around
Gold Medalist at 2015 Baku for vault
Silver Medalist at 2015 Baku in team
Gold Medalist at 2019 Minsk for Parallel bars
Silver Medalist at 2019 Minsk for all-around
Silver Medalist at 2019 Minsk for Pommel Horse

Other Appearances

European Championships (2012 Montpellier, 2013 Moscow, 2014 Sofia, 2015 Montpellier, 2016 Bern, and 2017 Cluj-Napoca)
Summer Universiade (2013 Kazan, 2015 Gwangju, and 2017 Taipei)

Other Medals and Achievements

Six gold medals, two silver medals, and four bronze medals at European Championships
Three gold medals, six silver medals, and six bronze medals at Summer Universiade

Net Worth
$1 Million
Social Media Handles
Instagram
Twitter
Merch
Tokyo Olympics 2021 Items
Last Update
May, 2023
Oleg Vernyayev – Early Life and Family
Vernyayev was born on 29 September 1993 in Donetsk, Ukraine. He was born to parents Yuri Vernyayev and Tetiana Vernyayev. He does not have any siblings.
Similarly, Oleg studied at the Donetsk State Institute of Health, Physical Education, and Sport. Then, he transitioned to Kyiv, the capital city of Ukraine, from his hometown.
Likewise, Gennady Sartynsky coached and mentored Vernyayev.
You might be interested in reading: Arthur Mariano Bio: Parents, Ethnicity & Net Worth >>
The Beginning of Gymnastics
Oleg's mother, Tetiana, was also in gymnastics for a brief period. She reached the first level in artistic gymnastics. Hence, the knowledge about the sport and its significance came through her in the family.
Similarly, Oleg's parents took him to gymnastics school. They might have been motivated by Tetiana's indulgence in the sport, but a funny incident pushed them to take the step that early.
When Oleg was in kindergarten, he had too much energy. He and a friend of his annoyed the teachers very much.
A teacher, out of annoyance, told their parents to make them do some sport, probably gymnastics, so that they don't get to demonstrate that much energy at school.
It might sound rude or even funny to some, but this is how Oleg got into gymnastics initially.
Supportive Parents
Both Tetiana and Yuri have been supremely supportive of their only child's gymnastics career.
Moreover, Oleg remembers his father constantly motivating him with affirmations. He is grateful for the time and dedication that his mother gave to him and his sports dream.
To Oleg, his position in gymnastics is teamwork, where three of them moved in the same direction, carrying the same spirit.
His parents make sure to attend almost all the big competitions that he participates in. Yes, even now!
In fact, they have hardly missed any of the European and World Championships.
Oleg Vernyayev – Gymnastics Career
Oleg participated in the men's vault final at the 2011 Summer Universiade. There he finished in 7th, scoring 15.262.
The young gymnasts were also a part of the Ukrainian team that made it to the 5th in the men's team final.
Oleg also competed at the 2011 World Artistic Gymnastics for the team all-around event, partnering with Nikolai Kuksenkov, Oleg Stepko, Vitaliy Nakonechnyi, Roman Zozula, and Igor. The team finished in 5th.
Moreover, Oleg had scored 14.461 points on the floor, 13.866 points on pommel horse, 14.833 points on vault, and 13.800 points on parallel bars.
Then he participated in the 2012 American cup and finished 6th, scoring 88.132.
National and European Championships
Likewise, the Ukrainian finished 5th at the 2012 European Men's Artistic Gymnastics Championships in the final team.
Similarly, he won the all-around final of the Ukrainian Championships with a score of 90.300 points.
He also won the Ukrainian National Championships in 2012. He grabbed the silver medal in the 2013 American Cup as well.
Vernyayev then grabbed the bronze medal at the 2013 European Championships for men's artistic individual all-around.
He also led the Ukrainian team to a 2nd position finish in the team final at the 2013 Summer Universidad. At the competition, he won two bronze medals for all and parallel bars final.
2014 and Later
He also reserved gold in parallel bars competition at the 2014 World Championships held in Nanning.
Similarly, Vernyayev won the artistic individual all-around at the 2015 European Artistic Gymnastics Championships scoring 89.582.
He then got qualified for the parallel bars final and won a gold medal scoring 15.866.
Vernyayev also won gold on vault at the 2016 European Championships. Similarly, he claimed a silver medal on parallel bars at the competition.
Rise to Prominence
He then grabbed two gold medals for artistic individual all-around and parallel bars at the 2017 European Championships. Likewise, he claimed a bronze medal in the vault.
Vernyayev also won the gold medal at the 2017 Taipei Summer Universiade for artistic individual all-around.
Similarly, he won three silver medals, one with his team and others on vault and pommel horse. He also got a bronze medal for the ring.
You might also be interested in reading: Simone Biles Bio: Early Life, Career, Education & Net worth >>
Oleg Vernyayev – Olympics
Vernyayev has participated in Olympics twice in 2012 London and 2016 Rio de Janeiro. He would have been seen at the 2020 Tokyo Olympics if he had not been banned.
The London 2012
The Ukrainian competed for the national team at the 2012 Summer Olympics for the men's artistic team all-around. Furthermore, he scored 88.964, finishing 13th in the qualification round.
However, Ukraine could not reserve any medal that year. His team scored 271.526, finishing 13th, and missed the bronze medal by a tiny margin of 0.2 points.
Moreover, Ukraine had been given a bronze medal and third place initially. But when Japan appealed over a pommel horse score, they received additional 0.7 points.
As a result, they were elevated from 4th to 2nd position.
Hence, Ukraine lost its single medal. Vernyayev had scored 88.931 for the individual all-around final, and he finished in 11th position.
2016 Rio de Janeiro
Vernyayev won two medals at the 2016 Summer Olympic held in Rio de Janeiro. He grabbed a silver medal for artistic men's individual all-around with 92.266.
Also, he was only 0.099 points behind the gold medalist Kōhei Uchimura.
Similarly, he won a gold medal in the men's parallel bars competition. He had scored 16.041points.
He also finished 5th place in the vault final and 8th place on the pommel horse and the horizontal bar.
Moreover, Vernyayev contributed to giving Ukraine its first gymnastics gold at Olympics since 2004.
Oleg Vernyayev – Ban
Vernyayev got banned from competing at the 2020 Tokyo Olympics and also the 2024 Paris Olympics. This is because he was accused of drug consumption called 'meldonium.' The ban has been imposed since November 2020.
Meldonium increased blood flow, hence giving rise to the athlete's energy capacity. Furthermore, the World Anti-Doping Agency had banned the substance since 2016.
After winning gold at 2016 Rio, it's a shock for Vernyayev and his well-wishers to not seen him defending the title at 2020 Tokyo.
Moreover, he disclosed on Instagram that he tested positive for meldonium and the Gymnastics Ethics Foundation (GEF) placed him at a four-year ban.
What was in the Instagram post?
In that Instagram post, he revealed that he has no clue how that substance got into his body. It happened when he was just into some light training and no serious competitions were being held.
In addition, Veryayev has declined the accusation. He has planned to go to the Court of Arbitration for Sport (CAS) to appeal the ruining. 'Innocent until proven guilty' is what we stand by.
Moreover, Vernyayev has the right to a fair trial, which means that he should be allowed to place his words before the court rightfully. May justice be provided!
We would be happy to see Vernyayev back if he is innocent.
Oleg Vernyayev – Net Worth
Vernyayev has earned some good money from gymnastics. Likewise, he lives a decent life in Ukraine.
The Ukranian net worth is estimated to be around $1 Million.
You might want to read: Usain Bolt Bio: Early Life, Career, Olympics, Family, Lifestyle & Net worth >>
Oleg Vernyayev – Social Media Presence
Vernyayev seems active on his social media handles. You can follow him via these links: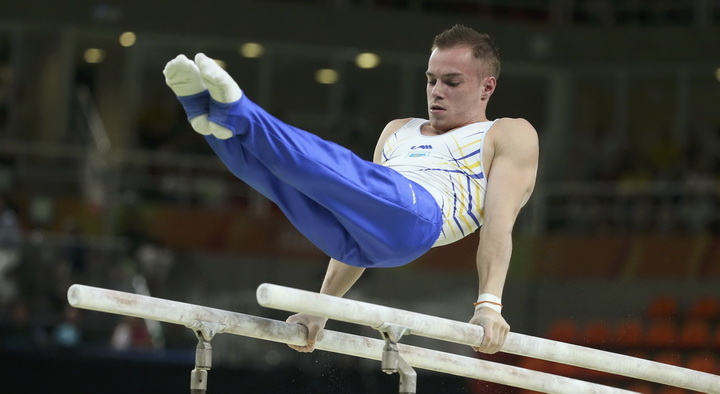 12 Best Gymnasts In The World Right Now!>>
Common Queries about Oleg Vernyayev
Is Oleg Vernyayev participating in Tokyo 2020?
No, Oleg Vernyayev could not compete in Tokyo 2020 because Gymnastics Ethics Foundation has imposed a ban on him.
Has Oleg Vernyayev won gold at the Olympics?
Vernyayev won a gold medal at Rio de Janeiro in the men's parallel bars competition.