Paige Saraya leaked video became a trending topic once again after she recently mentioned it in one of her tweets.
The former WWE superstar became a victim of hacking in 2017, and several of her photos and videos were out in public forums. At first, she couldn't believe what had happened, but years after the incident, Paige had shown she is no longer bothered by the incident.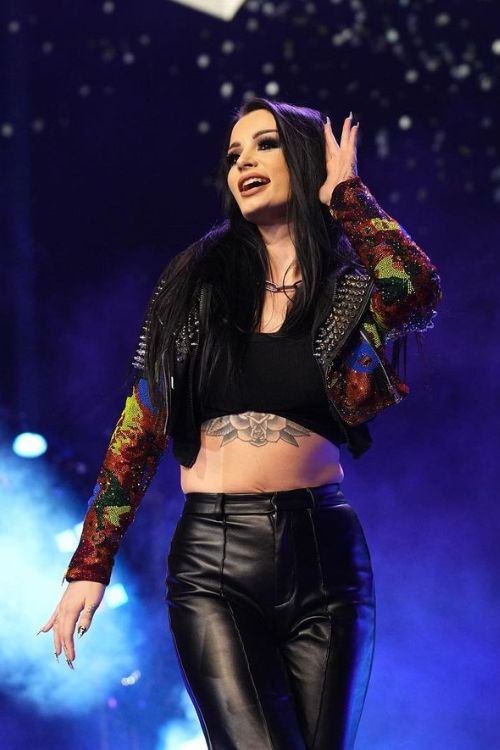 Recently, Paige featured alongside Roman Reigns and John Cena at No. 10 in the list of the most searched wrestler from August 22 to July 23. Paige and Ronda Rousey were the only female wrestlers on the list.
And to those who constantly trolled her, saying she only made it to the list because of her leaked video, Paige gave a fitting reply. The two-time WWE Divas Champion currently fights in AEW and will be part of the All-In pay-per-view show on August 29.
The show will be held on her home turf Wembley, and Paige will go against Hikaru Shida, who is defending her title against her, Britt Baker, and another wrestler who hasn't been named yet.
Paige Saraya Reaction To Her Hacking
The scandal took place in 2017 and in those videos and photos, Paige was only 19. In an interview with Renee Paquette on her podcast The Sessions, Paige briefly touched on the topic.
The British wrestler was in San Antonio when she found out her private photos and videos were leaked. A friend of hers said to her the pictures were trending on Twitter.
After finding out what happened, Paige said she ran out of the house and kept on running. Saraya said she would hide in bushes thinking someone would recognize her and know what had happened.
It was a quite tough period for Saraya, who had an ongoing battle with substance abuse when the leak happened. But one of the first thoughts that came to Saraya's mind was she had let down her father.
But Saraya's father showed her full support, and so did her mother. Her dad told her, "You had sex. Everyone has done it. Unfortunately, you are just in the public eye. It is what it is. You have got to suck it up."
Saraya's mother tweeted in support of her daughter, writing, "People get hacked. Unfortunately, my daughter had pics and videos shared from years ago. My husband and I support her 100%, no fault of her own."
Aftermath Of The Past Scandal
Paige retired from WWE a year after the incident, but that decision came because of her neck injury. The Chairman of WWE, Vince McMahon, a day after Paige's retirement made her the new general manager of SmackDown.
But it was to promote Paige's film "Fighting With My Family," and the role was quietly taken away a year later. Paige continued to make appearances on WWE throughout 2022, but on June 10, 2022, Paige announced her departure from WWE.
After she departed from WWE, Paige made her All Elite Wrestling debut in September 2022. The former WWE superstar has already found massive success in AEW, and her fans have stayed loyal to her after all these years.
The English wrestler was recently on the list of the Top 10 most searched wrestlers from August 22 to July 23 and had her say on Twitter. Paige wrote, "She is OnlY Up ThEre bEcAusE oF heR VideOs." It has been six years. It is because people are obsessed with talking about me.
Paige further wrote she is always in the conversation, whether for good or bad reasons. You can see that the scandal no longer affects Paige, at least publicly, and she is enjoying being back in the ring.