"Life is like riding a bicycle. To keep your balance, you must keep moving." If there is any quote to describe the life of Paul Sherwen, then it is this one.
Paul Sherwen was a racing cyclist and broadcaster from the U.K. The above quote applies to Paul because of his outstanding cycling career.
Moreover, even after retiring, Paul's love for the sport didn't fade away.
Likewise, he gathered more and more as a commentator for the Tour de France. Sherwen lived a respectable and admirable life. Even after his death, his legacy continues to live in this world.
As we head on to learn about the legendary Paul Sherwen, let's take a look at some quick facts about him.
Quick Facts:
Full Name
Paul Sherwen
Birth Date
June 7, 1956
Birth Place

Widnes, Lancashire, England

Nick Name
Climber
Death
December 2, 2018
Place of Death
Kampala, Uganda
Death cause
Heart attack
Nationality
British
Ethnicity
White
Education
Manchester University
Horoscope
Gemini
Father's Name
John Sherwen
Mother's Name
Margaret Sherwen
Siblings
Jayne Sherwen
Age (At Death)
62
Height
N/A
Weight
54 kg / 119 lbs
Hair Color
Black
Eye Color
Light Blue
Build
Athletic
Profession
Professional Cyclist and Broadcaster
Teams
Fiat, La Redoute, Raleigh-Weinmann, Raleigh-Banana
Discipline
Road
Role
Rider
Rider Type
Domestique
Active Years
As a cyclist (1977 – 1987)

As a broadcaster (1986 – 2018)

Marital Status
Married
Wife
Katherine Sherwen
Kids
Margaux Sherwen and Alexander Sherwen
Net Worth
$1 – $1.5 million
Social Media
Twitter
Merch
Tour De France Quiz Book
Last Update

March, 2023
Paul Sherwen | Early Life, Education & Family
Paul Sherwen was born in Widnes, Lancashire, to his parents, John Sherwen and Margaret Sherwen. Likewise, he has one sister, who is named Jayne Sherwen.
Despite being born in the U.K, Sherwen grew up in Kenya. As his father managed a fertilizing factory in Kenya, the Sherwen family had to live in Kenya.
His father worked in a factory that produced fertilizer, paint, and insecticides.
Education & Sports
In Kenya, Paul had enrolled in a boarding school. Moreover, Paul swam well and was a competent swimmer.
Likewise, during his stay in Kenya, he learned to speak and write in the Swahili language.
Due to circumstances, Paul and his family moved back to England when he was 14.
After returning to England, his parents got divorced and separated. The divorce impacted Paul in many ways. However, he was capable of handling it well.
Sherwen made his first step into the world of cycling at the age of 16.
He joined the Weaver Cycling Club in Northwich, Cheshire. Moreover, coach Harold "H" Nelson trained him in his youth.
Manchester University
As for education, Sherwen enrolled at Manchester University. There he majored in Paper Technology and graduated from the university in 1977.
How old is Paul Sherwen? Age, Height & Physical Appearance
Paul Sherwen, aka The Climber, was born on June 7, 1956. However, he is not with us anymore. Sherwen died due to heart failure on December 2, 2018.
As Sherwen was born on June 7, his zodiac sign is Gemini. People with this sign are known for being interactive, extroverted, and exciting.
Talking about Sherwen's physique, he has black colored hair and light blue colored eyes.
You might be interested in reading about: <<Stipe Miocic Bio: Early Life, Career, Wife & Net Worth >>
Paul Sherwen | Racing & Broadcasting Career
Paul Sherwen's career follows two phases. The first phase concerns his racing attributes.
Likewise, his second career concerns his broadcasting career for the Tour de France. We will look into the important details of his career.
Sherwen's career in cycling began after his return from Kenya. In the beginning, Sherwen joined the Weaver Valley Cycling Clun at the age of 16.
Further, coach Harold Nelson trained him and shaped him into a competitive cyclist.
Sherwen joined Altrincham Road Club. As a player for them, he won the Star Trophy in 1976. Similarly, the outstanding cyclist also won the Folkstone-London.
Athletic Club
Sherwen graduated from Manchester University in 1977. During his cycling time with Weaver Cycling, Athletic Club de Boulogne-Billancourt kept their eyes on him.
The Athletic Club was an amateur cycling team. Likewise, Athletic's manager had seen Sherwen win one of England's premier races.
Further, Paul joined the club and rode for the club. Notably, he also received the crown of the best amateur racer in France.
After 12 months, Sherwen played in the Tour de France.
Turning Professional
Sherwen officially turned professional in 1978. Likewise, he joined Fiat for competitive racing. He rode under Raphael Geminani.
Similarly, Sherwen rode for the La Redoute cycling team as a domestique.
La Redoute
Paul Sherwen rode his first-ever Tour de France in 1984. Moreover, he finished 70th in the race.
Moving forward, Sherwen rode in several races like the Milan-San Remo, Paris-Roubaix, Tour du Haut Var, and Four Days of Dunkirk.
One of Paul's most notable races is the 1985 Tour de France. In the race, Sherwen crashed in the first kilometer.
The viewers lost all hopes for Sherwen as he lacked behind all the other riders. However, Sherwen continued despite having a bad position.
Likewise, he continued racing solo for six hours over six mountains. Sherwen continued despite knowing that he would have a bad finish.
Also, Sherwen finished the race very late. However, he won everyone's respect and love.
Winning the British Road Race Championship
Paul Sherwen was known for his resilience and hard-work attitude.
Likewise, Sherwen raced in the British Road Race Championship in 1986 and 1987. He won both of the races and retired in 1987.
Broadcasting Career
After Sherwen's retirement, he remained connected with racing. Sherwen, a renowned personality, started his broadcasting career.
However, before his broadcasting career, Sherwen worked as the Public Relations Director of the Motorola Cycling Team.
Not to mention, British Cycling also scouted him for the job of performance director.
6 Strongest Skate Deck For Newbie and Pro >>
Channel 4 Commentating
Sherwen started his broadcasting journey with Phil Ligget. Phil Ligget MBE is a journalist and professional commentator.
The two of them complemented each other perfectly. Moreover, Paul Sherwen was the first British person to commentate on the race.
Phil and Paul were best of friends. They shared a relationship beyond work and were part of each other's families.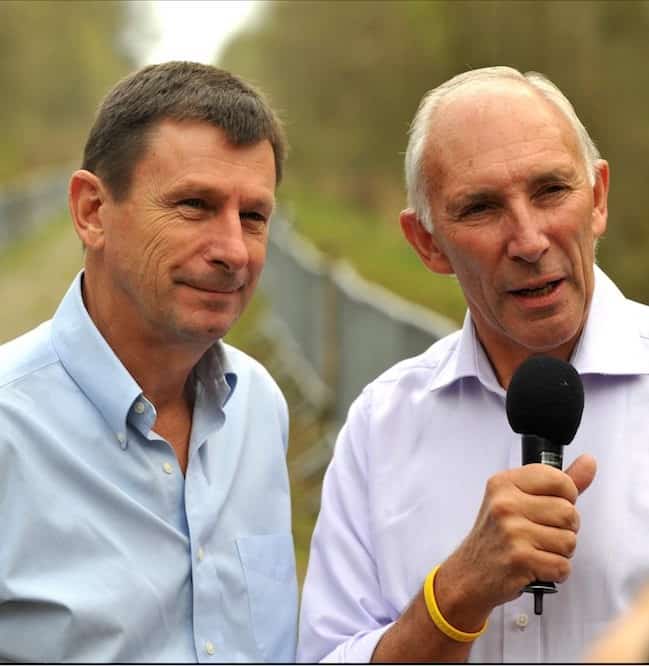 Likewise, Phil and Paul worked for Channel 4. As a pair, they started commentating on the Tour de France races from 1986.
Moreover, due to Paul's impressive and eloquent speech, the show gathered many avid viewers and fans.
Similarly, American fans followed Paul's and Phil's coverage due to the clarity of their speech. Many fans expressed that they understood the race due to the commentary by the duo.
Nickname – The Climber
Sherwen was nicknamed 'The Climber,' Although he wasn't good at riding in mountains, Paul gave his best to put on a competitive performance.
The nickname arises from his ability to guide a group to the finish line on the races' toughest days.
What is Paul Sherwen's cause of death? Death of Paul Sherwen
Sherwen had been suffering from health problems. Unfortunately, Paul Sherwen died on December 2, 2018, due to heart failure.
The American-born died at his home in Kampala, Uganda. He died at the young age of 62.
After the announcement of his death, the world of cycling became deeply disturbed. Sherwen and Ligget have been accredited for making millions of fans love cycling.
Many fans were emotional and saddened by his sudden demise. Phil Ligget, co-commentator of Paul, tweets his feelings after the demise of Paul.
Likewise, a memorial service was held in Manchester Cathedral in remembrance of Paul.
The memorial service was held on February 6, 2019. Moreover, the service celebrated the life and legacy of Sherwen.
Paul Sherwen | Personal Life
Settling in Uganda
After spending years living in Europe, Sherwen came back to Africa. Likewise, he returned with his family and settled in Kampala, Uganda, in 1996.
Moreover, Sherwen loved living there and had pursued multiple side interests.
Busitema Gold Mines
Sherwen was also a business-minded person. The graduate from Manchester University had learned business and investment to make the right decisions.
As a result, Shrewen bought the attractive gold mines of Busitema, Uganda. Moreover, Phil Liggett and Lance Armstrong had also invested and had become shareholders.
For those who don't know, Lance Armstrong is a professional racing cyclist who has won the Tour de France seven times.
Conservation Work
Sherwen also had a vested interest in conservation works. He worked as a chair of the Chamber of Mines in Kenya.
The Chamber of Mines overlooks several mining houses in South Africa. Similarly, Sherwen always had doors open for charitable work.
So, he closely worked with Bicycles for Humanity. The charity focuses on alleviating poverty through the sale and re-sale of unwanted bicycles.
Favorite Quote
As Sherwen lived in Africa for a lot of his life, he loved the continent's arts and culture. The famous cyclist and commentator had one favorite African quote. The quote goes like this.
"When a mountain is in your path, do not sit at its foot and cry. Get up and climb it."
The liking of this quote shows the character of Paul Sherwen. He had the thought of never giving up and overcoming all kinds of adversities in life.
Who was Paul Sherwen married to? Wife & Children
Paul Sherwen was married to his lover Katherine Sherwen. Likewise, the pair had two children together.
The name of the children is Margaux Sherwen and Alexander Sherwen.
Likewise, Sherwen relocated multiple times in his career. During all the time, his wife never left his sight.
Moreover, Sherwen and Katherine shared a strong and stable marriage. They were an example for their children.
You might be interested in reading: <<Kevin Durant Bio: Career, NBA, Net Worth & Girlfriend >>
What is Paul Sherwen's net worth? | Net Worth & Salary
Sherwen worked as a commentator for various sports networks. However, before that, he was a professional racing cyclist.
Likewise, he earned a majority of his career through his main careers.
Moreover, Sherwen had other businesses on the side. Sherwen, along with Phil Ligget and Lance Armstrong, had bought gold mines in Busemita, Uganda.
Therefore, a big chunk of his net worth also arrives from the gold mines.
As a racer, Shrewen won two major championships. Most racing championships have prize money ranging from thousands to millions of dollars.
According to various online sites, Paul Shrewen's net worth is between $1 to $1 million.
Is Paul Sherwen on Social Media? Social Media Presence
Yes, Paul Sherwen uses social media. However, the former cyclist only had one profile on social media. Sherwen was a user of the popular online platform, Twitter.
Paul Sherwen tweeted about racing, sports, and various social injustices. His tweets mostly concerned professional racing and his daily life.
As he lived in Uganda, he frequently posted the surrounding and natural beauty of Uganda.
He had 58.9k followers on his Twitter account. Despite his death, his account continues to remain online.
Besides, Sherwen also had a Facebook account under the name Paul Sherwen. His Facebook account consisted of posts related to cycling and Ugandanian life.
You might be interested in reading about: <<Everything You Need To Know About Tom Brady's Kids! >>
Some FAQs:
What awards did Paul Sherwen win?
Paul Sherwen won the National Circuit Race Championship and National Road Race Championship in 1986 and 1987.
Where was Paul Sherwen's funeral held?
Paul Sherwen's funeral was held at Manchester Cathedral on February 6, 2019.
What is The Paul Sherwen project?
The Paul Sherwen Project (Empower. Educate. Elevate) is a non-profit corporation founded by the family and friends of the late Paul Sherwen to continue the good that he was doing in Uganda.
Moreover, the project mainly focuses on empowering young women in the Karamoja region (northeast Uganda) by teaching relevant vocational, industrial, and life skills for employment and job opportunity.