Rasheed Wallace is a former basketball player and current men's basketball coach for the Memphis Tigers.
Wallace, a native of Philadelphia, played collegiate basketball at the University of North Carolina before declaring for the NBA draft in 1995, where he spent 16 seasons (NBA).
The player is admirably selfless. He may make more than half of his shots, but after collecting a pass, his first inclination is to sweep the floor for cutters.
Likewise, he is also known for his quick transformation from pleasant guy to hothead.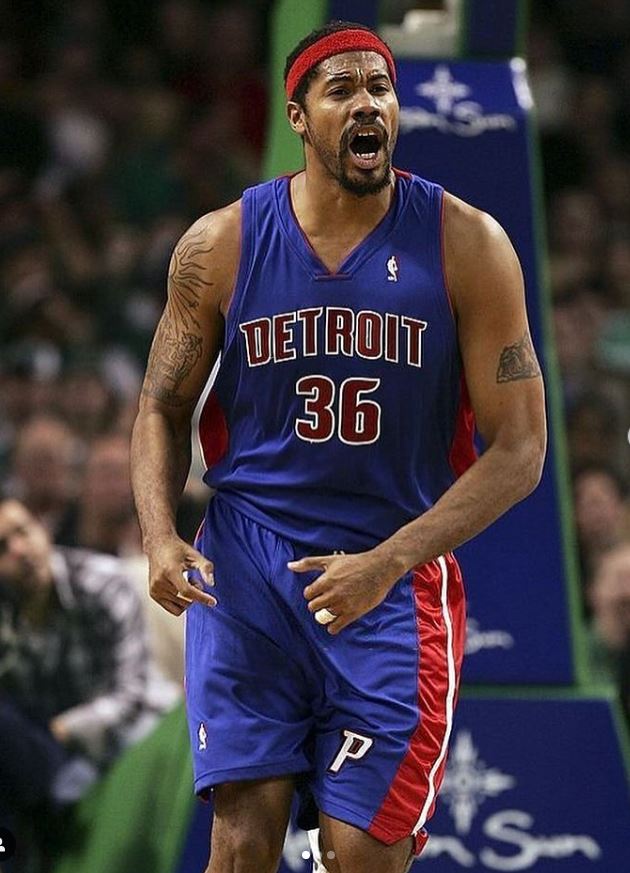 Interested to know more about Rasheed Wallace? Stay with us to the end of this article and you will be good to go! Before that, some quick facts!
Quick Facts
Full Name
Rasheed Abdul Wallace
Birth Date
September 17, 1974
Birth Place
Philadelphia, Pennsylvania
Nick Name
Sheed
Religion
Islam
Nationality
American
High School
Simon Gratz High School
College
North Carolina University
Playing Career
1995–2010, 2012–2013
Zodiac
Virgo
Chinese Zodiac
Tiger
Father's Name
Sam Tabb
Mother's Name
Jackie Wallace
Siblings
Two older brothers
Age
48 years old
Height
6 feet 11 inches
Weight
104 kg
NBA Draft
Round: 1, Pick: 4th overall, 1995
Shoots
Right
Food Habits
Non-vegetarian
Points
16,006 (14.4 ppg)
Rebounds
7,404 (6.7 rpg)
Blocks
1,460 (1.3 bpg)
Hair Color
Black
Eye Color
Black
Career Highlights

NBA champion (2004)
4× NBA All-Star, etc.

Build
Athletic
Marital Status
Divorced
Ex-Wife
Fatima Sanders
Girlfriend
Not known
Jersey Number
30, 36
Coaching Career
2013 – present
Position
Assistant Coach
League
American Athletic Conference
Net Worth
$75 Million
Annual Salary
$6-7 million
Social Media
Instagram
Merch
Poster
Last Update
December 2022
Early Life and Education
Rasheed was born on September 17, 1974, in Philadelphia, Pennsylvania. The player was raised with two other elder siblings.
Jackie Wallace, his mother, worked for the Pennsylvania Department of Welfare. Likewise, Sam Tabb, his father, was a street basketball player who was in and out of his son's life throughout his boyhood.
Rasheed and his two older brothers, Malcolm and Muhammad, lived in North Philadelphia's Germantown neighborhood. From an early age, the player had an interest in basketball. He ultimately pursued it as a profession.
Apart from playing basketball, Rasheed was also interested in painting. He went to the prestigious Simon Gratz High School and took an art class, where he astounded his instructor with his innate talent.
However, after two years, Wallace dropped out of the art class to concentrate on basketball.
High School Career
Rasheed was voted USA Today's High School Player of the Year and Basketball Times' first-team All-America after his senior season.
Rasheed was also a two-time Parade All-American first-team selection. The player averaged sixteen points, fifteen rebounds, and seven blocks while playing only 19 minutes per game in his final year.
College Career
The coach at the University of North Carolina, Dean Smith, recruited Wallace to attend college in Chapel Hill, North Carolina.
Smith was regarded as a mentor by Wallace and Wallace's future Detroit coach, Larry Brown. According to Rasheed, his friendship with Brown in North Carolina helped him assimilate fast to the Pistons system.
The player was a national success story during his two years at North Carolina. Similarly, the Associated Press recognized him as a second-team All-American during his sophomore year at UNC.
Rasheed and future NBA star, Jerry Stackhouse helped the Tar Heels reach the NCAA Final Four in 1995.
After his second season, the player departed North Carolina to join the 1995 NBA draft. The Washington Bullets took him with the fourth overall choice.
Joel Anthony is considered one of the finest all-around defenders of all time. Click here to know about his journey to the NBA!
Professional Basketball Career
Rasheed appeared in 65 games with the Washington Bullets as a rookie in 1995, starting 51 of them in place of the injured Chris Webber. He was named to the All-Star Weekend rookie team.
The player was traded to the Portland Trail Blazers along with Mitchell Butler at the end of the season in exchange for Rod Strickland and Harvey Grant.
After spending eight seasons with the Blazers, Rasheed was moved to the Atlanta Hawks on February 9, 2004, along with Wesley Person, for Shareef Abdur-Rahim, Theo Ratliff, and Dan Dickau.
Wallace appeared in just one game for the Hawks, scoring 20 points in the first three quarters.
Following that, the player moved to the Detroit Pistons. He had 10 points, 11 rebounds, and four blocks in the Pistons' 76–66 win over the Philadelphia 76ers on February 23, 2004.
On July 8, 2009, Wallace signed a three-year contract with the Boston Celtics. The Boston Celtics reached the NBA Finals in 2010. However, they were beaten by the Los Angeles Lakers in four games.
Retirement
Wallace's agent, Bill Strickland, indicated on June 25, 2010, that Wallace would likely retire from the NBA. The decision was confirmed on August 10, after the Celtics' buyout of his contract.
Later, on October 3, 2012, Rasheed signed with the New York Knicks. On February 27, 2013, he stated that he suffered a fractured left foot and would be out for eight weeks. He had surgery set for him.
Rasheed returned for one final game, playing three minutes off the bench on April 15, 2013. Following a brief comeback, the player announced his second retirement on April 17, 2013.
Fouls and Suspension
Wallace is known for having the most technical fouls in a single season. The player got 41 technical fouls in 80 games during the 2000–01 season. It is an average of one technical foul every two games.
The player was also suspended for seven games by the NBA in 2003 for confronting then-referee Tim Donaghy on an arena loading dock during a home game.
That was the longest ban in the league for an incident that did not involve violence or substance misuse.
The Jail Blazers
Rasheed was far from the only perceived troublemaker on the Portland Trail Blazers at the time.
For instance, his teammates, Bonzi Wells, Damon Stoudamire, and Zach Randolph, were also frequently criticized by media and fans for off-court outbursts and legal incidents.
As a result, the team was also often called out as The Jail Blazers.
Rasheed Wallace: Awards
2004 NBA champion
4× NBA All-Star (2000, 2001, 2006, 2008)
1996 NBA All-Rookie Second Team
1995 Consensus second-team All-American
1995 First-team All-ACC
1994 ACC All-Freshman team
No. 30 honored by North Carolina Tar Heels
1993 Mr. Basketball USA
1993 USA Today's High School Player of the Year
2× First-team Parade All-American (1993, 1992)
1993 McDonald's All-American
Rasheed Wallace: Marital Life
The player was married to Fatima Sanders in 2009. The pair have two children together; Nazir Wallace and Rashaya Wallace. They also had one child each from their previous relationships.
Court Struggle
The couple's legal spat began in 2013 when Rasheed retired from the New York Knicks and left his wife.
He relocated to North Carolina to play collegiately at the University of North Carolina, while Sanders and the couple's two children returned to their Rochester Hills home, where they had resided for more than a decade.
In early July 2014, Rasheed filed for divorce in North Carolina. Sanders filed her own divorce petition in Oakland County three weeks later.
She also attempted to overturn the couple's 1998 prenuptial agreement, which was signed on their wedding day, saying it was "forged."
Similarly, she also challenged Wallace's North Carolina divorce filing, claiming the court lacked jurisdiction. Sanders questioned whether Wallace was truly a North Carolina resident because he rented an apartment in Troy.
Further, according to Sander's lawyer, the player did not pay his ex-wife for six months following the dueling divorce petitions.
Previous Relationship
Apart from that, Rasheed also had a son, Ishmiel Wallace, from his previous relationship with Chiquita Bryant.
Although the judge had given Rasheed custody of Ishmiel in June 1997, Chiquita Bryant went into hiding with Ishmiel and refused to turn him up.
After Rasheed's attorney and a private detective were unable to find Bryant, the player utilized his popularity to locate his son.
On December 13, 1997, he filmed an interview with TNT in which he described his situation and the difficulties of playing basketball while Ishmiel was absent.
A viewer in Kings Mountain, N.C., who recognized Chiquita, phoned authorities with an anonymous report less than a week later.
As a result, father and son were reunited at 12:02 a.m. on Christmas morning. The player exclaimed it to be the best Christmas present ever.
Coaching Career
Rasheed signed a two-year contract with the Detroit Pistons in July 2013 and joined as an assistant coach. He worked with the Pistons for the 2013–14 season.
The player was introduced as the next boys' varsity basketball head coach at Charles E. Jordan High School in Durham, North Carolina, on March 8, 2019.
Likewise, Rasheed agreed to join Penny Hardaway's assistant coach at Memphis on August 18, 2021.
Further, on the Tigers, he rejoined his old head coach in Detroit, Hall of Fame coach Larry Brown. On January 13, 2022, it was revealed that Wallace would not serve in person but would instead work remotely for the remainder of the season.
Ben Gordon's life took many twists and turns. As a result, the player could not sustain his career in the NBA. Click here to find out more!
Interesting Facts about Rasheed Wallace
Rasheed has several tattoos on his upper body (sun, the royal family of Egyptians, and more).
Wallace has elegant automobile collections like Hummer H1, high-end Maybach 57, Mercedes S-Class, and a 1996 Ford Bronco.
Rasheed also has a magnificent 10,568 square foot property in Rochester Hills, Michigan, worth roughly $3.7 million.
The player is a Virgo and follows the Islamic religion.
During the 2008 playoffs, Wallace went on an expletive-laced diatribe criticizing the refereeing after Game 5 of the Eastern Conference Finals against the Boston Celtics.
The player popularized the term "Ball don't lie," which is used when an opponent player misses a free shot following a contested call by the officials.
During the 2010 NBA Playoffs, Rasheed wore caps and other pieces of apparel with the Philadelphia Flyers logo during news conferences and interviews with the Boston Celtics, which sparked outrage among Boston supporters.
Charity
Rasheed has been a major voice and helping hand in the Flint water problem. Since the summer of 2016, he has personally brought water door to door in Flint.
The player has also published a letter in the Players Tribune to promote awareness. Further, he also spoke about the Crisis on the television show Area 21.
Wallace's actions encouraged celebrities like Stephen Jackson, Rachel Nichols, Kyle Kuzma, and others to volunteer in Flint.
Besides that, in 1997, the player founded the Rasheed Wallace Foundation to support people in Portland, Philadelphia, and Durham, North Carolina.
The Foundation organized yearly coat drives and food drives, as well as funding for inner-city schools and recreation facilities in the three cities.
Wallace also funded teams that needed help getting to basketball competitions. He sponsored yearly basketball camps in Philadelphia and Durham for kids who wanted to be professional basketball players.
Rasheed Wallace: Net Worth
Wallace's net worth is $75 million resulting from his successful NBA career and endorsement deals.
The player earned a massive sum of around $156 million in salary throughout his incredible 18-year NBA career.
He received a minimum salary of $1.7 million while playing with the New York Knicks. Additionally, Wallace's yearly salary from the Blazers was roughly $17 million in 2003-04.
Rasheed also earned a record $60 million while playing for the Detroit Pistons. Further, he earned roughly $12 million during his brief time with the Celtics.
Currently, the former NBA player works as an assistant coach with the Memphis Tigers and earns roughly $6-7 million each year.
Social Media
FAQs
Which teams does Rasheed Wallace root for?
Rasheed supports the Philadelphia Flyers (NHL) and Phillies (MLB). However, he does not root for the Philadelphia Eagles (NFL). Instead, the player is a die-hard Kansas City Chiefs supporter.
How much does Rasheed Wallace weigh?
The 48-year-old player is of athletic build and weighs around 104 kg. Likewise, the athlete is 6 feet 11 inches tall.
Royce White is a mental health activist. He spoke openly about his lifelong anxiety problem in college, which made front-page news. Know more about the player here!