Rachel Nichols, one of America's most prominent and influential sportscasters, was named "the country's most impactful and prominent female sports Journalist" by Sports Illustrated in 2014. Throughout her career, she has covered the National Hockey League, Baseball, Basketball, Football, the Olympics, professional tennis, and college sports.
Nominee for the "Outstanding Sports Personality/Studio Host" in the 2021 Sports Emmy Awards, Rachel is most notable for her work with the NBA.
The ESPN Network recently fired her for her comments on the network's "crappy record on diversity."
After 16 years working for ESPN, Rachel Nichols parted ways with the company in 2022, ending a 16-year partnership.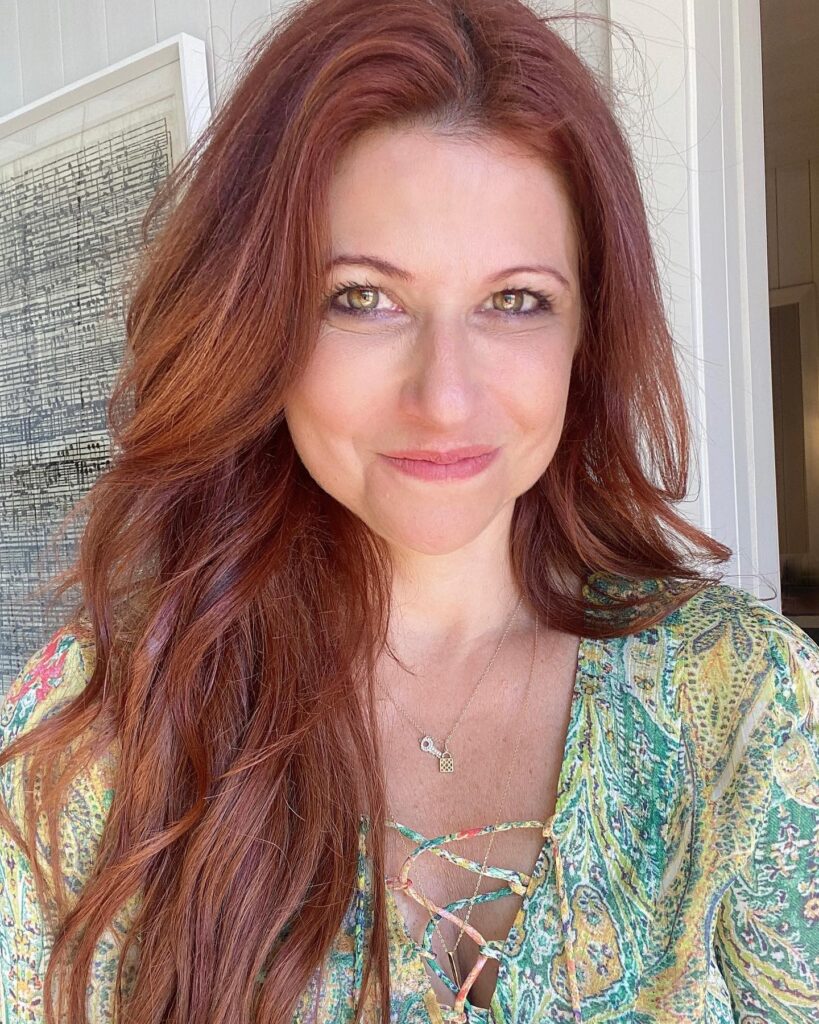 Nichols specializes in asking difficult and uncomfortable questions until she gets her answers.
Nichols also touches on other sports issues like domestic violence, equality, and other scandalous affairs.
If you do her wrong, she will only get up and will not hesitate to decimate you.
Well, all this might sound scary and may establish her to be unapproachable but fear not.
Despite her bold attitude, Nichols has a tender heart and is fun to be around.
Let's discuss in-depth her early life, career, and relationship status.
Quick Facts
| | |
| --- | --- |
| Full Name | Rachel Michele Nichols |
| Birth Date | October 18, 1973 |
| Birth Place | Potomac, Maryland, U.S. |
| Nick Name | Rachel |
| Religion | Jewish |
| Nationality | American |
| Ethnicity | White |
| Education | Winston Churchill High School; Northwestern University |
| Horoscope | Libra |
| Father's Name | Ronald Jacobs |
| Mother's Name | Jane Jacobs |
| Siblings | Two brothers |
| Age | 49 Years Old |
| Height | 5'5″ (1.67 m) |
| Weight | 59 kg (130 lb) |
| Hair Color | Red |
| Eye Color | Hazel |
| Body Measurement | 34-26-38 inches |
| Figure | Curvy |
| Married | Yes |
| Husband | Max Nichols |
| Children | Yes (Twin daughters) |
| Profession | Sports Reporter, Anchor |
| Net Worth | $10 million |
| Affiliations | Washington Post, ESPN, CNN, CBS, TNT, TBS |
| Endorsements | Nike, Jordan, ESPN |
| Active Since | 1995-Present |
| Social Media | Instagram, Twitter, Facebook |
| Last Update | June, 2023 |
Rachel Nichols Wiki-Bio | Early Life, Education, & Parents
Rachel Michele Alexander, commonly known as Rachel Nichols, was born to Jane Jacobs and Ronald Jacobs on October 18, 1973.
The resident of Potomac, Maryland (U.S.), Rachele, has two brothers whose names are not revealed.
It is an exciting revelation that Nichols is from a Jewish family, which means her ancestral origin probably lay in Europe.
However, being born in the U.S. ultimately makes her an American citizen. Other than that, Rachel is a Libra, according to horoscopic charts.
Talking about her educational details, she went to Winston Churchill High School.
By this time, the Potomac native had developed a keen interest in sports and journalism.
Therefore, Rachel joined Northwestern University after completing high school and graduated from the Medill School of Journalism in 1995.
Rachel Nichols | Age, Height, & Body Measurements
When writing, the redhead is [calculate years datestring=" 10/18/1973″] years old and thrives at her current ESPN position.
Few have made it to the level Rachel has and is most definitely an inspiration for young aspirants. After all, we are as big as our dream is.
Besides, Nichols falls on the list of short sportscasters with Kay Adams, Kaylee Hartung, etc., who all stand at 5'5″ (1.67 m). Moreover, the Marylander also weighs a fascinating 59 kg (130 lb).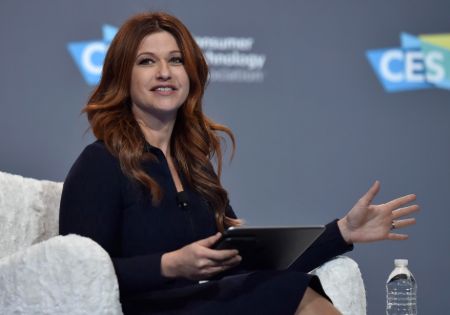 Judging by her weight and height, people may assume her to be chubby, but it is not the case here.
The beautiful reporter measures 34-inches of the breast, 26-inches of the waist, and 38-inches of the hips.
On those measurements, Nichols has an attractive physique and a curvy frame.
Further, the Potomac native is identifiable with her signature natural red hair and equally complimenting hazel-colored eyes.
If we were to discuss her hosting abilities, we could affirm that she brings Fire wherever she goes.
Nichols might be one of the most talented and outspoken sportscasters who are actively tackling issues that generally go unnoticed.
Rachel Nichols | Career: Sports Journalist
Early Career
Like many journalists, Rachel's career in the field began right after graduation since the printing press was still a substantial occupation back in the 90s.
The Marylander voyaged in that direction by starting as a reporter for Fort Lauderdale Sun-Sentinel.
After 1996, Nichols began to cover news related to NHL, specifically Washington Capitals, for the Washington Post, a gig that lasted almost eight years.
In the same way, in 2004, the Potomac native became a team member of ESPN.
While there, Nichols would get the opportunity to work on the segments like; SportsCenter, Monday Night Countdown, and Sunday NFL Countdown.
Furthermore, the network made her a regular to tend to the coverages of NFL and NBA games.
Likewise, being the type of woman she is, Rachel tried her hands with investigative journalism.
As such, she became a part of E:60, a news magazine broadcasted by ESPN that dealt with the sporting world's issues.
Again, Nichols featured in a few sideline broadcasts for Monday Night Football and, in 2013, took the exit from ESPN.
Later that year, the Marylander joined the CNN team and hosted an Unguarded program with Rachel Nichols.
Later Career
Due to timing inconsistency, the regular series began airing as a special throughout the year. As a result of this exclusive segment, Sports Illustrated magazine counted Rachel as
"The country's most impactful and prominent female sports Journalist."
Similarly, Nichols wouldn't stop at any cost to uncover the truth when she felt something wrong in her gut.
To illustrate, her face-off with NFL Commissioner Roger Goodell when the case of Ray Rice emerged.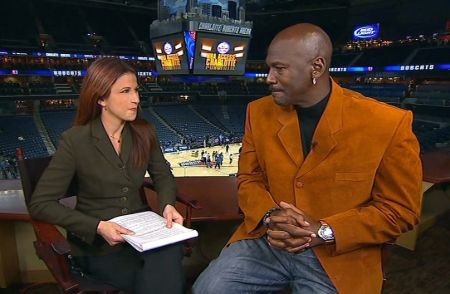 It was brought to attention that Ray was allegedly accused of domestic violence.
And while this matter repeatedly tried to be buried, Rachel's resilient pursuit to unmask the truth became a subject of high praise.
Similarly, the redhead confronted a well-renowned boxer, Floyd Mayweather, when the press got a whiff of his domestic cases.
Indeed, this investigative approach helped Rachel land several spots in her network.
For instance, the Potomac native reported from the sidelines for NBA on TNT, airing exclusively on Turner Sports, a role that lasted three years until 2016.
Subsequently, Rachel quit her job at CNN due to unknown reasons and moved back to ESPN.
Simultaneously, The Jump was a new program launched in 2016 with Nichols' arrival and focused entirely on the NBA.
In like manner, the sportscaster appeared in a podcast special called Pardon My Take and, soon enough, a TV series, Pardon the Interruption.
Rachel Nichols Net Worth | Salary & Income | How Much Does Rachel Nichols Make A Year?
To begin with, Rachel has a mind-blowing net worth of $10 million.
Indeed, a woman of her caliber is bound to amass such a fortune while serving in the industry for three decades. This shows that hard work pays off.
Additionally, a veteran reporter like her has an impressive salary of $1.5 million a year, which comes from ESPN alone.
To put it straight, Nichols is the Meryl Streep of journalism, just a bonafide royalty.
Notwithstanding, Rachel earns quite an extended amount from the endorsement deal with Nike and Jumpman shoe brands.
On the other hand, Nichols' husband is an actor and director whose reported net worth is below $3 million.
The Nichols family enjoys an extravagant lifestyle from their successes.
Rachel Nichols Relationship Status | Husband & Kids | Who Is Rachel Nichols's Husband?
In particular, the immensely vocal sportscaster, at present, is a married woman.
As mentioned above, she is the wife of actor-director Max Nichols. Speaking of Max, it might ring a bell, as he is the son of Mike Nichols.
Mike Nichols is a widely reputed film and theatre director, comedian, and actor.
Most notably, he was involved with projects like The Graduate, Who's Afraid of Virginia Woods, Carnal Knowledge, Catch-22, Charlie Wilson's War, Postcards from the Edge, Heartburn, etc.
The flair runs in the family, as the ESPN anchor inherited her father-in-law's charm and work ethic.
Let's move back to our topic. Rachel and Max tied the knot in 2001, as the ceremony occurred in Venice's romantic city.
The wedding took place in a traditional Jewish fashion, as both parties are adherent to their parental culture.
Eventually, after 18 years of marriage, the couple was blessed with twin daughters, whose names remain private.
Even though the couple is happily married and shows no signs of differences, news spread in the media not too long ago regarding Rachel's extramarital affair.
To date, the rumor holds no truth as the couple is still going strong in their relationship.
Rachel Nichol | Social Media Presence
Instagram: 1 Million Followers
Twitter: 1.1 Million Followers
Facebook: 292K Followers
Rachel Nichols | Popularity
Rachel Nichols is a household name in America and around the globe for sports lovers.
She covers almost every major sport and even the Olympics and has proved herself a prolific sportscaster.
The above-provided chart illustrates her popularity curve in the States for the past 1 year.
Rachel Nichols | FAQs
Did Rachel Nichols star in The Librarians and Criminal Minds?
No, the ESPN host is not an actress. Hence, she did not start in The Librarians and Criminal Minds series.
However, an American actress with the same name, Rachel Nichols, is an actress and has starred in those series.
What movies has Rachel Nichols played in?
Rachel hasn't played in any movies. However, she has worked with multiple television channels.
What did LeBron James say to Rachel Nichols?
In 2020, Nichols caught up with LeBron James for a post-game interview. During the game, James whispered something in Anthony Davis's ear.
When Nichols asked the basketball player what he whispered in Davis' ear, LeBron said, "In the house."
Has Rachel Nichols had plastic surgery?
No, the American broadcaster has not had plastic surgery, to our knowledge.