American professional basketball player Rayford Trae Young plays for the National Basketball Association's Atlanta Hawks (NBA). He was chosen with Dončić unanimously for the 2019 NBA All-Rookie First Team. He has been an NBA All-Star twice and is currently with Atlanta Hawks since 2018.
Rayford Young, like father, like son! Indeed, he is the blooming factor in the National Basketball Association (NBA). As a young star, he has proved his point with some lethal actions and absorbing games to earn his spot.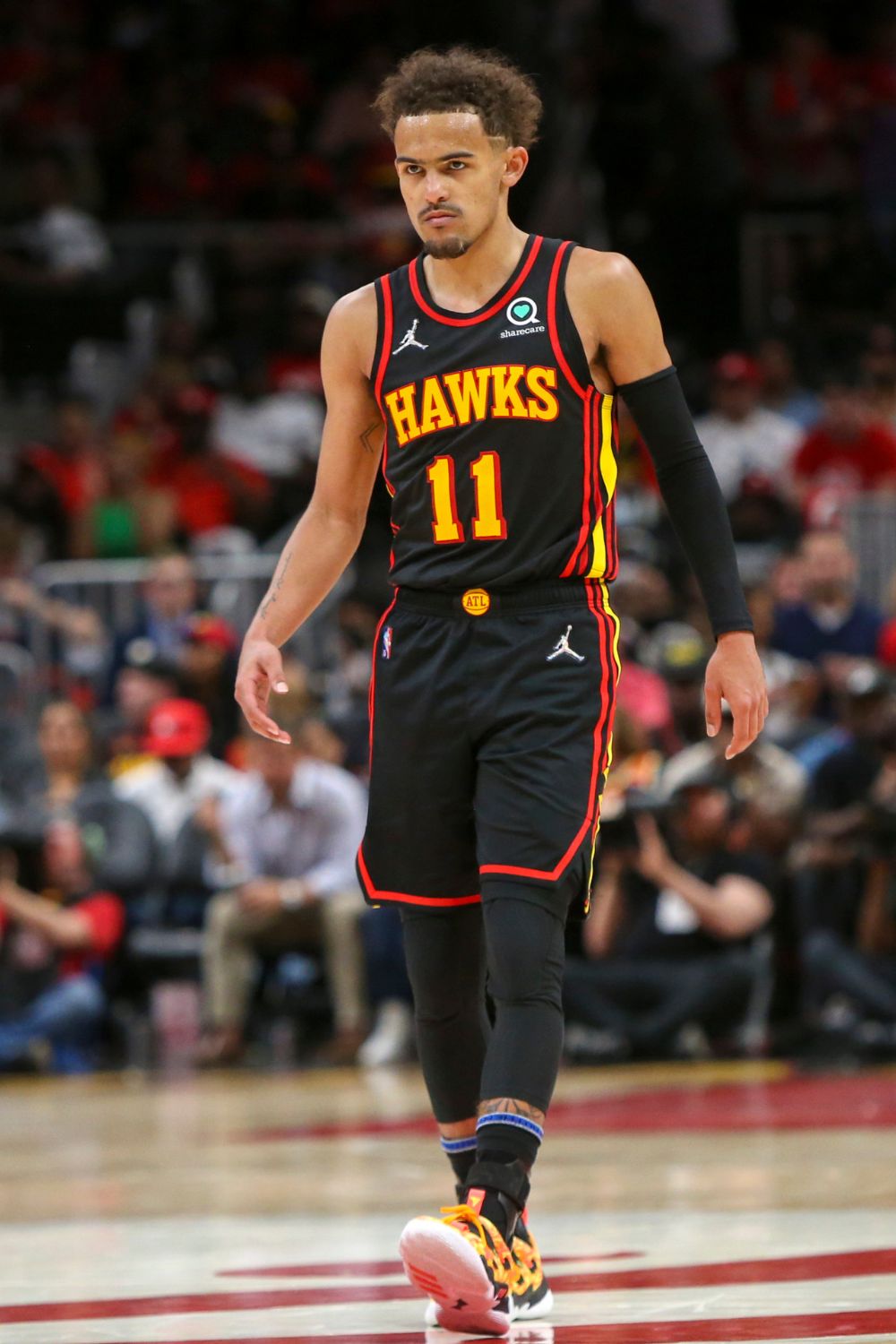 Young plays for the Atlanta Hawks after his trade from the Dallas Mavericks. Not to mention, Trae is the only player to ever lead the NCAA in both points and assists in a single season.
Quite early in his life, Young stood as a local celebrity, and now, he has been like a sensation.
However, it is not always the flowery comments that pass along. Despite trying hard, he did have unexpected comments regarding his appearances and plays.
However, Young rarely gave a room for it to stay. Altogether he started college, joined the passion professionally, and, yes, confident in his abilities.
Quick Facts
Full Name
Rayford Trae Young
Date of Birth
September 19, 1998
Birth Place
Lubbock, Texas
Nick Name
None
Religion
Christianity
Nationality
American
Ethnicity
African-American and Caucasian
Zodiac Sign
Virgo
Age
24 Years Old
Height
6 feet 1 inch (1.85 meters)
Weight
163 lbs (74 kg)
Hair Color
Brown
Eye Color
Black
Build
Athletic
Father's Name
Rayford Young
Mother's Name
Candice Dawn Nachtigall (Young)
Siblings
Three siblings; Caitlyn Young, Camryn Young, and Timothy Young
Education
Norman North High School
University of Oklahoma
Marital Status
Unmarried
Girlfriend
Shelby Danae Miller
Profession
Basketball player
Position
Point Guard
League
National Basketball Association (NBA)
Affiliations
Atlanta Hawks
Active Years
2018-present
Net Worth
Estimated $20 million
Social Media
Instagram, Twitter
Merch
Biographies (Kindle Edition), Lerner Sports: Sports All-Stars, Poster
Last Update
June, 2023
Rayford Young | Early Life
Young (Rayford Trae Young) was born on September 19, 1998, under Virgo's sun sign in Lubbock, Texas.
Additionally, he is the eldest son of Candice and Rayford Young and has two younger sisters and a younger brother.
Altogether, Young had a peaceful and disciplined childhood. His family is into sports; thus, he had an early passion for that field.
As his childhood was calming, he even had Sundays for family and church prayers.
What is Young's Origin?
Indeed, Rayford Young is an American with the straight fact that he was born in the United States. Glancing back to his parents, his father, Rayford, is an African-American.
Likewise, his mother, Candice, is a Caucasian; thus, yes, Young is biracial.
However, some people even point him out as an Asian (maybe of his appearance).
Father, Rayford Young
Rayford Young was born to a poor oiler in a small-town Pampa, Texas, on May 11, 1977. Not everything was shiny and silvery for him; thus, he decided to make such one.
Indeed, his basketball path wasn't easy; however, he first made it to Sr. Texas Tech's team.
He became a standout player on that team, with an average of 14.1 points, 3.8 assists, and 3.2 rebounds.
Similarly, he also had 37.9 percent of three-point line shooting. After his college, as he entered the NBA, he went undrafted.
Although his NBA career was short-lived, he played for Houston Rockets and Europe for many teams, including FC Porto in Portugal.
However, Young ended his sports career after he had a family at a young age.
Therefore, he moved on to work as a graduate assistant job under Kelvin Sampson in Oklahoma.
Following it, he gained another degree and later commenced working in medical equipment sales.
Mother, Candice Dawn Nachtigall (Young)
On January 11, 1979, Candice was born in Lubbock, Texas, to pastors Paul Lee and Vicki Nachtigall.
Additionally, she has two sisters, Chandra and Charity, and a brother, Joshua. As for academics, she attended Pampa High School.
Altogether, her family is a part of Victory Family Church in Norman and grew up strictly. As she explains, they had a 10 am church service and a family lunch, which she does in practice with her children now.
Parent's Story And Siblings
Young and Candice are high school sweethearts. Candice met him for the first time at Pampa High School, and they both later enrolled at Texas Tech University.
They started dating in their early years, and Candice was pregnant with Trae during Ray's junior season.
Candice worked at Chili's Grill & Bar but later became a stay-at-home mother.
Likewise, Rayford left his career and worked as a Medical Sales Rep and later became a Clinical Sales Specialist at Spectranetics.
As of now, Rayford is the Territory Manager in Oklahoma and West Texas for TriVascular, Inc.
Overall, they have four kids together, while Rayford Trae is the eldest. His sisters, Caitlyn Young, and Camryn Young, are following him, while the youngest is their brother, Timothy Young.
Additionally, Caitlyn is also a top high school volleyball player who has led her team to back-to-back state titles. Moreover, she also takes classes at Oklahoma.
High School
Rayford Young accomplished his high school education at Norman North High School in Norman, Oklahoma. As a high schooler, he only commenced playing basketball in his sophomore year.
Altogether, his high school record is an average of 25 points, 5 assists, and 4 rebounds per game.
During his tenure, he claimed the 2015 area championship and was named Oklahoma's Sophomore of the Year.
After his high school graduation, Young was named one of the best players of 2017 and the second-best point guard prospect.
As sought by many, he devoted himself to the University of Oklahoma as a five-star recruit.
College Stats
Right after his entrance alongside Oklahoma Sooners, he had posted 15 points, 10 assists, and six rebounds over Omaha Mavericks.
As a legend, within three days of his debut, he had a season-high 13 assists against the Ball State Cardinals.
Following it, he led his team for the Oregon Ducks, the Northwestern State Demons, and the TCU Horned Frogs. Later, he lost against the Kansas State Wildcats and Oklahoma State Cowboys.
In the meantime, his game was well-appreciated by LeBron James and Stephen Curry.
He completed his season leading in almost every prospect with 271 assists, 848 points, 27.4 points per game, 8.7 assists per game, and a 48.6% assist percentage.
Young bagged the Wayman Tisdale Award and the Big 12's Freshman of the Year by the end of his tenure.
Overall, Young was also a member of the All-Big 12's First Team and became the second payer to have 28 points in an NCAA Tournament game.
Rayford Young | Professional Career
It's Rayford's father who bought him closer to the game and got him started. After his two regular seasons in college, Young decided to forgo his three years.
By the end of the 2018 NCAA Men's Basketball Tournament, Young announced his intentions to enter the 2018 NBA Draft.
Initially, the Dallas Mavericks drafted Young as the fifth pick overall in the first round on June 21, 2018.
However, he was later traded to the Atlanta Hawks and signed with the team officially on October 21.
Learn about Kevin Durant's Bio: Career, NBA, Net worth, Girlfriend >>
Atlanta Hawks
After his enrollment with the team, Young posted his career-high 17 assists, 25 points, and three rebounds against Los Angeles Clippers.
Following it, he commenced posting new records on his own, which he played over teams like the Minnesota Timberwolves, the Chicago Bulls, and Milwaukee Bucks.
For his second season on the team, Young was selected for the NBA All-Star selection as a backcourt starter.
Later, he bagged victories over the Washington Wizards, the Philadelphia 76ers, the New York Knicks, the Miami Heat, and the Chicago Bulls.
Rayford Trae Young | Achievements
To date, Young has served various game types on display, from defensive battles to deep 3-pointers.
Many fans assume he can bring the new demonstration as a new-age point guard. Not to deny, he has portrayed quick dribbles and far-stretched points from the arc.
Currently, Young maintains an average of 3.9 rebounds, and 8.8 assists, with an average of 33.1 minutes of plays in every game.
Apart from his game, Young has also featured in the second season of the Young Hollywood original docu-series "Rookie on the Rise."
To illustrate, the documentary represents Young's journey as the Rookie Of The Year.
Some of his achievements to date are listed below.
2x NBA All-Star (2020,2022)
All-NBA Third Team (2022)
NBA All-Rookie First Team (2019)
Consensus first-team All-American (2018)
Wayman Tisdale Award (2018)
First-team All-Big 12 (2018)
Big 12 Freshman of the Year (2018)
NCAA season scoring leader (2018)
NCAA season assists leader (2018)
McDonald's All-American (2017)
2016 FIBA Americas U18 Championship (gold as a part of U.S. men's national U18 team)
Rayford Young | Career Stats
Year
Team
GP
GS
MPG
FG%
3P%
FT%
RPG
APG
SPG
BPG
PPG
2018–19
Atlanta
81
81
30.9
.418
.324
.829
3.7
8.1
.9
.2
19.1
2019–20
Atlanta
60
60
35.3
.437
.361
.860
4.3
9.3
1.1
.1
29.6
2020–21
Atlanta
63
63
33.7
.438
.343
.886
3.9
9.4
.8
.2
25.3
Career
204
204
33.1
.431
.343
.861
3.9
8.9
.9
.2
24.1
All-Star
2
2
17.5
.391
.333
–
2.5
10.0
1.0
.0
11.5
Rayford Young | Net Worth, Salary, And Contracts
Rayford Trae Young is estimated to have at least a $20 million net worth with a base salary of $37,080,000.
Additionally, his contract with the Atlanta Hawks earns him $15,167,700 for the first three years in the league.
Altogether, his contract with the Hawks is worth $26,527,711, and besides that, he also earns through his endorsements for Adidas.
To elaborate, his multi-year footwear and apparel endorsement deal with Adidas is worth $1.8 million.
House
Young bought a house with a pool in 2019 for $1.5 million with such a whopping net worth.
Additionally, it is located in his home state Norman, Oklahoma, which covers 8,100-square-foot.
Furthermore, his mansion has 5 bedrooms, 6 baths, a massive kitchen, a pool with a cool slide, a pool house, and a huge garage.
Rayford Young | Personal Life
Fame is a cruel thing. It possesses that knack that can table turn any things in a time. Even the highly loved and famed ones get dug into a hole and can get criticized.
Likewise, Young has been hearing stuff from time to time since his early days.
As for the recent talks, Hawks' forward John Collins had criticized Youngs' offense in the team and how the Hawks are fine even when he is at the helm.
However, Collins had stated his opinion to have a quick offense and more ball involvement for Young. Apparently, Young has kept it cool.
Early Criticisms
Though Trae was a burning sensation in his early days, many passed comments regarding his bodily measurements.
People commented on how skinny he was, and even during the match in his father's alma mater, he was called out with unnecessary words.
Father-Son Duo
Rayford has been Trae's immense support ever since. They would have long drives together for weekend trips to play basketball. Glancing back, Rayford used to teach him the sport when he was just five years old.
Initially, they commenced with dribbling, shooting, and layups, and later by middle school, Trae could put up 100 shots every time.
Altogether, the primary tactic they used in every situation was to lay back, breathe, and analyze the talks on what and where things went wrong.
During his sophomore year, Rayford bagged into National Television, and they had his initial interview in their living room.
Also, his father had season tickets for Thunder games and then-New Orleans Hornets play in OKC.
In addition, Rayford had given Trae lessons on how to spend money wisely in the future.
Furthermore, he had also taught him smart financial habits during high school regarding managing money and building credit.
You might want to read about James Ennis III Bio: Education, NBA, Family, Career, Net Worth >>
Family And Self Time
Apart from being an athlete, Young is a normal guy who has his family's top priority. Indeed, he knows Saturday nights are for the family, church, and prayers.
However, he indulges in getting a pedicure or going to the movies whenever he has free time.
Body Measurements
Trae Young depicts an athletically toned body standing at 1.85 meters while weighing 180 lb.
To perfectly elaborate on his feature, he has a lean yet masculine body shape with brown curly short hair.
Furthermore, he has a light-shade of beard with black eyes. He also has a tattoo on the left side of his waist, right forearm, and triceps.
Workout Routine
Most of the player's workout schedule is based on drills and weight training in the gym. The foremost area he focuses on is form shooting and dribbling.
Following it, he focuses on his cardio concourse with loads of stretching on the way.
He involves himself in the maximum reps and weights he can endure for his weight training. His Monday training involves sets of cable rows with repetitions and pushups.
Likewise, he does high-intensity training on Tuesday, with lower abs workouts and cardio exercises.
As for Wednesday, he puts his work on dumbbell squats and handstand pushups. Following it, Thursday is for barbells and cable triceps extension.
Simultaneously, Friday and Saturday are primarily about cardio, like running, swimming, or playing sports.
Diet
As with everyone, Young was obsessed with fast foods like pizza, chicken strips, and many more. However, he has maintained his diet, and in it, the most important one is to drink plenty of water.
Additionally, he has started taking protein shakes and light eating (fruits) before the workout.
Besides, he has implanted variations in his diet with baked chicken, steak, baked potatoes, macaroni, and cheese.
Girlfriend
Rayford Trae Young is committed to a young lady named Shelby Danae Miller, who is a cheerleader. The duo has been together since 2018.
Miller (born on October 25, 1995) is the daughter of Mike and Sherry Miller. She was born in Norman, Oklahoma, and has an elder sister.
Her father is the vice president of sales & marketing at EnviroProducts.
Likewise, her mother is an adjunct instructor at the University of Oklahoma. Before that, Mrs. Miller used to be a 2nd and 4th-grade teacher at Norman Public Schools.
Although Young doesn't upload his relationship, his girlfriend never misses a chance to shower her love on him. You can go through their social media platforms to get in-depth information.
Now Married And A New Born Addition
Young and his longtime partner, whom he met in 2017 at the University of Oklahoma, got engaged last year.
View this post on Instagram
The room was decorated with blue balloons, and rose petals covered the floor, making the proposal very romantic. Young proposed to Shelby while down on one knee and presented her with a gorgeous diamond ring.
View this post on Instagram
The couple now is blessed with a newborn on the auspicious day of June second, 2022.
Rayford Young | Social Media Presence
Instagram: 41.2 K followers (Shelby Danae Miller)
View this post on Instagram
Rayford Tare Young | FAQs
What is the wingspan of Rayford Trae Young?
As the sources say on the internet, Rayford Trae Young has an estimated wingspan of 1.88 m.
What is the jersey number of Rayford Trae Young?
Rayford Trae Young features in jersey number 11 for the Atlanta Hawks. However, he had been featured as a number 8 against the Wizards.
What car does Trae Young drive?
Trae Young currently drives a matte black Audi R8, which he bought after the 2018 Draft.
Read about Abdel Nader Bio: Career, NBA, Trade, Net Worth >>