Abdel Nader is an attractive young man, born in Egypt and brought up in America. He is the second Egyptian associated with the National Basketball Association.
Nader currently plays for the Phoenix Suns of the NBA as a forward player. Before playing for the Suns, Abdel was first drafted by the Maine Red Claws in the 2013 NBA draft and played for several NBA teams.
As one of the only two Egyptians in the NBA, he wishes to inspire more youth from Egypt to play basketball in general.
Not to mention, he is the first-ever internationally born player to win the NBA Development League Rookie of the Year.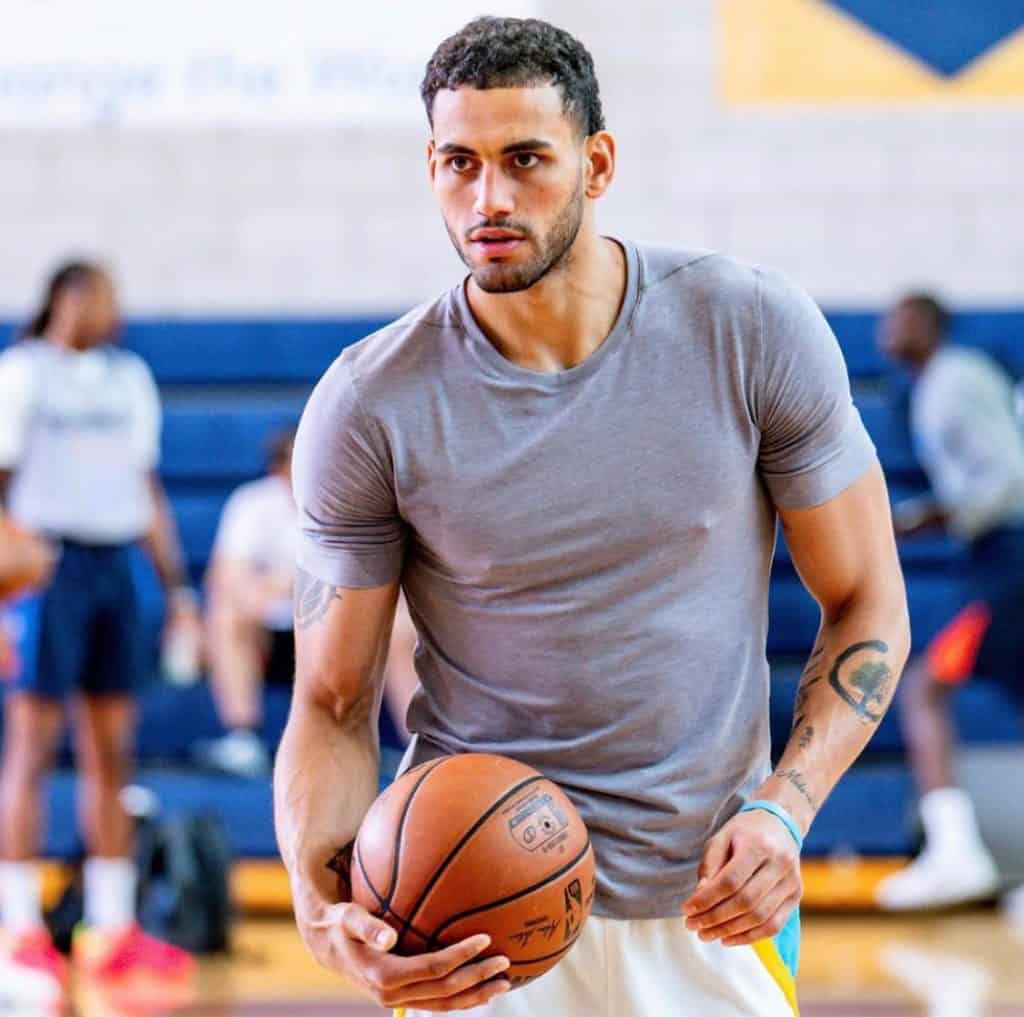 So, let us further know more about the handsome Egyptian-American NBA star without any holdup.
Abdel Nader | Quick Facts
Full Name
Abdel Nader
Birth Date
September 25, 1993
Birth Place
Alexandria, Egypt
Known As
Abdel Nader
Religion
Muslim
Nationality
Egyptian-American
Ethnicity
Egyptian
Education
Maine East High School, Niles North High School
Northern Illinois University, Iowa State University
Horoscope
Libra
Father's Name
Ahmed Youssef
Mother's Name
Amina Rehman
Siblings
Older sister, Sheri
Age
30 Years Old
Height
6 feet 5 inches (196 cm)
Weight
102 kg (225 lbs)
Hair Color
Dark Brown
Eye Color
Dark Brown
Build
Athletic
Shoe Size
12 (US)
Profession
Professional basketball player
Current Team
Phoenix Suns
Number
11
Active Years
2016-present
Relationship Status
Single
Salary
$1.5 million
Net Worth
Estimated $5 to $7 million
Social Media
Instagram, Twitter
Merch
Autographed Cards, NBA Items
Last Update
November, 2023
Abdel Nader | Early Life, Education, and Family
Some sources say that Abdel Nader's birth name is Abdelrahman Nader, but due to the difficulty in pronouncing his name for most people in his career line, Abdel removed "Rahman" from his first name.
The Egyptian-born NBA player was born on September 25, 1993, in Alexandria, Egypt. His parents are Ahmed Youssef and Amina Rehman, who migrated to the USA when Abdel and his elder sister, Sheri, were toddlers.
After moving to the USA, Nader enrolled at Maine East High School, but in a short while, he transferred to Niles North High School, where he played basketball for the school team and competed in the Central Suburban League.
Basketball helped him adapt to the new country and a new language.
Furthermore, Nader joined North Illinois University for his university degree but later decided to transfer to Iowa State University. He played basketball for both universities before being drafted by the Red Claws.
You might be interested in reading: Jalen McDaniels Bio: Basketball Career, Brother & Salary
Abdel Nader | Height, Weight, and Physical Appearance
Nader is naturally gifted with a height of 6 feet and 5 inches, making it easier for him to score. He weighs 102 kg, a well-balanced weight for his height.
Besides, Abdel has a slim yet athletic body, perfect for running, jumping high, and scoring. He has dark brown hair and dark brown eyes with a charming, bright smile that captivates his audience.
James Ennis III – Family, Education, Career, NBA & Net Worth.
Abdel Nader | Amateur Career
Abdel started his career at Maine East High School and later transferred to Niles North High School. During his senior year at Niles North, Abdel recorded an average of 23.8 points, 8.6 rebounds, and 2.8 assists per game.
Moreover, Abdel helped his school team, Vikings, reach their first sectional championship and the Central Suburban League titles for the first time in 47 years of school history.
Likewise, He earned First Team All-State honors from the Chicago Tribune and received the Chicago Sun-Times Class 4A Second Team All-State recognition. Not to mention, he was named to the ESPN Chicago All-Area team.
You might also be interested in reading: DeAndre' Bembry Bio: Basketball Career, Family Tragedy & Contract
College Career
Freshman season
During his freshman year at the North Illinois University, Abdel Nader played all 31 games, where he started 29 of them. He recorded 10.4 points, which turned out to be a team-best, and third among all Mid-American Conference freshmen.
Not to mention, his record of 4.2 rebounds was also second-best among the MAC freshmen. Also, Nader's 21 steals and 22 blocked shots, which was a team-high score, were the best among the conference.
Also, as a collegiate starter in the season-opener game at Purdue, Nader scored nine points along with four rebounds. Likewise, out of all the games he played, Abdel scored in double figures in 17 games and 20-plus points in three-game.
Moreover, Abdel Nader scored a season-best 26 points in a match against Ball State.
As a result of his fine game-play, Nader received the MAC Al-Freshman Team honors at the end of freshman season.
Sophomore season
Later in his Sophomore year, Nader started the new season as a pre-season All-MAC West selection. Out of the 19 games he appeared in, Abdel Nader played as a starter in 18 of them.
No noise… just hoops pic.twitter.com/rABSnG3z3D

— Abdel Nader (@AbdelNader2) December 15, 2019
In addition to that, Abdel led his team in scoring 13.1 points while earning an average of 5.6 rebounds, 1.3 assists, and shooting 77.2 percent from the free-throw line.
Moreover, he scored in double figures 13 times and 20-plus points in three games. Also, he recorded 23 points on 4-of-5 shooting against Central Michigan. On Feb 4, Abdel received the MAC West Player of the Week after scoring 22.5 points averagely and 11.0 rebounds.
Despite his success with North Illinois, Nader decided to transfer to another school after his team finished the MAC West division.
E'Twaun Moore Bio: Family, Career, Net Worth & Highlights
Junior season
Shortly afterward, Nader eventually transferred to Iowa State University. However, he did not play in the 2013–2014 season due to the eligibility criteria.
However, at a later date, Abdel became eligible for the 2014–15 season and made his appearance in 32 games. He scored 5.8 points on an average and then 2.9 rebounds in 16.4 minutes per game.
Moreover, Nader was tied for the second rank on the team with 16 blocked shots. Additionally, Abdel recorded six boards, two blocks, two steals, and not to mention, scored six out of ten field goals.
Likewise, he recorded four out of six behind-the-arc goals and led the Iowa State to a victory.
Similarly, he scored a season-high 19 points in a game held at West Virginia. Also, Nader recorded 11 points along with six rebounds against the Kansan State Wildcats held at Iowa.
To top that off, Nader blocked a fast break offensive strategy during the last two minutes of the game, which would have resulted in the Wildcats taking the lead. Nader also scored seven consecutive points in a key second-half run, recording 11.2 points overall, and 5.3 rebounds in a victory over the Wildcats.
Troy Brown Jr. Bio: Basketball Career, Family, NBA & Net Worth>>
Abdel Nader | Professional career
The Boston Celtics selected Abdel Nader in the 2016 NBA Draft on June 24, 2016. Shortly afterward, on October 31, 2016, he joined the Maine Red Claws of the National Basketball Association Development League.
Maine Red Claws
After joining the Claws in October, Abdel received the 2016-17 NBA Development League Rookie of the Year award on April 14, 2017.
Accordingly, he became the first internationally-born player to receive the NBA D-League Rookie of the Year award and the third Red Claws player to earn the honor.
Nader impressively played forty games where he scored 21.3 points, 6.2 rebounds, and 3.9 assists. Moreover, he led the Maine Red Claws to the Eastern Conference's second seed in the 2017 NBA D-League Playoffs.
Abdel Nader had a shooting percentage of 44.6 from the floor. And additionally, he scored a team-high 99 three-pointers. Not to forget, he scooped 16 points with four rebounds and four assists during the 2017 D-League All-Star Game, which was held in New Orleans.
Walt Lemon Jr. Bio | Life, Education, Career, and Net Worth
Boston Celtics
Furthermore, on July 14, 2017, Nader signed a four-year contract with the Boston Celtics, which was worth $6 million. Then on October 18, Abdel Nader made his NBA debut appearance against the Milwaukee Bucks.
As a debut player in the NBA, Nader impressively recorded 3.1 points and 1.4 rebounds per game with the Boston Celtics.
And although he had signed a four-year deal with the Celtics, they traded Nader to the Oklahoma City Thunder the following year.
Also, read Gary Payton Bio: Age, Wife, Career, Education, Net worth, IG, Wiki.
Oklahoma City Thunder
After a short period of time, the Celtics traded Nader to Oklahoma City Thunder on July 23, 2018, in exchange for Rodney Purvis, along with cash considerations.
Further, Nader recorded a career-high 23 points on November 28, 2019, with two rebounds, however, losing the game against Portland Trail Blazers.
In addition to the 2019 season, Nader also gave his appearance in five games in August before being traded.
Phoenix Suns
The Oklahoma City Thunder eventually traded Abdel Nader and Chris Paul to the Phoenix Suns on November 16, 2020, in exchange for Kelly Oubre Jr., Ricky Rubio, and three other players.
We will most probably see Abdel Nader playing for the Suns in 2021.
Dario Saric Bio: Age, Height, Stats, Contract, Salary
Abdel Nader | Dunk
Nadel is very good with his dunks. Nadel's throw over against a 6 foot 9 inches making him helpless and unsuccessful to draw a charge made Nadel shine.
He rose up with his head at almost even position with the rim, gripping the ball with one hand. His body was parallel to the floor.
His dunk clearly showed that he has the potential to stand very high at NBA if he does not lose his pace.
NBA experts praised Nader considering his dunk as one of the best they have ever witnessed. Nader has a 40-inch vertical and a 7-foot-1 wingspan, making him potent for the game.
You can watch Abdel Nadel's career highlights on the website of basketball-reference.
Abdel Nader | Highlights
Nadel is one of the finest players of his age. Watch his NBA highlights:
Visit the website of Draft Express to see an overview of Abdel Nader's personal and professional life.
Abdel Nader | Net Worth and Salary
Even a rookie basketball player's minimum salary is approximately $800 thousand per year. According to FOX Business, an average player earns roughly $7 million, while the median salary is around $2.9 million per year.
Similarly, Abdel Nader, the forward player, earns an average of $1.5 million, give or take, per year. Likewise, his teammate Chris Paul is one of the highest-paid NBA players, with an average yearly salary of $38.51 million. And sooner or later, Nader could reach the ranks of the highest-paid NBA players.
Like many other professional athletes, Abdel was a brand ambassador of one of the fastest-growing sports brands, Powerhands.
HONORED to be a part of one of the fastest growing athletic sports brands @POWERHANDZ whose innovation is now available @academy Sports & Outdoors near you.

POWERHANDZ Basketball Collection now available in #atlanta #texas #oklahoma #tennesse #northcarolina #louisiana stores. pic.twitter.com/61kl6GkNVP

— Abdel Nader (@AbdelNader2) November 11, 2020
Further, Nader's net worth is estimated to be around $5 million to $7 million.
Apart from his earnings and savings, Abdel Nader probably has a few luxurious vehicles and other valuables.
Abdel Nader | Personal Life
Abdel Nader is a reserved person, but he is very easy-going when it comes to his close friends and family. Likewise, he is not keen on sharing details of his personal life.
He is apparently single at present, without any rumors of dating or being seen with anyone.
As Libras are known to be charming, well-balanced, and make great partners, we might soon hear about his girlfriend or wife in the future.
Having said that, he is very passionate about basketball from an early age. As the second Egyptian in the NBA, he wishes to inspire more Egyptians to pursue an NBA career.
Also, Nader has a close-knit relationship with his teammates, not just professionally but also personally.
Jayson Tatum Bio: Basketball Career, Son & Net Worth>>
Abdel Nader | Social Media Presence
Instagram – @dulenader2 – 57.1k followers
Twitter – @AbdelNadar2 – 16.3k followers
Common Queries about Abdel Nader
Where is Abdel Nader from?
Abdel Nader is originally from Alexandria, Egypt. That's his birthplace.
He was brought up in the United States, hence we can call him an American by growth.
Where would Abdel Nader be drafted this year?
The Boston Celtics drafted Abdel Nader in the 2016 NBA Draft, 58th overall pick. He has been associated with the team since then.
favorite time of the year is approaching! #seasonready #year3 pic.twitter.com/taAaQinXAT

— Abdel Nader (@AbdelNader2) October 1, 2019