The NBA player Reggie Jackson and his then-girlfriend (whom many considered his wife) Jayne Caldwell was a hot sauce for fans around 2017. Caldwell, an Australian-Thai beauty, is an athlete-turned-entrepreneur.
While Caldwell and Jackson were a marriage prospect with fans shipping them as husband & wife- with such lobby-dubby PDAs, they seemingly are on different paths as of 2022.
Many NBA fans already know Reggie's sprint to career spike- a journey from Oklahoma City Thunder to Pistons, and now, LA Clippers. What about their relationship status? Are both Jackson and Caldwell turning a new page with their new lovers?
This article will cover Reggie Jackson's (then alleged) wife, his now ex-girlfriend.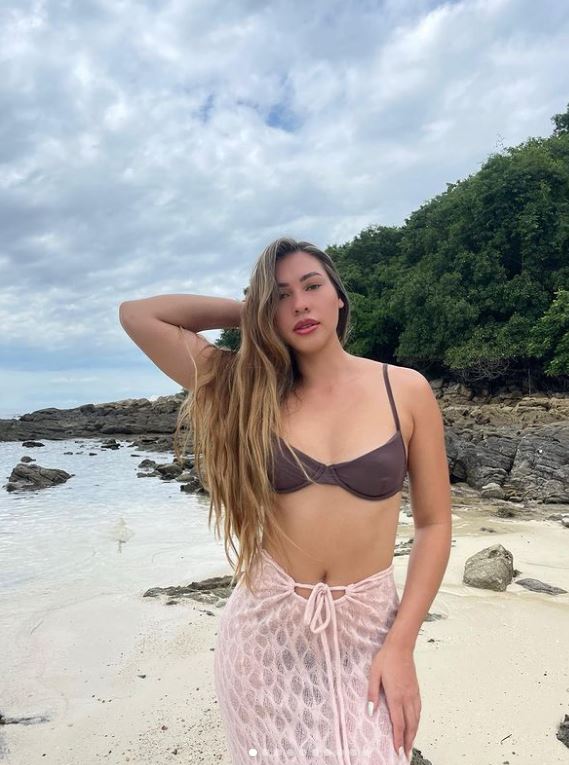 Jayne Caldwell, a stand-out athlete in Australia at her high school and University, dominated in sprinting, long jump, badminton, volleyball, swimming, and rugby.
Later, she saw her steps in American football- away from her home but not her passion. She played as quarterback for Chicago Bliss.
Caden was a great help for Bliss to help them win their fourth championship, called Legends Cup.
Want to know more about Jayne Caldwell & her whereabouts in 2022? Read the article to the end.
Jayne Caldwell | Quick Facts
| | |
| --- | --- |
| Full Name | Salinee Jayne Caldwell |
| Date of Birth | August 18, 1993 |
| Birth Place | Bangkok, Thailand |
| Nick Name | Jayne |
| Religion | Christianity |
| Nationality | Australian |
| Ethnicity | Mixed |
| Zodiac Sign | Leo |
| Age | 29 Years Old |
| Height | 5 feet 11 inches (1.8 m) |
| Chinese Zodiac | Rooster |
| Shoe size | Not known |
| Build | Athletic |
| Father's Name | Shane Caldwell |
| Mother's Name | Not known |
| Zodiac | Leo |
| Marital Status | Unmarried |
| Boyfriend | Reggie Jackson (ex) |
| Kids | None |
| Profession | Entrepreneur, Former Athlete |
| Net Worth | Under review |
| Social Media | Instagram, Twitter |
| Last Update | June 2023 |
Reggie Jackson's Wife (Alleged) Jayne Caldwell | Family & Early Life
Jayne Caldwell was born in Bangkok, Thailand, on August 18, 1993. Her full name is Salinee Jayne Caldwell.
She comes from a mixed ethnic background- her father Shane Caldwell, is an Australian citizen, whereas her mother is Thai.
When Jayne was three, her father took her to Australia, where she grew up. Occasionally, she would travel to Thailand to meet her Thai relatives.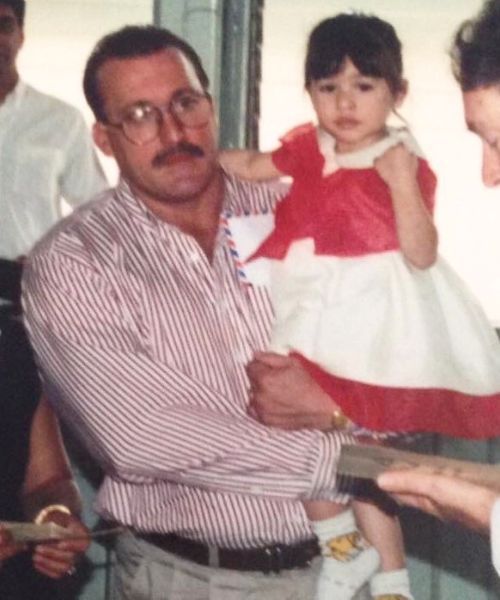 While in Australia, Caldwell went to Brisbane State High School- she nurtured her early career in athletics there. Her passion for running and jumping saw her participation in the long jump, 100- and 200-meter sprint state championships.
In addition to volleyball and badminton, Jayne excelled in rugby and football too.
In 2012, at 19 years old, she enrolled at University of the Sunshine Coast and graduated in 2016 with a Bachelor's Degree in Business Management, Marketing, and Related Support Services.
Jayne Caldwell | Discovering American Football
At her University, the athlete first learned about American football, commonly known as a gridiron.
Jayne's background in rugby made the transition to this new sport relatively simple, and she rapidly established herself as a key player for the Brisbane Panthers.
Coincidentally, the Legends Football League (LFL), based in the United States, was launching an all-league women's when its promoters were in Australia.
The Queensland Brigade accordingly selected Jayne to play quarterback against teams from New South Wales, Victoria, and Western Australia. Jayne had already demonstrated tremendous aptitude as a wide receiver and cornerback.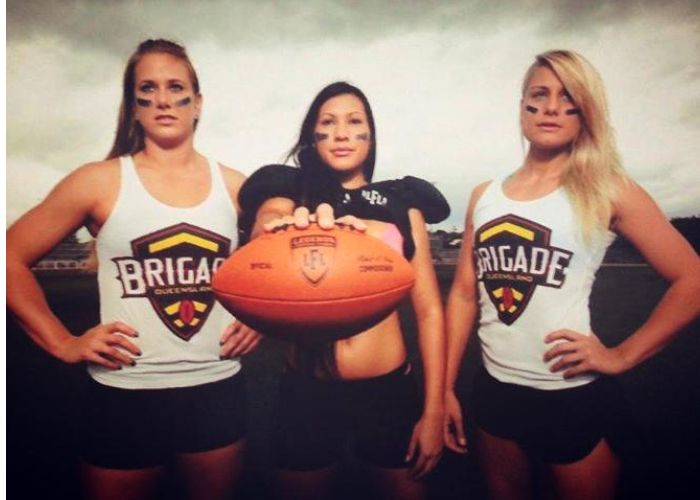 The league was dissolved after one season, not because it was unpopular—it had amassed a sizable TV channel following—but for reasons unrelated to the sport.
Jayne's situation wasn't hopeless, though. Her natural tactical flair and the powerful throwing arm she developed while playing volleyball drew the attention of several American coaches.
As a result, the player received offers to play quarterback for women's teams in Omaha, Los Angeles, and Atlanta. She decided to join the Atlanta Steam.
Reggie Jackson's Ex-Girlfriend Jayne Caldwell | Sporting Achievements
In the USA, Jayne Caldwell began her playing career in Atlanta Stem before transferring to the Los Angeles Temptations, followed by another transfer to Chicago Bliss.
Under the head coach Keith Hac, she contributed to the team's victory in their fourth Legends League Championship (Legends Cup) in 2018.
She was recognized as the league's top running quarterback- with the 49-yard record for the longest rushing touchdown.
Despite suffering her fair share of injuries, the Thai-Australian athlete answered her detractors with her achievements.
Injuries As A Rugby Player
A role model player in American women's football, Caldwell has no regrets about her injuries on the way to rugby fame.
In an interview with The Big Chilli in 2018, she opened up about her injuries that cut short her career.
Jayne said that she had surgeries on both her knees- one from playing touch football and the other from a tumble brought on by a clumsy step into a divot.
But also addressed that her "new" knees are stronger than before. Thus, it is apparent that the surgery was successful.
Moreover, the player has suffered elbow contusions and two concussions.
What Is Jayne Caldwell (Reggie Jackson's Ex-Girlfriend) Doing Now?
After dropping off her cleats, Jayne Caldwell turned her head to entrepreneurship. She co-founded Athletes for Athletes, which ran from 2019 to 2020.
According to her LinkedIn profile, she was the business development manager for 2 years at Chain Enable (Feb. 2020- March 2022).
Caldwell is an Instagram influencer and model who believes in women's empowerment. Moreover, she co-founded a fitness program YA BISH FIT (June 2021- Now).
Reggie Jackson And Jayne Caldwell's Relationship | Are They Dating?
Reggie Jackson and Jayne Caldwell were better half of each other at one point, but it seems they are on their own now. As online sources suggest, the two are not dating after breaking up quietly in 2020.
Their relationship story goes back to the mid-2010s, while Caldwell played for L.A. Temptations in LFL. They reportedly met in 2016 in a sporting facility.
On July 7, 2017, Jayne confirmed that she and Reggie were dating after she shared a photo of them together on Twitter, captioned, "Date night."
Moreover, by August 2017, they were seen enjoying a pool party.
Caldwell posted a video of their pool party, and Jackson commented,
"Around this time last year babe fell in love after the confidence booster. I could see the twinkle in your eyes ☄👀 Didn't wanna shoot you down and kill your hopes."
During that period, Reggie Jackson was in his seventh NBA season, playing for Detroit Pistons after transfer from Oklahoma City Thunder.
Why Did They Break Up?
In 2020, when Jackson signed with L.A. Clippers, Jayne Caldwell was with him- fans were already commenting on those supporting gestures as a husband-wife bond.
However, Reggie Jackson later deleted all his posts featuring Caldwell from his social media.
But neither of them commented on their relationship status or anything- kept the issue low-key.
Reggie Jackson on Taking His Girlfriend Ex-Chicago Bliss QB Jayne Caldwell To LA After Signing With Clippers (IG-Pics-Vids) https://t.co/EY4XGaq2Qv pic.twitter.com/qZoOa0KoKl

— Robert Littal BSO (@BSO) February 21, 2020
There are claims that the distance between the two after the NBA player joined the Clippers hit their relationship hard. Nevertheless, they follow each other on Instagram.
Currently, Reggie Jackson shares a picture with a lady named Maria Bardo-Colon on his Instagram. The two first shared a picture together in September 2016 and often attended events together.
Fans allege that Maria is the new girlfriend of the NBA player, though there is no confirmation if they are dating or just friends.
Brief About Reggie Jackson | NBA Career And Net worth
Reggie Jackson is the point guard for the Los Angeles Clippers of the NBA.
After the Oklahoma City Thunder picked him 24th overall in the 2011 NBA Draft, he played three seasons with them until 2014 (excluding the first two seasons with no games).
The Boston College alumnus then went to Detriot Pistons in 2015 as part of a 3-team trade between Pistons, Utah, and City Thunder.
It included the trades of Kyle Singler, D.J. Augustin, Kendrick Perkins, Grant Jerrett, Tibor Pleiss, Steve Novak, and Enes Kanter.
On August 20, 2021, Jackson signed with LA Clippers for a 2-year contract of $20.6 million.
It saw him $10.38 million as a base salary in the 2021-22 season, while the 2022-23 season pays him $11.21 million.
Numerous businesses have offered the seasoned point guard hefty contracts over the course of his lengthy NBA career.
Jackson's estimated net worth is $10 million as of June 2023.
It all thanks to previous contracts:
A 2-year $2.36 million contract (on Dec. 11, 2011, with City Thunder)
Option of $1.26 million for 2013-2014 (City Thunder)
Option of $2.2 million for 2014-2015 (City Thunder)
A 5-year $80 million contract (on July 20, 2015, with Lions)
Already with 12 NBA seasons, Reggie Jackson's career earnings is $109.4679 million.
Jayne Caldwell, Reggie Jackson's Alleged Wife (Ex-Girlfriend) | Age & Body Measurements
Jayne Caldwell was born in the year 1993. Hence, she is 29 years old. The athlete was born in the Rooster year according to the Chinese calendar.
An alluring personality with brown hair and dark brown eyes, Caldwell has a height of 5 feet 11 inches (1.8 m).
Frequently Asked Questions (FAQS)
What is the age difference between Reggie Jackson and Jayne Caldwell?
Born on April 16, 1990, Reggie Jackson is 3 years and 124 days older than Jayne.
Are Reggie Jackson and Jayne Caldwell married?
No, Reggie Jackson never married Jayne. They were dating from 2016 to 2020 before they broke up quietly.
Are Reggie Jackson and Jayne Caldwell still dating?
Well, the two no longer share any pictures together. They have not made any official statement about their break up. But fans claim the two are on their own now.
How much is the net worth of Jayne Caldwell?
Caldwell is yet to reveal the exact figure of her net worth. But she allegedly enjoys a fortune in the 6-digit figure, i.e., hundreds of thousands of dollars. A former athlete, Jayne Caldwell now earns an Instagram influencer & entrepreneur.