Óscar Gutiérrez (born December 11, 1974) is a Mexican-American professional wrestler, best known for his stint at WWE under the ring name Rey Mysterio.
Known for his acrobatics, his influence in cruiserweight wrestling has been paramount and was one of the driving forces in revolutionizing the division as we know it today.
He came to the limelight after winning the Royal Rumble 2006, having been in the match for 62 minutes, was an underdog throughout the game.
At Wrestlemania 22, history was well-written, when Rey Mysterio defeated Orton and Angle to become the World Heavyweight Champion for the first time in his professional career as a WWE Wrestler.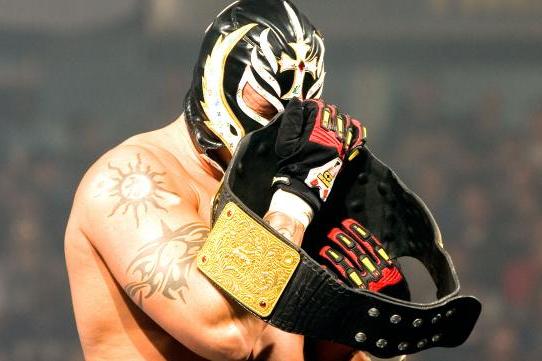 Taking a moment to appreciate the unprecedented success of how he became a WWE Heavyweight champion at the grandest of stage Wrestlemania 22, we unfold into the life of Rey Mysterio.
But first, let's glance at some interesting facts about the person behind the mask.
Quick Facts
Full Name

Óscar Gutiérrez

Date of Birth

48 years old

Place of Birth

Chula Vista, California

Nationality

American

Ethnicity

Mexican

Age

47

Profession

Professional Wrestler
Actor

Nickname

El Nino

Rey Mysterio

Super Nino

Mr 619

Sun Sign

Sagittarius

Education
Children
Height

5'6″ (168 cm)

Weight

175 lb (79 kg)

Sexual Orientation

Straight

Marital Status

Married

Tattoos

Yes

Smoking

No

Drinking

No

Father's Name

Roberto Gutiérrez

Mother's Name

Marie Gutiérrez

Spouse's Name

Angie Gutierrez

Eye Color

Brown

Hair Color

Black

Net Worth

$7.5-$8 Million

Social Media
Instagram, Twitter
Last Update

December 2023
Early Life, Family, and Education
Óscar Gutiérrez, known as Rey Mysterio was born on 11 December 1974 in San Diego Metropolitian area, in the city of Chula Vista, California, United States.
Details about his parents are scarce, but his uncle Rey Misterio Sr., a well-known professional wrestler and trainer, is believed to have trained him from his childhood days.
It is from him that he not only honed wrestling skills but the high flying acrobatics that made him the El Lucha' Dor, the high flying wrestler in the WWE Division.
It is from him that he got his name as Rey Mysterio Jr. in the early phase of his wrestling career. In 1991, Mysterio bestowed the "Most Improved Wrestler" award in Mexico while wrestling under the ring name Colibrí.
For a person as famous as Rey Mysterio, it's still a mystery about his educational background.
Age, Height, and Weight
Rey Mysterio is 48 years old. He stands tall at 5'6″ foot and weighs about 175 lbs, quite a mass for a 5'6″ foot, isn't it?
Also, read about Naomi "Wrestler" Bio: WWE, Net Worth & Personal Life
Rey Mysterio | Career
Having joined Asistencia Asesoria together with Juventud Guerrera in 1992, he made a breakthrough in his professional wrestling career. Rising through the ranks and making a name for himself, he garnered quite the fame working there.
His breakthrough came when he joined Extreme Championship Wrestling (ECW) in 1995, led by Paul Heyman. A year later, he joined World Championship Wrestling (WCW) and, in the meantime, was challenging Dean Malenko.
After losing to Kevin Nash and Scott Hall, he was forced to unmask, quite a disgrace for the proud tradition of Mexico Lucha Libre style. The fans didn't like it either; it was followed by lots of critics from the fanbase, how it was made to go through.
He came to the limelight when he signed for World Wrestling Entertainment in 2002. Upon joining WWE, he dropped Jr. from his name. Under the ring name Rey Mysterio, that's how he started his WWE career.
Upon the insistence of Vince McMahon, he agreed to wear the mask, much to the anger of Lucha Libre fans. Defeating Tajiri and Jamie Noble on March 6, 2002, he earned his WWE Cruiserweight Championship title.
On January 29, 2006, Rey Mysterio was drawn No. 2 in the Royal Rumble Match and remarkably lasted over 60 minutes to triumph over Randy Orton, earning him the main event at Wrestlemania.
During his time at WWE, Mysterio has won several titles. Having won WWE Championship, World Heavyweight Championship, Cruiserweight Championship at various timeframes in WWE, he became the 21st person to have won the Triple Crown Championship.
Career Highlights
World Championship Wrestling
5 times WCW Cruiserweight Championship (5 times)

One time WCW Cruiserweight Tag Team Championship – with Billy Kidman

Three times WCW World Tag Team Championship – with Billy Kidman (1), Konnan (1), and Juventud Guerrera (1)
World Wrestling Entertainment/WWE
1 time WWE Championship

2 times World Heavyweight Championship

3 times WWE Cruiserweight Championship

2 times WWE Intercontinental Championship

4 times WWE Tag Team Championship – with Edge (1), Rob Van Dam (1), Eddie Guerrero (1), and Batista (1)

1 time WWE SmackDown Tag Team Championship – with Dominik Mysterio

2 times WWE United States Championship

Royal Rumble (2006)

Championship Competition Tournament (2007)
Rey Mysterio | Media
Mysterio has been the subject of several DVDs on his stint in a wrestling career, including Rey Mysterio: 619, a 2003 documentary of Mysterio's Career and personal life.
On realizing the potential of the stardom of the high-flying luchador, WWE also produced Rey Mysterio: The Biggest Little Man, a three-disc set featuring Mysterio's best matches that were released on October 23, 2007.
Read about Adam Copeland: WWE, Family & Retirement!
Rey Mysterio | Controversy
Mysterio has been accounted for several controversies over the course of his career that spans almost a decade. In 2007, "Sports Illustrated" published an article linking several WWE superstars to steroid and HGH use. One of the wrestlers was Rey Mysterio.
On account of steroids and HGH usage, Mysterio defended hіmѕеlf thаt drugѕ hе uѕеd wеrе оn рrеѕсrірtіоn fоr hіѕ knее аnd аrm and received a 30-day suspension on August 27, 2009, from the WWE on violation of the wellness program.
He was suspended for the second time, for 60 days on April 26, 2012, on account of a second violation of the WWE Wellness program.
The most shocking Controversy of his Career accounts for his involvement in the death of Perro Aguayo Jr. The wrestler's death came inside a ring during a match that involved Tiger, Mysterio, and Manik.
Rey Mysterio dropkicked Aguayo, and the lethal strike killed the fighter. Upon realizing Aguayo had stopped breathing, he was rushed to the hospital, where valiant efforts were made to resuscitate him. These efforts were unsuccessful, and he was pronounced dead on March 21, 2015.
Rey Mysterio | Girlfriend, Wife, And Kids
Mysterio has no rumor of secret relationships and remains loyal to his family. His image remains as a family man in the media, whose eternal love for his family needs no introduction.
The wrestler is happily mаrrіеd tо Angie. Тоgеthеr thеу are the proud parents of two сhіldrеn, ѕоn Dоmіnіk аnd dаughtеr Ааlуаh. Dedicating his life for his family, he hаѕ ѕеvеrаl tаttооѕ that reminiscent of his eternal love for his beloveds.
He has the nаmе оf hіѕ сhіldrеn оn hіѕ rіght аnd lеft hаnd, оnе dеdісаtеd tо hіѕ wіfе, аnd ЕG іnіtіаlѕ rерrеѕеntіng hіѕ frіеnd, Еddіе Guеrrеrо who tragically dіеd іn 2005. Being a Christain, he has tattoos of religious symbolism inscribed in his body.
His son, Dominik Gutiérrez, is an American professional wrestler, currently signed to WWE, where he performs under the ring name Dominik Mysterio.
Together, they won WWE SmackDown Tag Team Championship, making them the first of a kind to share the title as father and son.
Net Worth, Salary, and Career Earnings
The high-lying luchador has amassed a lot of wealth as a professional wrestler. His net worth is estimated at $12 million. His home in Chula Vista, California, is valued at $ 1 million.
The residence, originally built in 2004, has a large coverage area and spans about 4,000 square feet. It features five bedrooms and houses several interesting artifacts. Rey Mysterio also owns a large collection of swords and other blades, quite an attraction for a mansion as large as his.
The main source of his wealth is wrestling, with sponsorships and fanbase, among others. It is after he joined WWE he received a huge package of millions of dollars for participating in the different pay-per-view events in WWE.
As per reports, his WWE earnings have seen him earn an annual salary of $174,000 in his peak years. Though not amongst the A-listed superstars in WWE, he has always remained the star attraction for the brand promotions.
Get on: Top 12 Female Professional Wrestlers in WWE
Social Media Presence
The high-flying luchador has a large following on his social media platforms for a personality as famous as Rey Mysterio. He has 3.9m followers on his Instagram account and 2.9m followers on his Twitter handle (as of March 2022).
He remains active on his social media handles, sharing insight about events he has been part of. Fans never get bored following him, a reason why he is so popular amongst the netizens. Quite active for a busy schedule as his, huh?
FAQs
Why does Rey Mysterio have 619?
From the accords of Mysterio, when he started wrestling, he began adapting moves here and there, he tried to put his opponent on the ropes and connect with his feet, so it was just a moment of creation that happened. The next thing, he tried it in the ring, and it worked. So, that's how the 619 was born.
Is Rey Mysterio Mexican?
Yes. Rey Mysterio is Mexican. The Mexican-American wrestler hopes to promote Latino pride, whether it's his colorful luchador attire or his iconic mask.
What happens if a luchador is unmasked?
If a luchador is unmasked, it goes against the proud tradition of Mexico Lucha Libre style and is considered as a sign of humiliation for both a luchador and its tradition.