Richard Bland's wife, Catrin Nystrom, worked as a flight attendant before meeting him in the UK. Catrin tied the knot with Richard in July 2022.
The couple met online and began dating just before COVID hit, and during the lockdown decided to live together. This is Bland's second marriage, with his first being with Caroline.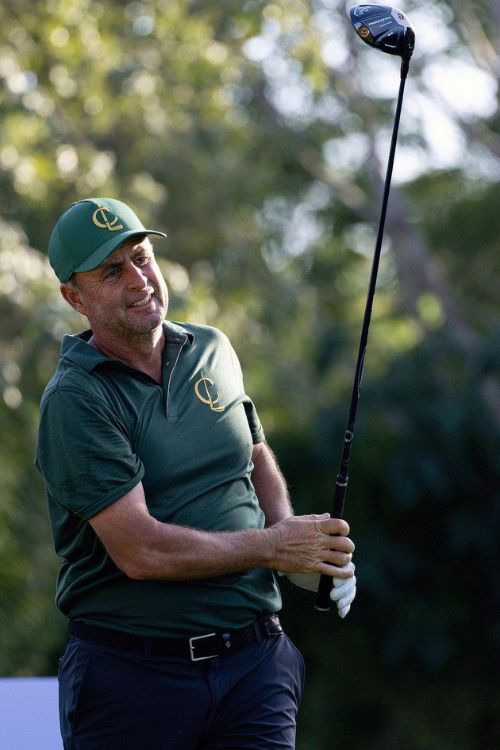 The English golfer, Bland, has many downs in his career than ups. But he didn't let the losses stop him from pursuing his dream. Then finally, in 2021, Bland won his first title 25 years after turning pro.
His victory at Betfred British Master came only a week after he engaged with Catrin, so lady luck really favored him. In the ongoing Open Championship, Richard is going head-to-head against Tommy Fleetwood and Stewart Cink, with the former taking an early lead.
Richard Bland Wife, Catrin Nystrom
Richard Bland's wife, Catrin Nystrom, hails from Sweden. She previously worked as a flight attendant and settled in London due to her work.
Prior to meeting Catrin, Richard was married to Caroline Bland. The reason for their separation remains unknown, and they didn't have any kids together.
After Catrin started dating Richard, she quit her job as a flight attendant and worked as a caddie for him. Richard insisted Catrin take up the role as the two couldn't imagine being separate for a long time.
For a person with zero golf knowledge, it was certainly a difficult task for Catrin. Her first role as a caddie came in Qatar, which she says was woeful as she felt she couldn't contribute anything at all.
And maybe that is why we haven't seen Catrin caddy for Richard since then. She is available on Instagram with the username @misscatrin_nystrombland but has kept her account private.
Richard Bland And Wife Catrin Nystorm Relationship
Richard met Catrin in January 2020, before COVID-19 locked everyone in their homes. The two met online and on their first date, shared their life experiences.
Catrin talked about settling in the UK, and Richard about many ups and downs in his career. As Richard told his story, Catrin found it hard to believe that Richard's job was to play golf.
In an interview with The Athletic, Catrin said she questioned Richard whether he did anything as a side gig other than golf. Catrin couldn't register that playing golf could be a job.
But after a quick Google search, she believed him, and they planned a second date. After that, the entire world stopped due to the pandemic restriction. That is when they decided to take the leap of faith and began to live together.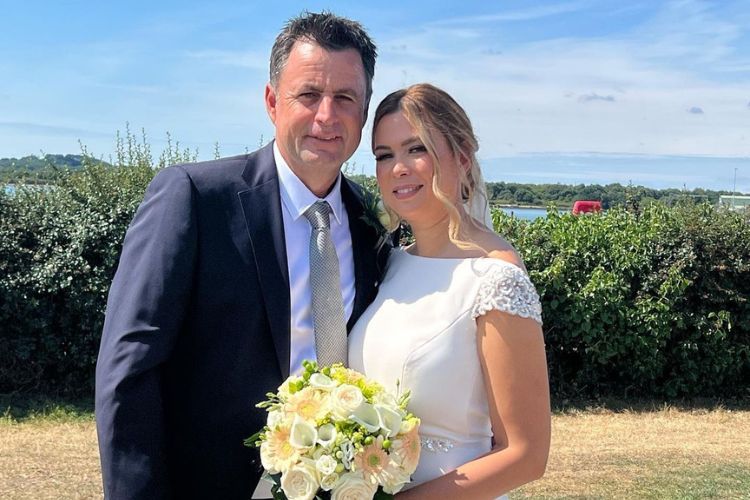 In 2021 Spring the couple was engaged, and later that year, Richard began sharing pictures on Instagram. His first post with Catrin came in March 2022, on her birthday.
He shared a romantic photo of them vacationing and wrote a sweet message in the caption. A few weeks after their engagement, Bland won his maiden title.
In their interview, Catrin refused to take any credit for Richard's success as suggestions were made that she could've been the missing piece in his winless golf career.
Since then, Catrin has been seen in several golf tournaments rooting for her husband, most notably during the 2021 US Open.
After being engaged for over a year, the couple tied the knot on July 23, 2022. The golfer shared a few photos from their wedding ceremony, celebrating the occasion with their close friends.
Earlier this year, the golfer shared another birthday post for his wife, which seems to be the new norm.
He shared a series of pictures from their trip to the US and their wedding and captioned the post, "I am the luckiest guy to have you as my wife, my best friend, my rock & just the kindest human being ever."