Not many would be heedless about this legend- Rob Gronkowski. He is one fine big name in the field of football.
Rob Gronkowski is an American football tight end for the Tampa Bay Buccaneers of the National Football League for those who still are unaware of this man.
He is a three-time Super Bowl champion, a five-time Pro Bowl selection, and a four-time First-Team All-Pro selection.
There are many more awards and honors in his name if we really have to count on them.
How did he start his journey? How did he make it to the NFL? What was his life like? Who is he now? We shall discover all of this right here in this article.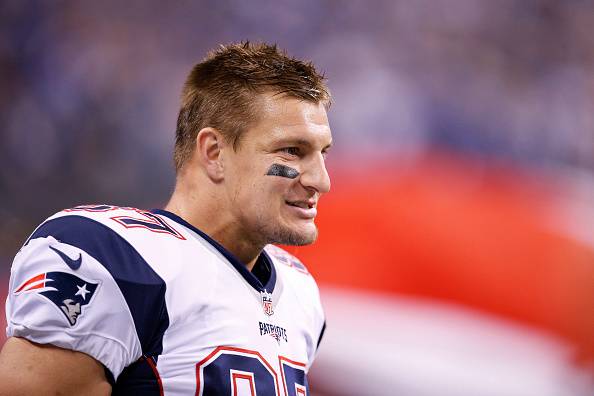 But, before that, let's get plunged into the go-getter quick facts about Rob Gronkowski.
Quick Facts
| | |
| --- | --- |
| Full Name | Robert James Gronkowski |
| Birth Date | May 14, 1989 |
| Birth Place | Amherst, New York |
| Nick Name | Gronk |
| Religion | Christian |
| Nationality | American |
| Ethnicity | White |
| Education | Woodland Hills High School, Arizona |
| Horoscope | Taurus |
| Father's Name | Gordon Gronkowski |
| Mother's Name | Diane Walters |
| Siblings | Chris Gronkowski, Glenn Gronkowski, Dan Gronkowski, Gordie Gronkowski, Jr. |
| Age | 34 Years Old |
| Height | 6 ft 6 in (1.98 m) |
| Weight | 268 lb (121 kg) |
| Shoe Size | 16 (us) |
| Hair Color | Light Brown |
| Eye Color | Dark Brown |
| Body Measurement | Wingspan(2.13m), Chest size (49 in), Waist size (36 in), Arms/ Biceps (16 inches) |
| Build | Athlete |
| Married | No |
| Girlfriend | Camille Kostek |
| Position | Tight end |
| Profession | NFL Player |
| Net Worth | $40 million |
| Salary | $9,000,000 |
| Currently Plays for | Tampa Bay Buccaneers |
| League | NFL |
| Active Since | 2010 |
| Social Media | Twitter, Instagram, Facebook |
| Merch | Jersey, Autograph |
| Last Update | June, 2023 |
Rob Gronkowski | Early Life
On May 14, 1989, Gronkowski was born in Amherst, New York, to his parents Gordon Gronkowski and Diane Walters.
He has three playful brothers and is the second youngest among them.
Rob was raised in Williamsville later. He used to play hockey until he was fourteen, then he intended to play basketball.
He schooled Williamsville North High School for his first three years of high school and played basketball and football.
Rob was a tight end and defensive end in football and basketball for the Spartans athletic teams.
Also, note that he was a freshman kickoff specialist, too, as he had the team's biggest feat.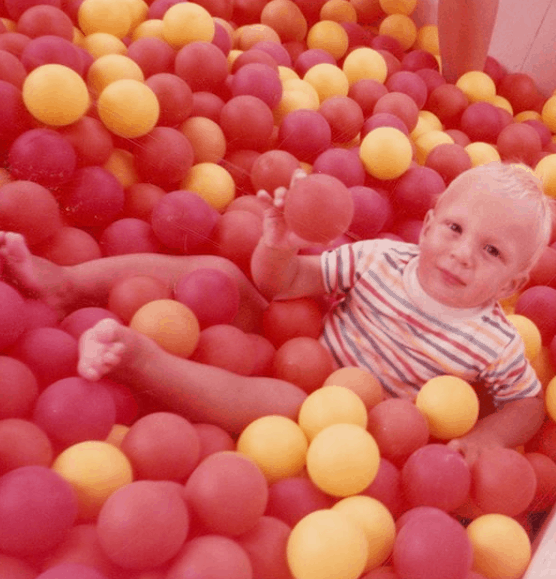 Rob scored 36 receptions for 648 yards and seven touchdowns on offense, and 73 tackles and six sacks on defense, in his junior season.
He was titled an All-Western New York first-team and All-State second-team player.
Rob attended the National Honor Society for his education, taking math as his best subject and English as the worst.
Further, Rob attended the Woodlands hills Highschool in Churchill, Pittsburgh, for his senior year.
Sadly, He scored 8 receptions for 152 yards and four touchdowns, reversing the ineligibility rule that was forged on him.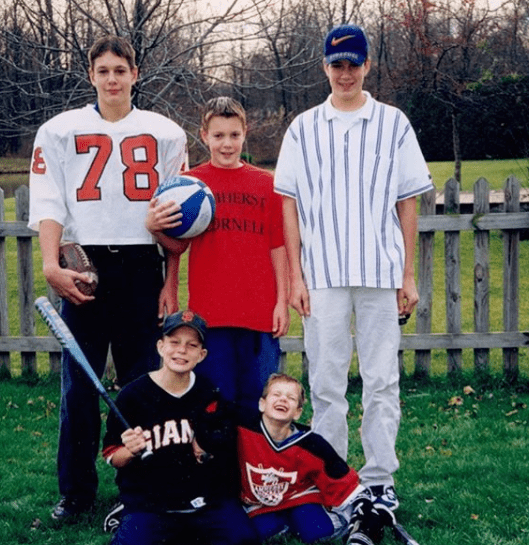 Later, he got awarded with Superprep All American, Prep Star All American, the Patriot-News, Associated Press Class 4-A all-state, Pittsburgh Post-Gazette "Fabulous 22".
Rob also received scholarships from Kentucky, Arizona, Clemson, Maryland, Ohio, Syracuse, and Louisville. He graduated from Woodland Hills with a 3.75 GPA in 2007.
You might also like to read about Roman Reigns Bio: WWE, Net Worth, NFL & Wife >>
Parents and Siblings
Gronkowski's father, Gordon Gronkowski, is a former college football guard for Syracuse University from 1977 to 1981.
And, following that, he established a high-end fitness equipment business.
Rob's great-grandfather, Ignatius Gronkowski, represented the United States in cycling at the 1924 Summer Olympics in Paris, France. He has grasped five world records in the sport.
Rob's brothers played for the University initially, but later, they also became professional sportspersons. His parents got divorced in 2008.
Rob Gronkowski | College Career
Rob joined the University of Arizona and played for the Arizona Wildcats football team from 2007 to 2009 under head coach Mike Stoops.
He played amazingly well during his freshman year, making 28 receptions for 525 yards and six touchdowns.
Rob's receiving yards were the best for the team and were a school record for a tight end.
He was awarded The Sporting News freshman All-American, Rivals.com freshman All-American, The Sporting News freshman Pac-10, and All-Pac-10 honorable mention player.
Gronkowski failed to attempt the first three games in 2008 but later scored 47 receptions for 672 yards and a team-best ten touchdowns.
He was honored with the John Mackey National Tight End of the Week two times.
Subsequently, it seemed clear that Rob was setting standards for the tight end for single games, career receptions, yards, touchdowns, and also single season.
He was awarded Associated Press third-team All-American and All-PAC first-team tight end.
Rob suffered back surgery in 2009 and had to miss out on most of the games for the season.
As a result, the back injury was affecting his player profile in the wrong manner.
He lost the chance to grab the Lombardi Award, one of the most prolific awards for the country's lineman and linebacker.
Rob Gronkowski | Professional Career
The New England Patriots selected Gronkowski in the 2010 NFL Draft. He inked a rookie contract worth $41 million and a $1.76 million bonus for four years.
He was one of those players who have a tight end catch- three or more touchdowns in a single game.
In honor of this unique capacity that everyone does not have, Madden NFL 12 has a "Rob Gronkowski Award."
He also received the 'NFL receiving touchdowns leader' (2011).
After the NFL-AFL union, Gronkowski was the first tight end to record more than 10 touchdowns and thousand receiving yards.
Gronkowski played only seven games in 2013 as he had to undergo several surgeries for his back and forearm.
It almost took a year to recover. But, he was back to action for another season with 596 receiving yards and four touchdowns.
He made a dynamic comeback in 2014 and won the 'Comeback of the Year' award at the ESPY awards.
Gronkowski was positioned as the ninth-best player on the NFL Top 100 PLAYERS OF 2016.
With his laudable performance every season, it is pretty clear that he was capturing his role as a leader in receptions and receiving yardage.
You might want to read about Charlie Whitehurst Bio: Early Life, NFL, Girlfriend Jewel & Net Worth >>
Super Bowls XLIX, LI, and LIII
He also grabbed Super Bowls XLIX, LI, and LIII with the Patriots and is a five-time Pro Bowl selection and a four-time First-Team All-Pro selection.
He also got selected in the NFL 2010s All-Decade Team and NFL 100th Anniversary All-Time Team.
For the 2018 season, he completed 47 receptions for 682 receiving yards and three receiving touchdowns.
After playing for the Patriots for nine long seasons, he declared his retirement via Instagram on March 24, 2019.
Later, he explained to his fans, saying it was his physical injuries that were disrupting his mental health.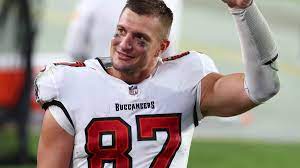 On April 21, 2020, he got traded to the Tampa Bay Buccaneers along with a seventh-round pick in exchange for a compensatory fourth-round pick in the 2020 NFL Draft.
Later, he grabbed five passes for 78 yards and his first touchdown for the Buccaneers and led the team to win over the Gren Bay Packers.
Again, in a game against Kansas City Chiefs, the footballer recorded six catches for 106 yards with a 27–24 loss.
After playing the match against Detroit Lions, he recorded two catches for 58 yards with a win of 477 wins.
Upon successful completion of the 2020 season with the Tampa Bay Buccaneers, he re-signed a year one contract with the team for the 2021 season worth $10 Million.
To sum up his professional career, no matter how much we try to pin, it always turns out to be less. Because he always had a meritorious performance in every season.
Rob Gronkowski | Career Stats
Rob Gronkowski | Personal Life
Rob has always remained hushed about his private affairs and hook-ups. As configured, he has been in a relationship with model Camille Kostek since 2015.
They first met in some charity event in 2013 and started seeing each other. The couple stays together in Foxborough, Massachusetts.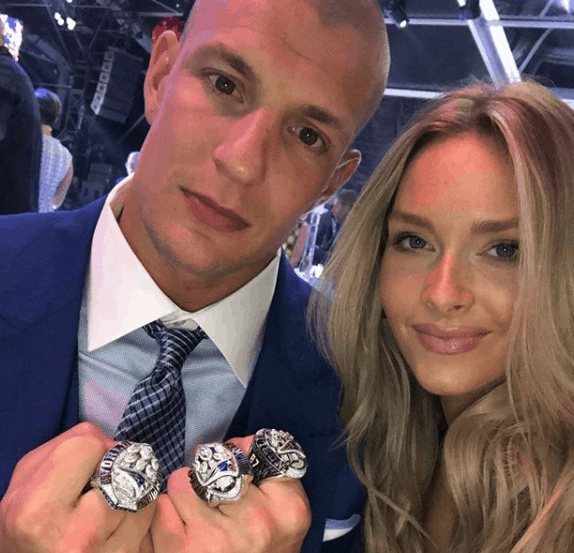 Besides that, he has also written a book named "it's great to be a Gronk" with Jason Rosenhaus. The book turned out to be a New York Times Bestseller.
Rob is also a party lover. He stated-"You go out and get refreshed, and it just makes you want to go back out on that practice field and keep going hard."
His video clip from an on-air interview with ESPN Deportes broke the internet where he was found saying something about partying or how he celebrates his victory?
Later, that phrase was trademarked by Gronk Nation and LLC.
Rob Gronkowski | Endorsements and Sponsorship
Rob has shown up for print, television, and online advertisements like Nike, Dunkin' Donuts, Visa, T-Mobile, Tide, Lyft, Zynga, Cheerios, Oberto, SixStar Pro, Bodyarmor SuperDrink, DraftKings, Kids Footlocker, and video games Mobile Strike and Halo among others.
He also endorsed "Gorn Flakes," a frosted cornflakes breakfast cereal that was named after him. That grabbed a massive success in the market.
Later, the same manufacturing company- PLB Sports, brought "Gronk's Hot Sauce" into the market. Similarly, an energy drink named "Gronk" was distributed by Coca-Cola.
Rob also teamed up with Tide Pods to discourage youngsters from eating the laundry detergent pods after a viral internet challenge in 2017–18.
Gronkowski has founded the Gronk Nation Youth Foundation, which is an initiation to let the kids pursue their dreams and not be lagged in health, sports, and fitness. The Gronk Nation Youth Foundation.
He mentioned,
"I created the Gronk Nation Youth Foundation with my family and my friends because growing up, I had a lot.

I had everything as a kid, from playgrounds to sports, and a lot of people to play with, and thus everything I needed to be successful later as an athlete."
Keeping this aside, he also has helped the Make-A-Wish Foundation and the Patriots Foundation.
He goes bald once a year to support One Mission Buzz Off for kids with cancer.
Rob has also been awarded the Ron Burton Community Service Award for his good deeds.
Moreover, he was also acknowledged with the Merit Award from United Service Organizations and the "Wish Hero Award" by the Make-A-Wish Foundation.
With his longtime live-in partner Kostek, Gronkowski contributed more than 20,000 personal protective tools to fire departments and hospitals during the COVID-19 pandemic.
Rob Gronkowski for Hims 'Hair Talk'
Just this September in 2021, the Tampa Bay Buccaneers tight end Rob Gronkowski signed a partnership with Hims & Hers Health Inc (HIMS).
He is also active as a Creative Advisor for the brand focusing on men's health.
Moreover, with this partnership, the athlete aims to bring awareness about treatment options available from Hims & Hers including mental health and hair loss.
"As a football player, taking care of my body for performance on the field has always been a priority."
Gronkowski then added,
"Most men simply aren't aware of the options available to them, or are uncomfortable having these tough conversations."
Likewise, Rob nows joins Jennifer Lopez, Alex Rodriguez, and Miley Cyrus as a product partner.
You might also like to read about Emeke Egbule Bio: Stats, Draft, NFL & Net Worth >>
TV Shows and Appearances
Not exaggerating his multi-talents and skills, he was a master of all. Rob excelled wherever he goes.
Gronkowski had shown up on the covers of GQ, ESPN The Magazine, ESPN The Body Issue, Sports Illustrated, and Muscle & Fitness, and many more.
He was also featured on the cover of the video sports game Madden NFL 17 for PlayStation 4, PlayStation 3, Xbox One, and Xbox 360.
Talking about his movie appearances, he appeared in a cameo role in 2015 for the movie "Entourage."
He also appeared in the movie American Violence where he played the Brad role. Similarly, he played the role of Officer Wheadon in the movie call. You can't have it.
He again did a cameo role in 2017 for The Clapper. He has also appeared in movies like Deported and Boss Level.
Gronkowski has also done co-hosting for Crashletes on Nickelodeon.
He also produced and hosted Verizon's Go90 original show MVP, where business entrepreneurs show their products and services to high-performing athletes.
He also took the job of an analyst on Fox Sports for NFL programs during his retirement in 2019.
Accordingly, Gronkowski's tv appearances include The Masked Singer, Wrestlemania 36, Game on.
Gronkowski has also appeared in music videos like Swish Swish with Katy Perry feat Nicki Minaj, On My Mind, and I'll Wait with her girlfriend, Camille Kostek.
Rob Gronkowski | Net Worth
Gronkowski is one of the most complete, all-rounder, true tight ends, unlike other players.
Not to mention, he is taken as "NFL Supernova," a "Gold Standard," a "Generation Marvel." His description naturally ends up adding value to his worth.
On the other hand, if we really have to pin down his net worth in numbers, as per reports, Rob Gronkowski has an accumulated net worth of $40 million as of [current year].
Gronkowski has also stated very clearly that he has lived off with the money he earned from endorsements and tv appearances; he has not spent a penny made from his NFL contracts.
According to NFL reports, Gronkowski will earn $10 million (9 million guaranteed and 1 million for workout bonuses) in [current year]after signing a contract with the Bucs.
Talking about other physical assets of the tight-end player, he purchased a $7 million condo in New York's Hudson Yards. He also has a variety of cars collections.
Net Worth of Rob Gronkowski in Different Currencies
We have summarized the net worth of Rob with respect to different currencies that including the cryptocurrency BitCoin.
Currency
Net Worth
Euro
€

33,678,540

Pound Sterling
£

28,771,804

Australian Dollar
A$

53,433,080

Canadian Dollar
C$

49,794,000

Indian Rupee
₹

2,979,500,000

BitCoin
฿

1,183
Rob Gronkowski | Social Media Presence
There is good news for Gronkowski's fans out there. He is available on each possible social networking site.
He has a whopping amount of followers, and he keeps his fandom intact with his posts and updates.
Facebook– 1.8m followers
Instagram– 4.4m followers
Twitter– 3.1m followers
He also has a youtube channel, The Gronks, with 104k subscribers.
Also, read about another dynamic NFL player Danny Woodhead, Jason Witten.
Some FAQs
Was Rob Gronkowski and Aaron Hernandez Friends?
Rob and Aaron's names were often paired up together, and their relationship appeared to be close.
What Happened to Gronkowski?
The football tight end player has suffered from different injuries and surgery during his college and NFL career. In 2009, he missed most of the season at Arizona due to back surgery.
Likewise, he suffered from a knee injury in 2015, due to which he missed the 1 game of the 2015 season.
What is the Jersey number of Rob Gronkowski?
He wears Jersey Number 67.
What record did Rob Gronkowski break?
Rob set a Guinness World Record with a 600-foot catch. It was dropped from 600 or so feet from a helicopter. This is the longest catch in NFL History.