Ronald Acuña Jr. is a Venezuelan baseball player who plays for the Atlanta Braves in Major League Baseball (MLB).
The player started his professional career with the Braves in 2014 after signing with them as an international free agent.
Acuña made his MLB debut in 2018 and had an impressive first season, winning the National League Rookie of the Year Award.
Likewise, the player has a .282 batting average, 131 home runs, 327 runs batted in, and 130 stolen bases.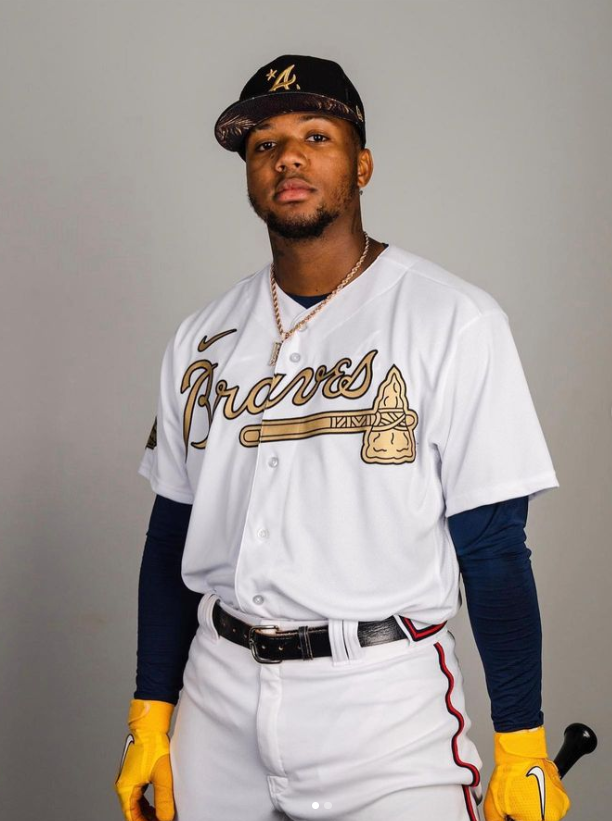 He has been an All-Star three times, won two Silver Slugger Awards, was the NL stolen base leader in 2019, and achieved the 30-30 club the same year.
Want to know more? Then keep scrolling to the end of the article. But, before that, here are some quick facts about him.
Quick Facts
| | |
| --- | --- |
| Full Name | Ronald José Acuña Jr. |
| Date of Birth | December 18, 1997 |
| Birth Place | La Guaira, Venezuela |
| Nickname | "El Abusador" (The Abuser) |
| Religion | Christianity |
| Nationality | Venezuelan |
| Education | Not known |
| Bats | Right |
| Father's Name | Ronald Acuña Sr. |
| Mother's Name | Leonelis Blanco |
| Siblings | Not known |
| Age | 25 Years Old |
| Height | 6'0″/183 cm/1.83 m |
| Weight | 180 lbs/82 kg |
| Eye Color | Dark Brown |
| Hair Color | Black |
| Affiliation | Atlanta Braves |
| Position | Outfielder |
| Profession | Baseball Player |
| Active Years | 2014-Present |
| Tattoo | Not known |
| Marital Status | Not married |
| Girlfriend | Eva Luccia |
| Children | One son |
| Net Worth | $8 Million |
| Social Media | Instagram, Twitter |
| Last Update | September 2023 |
Early Life & Family
Ronald Acuña Jr. was born in La Guaira, Venezuela, on December 18, 1997. He is the eldest of four sons.
His mother is Leonelis Blanco, and his father is Ronald Acuña Sr., a former baseball player representing Venezuela at the 2011 Pan American Games.
Acuña Jr. comes from a family with a strong baseball tradition. His grandfather, Romualdo Blanco, and his father both played minor-league baseball. His father spent eight years with the New York Mets in the minor leagues.
Likewise, Acuña Jr. is also the cousin of former MLB players Alcides Escobar, Kelvim Escobar, and Edwin Escobar.
Education
The baseball player did not attend college or university.
He grew up playing baseball with his brothers and cousins in La Guaira and signed with the Atlanta Braves as an international free agent in 2014 when he was 16 years old.
However, he did receive some formal education in English when he was in the minor leagues. He took classes at the Braves' Academy in Orlando, Florida, and learned the language from his teammates and coaches.
Further, he also improved his English by watching movies and TV shows, such as The Walking Dead.
Acuña Jr. has said that learning English was important for him to communicate better with his teammates and fans and to avoid misunderstandings on the field.
Age, Body Measurements, and More!
Ronald Acuña Jr. was born in the year 1997, which means he is currently 25 years old. His zodiac sign is Sagittarius.
Regarding his physical appearance, Ronald is 1.83 m and weighs around 82 kg (181 lbs). He has black hair, which he wears in dreadlocks, and his eyes are dark brown.
Further, he also has some tattoos on his arms, including a lion, a cross, a baseball glove, and a bat, as well as the words "El Abusador" (The Abuser), which is one of his nicknames.
Career
Ronald Acuña Jr. began his journey by signing with the Atlanta Braves as an international free agent in 2014. After making his professional debut in 2015, he quickly progressed through the minor leagues.
In 2018, Acuña Jr. made his MLB debut and immediately showed his potential by hitting his first home run. He had an outstanding rookie season and was honored with the National League Rookie of the Year Award.
The following year, Ronald earned his first All-Star selection, won the Silver Slugger Award, and became the NL stolen base leader.
Further, Acuña Jr. secured a significant contract extension with the Braves in 2019, making him the youngest player in MLB history to receive a $100 million deal.
The player received multiple All-MLB Second Team selections and showcased his immense power by hitting the longest home run of the 2020 season.
Despite some injury setbacks, Acuña Jr. made a strong comeback in 2022. He returned to the field and received the highest votes in All-Star balloting among National League players.
Additionally, he reached a career milestone by hitting his 100th home run.
Career Highlights & Awards
2018 – NL Rookie of the Year
2019 – NL stolen base leader
2019 – 30–30 club
2019 – 3× All-Star
2019 – 2× Silver Slugger Award
2020 – 2× All-MLB Second Team
Injuries
During his career, Ronald Acuña Jr. has experienced several injury-related setbacks that have caused him to miss many games. For instance,
Knee-ACL Injury: From May 28, 2018, to June 28, 2018, Acuña sustained a knee-ACL injury, resulting in an absence of 32 days.
Wrist Injury: Acuña could not play from August 15, 2020, to August 25, 2020, due to a wrist injury. This injury caused him to miss 11 days.
Knee-ACL Injury: From July 11, 2021, to October 3, 2021, Acuña was again out of action due to a knee-ACL injury, leading to an absence of 85 days.
Knee-ACL Injury: From April 4, 2022, to April 28, 2022, Acuña was sidelined due to another knee-ACL injury. As a result, he missed 25 days.
So all together, Acuña has missed 153 days throughout his career due to these injuries.
Rumors and Controversies
Ronald Acuña Jr. was benched by Braves manager Brian Snitker in 2019 for not hustling on a fly ball that he thought was a home run but ended up being a single.
Acuña apologized for his mistake and said he respected Snitker's decision.
Further, Acuna was fined by MLB in 2020 for wearing jewelry that violated the league's uniform policy. He had to remove his earrings and necklace during a game against the Philadelphia Phillies.
In 2021, rumors were circulating that the player might be traded after the Braves signed outfielder Marcell Ozuna to a lucrative contract. However, Acuña dismissed the speculation and said he was happy to be with the Braves.
Charity
Ronald Acuña Jr. has shown his charitable side on several occasions. For instance, he selflessly donated his Venezuelan winter league salary and the prize money from a Home Run Derby victory to the Roger Blanco Foundation, benefiting children in La Guaira.
Likewise, in a show of appreciation for healthcare workers and support for patients during the COVID-19 pandemic, Acuña surprised patients and donated a remarkable 113,000 face masks to Children's Healthcare of Atlanta.
Additionally, he actively participated in a charity golf tournament alongside fellow MLB players, raising funds for the Ronald McDonald House Charities of South Florida, which aids families with critically ill children.
Furthermore, Acuña united with other Venezuelan MLB players to support the Venezuela Aid Live concert, aiming to raise awareness and funds for the humanitarian crisis in their home country.
Wife & Kids
Ronald Acuña Jr. is not married. However, he is in a long-term relationship with Eva Luccia, a fitness coach from Venezuela.
They have been together for several years and have a son named Ronald Acuña Jr. III, born in 2020.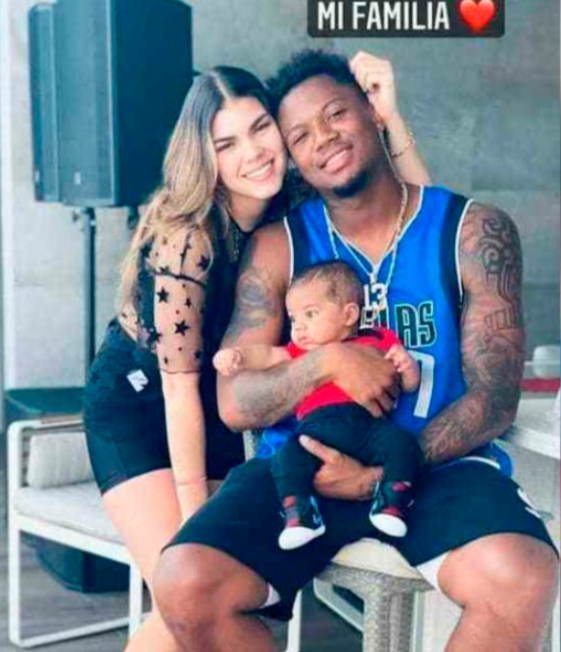 Ronald Acuña Jr. and Eva Luccia are very private about their personal life and have not revealed much about their relationship or their plans for the future.
They seem happy and in love and enjoy being parents to their little boy.
Contract & Net Worth
Ronald Acuña Jr. has a net worth of around $8 million as of 2023. He makes his fortune through his baseball career and his endorsements.
The player signed an 8-year contract extension with the Atlanta Braves worth $100 million on April 2, 2019.
The contract includes $100 million in guaranteed money and an average annual salary of $12.5 million. Acuña Jr. will become a free agent in 2029.
Further, the contract includes two club options for 2027 and 2028, each worth $17 million, with a $10 million buyout each year.
If both options are exercised, his contract could be worth up to $124 million over ten years.
Frequently Asked Questions (FAQS)
What position does Ronald Acuña Jr. play?
Ronald Acuña Jr. plays as an outfielder, mainly a left fielder, for the Atlanta Braves.
What number is Ronald Acuña Jr.?
Ronald Acuña Jr.'s jersey number is 13. He chose this number when he made his MLB debut in 2018 because his preferred number, 24, was already taken by veteran outfielder Kurt Suzuki. The player had worn number 24 throughout his minor league career in honor of his idol and fellow Venezuelan Miguel Cabrera.