If it is meant to be then it will be; there's no question about it. Same is the case with the American beauty Erica Stoll, beloved wife of Rory Mcilroy. Relatably, the couple met coincidentally and tied their knot after five years into their relationship.
Despite having fame and being in contact with renowned people, this power couple stayed low key.
Recently, the couple welcomed their beautiful daughter. But, unlike other couples, Erica always stays behind on the top game of her husband.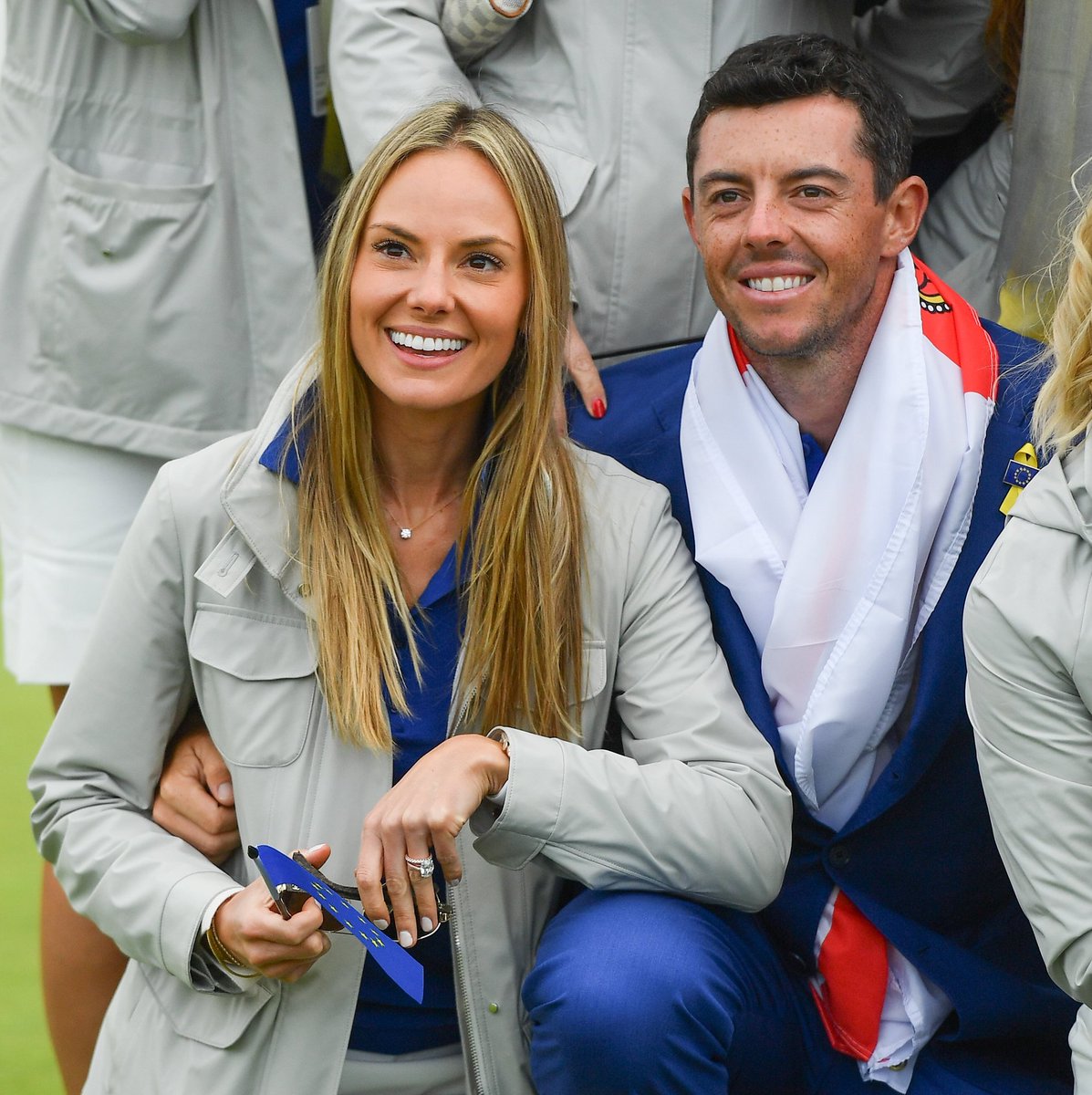 Erica used to be Manager of the Championship Volunteer Operations. However, later she devoted her full passion to her husband and family.
But unknown to many, Rory is not the only man Erica has dated in her life. So, who was he?
Quick Facts
Getting to know more about Erica Stoll, here are some of the quick facts as below:
| | |
| --- | --- |
| Full Name | Erica Stoll |
| Nickname | Erica |
| Birth Date | September 10, 1987 |
| Birth Place | Rochester, New York, United States |
| Residence | Palm Beach Gardens, Florida, Miami Mansion, United States |
| Religion | Christianity |
| Nationality | American |
| Ethnicity | White |
| Education | Irondequoit High School, Rochester Institute of Technology |
| Horoscope | Virgo |
| Father's Name | Mark Stoll |
| Mother's Name | Bonnie Stoll |
| Siblings | 1 (Natalie Stoll) |
| Age | 35 years old |
| Height | 5'7″ (170 cm) |
| Weight | 56 kg (125 lbs) |
| Eye Color | Brown |
| Hair Color | Blonde |
| Profession | Sports Administrator |
| Marital Status | Married |
| Spouse | Rory Mcilroy |
| Children | 1 |
| Name of Children | Poppy Kennedy Mcilroy |
| Net Worth | $1 million |
| Merch | Rory Mcilroy: The Biography, Rory Mcilory Items |
| Last Update | May, 2023 |
Who is Rory Mcilroy's wife? | Early and Personal Life
Erica Stoll, the beloved wife of Rory, was born on September 10, 1987, in Rochester, New York. Her parents Mark, and Bonnie Stoll, raised her along with her sister, Natalie Stoll.
Likewise, for her education, she attended Irondequoit High School. Then she graduated from Rochester Institute of Technology.
Moreover, earlier, Erica grew learning sailing from her grandfather and father. It is also said that she still does that.
Besides that, Erica is also interested in cooking and baking. Therefore, she loves to treat her family with her cooking skills, including culinary skills. Also, as a pet lover, she owns a lovely pet dog named Miss Lily Belle.
Equally important, Stoll is a true fan of the reality television show, The Bachelor.
Here's Jon Gruden's Wife Bio: Career, Marriage & Kids >>
Who is Rory Mcilroy's wife? | First Meet
Earlier in 2012, Rory Mcilroy was one of the top competitors for the Ryder Cup. Erica Stoll was also the PGA employee as the Manager of the Championship Volunteer Operations. Meanwhile, there she worked for several years.
In summary, while at the BMW Championship in Medinah, Illinois, Erica was in charge. Roy once overslept and almost missed his match. Fortunately, Erica reached out and reminded him about his golf event.
Thus, she saved him from unexpected controversy and embarrassments.
Who is Rory Mcilroy's wife? | Marriage
After their faithful meeting, Rory split with his then-fiance, Wozniacki. A year after that Erica and Rory started dating.
Later, in December 2015, Rory proposed to Erica with a diamond ring during their romantic holiday in Paris. So, after being together for four whole years, the two finally tied the knot.
Despite the popularity, Erica was the one who lived her personal life personally, away from the limelight.
Earlier in an interview with 'The Independent,' Rory described his lover Erica as a very low-key person. Meanwhile, their Marriage was something that is remembered for a long.
Relatably, the couple wedded on April 17, 2017, at the grounds of Ashworth Castle in Cong, County Mayo, Ireland. Nevertheless, this prosperous golfer arranged a lavish invite-only event as well.
So, naturally, there was the attendance of entertainment bigwigs and other famous golfers.
Thus, famous faces such as Martin Kaymer, Shane Lowry, Niall Horan, Ryan Giggs, and Stevie Wonder were present; accompanied by other famous golfers.
Furthermore, the Marriage itself has occurred in a very secret way as they kept fans and press away.
Reportedly, the guard checked each car at the part of the entrance and some guests even arrived by helicopter.
According to Golfweek, the entire wedding cost around $1.2 million. Moreover, this also included fireworks.
There were also legendary artists Stevie Wonder and Ed Sheeran at the reception for more entertainment. After all of these, the couple went on a honeymoon to Canouan Island.
Erica Stoll as Wife
Despite not being a golfer, Erica knew a lot about golf. Moreover, with Erica, Rory felt like she knew the pressure of games. Having low maintenance, she supported him, making the realization of her need in his life.
Moreover, she even resigned from her job as she was already going to travel with her husband. Likewise, Rory's parents were excited for them to have a pleasant time together.
Consequently, in August 2020, the couple had their first child, Poppy Kennedy Mcilroy. And the news was posted on Twitter by Rory himself, notifying both the mother and child are healthy.
You might also interest in Freddie Freeman's Wife: Chelsea Goff, Children & Net Worth >>
Who is Rory Mcilory?
Rory is someone who played golf as a toddler with a plastic golf club mimicking his father's swing. But, being such a passionate person, it took no time for him to turn into a professional and ultimate international golfing superstar.
Similarly, he was born on May 4, 1989, in Holywood, United Kingdom. Seeing his obsession with golf made Gerry Mcllroy invite professional golfer Michael Bannon for his proper guidance.
Thus, there was just the need of advice and support for an enthusiastic boy's pursue.
As a whole, Micheal stood coach of Rory for almost twenty years and has one of the most desirable fluid swings in the golfing history. So, his steadfast dedication and love of golf made him the Youngest golfer to secure his European Tour Card.
Besides several failures, curves, and disappointments, he claimed his first European Tour title in the Dubai Desert Classic early in 2009.
Including these all, he achieved other prestigious awards and achievements like BMW Championship, Masters Tournament, and Wells Fargo Championship.
Rory Mcilroy's Wife | Net Worth
This beautiful woman once used to be a PGA employee is now the wife of a successful golf athlete.
Although Erica Stoll is currently not involved in specific jobs or work, she lives a luxurious lifestyle. In conclusion, her estimated amount of net worth is $1 million.
Furthermore, one of the wealthiest couples brought home in Florida. In a word, the home is worth $8.5 million.
More about the estate, it is uniquely spaced in 12,800 square feet and has seven bedrooms. There are spaces for a recording studio and a gaming room as well.
Erica Stoll | Social Media Appearance
As mentioned, Erica keeps personal things more personally than Rory. Although she is not in action in any social media accounts, it is rumored that her husband made her handle his Twitter (@Rory Mcilroy) account. Dealing with several controversies, Rory gives his response to his wife.
Thus, Erica somehow is using a social media account.
See Priscila Cachoeira Bio: MMA, ESPN, Drugs & Record >>
Frequent Questions (FAQs)
How was Erica Stoll's wedding dress?
Guests who attended the wedding did not post many photos online. But some images were published where Erica was looking stunning and elegant in a long white gown. The desinger and brand name is unknown as of now.
How much is Rory Mcilroy's net worth?
In summary, Rory Mcilroy is one of the top 10 wealthiest golfers in the world. Moreover, he claimed numerous prestigious achievements. Hence, his swing and moves are praised by many. Thus, his estimated net worth is $120 million.
Has Erica Stoll ever been interviewed?
Besides having such a renowned husband, Erica has always had a low-maintenance life.
Although she came to attend maximum games of her husband and in victories, she has never shown interest in interviews.