The MLB fans popularly recognize Miguel Cabrera's wife, Rosangel Cabrera, for her relationship with the famous Venezuelan baseball player. He has been playing consistently in the MLB for the Detroit Tigers since 2008.
Cabrera has been active in the international baseball scene since 2003 and is one of the best first basemen in the world.
However, Miguel is not an ideal person when it comes to managing his family life efficiently.
The celebrity player's relationship with his wife, Rosangel, has always been complicated, and they have reached the verge of separation on several occasions.
Nevertheless, the couple is still together, and it has already been over twenty years since their marriage.
The Latin American couple, along with two daughters and a son, is living well by setting their differences aside, and things seem pretty normal.
However, you never know when things might get sour. At least they have settled for good for a long time now.
Everyone knows Miguel pretty well, but today, we will discuss Rosangel and her life in the article below. First, let's see some quick facts about her.
Rosangel Cabrera | Quick Facts
Birth Name
Rosangel Polanco Cabrera
Known As
Rosangel Cabrera
Birth Date
July 2, 1983
Birth Place
Venezuela
Popular as
Miguel Cabrera's wife
Religion
Christian
Nationality
Venezuelan
Ethnicity
Latin American
Education
Not available
Zodiac Sign
Not available
Father's Name
Unknown
Mother's Name
Unknown
Siblings
Not available
Age

40

Years Old
Height
5 feet 8 inches/1.72 m/172 cm
Weight
Not available
Sexual orientation
Straight
Hair Color
Black
Eye Color
Dark brown
Marital Status
Married
Husband's Name
Miguel Cabrera
Children
Three (Isabella, Rosangel, and Christopher Alexander)
Profession
Ball Player's Wife
Net Worth
Under Review
Social Media
Twitter
Merch of Miguel Cabrera
Signed Rookie Card, Baseball, Jersey
Last Update

November 2023
Miguel Cabrera Wife | Early Life & Family
Rosangel Polanco was born in Venezuela, South America, on July 2, 1983.
She later became popular among the American baseball audience as Rosangel Cabrera after she began living in the United States with Miguel Cabrera.
Born and raised near Maracay, she attended the same high school as Miguel.
Besides that, Rosangel has not disclosed anything about her early life, parents, and siblings. So, their names remain unknown.
However, almost all her family members still live in her hometown in Venezuela.
Click here to learn about Lindsey Vecchione, the gorgeous-looking girlfriend of the famous NHL player Jonathan Toews, a hairstylist and model by profession!
Rosangel Cabrera | Age, Weight & Height
As of 2023, Rosangel Cabrera is 40 years old.
Regarding her physical features, she now looks chubby but is very confident about her physique. In the past, when she was newly wed to Miguel, she was skinny, and so was Miguel.
Likewise, her pairing up with the tall baseball player suits her well. Even though Miguel is a towering figure at 1.93 meters, she looks fine when standing beside him. She might be around 1.72 meters (5 feet 8 inches) tall.
Besides, Rosangel has silky black hair when not colored and dark brown eyes.
Rosangel Cabrera | Career
Rosangel Cabrera does not seem to do jobs to have an earning herself. So, it might be odd to say that she is currently pursuing a career.
Maybe, she does not have enough time to do other jobs as she is already busy caring for her three children.
However, she works as one of the sole executives of the Miguel Cabrera Foundation.
Rosangel and her husband, Miguel, had established this non-profit organization to dedicate their time and earnings to the service of their community.
Their main aim is to improve their society by providing support to enhance the quality of life through sports, education, and health-related assistance to people in dire need of help.
Similarly, Rosangel has engaged in several charitable works like providing support for mid-day meals for school students and patients in hospitals, financial aid to low-income families, etc.
In addition, the Miggy Foundation spends a lot annually to conduct sports tournaments for youth in Venezuela.
Similarly, she had an essential role in establishing the Miguel Cabrera Family Scholarship Fund in 2016.
During the recent Covid-19 crisis, Rosangel was busy working together with the Detroit Tiger Foundation to benefit children and their families in Detroit.
In addition to donating $250k to the cause, Rosangel and her husband provided meals, affordable childcare services, and facemasks to many families in the area.
Raisel Iglesias is a Cuban-born professional baseball player who plays as a right-handed pitcher for the Los Angeles Angels of the MLB. Click here to learn more about him!
Rosangel Cabrera Husband | Miguel Cabrera
Rosangel's husband, Miguel Cabrera, is a Venezuelan professional baseball player born on April 18, 1983, in Maracay to his parents, Miguel Sr. and Gregoria Cabrera.
Although his parents wanted their son to achieve a lot in academics, Miguel always wanted to be a great baseball player.
At just age 16, the Florida Marlins became interested in him and consequently signed Miguel as a free agent in 1999.
He spent the next four years playing in different baseball leagues in Venezuela and the United States.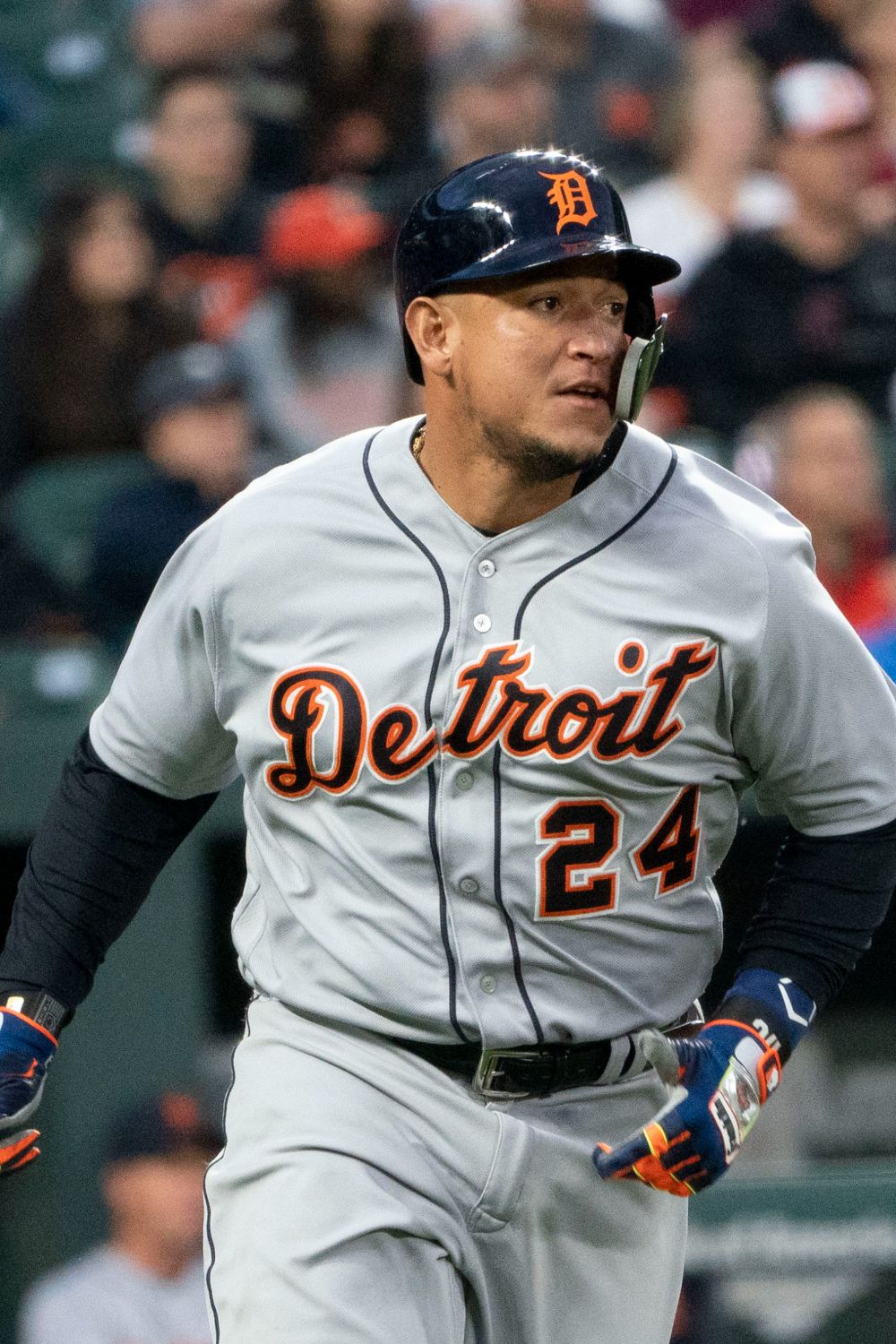 Eventually, on June 20, 2003, Miguel made his MLB debut for the Marlins when he was twenty.
His rookie season was a massive success as he became the World Series champion with his team that year.
After spending another four seasons in Florida, Miguel associated himself with another MLB team, Detroit Tigers.
His time with the Tigers has been fruitful for both him and the team as he helped his team reach new heights in the league, and he, too, has earned several accolades.
Cabrera has been an All-Star player twelve times, TWO-TIME MVP, and SEVEN-TIME Silver Slugger Award winner, among many others.
He received his MLB Triple Crown in 2012.
Considered one of the most significant Venezuelan players, Cabrera is still active in the MLB and wants to lead his team to win the title before his retirement, which sadly looks imminent.
Rosangel Cabrera | Relationship With Miguel
Marriage
Rosangel and Miguel first met in their hometown, Maracay, when they were thirteen.
Since they were in the same school, they developed a close friendship over the years and dated for many years before marrying on June 17, 2002.
They were only nineteen when Miguel returned from the United States to marry his longtime girlfriend, Rosangel Polanco, then residing in Venezuela.
The wedding ceremony was pretty grand for their place at that time, and a large number of people attended it.
However, Miguel returned to the U.S. to play the league games as he was busy making his way up to the top-tier MLB league then.
He debuted in the league almost one year after their marriage, and soon, Rosangel joined him, and they resided together in Florida for some years.
Children
The couple, now residing in Hollywood, California, has been blessed with three children, two daughters and a son.
Their eldest daughter was born in 2006, and they named her Rosangel after her mother.
Similarly, she gave birth to their second child, a son named Christopher Alexander, on August 25, 2011.
Chris has already grown quite well and plays baseball with great interest.
He likes following the league games and hopes that one day he will be a successful Major Leaguer like his father.
In addition, they have another daughter named Isabella, who was born a bit later than his son. Although the exact year of her birth is not disclosed, she celebrates her birthday on May 25 every year.
Miguel's Mistress & Divorce Rumors
In 2017, Rosangel filed for a divorce in court after discovering that Miguel had cheated on her with his mistress, Belkis Mariella Rodriguez, for a long time.
The renowned baseball player had fathered two children with Rodriguez.
However, Rosangel changed her mind and eventually considered living with her husband.
On the other hand, his ex-mistress, Belkis, took the matter to court concerning the child support amount he had been paying her and demanded it must be increased.
She had sued him for $100k per month for child support.
Cabrera provided $12,000 per month to Rodriguez before she dragged him to the court, but the court later ordered him to pay $20k for childcare.
However, citing his $30 million salary, Rodriguez expected around $25-$30k per month.
Social Media Presence
Twitter: @rosangel24
Frequently Asked Questions (FAQS)
What is Rosangel Cabrera's net worth?
There is no information about Rosangel's net worth yet. However, her husband, Miguel Cabrera, is one of the wealthiest active baseball players, with a net worth of around $125 million.
How many career hits does Miguel Cabrera have?
Miguel Cabrera already has over 3000 career hits and is still playing. The player has made it quite clear that he will not retire before his present contract with the Tigers expires, so he might increase the number.
Currently, he is one of the 33 players in MLB history to accomplish this feat.
You may also like to learn about the legendary American professional baseball player Babe Ruth, also considered the best baseball player, who starred in twenty-two seasons of the MLB until his retirement in 1953!