The Canadian professional ice hockey player Ryan Lomberg and his wife Marissa Moschella are expecting a second baby due September 2023.
Ryan Lomberg plays as a left winger for the Florida Panthers in the National Hockey League (NHL).
He, along with Matthew Tkachuk, Aaron Ekblad, Carter Verhaeghe, Brandon Montour, Zac Dalpe, and others, cruised their way to Stanley Cup after a clean sweep against Carolina Hurricanes in the Conference finals.
Loading ...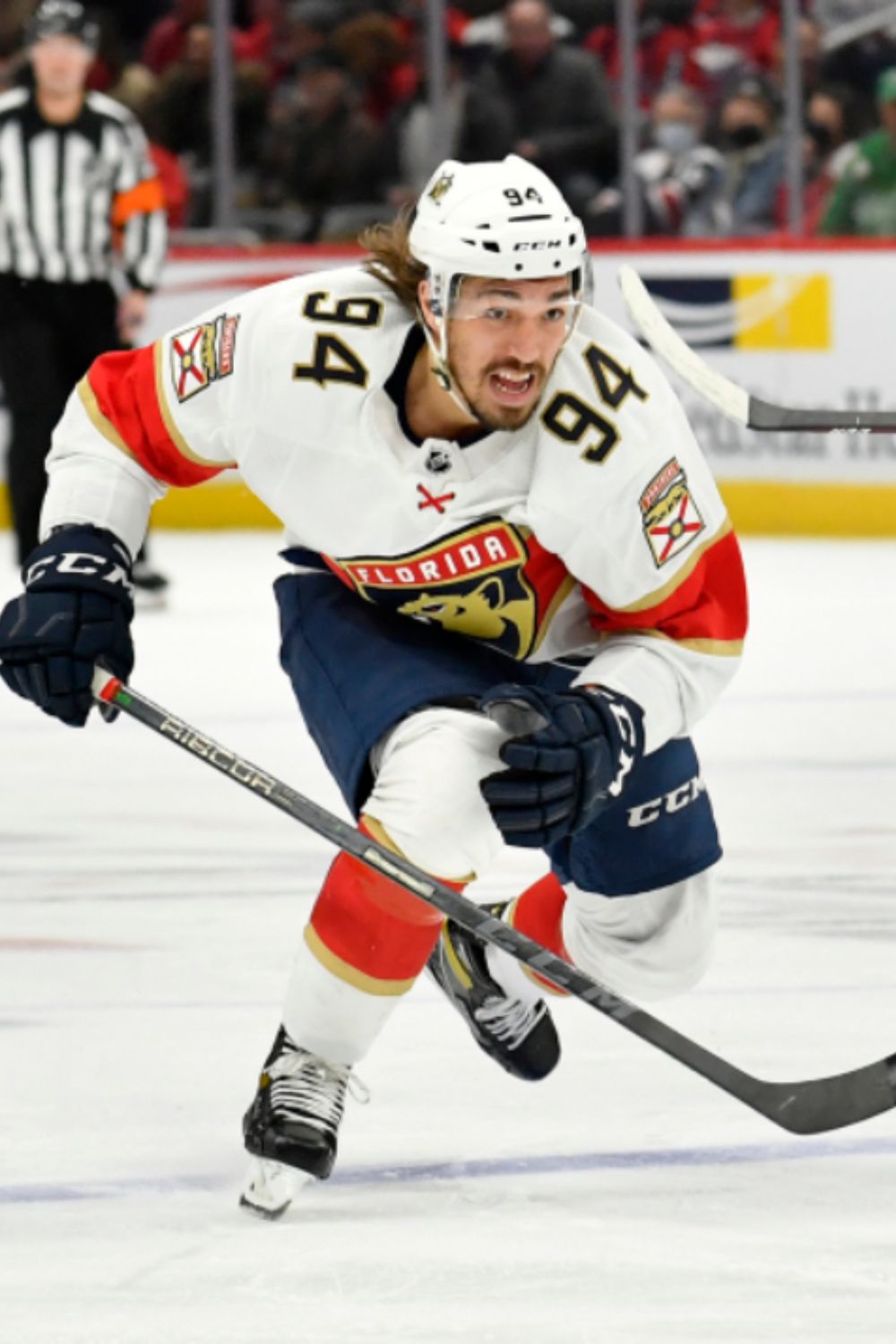 Ryan spent two seasons with the Stockton Heat in the American Hockey League before finally making his NHL debut on January 25, 2018.
The left winger played only eleven games in two seasons for the Calgary Flames.
On October 9, 2020, he signed a two-year contract worth $1.45 million with the Florida Panthers.
As of this writing, he has played in 171 games for the Panthers and scored 23 goals with 19 assists.
Marissa Moschella: Wife Of Ryan Lomberg
The Canadian-born player, Ryan Lomberg, is married to the love of his life, Marrisa Moschella (born: July 22, 1996).
Although when and how the couple met is still unknown, Marrissa posted a picture on Insta with Ryan for the first time, publicly revealing their relationship on May 24, 2021.
Just four months later, the ice hockey player got on his knees and proposed to his belle.
Marrissa uploaded the video on social media sharing the memorable moment on September 5, 2021.
In addition, the official NHL's Twitter page retweeted the video, congratulating the love birds.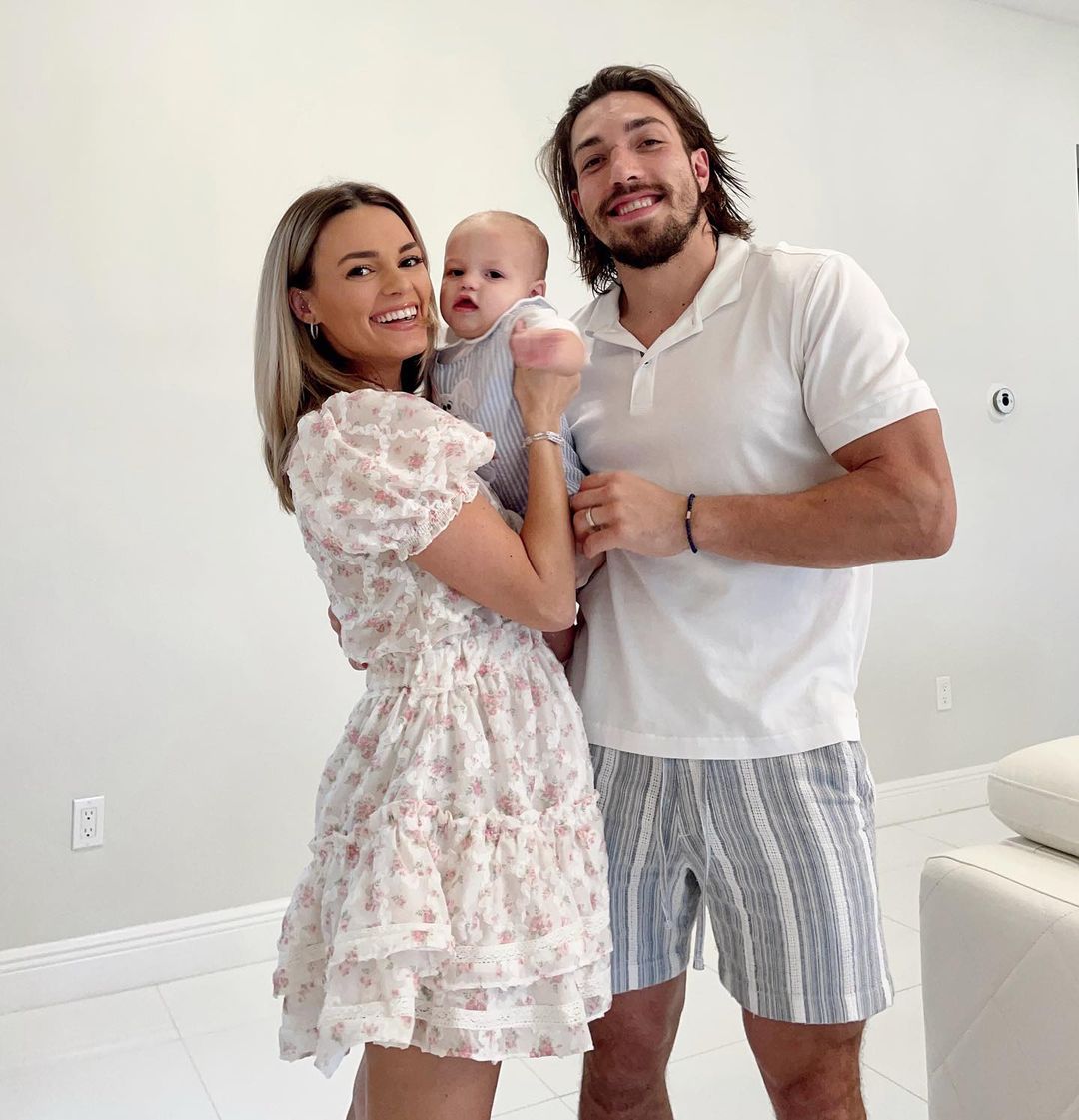 Although the wedding date is not disclosed to the public, the pair have already been married.
In an interview with Florida Hockey, Ryan Lomberg mentioned that his "wife" and family really love South Florida and would like that place to be his home after retirement.
Marissa has already taken her beau's surname on her social media, adding evidence of the duo being married.
They are blessed with a baby boy, Roman Lomberg, born on April 20, 2022. Marissa recently shared a series of pictures of the family celebrating Roman's first birthday.
The couple is expecting another baby, due September 2023, further adding happiness to the family.
Brief On Marissa Lomberg
Marissa graduated from the University of Maine in 2018, majoring in Childhood Development and Family Relations and minoring in dance.
Furthermore, she started cheering in high school and was a cheerleader during her college days.
Ryan's wife, Marrissa, has been working as a flight attendant at JetBlue since May 14, 2019.
Parents Of Ryan Lomberg
Ryan Lomberg was born to parents Lori and Trevor Lomberg in Ontario, Canada, on December 9, 1994.
The parents have been very supportive of Ryan's ice hockey career from his childhood.
According to his mother, Ryan started wearing a hockey jersey when he was three or four.
Furthermore, the parents traveled 13000 kilometers in 2018 to watch his game during his time with the Calgary Flames.
Unfortunately, Ryan did not get a chance to feature in that game.
Ryan's parents finally saw him playing live in Chicago for eight minutes and seventeen seconds.
Moreover, they have made it to Columbus, Memphis, Tennessee, to watch their son play ice hockey.