Ryan Reaves' brother Jordan Reaves plays for Edmonton Elks in CFL. Jordan is three years younger than his older brother Ryan.
Ryan Reaves is a professional ice hockey player right winger who began his NHL career with St. Louis Blues in 2005.
Since then, he has played for four other franchises, with Minnesota Wild being his latest one.
Unlike his younger brother and father, Willard Reaves, Ryan chose to pursue his hockey career.
With teammate Matt Dumba, Ryan is looking to lead his side to a victory against the Dallas Stars in the playoffs berth.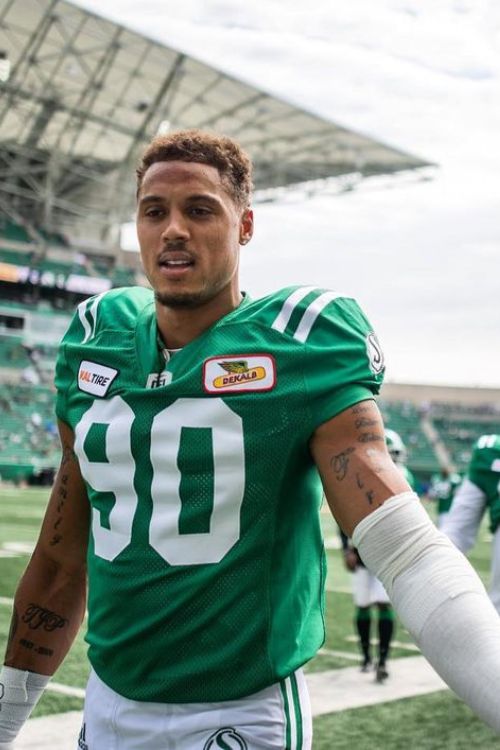 There came a time when the two brothers had gone their separate ways and chose to have no contact with each other.
But it all changed when the big brother decided to go an extra step and help his brother come out of a difficult situation.
Who Is Ryan Reaves Brother Jordan Reaves?
Ryan Reaves' brother Jordan Reaves plays football as a defensive lineman for Edmonton Elks in the CFL. He joined the Elks in 2022 as a free agent.
Jordan is the youngest child of Willard Reaves and Brenda Reaves, who was born on January 25, 1990. Besides Ryan, Jordan has another sibling, Regina Reaves, an older sister.
Jordan Reaves is said to be the most talented athlete in his family. And we didn't claim that, but his father said in an interview with The Athletic.
Jordan's athletic prowess was on display from a young age. There weren't any doubts he would make it big time. But during his teenage years, he strayed away from his path.
During this phase, he was charged with possession of a weapon and cocaine, and drug trafficking.
He grasped his focus in life after he was acquitted of the drug charges due to a lack of evidence.
Initially, Jordan was into basketball and played for the Brandon University Bobcats men's basketball team from 2010-2014.
He started playing football professionally with the Winnipeg Blue Bombers of the CFL and later played with Saskatchewan Roughriders before joining the Elks.
Jordan is available on Instagram with the username @jreaves10 and shares pictures from his game days and that of his family members.
Ryan And Jordan Come From A Family With Sporting Background
Ryan Reaves comes from a family with a legacy in football. The Wild's right winger almost changed his career, but in the end, he stuck with hockey.
Ryan, Jordan, and their elder sister were raised by their famous dad, Willard Reaves, and mom, Brenda.
In their joint interview with The Athletic, the two brothers said their father didn't force them toward one sport. But was always critical of their performances.
Ryan and Jordan enjoyed the competitive spirit of their father. Many of Ryan's teammates have said they see the fierce spirit in Ryan whenever he is on the ice.
After being a household name in football in 1990, Willard joined the local sheriff, and in 2021, he decided to be involved in politics.
Though he lost to former CFL player Obby Khan in the 2022 election, Willard hasn't lost hope in his political career.
Talking about Ryan's married life, he tied the knot with his longtime partner, Alanna Forsyth, in 2017.