Born in the land of Karate, Ryo Kiyuna, with a net worth of $3 million as of 2021, is highly tipped to bag most of the men's kata gold.
Ryo is an undeniable champion who has proved his worth with every championship.
He has graced in the Kata discipline with three world championship titles to his name in 2014, 2016, and 2018 earning himself a spot at Guinness World Records.
Not only that, Ryo is a two-time gold medalist in the men's team Kata event. Also, he is a four-time gold medalist in both the individual and team kata events at the Asian Karate Championships.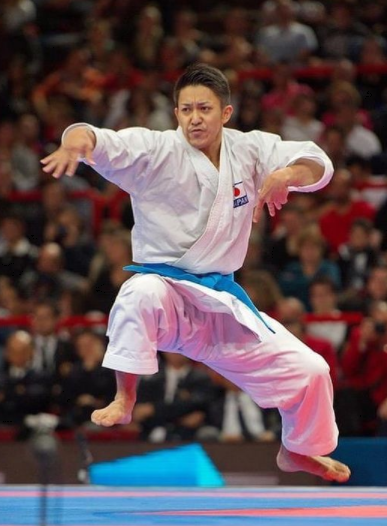 Supersribing his acuteness, strength, speed, rhythm, and balance, Ryo was also assigned to represent Japan at the 2020 Summer Olympics in his home country, Tokyo, Japan, in karate. The event would now be held from 23 July to 8 August 2021.
Now, let's get into quick facts that will help us provide a better understanding of him.
Ryo Kiyuna | Quick Facts
| | |
| --- | --- |
| Full Name | Ryo Kiyuna |
| Date of Birth | 12 July 1990 |
| Birth Place | Okinawa, Japan |
| Nick Name | Not Available |
| Religion | Not known |
| Nationality | Japanese |
| Ethnicity | Not known |
| Zodiac Sign | Cancer |
| Age | 32 years old |
| Height | 1.7m (5'5″) |
| Weight | Not Available |
| Hair Color | Black |
| Eye Color | Black |
| Build | Athlete |
| Father's Name | Name not available |
| Mother's Name | Name not available |
| Siblings | Name not available |
| Education | Okinawa National University |
| Marital Status | Single |
| Girlfriend | Not known |
| Profession | Japanese Karateka |
| Country | Japan |
| Event | Individual Kata, Team Kata |
| Coach | Tsuguo Sakumoto |
| Total number of medals | 19 |
| Net Worth | $3 million |
| Social Media | Not available |
| Merch | Karate Gi, Karate Gear |
| Last Update | June, 2023 |
Ryo Kiyuna Net Worth and Income
For the kind of severe position that Ryo has been holding in the world of karate, it is not one-night magic.
He has worked desperately from a very tender age of five, where he caught the interest in Karate after getting inspired by a kindergarten friend.
Well, it won't be wrong to predict that most of the earnings that Ryo has made consecutively must be from the floors of Karate.
He acts magic when it comes to the solo demonstration of karate self-defense moves and his air splitting punch.
For eight years, from 2012 to 2019, Ryo has ruled the All Japan Karate Championship, breaking the longest winning run record in the competition's history. And that's an obvious outcome from him.
Not to mention, Ryo has been listed under the top Five karatekas to watch out for at the Tokyo Olympics, along with Sandra Sanchez (representing Spain) by reuters.com.
Not to mention, Ryo has also taken up the "Ryumai" or traditional Okinawan dance into his program and also absorbed the eye movement of lions and tigers just because he believes looks can kill in kata.
Unbelievable, isn't it? How can someone think from every angle, from moves to looks, in the relentless pursuit of perfection?
It is also said that Ryo holds a spark to defeat his competitor by a large margin of more than 1.0 points in every match.
The Top 20 Richest MMA Fighters in the World >>
The latest Athlete got featured on the World Karate Federation
Aligning with the online sources, the three-time gold medalist Ryo Kiyuna headed the "Learn Karate With" session on the World Karate Federation's Instagram page amid the preparations for the postponed Tokyo 2020 Olympics.
Ryo basically allowed his trainees to focus on "Kihon" and "Anan" kata. He demonstrated the whole moves in order to enlighten the entire Karate community around the world with his variations of techniques.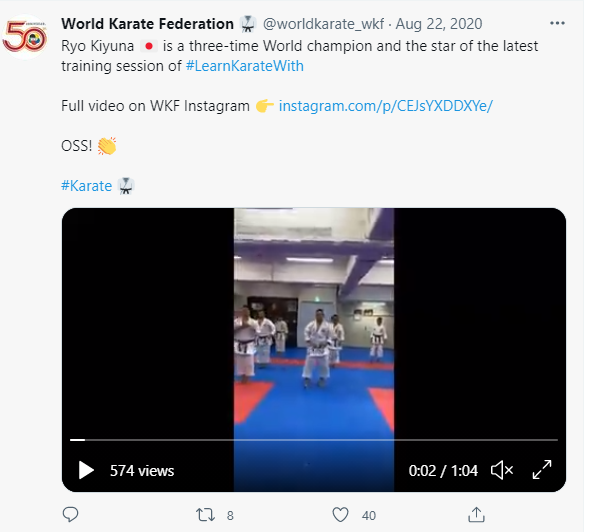 The online Karate session was launched whilst the Covid-19 pandemic spread peace and positivity and let the Karate vibes remain alive.
Ryo presented the session from his dojo in Okinawa in Japan and his seniors and a few of his teammates from Japan's male kata team.
Additionally, previous sessions were hosted by Antonio Diaz of Venezuela, Luca Valdesi of Italy, Douglas Brose of Brazil, Nguyen Hoang Ngan of Vietnam, and Vicky Panetsidou of Greece.
Additionally, there is not much information about this, but Riyo was also teaching Kihon Kata at Karate Science Academy.
How does Ryo maintain a remarkable level of energy to date?
All these years of sweat and sacrifice have turned out to be the best for him, but how did he do it all alone, or does he credits someone for guiding him out?
Yes, Kiyuna had an all-time coach to serve him during his heydays. His coach cum trainer, Tsuguo Sakumoto, acted as a guide and a holy healer.
Kiyuna used to work with him from late in the morning until mid-afternoon and then again in the evening after practicing some physical training.
He met Sakumoto when he was thirteen, and since then, the journey of learning and achievements began after joining Sakumoto Karate Academy.
Like Kiyuna, Sakumoto has also bagged three consecutive Karate World Championships as well as two World Games in a row. He also earns himself a spot at Guinness World Records. Like Coach, like Student.
Read, Apolo Ohno Bio: Net Worth, Olympic Medals & Mother >>
Net Worth of Ryo Kiyuna in Different Currencies
Now, let's have a glance into Ryo Kiyona's net worth in different currencies, including the cryptocurrency BitCoin.
| | |
| --- | --- |
| Currency | Net Worth |
| Euro | €2,522,175 |
| Pound Sterling | £2,167,995 |
| Australian Dollar | A$3,997,335 |
| Canadian Dollar | C$723,495 |
| Indian Rupee | ₹223,159,500 |
| BitCoin | ฿86,6769 |
Ryo Kiyuna Net Worth | Lifestyle
Although he started working on his career from a very early age of five. It took a lot of hard work and dedication to go on and win his first world championship in 2014.
Ryo was all set to do things and make both name and fame on his own. But somewhere, he was not satisfied with the win at the 2014 All Japan Karate Championship.
Thus, he was all after sharpening his awareness.
And to date, Ryo still strives harder to sustain the name and fame and maintain the lifestyle of his dreams.
Furthermore, Ryo also states his wishes to be the first Okinawan to win an Olympic gold medal. He wants a long array of winning titles in his life.
Workout Schedule
Ryo's daily routine starts with a workout and ends with a workout. It is like his life is all about practice, practice and practice. No more laziness evolving around him.
According to him, Ryo does not even take a day off in 365 days. He practices his kata under Sakumoto's observant eye. He plans his schedule in the evening to practice extra work-out with some weight-lifting.
Speaking of Kata, it includes a series of Tsuki and Keri defensive motions against a fictional opponent. The scenario of practicing Kata should be so realistic that the judges should feel or see when the opponent is defeated.
To grab this height of realism, the performer should fully understand the process with ease, attention, and conviction. Each thrust, each kick should be real enough.
Ryo Kiyuna Net Worth | Achievements
Initially, during his elementary school and high school, Ryo played both baseball and karate for fun.
But it was after his graduation, he took things seriously and stepped into the ventures of achievements. Competing domestically and slowly taking it to an international stage.
Bronze in the 2012 World Karate Championship at Individual Kata (Paris, France)
Bronze in the 2012 World Games at Individual Kata (Cali, Columbia)
Silver in the 2013 World Combat Games at Individual Kata (Saint Petersburg, Russia)
Bronze in the 2013 Adian Championships at Individual Kata (Dubai, United Arab Emirates)
2014 World Championships at Individual Kata (Bremen, Germany) – Gold
2015 Asian Championships at Individual Kata (Yokohama, Japan) – Gold
2016 World Championships at Individual Kata (Linz, Australi) – Gold
2017 Asian Championships at Individual and team Kata (Astana, Kazakhstan) – Gold
2017 World Games at Individual kata (Wrocław, Poland) – Gold
2019 Asian Championships at Individual and team kata (Tashkent, Uzbekistan) – Gold
2018 Asian Championships at Individual and team kata ( Amman, Jordan) – Gold
2018 World Championships at Individual kata (Madrid Spain) – Gold
Asian Games in Jakarta, Indonesia – Gold
Ryo Kiyuna | Personal Life
Well, Ryo is quite a private person. Nothing about his relationship status, family, siblings have been disclosed yet.
Facts
Kiyuna used to play baseball when he was in elementary school. However, it was in high school that he thought of taking Karate seriously.
Ryo is a degree holder in English Literature from Okinawa National University. He graduated at the age of 22.
Quotes
"I want my name as part of the long history of karate. I want to rewrite history".
"The only adjustment I have to make is me – readjust my mind and body for the year ahead."
"I don't feel nervous about it or anything. I can't wait to compete, and I believe I can win it."
Ryo Kiyuna | FAQ
Who is Ryo Kiyuna dating?
There are no rumors about Kiyuna being in a relationship. Being a private person, Ryo might be dating someone and not letting the details out. Otherwise, the things might be another way around.
Ryo Kiyuna | Social Media Presence
Well, it does not feel good to put it down here, but we cannot catch this Japanese star on the social media. He is not available at all.
However, Ryo must be vigilant to fulfill his duties as a player and must be preparing hard for the Tokyo Olympics 2020, which was delayed due to the coronavirus outbreak.
Ryo does have a fan page on Instagram and Facebook. So, if you want to have any updates about him, you can surely follow the page.
Instagram- @ryo_kiyunaa with 52.9k followers.
Twitter- @ryokiyuna with 5.8k followers.