Tamina Snuka is the ring name of Sarona Moana-Marie Reiher Snuka-Polamalu. She has been an American professional wrestler, actress, mother, and member of the WWE roster for over a decade. Significantly, the former 24/7 Champion is a second-generation professional wrestler. You may have heard her name as the daughter of the famous wrestler Jimmy Snuka.
Tamina currently features under the SmackDown brand at World Wrestling Entertainment. Besides, she has appeared as a cameo actor in the blockbuster Hercules with Dwayne "The Rock" Johnson.
Tamina has got some muscle among the WWE female superstars. The mother of two daughters began her wrestling career in 2009.
Undoubtedly, Tamina is a tough woman. Likewise, she has given her rivals sour defeats or at least demanding competitions. Accordingly, the 45 years old could be an inspiration for many women seeking a career in any field.
We have prepared a brief article depicting a summary of her career and accomplishments. Let's unravel all the facts.
Quick Facts
Full Name
Sarona Moana-Marie Reiher Snuka-Polamalu
Birth Date
January 10, 1978
Birth Place
Vancouver, Washington, United States
Nickname
Tamina Snuka
Religion
Christianity
Nationality
American
Ethnicity
White
Zodiac
Capricon
Father's Name
Jimmy Snuka
Mother's Name
Sharon Georgi
Siblings
One brother & Two sisters
Brother
James Snuka
Sister
Liana Snuka

Ata Snuka

Age
45 years old
Height
5 feet 9 inches (175 cm)
Weight
77 kg (170 lbs)
Build
Athletic
Eye color
Dark Brown
Hair Color
Dark Brown
Profession
Professional Wrestler

Actor

Active years
2009-present
Marital Status
Divorced
Ex-Husband's Name
Brandon Polamalu (m. 1995-2003)
Children
Two Daughters
Daughters
Milana

Maleata

Net Worth
$1 million
Salary
$200,000
Social Media
Twitter, Instagram
Last Update
November, 2023
Tamina Snuka: Early Days And Family
Tamina was born in Vancouver, Washington, on January 10, 1978. Notably, she is the daughter of James Reiher Snuka and his first wife, Sharon Georgi. Besides, James "Deuce" Snuka is her adopted brother. Also, Milaneta and Maleata are her sisters.
Jimmy is one of the celebrated wrestling personalities of the early 1980s. Indeed, you may very well know James by his ring name, "Superfly" Snuka.
He was inducted into the WWF Hall of Fame as a class of 1996. Her brother, James, with the ring name Deuce, is also a professional WWE wrestler.
Early Career
Tamina was awarded the first Lia Maivia Scholarship. Consequently, Bret Hart started training her at the Wild Samoan Training Center in Millola, Florida.
Simultaneously, she was involved in professional wrestling there. Eventually, Tamina was billed from The Pacific Islands.
Tamina Snuka: WWE Career
Debut And Early days
Snuka debuted on May 24, 2010, at Raw, adopting the ring name Tamina. She was featured as a villainous character in the episode with Jey and Jimmy Uso. She attacked The Hart Dynasty of David Hart Smith, Tyson Kidd, and Natalya.
In a six-person mixed-tag team match at Fatal 4-Way in June, Tamina and the Usos were defeated by the Hart Dynasty.
However, Tamina made her solo debut two weeks later against Natalya. But The Nexus interrupted the match. Consequently, the game was declared void.
Divas
Also, in September, she lost against Natalya. The game was to decide the contender for the WWE Divas Championship. Later, she teamed with Alicia Fox and Maryse in September for a Diva Cup Match.
However, they lost the game against Eve Torres and The Bella Twins. Soon, they again fought in a six-Diva tag team match against Natalya, Gail Kim, and Melina.
On-Screen Relationship
Tamina engaged in an on-screen relationship with Santino Marella. She began to accompany him and his partner Vladimir Kozlov.
The on-screen couple kissed on the December 6 episode of Raw. They won the match against Maryse and Ted DiBiase Jr. However, they lost the tag team match against The Usos in January.
SmackDown
SmackDown signed her in the 2011 supplemental draft. Again, Tamina debuted as a villain on May 27. She teamed with Alicia Fox in the match, defeating AJ and Kaitlyn. However, they were defeated in a six-Diva tag team match. The loss came against AJ, Kaitlyn, and Natalya.
Later, she began on-screen relationships with JTG. After a few weeks, Tamina challenged Beth Phoenix for the WWE Divas Championship.
But she was defeated at the Elimination Chamber. She suffered a back injury. Consequently, she was sidelined for three months.
AJ's Bodyguard
Divas Champion AJ Lee gave Tamina the role of her bodyguard in WWE. Consequently, Tamina assisted AJ in retaining her title against Nikki Bella and Natalya.
However, their relationship became cold after AJ's title-defending match. It was against Cameron Lynn in February 2014. Tamina accidentally kicked AJ during the game, resulting in her title loss.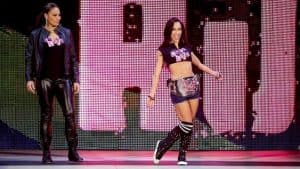 Soon, Tamina debuted in WrestleMania at WrestleMania XXX. The game was for the WWE Divas Championship. She accompanied AJ Lee against Vickie Guerrero. There AJ defended her title.
Raw Return
Tamina returned with her previous ring name to Raw in May 2015. Next, she won against Brie Bella in her return match. Later, she lost in the Divas Championship against Nikki Bella in July. The triple threat match also featured Paige at The Beast in the East.
The B.A.D. Team
Tamina, Naomi, and the NXT Women's Champion, Sasha Banks, teamed to form an alliance called Team B.A.D. Moreover, it was an acronym for Beautiful and Dangerous. The coalition was named and introduced by Stephaine McMahon.
Also, a triple-threat match at Battleground featured Banks from Team B.A.D., Charlotte of PCB, and Brie Bella from Team Bella. Charlotte, the daughter of Rick Flair, won the match.
Later, Banks departed from the team in early 2016. As a result, there were several feuds between the three. Notably, Banks defeated the other two with her new partner. Eventually, Tamina suffered knee surgery. Consequently, she was sidelined from the ring.
SmackDown Return
Soon, Tamina recovered from the injury. Then, she returned to the ring. The return was a tag-team match at the SmackDown event.
Notably, she had teamed with Natalya to defeat Alexa Bliss and Carmella. Again, Tamina, Carmella, and Natalya teamed in a six-woman tag team match at Backlash. They defeated Charlotte, Naomi, and Becky Lynch.
Similarly, Becky eliminated Snuka in a five-way elimination match at Battleground in July 2017. Notably, the victory in the game secured a place in the SmackDown Women's Championship. Again, she faced an injury and underwent surgery in early 2018.
Championship Pursuits
Tamina took part in the women's battle royal set for WWE Revolution. At the competition, Ember Moon eliminated her at last. Later she defeated Moon at Raw in November 2018. Explicitly, this was her first solo victory on Raw.
Snuka defeated Carmella in July 2019 at Hell in a Cell. Notably, this win resulted in the 24/7 Championship for her. Significantly, this was the first championship of her career. That came late but sweet.
SmackDown Women's Championship
Tamina challenged Bayley for a SmackDown Women's Championship title match. First, Tamina had to defeat Sasha Banks to compete for the title. Accordingly, she did that. However, she lost the title match at Money in The Bank.
Tamina Snuka: Titles And Accomplishments
During her early days in 2012, Pro Wrestling Illustrated rated her 19 on the list of top 50 female wrestlers.
Also, the WWE 24/7 Championship is her only title. Furthermore, she was listed as No. 22 in the top 30 female wrestlers in 2018 by Sports Illustrated.
Besides, Tamina has got the Worst Feud of the Year 2015. Also, she had the Worst Worked Match of the Year in 2013. Wrestling Observer Newsletter awarded both of the titles.
With numerous honors in her name, Tamina is the oldest female wrestler in the ring. Also, she is the only female wrestler over forty but hasn't been able to make a big impact yet.
When her contract expires, she won't be re-signed in the ring.
Tamina Snuka: Films And Shows
Amazingly, Tamina was cast for a cameo role in the 2014 3D action-adventure movie Hercules. She worked alongside former WWE superstar Dwayne "The Rock" Johnson. Brett Ratner directed the film.
In addition, she appeared in the reality television series Total Divas. She was a guest in seasons 2 and during seasons 5-9. Also, she played a guest role in the wrestling reality series WWE Tough Enough in 2015.
Tamina Snuka: Husband And Children
Snuka was married to Brandon Polamalu in 1995. During their time together, the couple gave birth to two daughters, Milaneta and Maleata.
The couple had spent time together for almost a decade. However, the relationship could not sustain itself beyond 2003, when they divorced.
Tamina became single a long time ago. It was even before she began her professional wrestling career. Also, there were rumors about her relationship with Darren Young. But those speculations turned out to be false later.
Currently, Tamina claims that she is not in any relationship affairs. Accordingly, no such rumors are heard. Besides, she is much more focused on her in-ring performance.
Tamina Snuka: Net worth And Salary
Snuka has been involved in professional wrestling for over a decade now. Accordingly, she accumulated some significant sums of fortune during that time. Also, she makes pretty good earnings from wrestling video games.
As of 2023, Tamina Snuka's net worth is estimated to be $1 million.
Besides, Tamina earned $80,000 in 2018 from WWE. Some sources report that currently, she earns $200,000 annually. She will undoubtedly make more as she has established herself in the ring. Moreover, Tamina lives a comfortable and luxurious lifestyle.
24/7 Championship Pursuits (2021-2022)
Tamina lost the WWE 24/7 Championship to Dana Brooke on the January 3 episode of Raw in a mixed tag team bout featuring Reggie and Akira Tozawa.
Then, in various backstage scenes, Tamina, Tozawa, and R-Truth spent months attempting in vain to defeat Reggie and, eventually, Dana Brooke for the championship. However, during a double wedding ceremony on the April 18 episode of Raw, Tamina wins the tournament before losing it to her spouse, Tozawa. Later that month, she filed for divorce because he could not assist her in winning the title.
Allegiance With Dana Brooke (2022-Present)
After engaging in a protracted conflict for the WWE 24/7 Championship with Dana Brooke, the two started working together. A tag team competition to choose new champions was announced on the Smackdown program on August 5. On the Raw broadcast on August 8th, Tamina and Brooke were introduced as a team.
Iyo Sky and Dakota Kai prevailed in the opening round, defeating Tamina and Dana Brooke. After Gigi Dolin and Jacy, Jayne defeated Natalya and Sonya Deville in round one of the women's tag team tournament on the August 22 episode of Raw. It was revealed that Tamina and Dana Brooke would compete in a Second Chance Fatal Four Way to re-enter the competition.
Tamina Snuka: Social Media
There are a lot of fans that will reach out to Tamina on her social media accounts. She actively uses Instagram and Twitter as her social media handles.
Instagram: 674K Followers
Twitter: 561.5K Followers
Tamina Snuka: Common Queries
Which video games does Tamina Snuka feature?
Tamina Snuka features in wrestling video games. As of now, she has appeared in six of the WWE video game series. WWE 2k15 was her first; others are all the series until now. They include WWE 2K16 to WWE 2K20.
Are Tamina Snuka and The Rock related?
Tamina Snuka belongs to the Anoa'i family, a family of professional wrestlers. The Rock and his grandfather Peter Maivia are the honorary members of the family.
Are Tamina Snuka and Roman Reigns related?
Tamina Snuka and Roman Reigns belong to the same family of professional wrestlers. It is the Anoa'i family.