Death is not the end. If you contribute to making something remarkable while alive, you'll not vanish with your physical expiration.
Big Boss Man left this world 16 years ago but is still loved, cherished, and remembered by the wrestling sector and wrestling fans worldwide.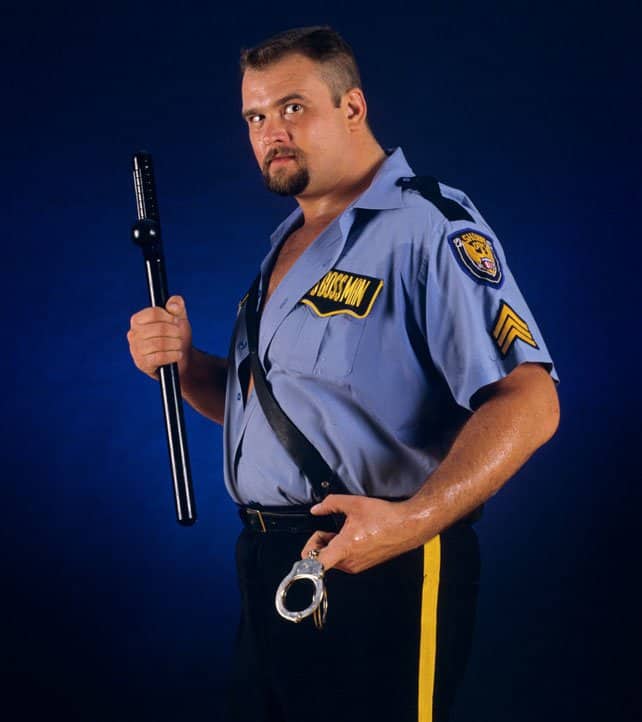 Ray W. Traylor Jr., popularly known as Big Boss Man, is usually known for his World Wrestling Federation (WWF) appearance. He was associated with various other wrestling tournaments as well.
He had a successful career, indeed. But money and fame could not stop his death. Today, we will be discussing everything from his early life and career to his death and legacy.
Big Boss Man's Quick Facts
Full name

Raymond Washington Traylor Jr.

Ring names

Big Boss Man, The Boss, The Man, The Guardian Angel, Big Bubba Rogers, Ray Traylor, and War machine.

Birthdate

May 2, 1963

Birthplace

Marietta, Georgia, United States of America

Death

September 22, 2004 (at the age of 41)

Place of death

Dallas, Georgia, United States of America

Cause of death

Heart attack

Religion

Christian

Nationality

American

Horoscope

Taurus

Father's name

Not known

Mother's name

Not known

Wife's name

Angela Traylor

Children

2 daughters (Megan Chyanne Traylor and Lacy Abilene Traylor)

Height

6 feet 6 inches (1.98m)

Weight

305 lbs. (149 kgs)

Eye color

Brown

Profession

Wrestler

Trained by

Ted Allen

Debut

1985

Signature outfit

Cop uniform

Finishing moves

Boss Man slam, also known as Bubba Slam, Traylor Trash, and Side Slam (while spinning).

Water-Wheel or Double leg Slam

Signature moves

Bearhug, Backbreaker, Enzuigiri, Powerbomb, Spinebuster, Bolo Punch, etc.

Managers

Slick, Jimmy Hart, Skandor Akbar, Baby Doll, etc.

Affiliations

WWF/WWE, World Championship Wrestling, International Wrestling Association of Japan, etc.

Life before wrestling

Prison guard

Salary

$1,000,000 annually

Net worth

$2.5 million

Merch

Wrestling Cards
Last Update
November, 2023
Big Boss Man – Early life
Ray W. Traylor was born on May 2, 1963, in Georgia, United States. Traylor did not disclose much information relating to his parents. Likewise, much information associated with his childhood and education is not known.
Life Before Wrestling
The Boss Man worked as a prison guard before entering the world of wrestling. Precisely, he was a corrections/correctional officer for Cobb's County Sheriff's Office. He finally left his job as a prison guard in 1988, 3 years of wrestling debut.
Moreover, he used to dress like a cop in tournaments. His early profession must have influenced his signature dress.
Big Boss Man – Debut and World Heavy Weight Championship
The Georgia native had his debut in 1985.
He first worked for Jim Crockett Promotions under the name Raymond Traylor. The same institution hired Ray W. Traylor as a silent bodyguard under the name Big Bubba Rogers for wrestling personality Jim Cornette.
He received significant visibility within the wrestling environment in less than a year. Consequently, the producers offered Boss Man to wrestle with top wrestling fame, Rhodes, in a series of Bunkhouse Stampede tournaments in 1986. Traylor didn't win the final match but created a tie with Rhodes initially.
Traylor joined the Universal Wrestling Federation (UWF) in 1987. That is where he won the title of World Heavy Weight Champion from One Man Gang. He then dropped the title and chose the World Wrestling Federation (WWF) over UWF.
People of today recognize World Wrestling Federation (WWF) by its new name, World Wrestling Entertainment (WWE). In 2002, they renamed the institution.
Click Tamina Snuka Bio: WWE, Net Worth, Affair, Kids, Insta Wiki to know about WWE fame Tamina Snuka.
Big Boss Man – World Wrestling Federation (WWF)
Boss Man got associated with WWF in 1998. The Big Boss Man, his most profoundly used ring name, was used to introduce him.
He portrayed himself as a heel, also known as the antagonist or the bad guy in the wrestling world. Boss Man's ritual of handcuffing the defeated opponent to the ring rope and then battering them made him distinct.
He had a hit WWF debut where he defeated Koko B. Ware. His attack on Hulk Hogan on Brother's Love interview segment made his bold mark on WWF.
The Twin Towers (with Akeem)
The collaboration with Akeem helped Boss Man flourish in his WWF career. The duo, usually known as The Twin Towers, had several feuds with other wrestlers. Their win over The Rockers (Shawn Michaels and Marty Janetty) at WrestleMania V is a classic.
The Big Bossman, Slick, and Akeem #TheBigBossman #RayTraylor #BigBubba #DrOfStyleSlick #ReverendSlick #Akeem #OneManGang #WWF #ProWrestling #ClassicProWrestling #Wrestling #WWE #ProWrestlingLegends #OldSchoolProWrestling pic.twitter.com/YtF7L9eFLM

— Midnight Rider Fan (@M_NightRiderFan) June 27, 2020
After 1990, the duo wrestled with each other. Big Bubba Rogers defeated Akeem in less than two minutes at WrestleMania VI.
Important WWF Incidents
In early 1990, Ted DiBiase had paid Slick, who managed Big Bubba, to make Big Bubba take away and grasp Jake, The Snake Robert's belt from his bag. The bag also had Jake's python.
In contrary to the offer, Big Bubba returned the bag along with the python to Jake Roberts. He further refused to give Ted DiBiase his Million Dollar Championship belt back.
This incident established Ray Traylor as the fan's favorite. Therefore, Big Bubba Rogers was undoubtedly a man of morals.
After 1990, Traylor brought an end to his handcuffs and battering ritual.
In 1992, Big Boss Man and Naliz got indulged in a feud. Kevin Wachloz (Naliz) and Boss Man had an old rivalry. Wachloz claimed that Boss Man abused him during his imprisonment days.
He expressed vindictive emotions. Wachloz, ready in orange prison uniform, attacked Boss Man. He then handcuffed Boss Man and battered him with a nightstick.
However, the situation flipped when Boss Man defeated Naliz in a Nightstick on a Pole Match at Survivor Series.
Boss Man's Ties with Hogan
Boss Man was perplexed (a wrestling move) by Hogan off the cage's top, which eventually ended their grudges. It took place in the series of steel cage matches, which happened at Saturday Night's Main Event.
Boss Man got on the same team with his long-run opponent Hogan, Jim Duggan, and Tugboat at the 1990 Survivor Series. The gang defeated John Tenta's team.
When Big Boss man's mother was insulted by Heenan.
Heenan insulting Boss Man's mother is the only time in Boss Man's career when there has been a mention of his mother. Bobby Heenan insulted Boss Man's mother. Big Boss Man eventually builds dominance over The Heenan family as an act of revenge.
Big Boss Man – All Japan Pro Wrestling
Boss Man entered the All Japan Pro Wrestling in 1993 under his already popular ring name Big Bubba. He specifically indulged in tag matches. Moreover, he defeated many famous wrestlers in singles matches.
Big Boss Man – World Championship Wrestling
Ray Traylor had his World Championship debut in December 1993.
He introduced himself as The Boss initially. His former venture, WWF, filed a legal suit regarding the similarity between The Boss with Big Boss Man. Therefore, he renamed his ring identity The Guardian Angel. However, his uniform didn't change much.
He went back to his antagonist personality and changed the ring name to Big Bubba Rogers. The Big Bubba participated in several matches against Rick Rude, Big Van Vader, and Sting.
Dungeon of Doom and The New World Order (NWO/nWo)
The Dungeon of Doom and The New World Order are the wrestling stables or wrestler's groups within World Championship Wrestling.
Big Bubba first joined The Dungeon of Doom around 1996. He had his fight with John Tenta and Glacier, who had associations with the same wrestling stable.
He moved to nWo from The Dungeon of Doom at the end of 1996. Traylor had hard times in nWo as he was temporarily paralyzed and got fired. He later returned with a bang, defeating Scott Hall, Curt Hennig, and Vincent.
Ray W. Traylor lost his final World Championship Wrestling match to Bill Goldberg. He then refrained from participating, enabling his contract to expire.
Big Boss Man – Return to WWE/WWF
Traylor finally returned to WWF with a cult-favorite name, Big Boss Man. He switched to a new smart look, i.e., an all-black uniform that resembled the one used by SWAT. He looked more polished with a bulletproof jacket and gloves.
Bubba Rogers got recruited on Vincent McMahon's heel stable and The Corporation. He had his hands on the role of bodyguard for other members as well.
Do you want to know about the life of Vincent McMahon's daughter Stephanie McMahon? Click Stephanie McMahon Bio: Age, Height, Family, Career, Achievements, IG Wiki.
He won the Team Tag Championship with Kem Shamrock and the Hardcore Championship four times during his association with The Corporation. On the contrary, he lost to Undertaker at WrestleMania XV and was illusionary made to hang on the roof of the cage.
You can watch the biography of the Great Undertaker at Undertaker Net Worth: Bio, Salary, Endorsements, House, Cars, Lifestyle.
Memorable Incidents after his WWF Revival
Traylor wrestled with Al Snow, dragging the man's pet Chihuahua, Pepper as well. Boss Man abused Pepper before the match.
He later kidnapped the Chihuahua. He further created an illusion of feeding Pepper's meat to Al Snow. Snow and Boss Man supposedly settled, and both of them subsequently won the title of Hardcore Champion.
Boss Man's feud with the Big Show (Paul Donald) is equally controversial and memorable. Boss Man not only verbally abused Big Show's father at his funeral but also made his mother regard her son as a bastard.
Click Bess Katramados Bio: Age, Height, Big Show Wife, Net Worth Wiki to watch the biography of Big Show's wife.
Big Boss Man – Towards the end of his wrestling career
Traylor had a monumental 2000 Royal Rumble Match entrance, defeating Rikishi, and Chyna, and Farooq. The Rock later eliminated him.
Boss Man mostly wrestled with Jakked and Heat instead of attending WWF's television shown around 2000. He feuded with Crash Holly, leading himself to a severe injury in January 2001.
He chose to return and had a few matches afterward. However, he lost his final tournament to Tommy Dreamer.
He got his release from WWE in 2003. Anyway, he trained developmental wrestlers in Ohio Valley as his last wrestling assignment.
International Wrestling Association of Japan
Raymond W. Traylor participated in a tournament within the International Wrestling Association of Japan as his final venture.
The International Wrestling Association of Japan Heavy Weight Championship was the full name of the tournament. He was a finalist in the match. However, he lost to Jim Duggan in the finals.
A summary of Ray W. Traylor's wrestling career is also available.
Big Boss Man – Theme
Here's a clip of Big Boss Man's second theme song, 'Hard Times.'
Big Boss Man – Wife and children
Ray W. Traylor was married to Angela Traylor. They had connections since childhood and also had a relationship before marriage. Though we could not find precise details, the marriage happened after 1989, as per the sources.
Ray W. Traylor and Angela Traylor had two daughters: Megan Chyanne Traylor and Lacy Abilene Traylor. The Traylor girls lost their father before experiencing adulthood.
Big Boss Man – Salary and Net worth
While alive, Traylor received a striking salary of $1,000,000 annually. He was indeed a WWE superstar in the late '80s and all of the '90s.
Big Boss Man's net worth is estimated to be $2.5 million.
Big Boss Man – Autograph
Boss Man was indeed a fan's favorite. We have collected his autograph through Twitter.
The Twitter user quotes, "I got to meet Big Boss Man when I was eight at St. Antonio Kid's fair."
Big Boss Man – Death and Legacy
Raymond W. succumbed to a heart attack on September 22, 2004, in Dallas, Georgia. He had an early demise at the age of 41.
Physical harms, steroids, and the tournament's constant stress are common traits seen in most wrestlers, as a result of which they die young, as per the article posted on the BBC's official website.
WWE Hall of Fame Class of 2016
WWE honored Boss Man in 2016 by admitting him in the WWE Hall of Fame Class of 2016. His former manager, Slick, initiated the move.
Raymond Traylor's wife Angela and his lovely daughters Lacy and Megan accepted the award on their late husband/father's behalf.
Big Boss Man – Elite Collection
Ray Traylor's action figure, handcuffs, sunglasses, and nightsticks from the WWE Network Spotlight series have been demonstrated on a 7 inches toy. You can purchase it on the amazon-elite collection.
Common Queries about Big Boss Man
What happened to the Big Boss Man?
Ray Traylor, aka the Big Boss Man, died on September 22, 2004, in Dallas, Georgia, at the age of 41. He died of a heart attack.
What were the Big Boss Man's best matches?
Big Boss Man was a very loved wrestler. He was good in the ring most of the time. Some of his best matches are:
Big Boss Man vs. Hulk Hogan (Steel Cage Match) (1989)
Mr. Perfect vs. Big Boss Man (1991)
Big Boss Man vs. The Mountie (Jailhouse Match) (1991)
Mankind Vs. Big Boss Man (1998)
Big Boss Man vs. Al Snow (1999)