Callie Rivers, daughter of Doc and the wife of point guard Seth Curry, was a professional volleyball player. Callie Rivers, aka Callie Curry, is the link between the two greatest families of the NBA; the Currys and the Rivers.
If you are an NBA enthusiast, then it is impossible for you not to know about the Currys and the Rivers and their unique bond.
However, if you do not know anything about Seth Curry or his wife, don't worry because we are here for you.
Read the article to know everything that you need to know about this lovely NBA couple.
Rivers shared a cryptic tweet, "It just doesn't make sense," just days before the NBA trade deadline on February 10, 2022, which freaked out Sixers fans but later clarified that it was about "Euphoria," the HBO drama starring Zendaya.
Today we are here, particularly with all the information about Seth Curry's wife, Callie Rivers. But before that, some quick facts.
Seth Curry's Wife | Quick Facts
Full Name
Callie Rivers
Nick Name
Callie
Age
34
Birthdate
September 17, 1989
Birthplace
Atlanta, Georgia, USA
Mother
Kristen Rivers
Father
Glenn Anton Rivers
Siblings
Three siblings:

Jeremiah Rivers
Spencer Rivers
Austin Rivers

Nationality
American
Ethnicity
Multiracial
Religion
Christian
Marital Status
Married
Husband
Seth Curry
Children
Two; Daughter (Carter Lynn) and Son (Cash)
Height
6'3″/1.85 m185 cm
Weight
60 kg/132 lb.
Hair Color
Brown
Eye Color
Brown
Shoe Size
8(US)
Profession
Former Professional Volleyball Player
Zodiac Sign
Virgo
School
Winter Park School
College
University of Florida
Status
Retired
Net Worth
$2 million
Social Media
Instagram, Twitter
Seth Curry Merch
Jersey Youth, Basketball card
Last Update
December, 2023
Seth Curry's Wife | Callie Rivers' Early Life And Family
Callie Marie Rivers, Seth Curry's wife, was born on September 17, 1989, in Atlanta, Georgia, to Kristen Rivers and Glenn Anon Rivers.
Her father, aka Doc Rivers, is an American professional basketball player and coach who led the Boston Celtics to an NBA championship in 2008.
Likewise, Callie has three siblings, all brothers, namely Jeremiah, Austin, and Spencer. Marie was born into an athletic family, and all her brothers were professional basketball players.
Jeremiah Jordan Rivers is a former professional basketball player who began his college career at Georgetown University before transferring to Indiana University.
Austin James Rivers is a professional basketball player for the National Basketball Association's Denver Nuggets. He was the 10th overall pick by New Orleans in the 2012 NBA Draft.
Spencer Rivers is a former college basketball player and the Philadelphia 76ers' Skills Development Coach. Spencer is the first person from the Rivers family to play basketball for the UC Irvine Anteaters men's team.
During Callie's childhood, her brothers encouraged her to stand up for herself and become physically and emotionally tough as she grew up.
Also, Check Out Josh Allen's Girlfriend: All About Brittany Morgan Williams>>
Education
Rivers went to Winter Park High School in Florida. Due to her athletic background, she couldn't keep away from sports and joined the high-school volleyball team there. Under her leadership, the school won three 6A State titles in three seasons.
During her high school volleyball career, she recorded 1394 kills in 2356 attempts and 184.5 blocks. Callie was ranked second in digs (542) and aces (215). Moreover, she was named Gatorade High School Player of the year in 2006.
Additionally, she finished the school year on a high note, being named the 'Florida Gatorade High School Player of the Year.'
Callie Rivers competed in the 2006 Junior Olympic Volleyball Tournament for the United States. Further, she continued to compete in state and national championships, setting numerous records in the process.
After graduating high school, Callie enrolled at the University of Florida in 2007. She had grown highly passionate about volleyball. As a result, she continued to play for her University Team.
Career
Callie played a vital role in the team's SEC championship victory in 2008. For her outstanding performance, the volleyball player was also named to the AVCA All-America First Team in her final year at University, an honor she was very proud of.
After high school, she played three seasons for the University of Florida Gators and graduated with a degree in communications.
Besides, she professionally played for Leonas de Ponce in Puerto Rico for a year before announcing her retirement.
Nevertheless, Callie's retirement from volleyball did not keep her away from the limelight.
After leaving volleyball, Callie modeled for a while. She is now famous as an Instagram influencer and a celebrity.
Seth Curry's Wife | Age, Body Measurements & More
The former volleyball player model turned 34 this September. Callie stands out from the crowd with her brown hair and brown eyes.
Moreover, she has a perfect body which is not a surprise since she practices a good and healthy lifestyle.
The Instagram star is about 6 feet 3 inches (1.85 m). Additionally, she weighs around 132 lb. (60 kg).
Her body measurements (chest-waist-hips) are 32-24-35 inches, respectively. Also, her zodiac sign is Virgo.
Here You Can Learn About Luka Doncic >>
Callie Rivers As Seth Curry's Wife
Callie Rivers and Seth Curry knew each other because of their family histories with the NBA and dating for a long time.
However, things got intimate when Seth proposed and got engaged to Callie on February 14, 2019. What a great day to celebrate love!
The engagement happened at Ruth's Chris Steak House in Charlotte, North Carolina, and was attended by members of both families.
Callie was excited about the engagement and shared her happiness on her social media soon after.
2.14.19 was a DAY.
so thankful & blessed & loved & happy & positive & complete 💕💕

— callie rivers curry (@calliecurry) February 15, 2019
For the 2011-12 season, Callie's brother Austin and Seth were teammates. There was also a rumor that Austin was initially skeptical of their relationship.
Not to mention, Austin did know that his sister was dating but didn't know that it was an NBA player. He was worried because NBA players have to travel a lot which can be exhausting at times.
However, once he knew that the guy was Seth Curry, he was entirely at ease.
Marriage
Seth and Callie got married on September 14, 2019. The wedding ceremony took place in Malibu.
The wedding featured the closest family and friends. Both Stephen Curry and Ayesha Curry were present at the wedding. They even made a dancing entrance at the reception.
Riley and Ryan, Steph and Ayesha's daughters, served as flower girls and, as usual, made the guests go 'Aww' with their cuteness.
Riley and Ryan dragged Carter, Seth and Callie's daughter, in a pull-along wagon.
Kids
The Curry couple was blessed with a lovely daughter Carter Curry on May 09, 2018. They also welcomed a baby boy, Cash, in November 2021.
View this post on Instagram
Carter is now 5 years old and Cash is 2. Both parents posted adorable pictures of Carter on her third birthday on social media.
Callie Rivers' Relationship With The Currys
The Curry family shares a wonderful bond with each other. They are very supportive and loving toward each other, and Callie is not left out of that.
Callie Rivers shares a special bond with the whole Curry Family. Additionally, her mother-in-law Sonya Curry and sister-in-law Sydel Curry are former volleyball players like herself.
Further, Callie's Instagram post on Mother's Day depicts how close Callie is with the Curry family. She wished both of her mothers, Kristen Rivers, and Sonya Curry.
Callie Rivers' Previous Relationships
Indeed, Callie is now happily married to Seth Curry. However, she also had a few relationships before she met Seth.
Here, we will briefly talk about the boys Callie dated before she found Seth.
Callie was rumored to have been dating a basketball player, Dexter Strickland, but they broke up after a few months.
Likewise, Callie also dated Paul George, an American professional basketball player who played for the NBA's Los Angeles Clippers. The relationship also lasted for only a few months.
Later, Callie was also rumored to have dated Brandon Spike, a former American football linebacker.
Who Is Seth Curry?
Seth Adham Curry is a professional basketball player from the states who currently plays for the National Basketball Association's Brooklyn Nets.
Seth Curry is also a two-time NBA D-League All-Star for the 2014 and 2015 seasons. He was also given the Men's Basketball honor for his efforts on behalf of the United States.
Following that, Seth played for several teams, including the Santa Cruz Warriors, Cleveland Cavaliers, Portland Trail Blazers, Dallas Mavericks, and others.
Dell Curry is a former NBA champion who played for Charlotte Hornets. Seth is also famous for being the younger brother of Stephen Curry.
He attended Charlotte Christian School. Seth has been passionate about basketball since she was a kid and joined the school's basketball team.
Later, Seth went to Liberty University. Following his father and brother, he proved himself to be a great player at Liberty.
However, on November 18, 2020, Seth was traded to the Philadelphia 76ers for Josh Richardson and Tyler Bey's draft rights. Seth was a member of the Philadelphia 76ers until recently, he was traded to Brooklyn Nets on February 10, 2022, along with Ben Simmons, Andre Drummond in exchange for James Harden and Paul Millsap.
Seth played college basketball for the Liberty Flames for one year before transferring to the Duke Blue Devils. Likewise, he even wore jersey number 30, just like his father, and showed respect toward them.
Seth Curry's Wife | Salary & Net Worth
Callie Rivers has made quite a lot for herself and lives quite a luxurious life.
ACCORDING TO VARIOUS SOURCES, ANAMARIA GOLTES HAS A NET WORTH OF $2 Million
Additionally, she has a significant social media presence. She does plenty of sponsored posts which helps her earn an extra bit.
At the same time, Seth Curry has an impressive net worth of approximately $4 million. He makes most of the money from playing basketball. However, he has also done various brand endorsements, which add to his net worth.
Seth Curry's Wife | Social Media Presence
Callie is a social media influencer. She is on Twitter using the handle @calliecurry.
Likewise, she is on Instagram @calliecurry. On her Instagram, she mostly shares her personal life, including pictures of her husband, Seth, and daughter, Carter.
She also does various question-and-answer sessions and challenges. Recently, as a music lover, she did a 30-day song challenge. Callie is a wonderful woman, and her followers love her a lot.
Instagram: 103k followers
View this post on Instagram
Twitter: 25k followers
Callie Rivers | Popularity
Callie, being a volleyball player, daughter of a professional basketball coach, and wife of an NBA player, has gained popularity on the internet.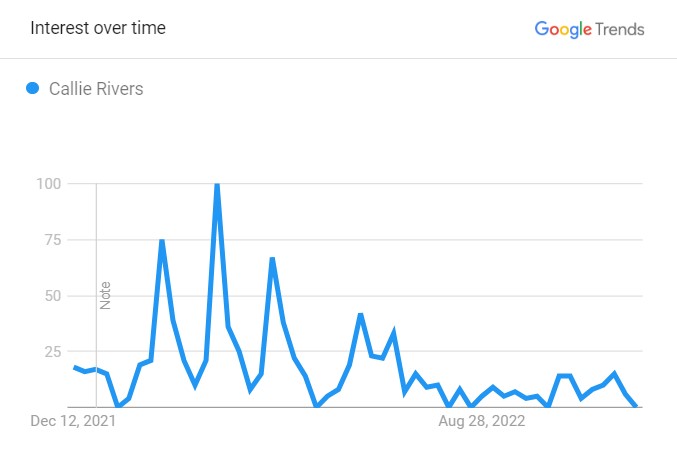 The above image gives brief information about the popularity of Callie based on Google searches in the United States of America over a year.
Callie Rivers | FAQs
Is Callie Rivers related to Doc Rivers?
Yes, Callie Rivers is related to Doc Rivers. In fact, she is the only daughter of the NBA coach, Doc Rivers.
You might also be interested in The Kings are the NBA Summer League Champions>>