Mary Michelle Pennefather, popularly known as Shelly Pennefather, is a former basketball player. She has retired from basketball and now lives a monastic life under heamzr new name, 'Sister Rose Marie of the Queen of Angels.'
Shelly learned basketball from her father as a kid. She went on to play in high school and college, setting records and winning awards.
Following a few seasons of professional basketball career in Japan, Shelly decided to follow her true calling and retired as a cloistered nun. She now lives in the Poor Clares monastery in Virginia.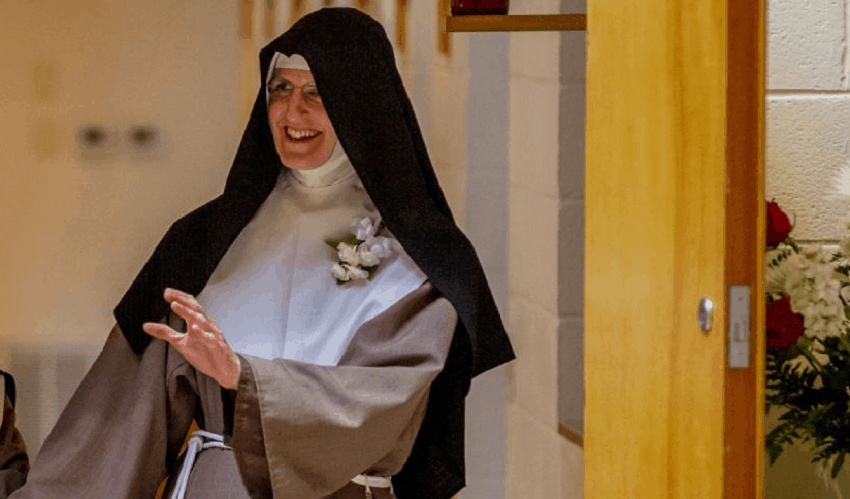 Shelly's life story is unlike anyone we have ever heard before. Not everyone can give up a lucrative and successful career to find peace in the love of God.
In this article, we will explore her sports career and life as a nun.
Shelly Pennefather: Quick Facts
| | |
| --- | --- |
| Full Name | Mary Michelle Pennefather |
| Nick Name | Shelly Pennefather |
| Convent Name | Sister Rose Mary of Queen of the Angles |
| Birth Date | 1966 |
| Age | 56 years old |
| Zodiac Sign | N/A |
| Birth Place | Colorado |
| Resident | Poor Clares Monastery, Alexandria, Virginia |
| Father's Name | Mike Pennefather |
| Mother's Name | Mary Jane Pennefather |
| Siblings | Six |
| Religion | Christianity |
| Nationality | American |
| High School | Bishop Machebeuf High School, Notre dame high school |
| College | Villanova University, Pennsylvania (1983 – 1987) |
| Position | Forward |
| Height | 1.85 m (6'1″) |
| Weight | N/A |
| Hair Color | Brown |
| Eye Color | Brown |
| Shoe Size | N/A |
| Married | No |
| Partner | No |
| Children | No |
| Profession | Former basketball player, A cloistered Nun |
| College score | 2,408 |
| Awards | Wade Trophy, 1987 |
| Net Worth | N/A |
| Status | Retired |
| Retired on | 1991 |
| Social Media | N/A |
| Basketball Merch | Shoes for Women, Bag, Accessories |
| Last Update | November, 2023 |
Early Life & Family
Shelly Pennefather, the former player, was born in 1966. Her full name is Mary Michelle Pennefather. Her mother's name is Mary Jane Pennefather, and her father is Late Mike Pennefather.
She grew up in a big family; she has six brothers and sisters. Her father, Mike, was an air force colonel. He was a strict man with a high value for discipline.
Mary Jane also used to be at a convent once upon a time. She was only 14 at the time.
After spending nine months, she realized it was not for her. She gave that life up, went to school, and started a family.
Mary Jane is not fond of technology and doesn't like drawing attention to her.
To this day, she doesn't own a phone. She even refuses to talk to the media.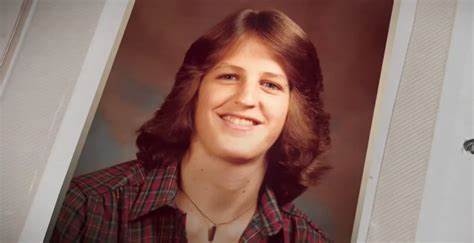 Mary and Mike were never big fans of technology. During the '80s, when TV was 'the big thing,' their kids were not allowed to watch TV.
Naturally, it encouraged kids to spend more time outdoors in sports activities.
Mike was the one who introduced Shelly to basketball. Along with Shelly, he taught basketball to all of his kids and other kids from their community.
Mike's air force job meant that they would have to travel frequently. Before adulthood, Shelly had already traveled extensively. Likewise, Kids had to change school and friends very often.
Religious Kid
Even though she was a mere kid, Shelly showed all the signs of being a nun. When the teacher asked her what she wanted to be in school, Shelly proudly answered, "I want to be a saint."
Not to mention, her friends thought she was joking, but it would be true later in her life.
Moreover, Shelly waited for her whole family to be together every night to pray to the rosary.
For those unknown, Rosary is a holy symbol in Catholicism. Even if it were midnight, she would not go to bed without praying with her family.
High School Highlights
Shelly spent three years of high school at Bishop Machebeuf High School in Denver, Colorado. During these three years, Machebeuf won three consecutive state championships with a record of 70-0.
During her last year, she had to move to New York along with her dad and family. She spent this year in Notre dame high school, Utica.
That year too, she won a state championship with a 26-0 record. Pennefather made a no-loss record for her entire high school career.
In 1982, she won a silver media at of USA women's R William Jones cup team. Moreover, she was in the 1981 and 1983 US Olympic festival selection.
College Career
Shelly graduated from high school in 1982. At that time, Pennefather was one of the top five most sought-after recruits for colleges.
All the top colleges in the nation wanted her. But she followed Harry Perretta, coach of Villanova wildcats. Villanova university is the oldest catholic university located in Pennsylvania.
Similarly, Harry was a true catholic, too; he went to church every Sunday and did his prayer every day. They bonded over their love of the god, and hence, Shelly joined the wildcats.
At the beginning of her collegiate basketball, Harry remembers that she was a lazy player. Shelly's father had warned Harry that 'she would be hard to coach.'
However, Harry being the strict coach he is, never went easy on her. He pushed her to become the best player that she could be.
At one point, Harry was so hard on Shelly that she even contemplated transferring.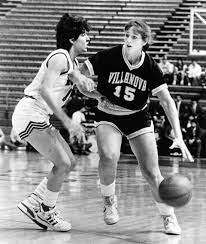 Around the middle of sophomore year, Shelly really started to shine. Her work ethic became stronger, and she started to play better than ever.
Years later, she is still the school's all-time highest scorer among men and women. Her total score is 2,408, which no one has surpassed to this day.
In 1987, she won the coveted Wade Trophy. Like her father used to say, "She was Larry Bird of women's basketball."
Professional Career
Right after her college graduation in 1987, Shelly moved to Japan. At that time, Japan was one of the few places where women could play professional Basketball.
Despite that, she spent three seasons playing for the Nippon Express.
She learned to read and speak Japanese and attended mass every day. Living alone in a strange country gave her a lot of free time.
Likewise, Shelly occupied her leisure time by reading spiritual texts and thinking. Even though she had always been the lover of god by heart, this alone time gave her time to flourish religiously.
Retiring from a religious life
The monumental part of her life came during her final years at Nippon express. Her team was doing awful. So, Shelly made a deal with god.
Shelly vowed that if she could qualify her team for playoffs, she would devote her time and donate her post-season bonus to Mother Teressa's convent in Norristown, Pennsylvania.
Subsequently, she won that game and even earned that bonus. In the fall of 1990, Pennefather returned home and started volunteering in Mother Teressa's Convent.
She enjoyed the humble work very much. Slowly but surely, Shelly was making up her mind to be a nun.
Shelly's friends and family always had an inkling that she would be a nun, but no one expected to hear the word 'cloistered.' Everyone thought they could never see her again.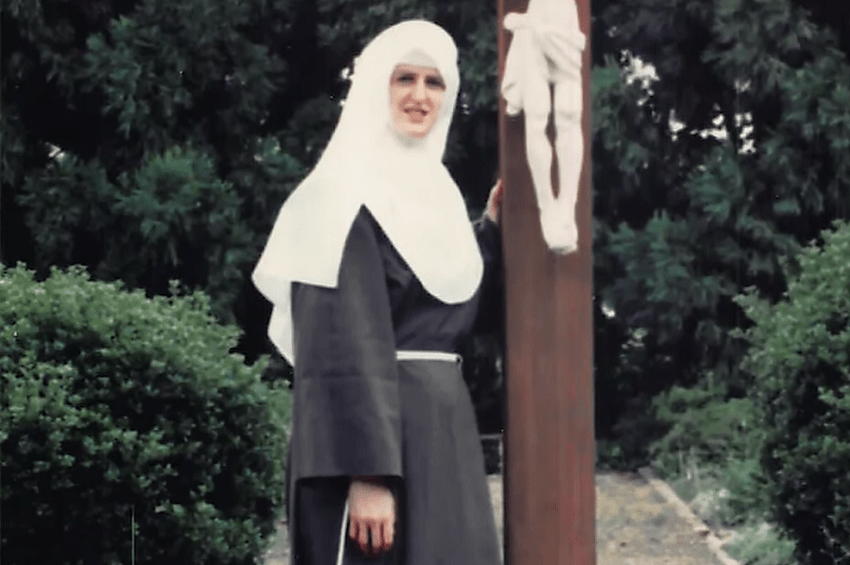 But Shelly's decision was final. Shelly told her friends and family that she knew she had a 'calling,' though she was unsure if she could follow all the rules.
Along with her friends, young Shelly went to the church to meet the mother superior and talked about what she was really getting into.
A conversation with her mother's superior convinced everyone that she was choosing a noble path for herself.
Similarly, Shelly tried to make the most out of her last days with her loved ones. She took her family to fancy restaurants and went riding with her sisters.
She finally entered the convent on 8th June 1991 as a novice.
Love Life
Shelly's teammates remember that she had a mystery man in her life. Later his name was revealed to be John, a childhood friend of shelly.
Likewise, they first met in base school in Germany. It was an instant connection.
But the families were shipped to different places, and they got apart. Fate found a way to bring these two together in different ways later on. After that, they used to spend summers together.
They were young and in love. Shelly loved kids and talked about having a lot of children with John. Her teammates were sure she'd either be a nun or build a family with him.
John was no different. He was eager to marry Shelly. But whenever the thought of proposing came, something held him back.
Since John came from a family of Catholics, he grew up fascinated by great saints' stories. Even though he studied engineering, a voice in him told him he should be a priest. So, he never brought a ring!
Later, when Shelly told him about entering the convent, everything fell into place for John. Shelly had found her eternal love in God.
Eight years after Shelly was gone, John also got ordained.
Life as a cloistered nun
Many might not know this, but Cloistered nuns live inside the walls of their monasteries. The only time they are allowed to go out is for medical emergencies.
Nuns also spend their time praying for humanity and engaging in chores around the church. They follow a strict timetable and routine every day.
The rules for nuns can vary from every order they are in. The order of Shelly, i.e., poor Clares' order, is one of the strictest orders.
According to the rule, they eat only one full meal a day, sleep on a mat, and keep in touch with their family only once every year. Not to mention, they sleep for only 4 hours at a time and walk barefoot 23 hours a day.
If anyone decides to visit, they can talk to them through a glass window. Similarly, they can not write a letter but can send replies if they receive one first.
Shelly spent her first six years in the monastery as a novice, learning and growing in monastic life. Finally, in June 1997, she took her final vows and devoted her life entirely to god.
Though a cloistered life may sound weird to us, nuns mostly share that they find peace and happiness in the quiet and humble life.
Shelly has also shared with friends on time and occasion that she is living her life to the fullest and has no regrets.
"I wish everyone could live it a little to see it. It's so quiet. I feel like I'm not underestimating life. I'm living it to the fullest."
The long-awaited embrace
A cloistered nun never gets to have any physical contact with the people outside. On the 25th anniversary of taking the final vow, a Silver jubilee mass is organized for renouncing the vow.
In the same ceremony, the nun can embrace her family members. Shelly's Silver jubilee celebration was organized on June 9, 2019.
Her mother, siblings, nieces and nephews, teammates, coach Peretta, and so many other loved ones attended the ceremony.
Furthermore, father John was also there to meet the women he nearly married once.
The event was beautifully captured and reported by ESPN. The report got love from all the readers. The video has been shared thousands of times on social media.
Mary Jane spent weeks preparing for the reception of the ceremony. She chose to cook all the food on her own instead of having it catered.
When Jane finally got to hug her daughter, she told her that she'd be there for her golden jubilee as well.
Shelly Pennefather: Net Worth
Shelly left her lucrative career and a prospect of a $200,000 yearly salary to attend a higher calling ( note: $2000,000 in 90's equal to around $400,000 today).
Among the other things, cloistered nuns vow to poverty, meaning they have no material possession.
When Shelly left for the church, she didn't even pack a bag. She would not be allowed to keep it anyway. During her time, Shelly was one of the highest-paid women's basketball players.
Shelly Pennefather: Her teammates & Family Now
Since she set out, life has been very different for Shelly's family and friends.
Pennefather's teammate and college roommate Lynn Tighe is an associate athletic director at Villanova. Another teammate Lisa Gedoka works as a high school basketball coach whose daughter now plays basketball at Villanova.
Likewise, her coach Harry Perretta is still the coach at Villanova. Every year in June, he travels to Virginia to meet his favorite student and a dear friend.
Usually, he brings a car full of necessary supplies to the sisters, and in exchange, he can converse with Shelly through a glass shield.
Similarly, Shelly's elder brother Dick has been coaching high schoolers for more than three decades now. His 13 years old daughter Mary Pennefather also plays basketball.
Shelly's other sister Jane also chose the life of a nun. But unlike Shelly, she's non-cloistered.
Shelly's mother has kept a candle burning at her home for her beloved daughter. She has also kept the shelly hair cut before going to the church.
Also, the next time the mother-daughter will get to embrace will be in 2044.
Frequently Asked Question
What happened to Shelly Pennefather?
Shelly Pennefather gave up her life as a basketball player to be a nun. Shelly took her final vows to become a cloistered nun in saint Clares monastery in 1995.
She is now known as Sister Rose Mary of the queen of the angles.
Where does Shelly Pennefather live?
Shelly Pennefather is spending her monastic life in a monastery in Alexandria, Virginia.
Does Shelly Pennefather still play Basketball?
No, Shelly retired from basketball in 1991. Now she lives the life of a nun in the order of poor Clares.