Women are sometimes taken for granted, undermined, and oppressed. To be working in a mostly-male dominant profession comes with its challenges.
Sports journalism felt more like a man's- only occupation until Suzy Kolber popped up.
Generally, many people, men, and women alike have or had the mentality that women are not meant for sports or don't have what it takes to understand the sport.
Following the emergence of female journalists, the misconception is regularly getting debunked.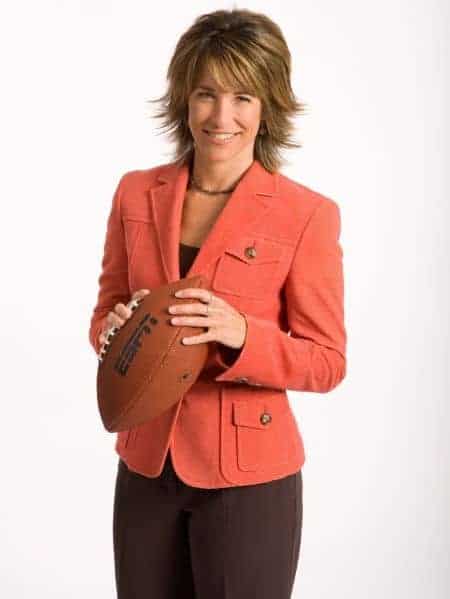 However, what was it like in the 80s to be working as a reporter specializing in sports. Well, Suzy Kolber's life story can profoundly answer that.
Although it wasn't easy, the Pennsylvanian wasn't the one to cease her pursuit.
At the age of 55, and as one of the most successful and prominent reporters, Ms. Kolber paved a passage for younger generations to transpire.
Indeed, this article will discuss everything available on the sportscaster. We hope you stick with us to the end!
Quick Facts
| | |
| --- | --- |
| Full Name | Suzanne Lisa Kolber |
| Birth Date | May 14, 1964 |
| Birth Place | Philadelphia, Pennsylvania, U.S. |
| Nick Name | Suzy |
| Religion | Undefined |
| Nationality | American |
| Ethnicity | Caucasian |
| Education | Sandy Run Middle School; Upper Dublin High School; University of Miami |
| Horoscope | Taurus |
| Father's Name | Gene Kolber |
| Mother's Name | Sandra Kolber |
| Siblings | None |
| Age | 58 Years Old |
| Height | 5'7" (1.73 m) |
| Weight | 61 kg (134 lb) |
| Shoe Size | Updating soon |
| Hair Color | Dark Blonde |
| Eye Color | Blue |
| Body Measurement | 32-23-33 inches |
| Figure | Lean |
| Married | Yes |
| Husband | Eric Brady |
| Children | Yes (Kellyn Brady) |
| Profession | Sportscaster, Reporter, Anchor |
| Net Worth | $18 million |
| Affiliations | ESPN, ABC, FOX Sports |
| Active Since | 1984 |
| Social Media | Instagram, Twitter, Facebook |
| Last Update | September, 2022 |
Suzy Kolber Wiki-Bio | Early Life, Education, & Parents
Born as Suzanne Lisa Kolber and known professionally as Suzy Kolber, the anchor hails from Philadelphia, Pennsylvania (U.S.). She celebrates her birthday on May 14, being born to Gene and Sandra Kolber in 1964.
However, no information is yet available on the whereabouts of her parents or any possible siblings.
Raised as a Philly girl, Suzy attended a local school called Sandy Run Middle School. Thereafter, she transferred to Upper Dublin High School.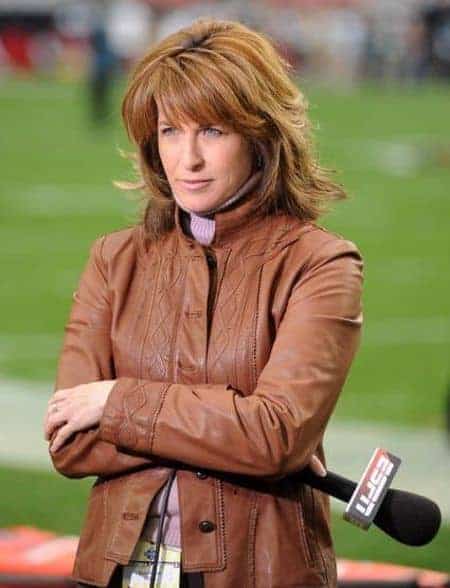 Upon completing high school sometime in 1982, Kolber enrolled in the University of Miami. Similarly, in 1986, the Philly native graduated with a bachelor's degree in Arts and telecommunications.
Moreover, while she was still an undergraduate, Suzy undertook the role of sports director from 1984 until the day of her graduation.
With experience at Dynamic Cable located in Coral Gables, Florida, and as a member of the UM Water Ski team, it can be said that Kolber had quite the fascination with sports.
After concluding her studies at the University of Miami, CBS Sports recruited her as one of their videotape coordinator in New York City. From there on, the soon-to-be sportscaster had only to look forward.
Suzy Kolber | Age, Height, & Body Measurements
Born in 1984, Suzy, as of present, is 58 Years Old. Yes, we wrote young because our body grows older as we age, not the mind and certainly not the heart.
Even after 36 years of service as a journalist, it hasn't managed to tire out the Pennsylvanian.
Further, the sportscaster stands at the height of 5'7″ (1.73 m) and weighs approximately 61 kgs (134 lbs).
During her youth, Kolber was easy to pass as a film actress, undoubtedly. Although she is getting older, it is evident that Suzy maintains her fitness.
Likewise, the Philly native is as attractive as her youthful days as her body figure measures 32-inches of the cup, 23-inches of the waist, and 33-inches of the hips.
The most captivating trait of Kolber is her blonde hair, icy blue eyes, and cheerful smile.
Besides, being a working mother, having to shuffle time between work and tending to motherly duties must be exacting.
Despite the odds, it is fascinating to see how Suzy triumphed in both professional and personal life.
Suzy Kolber | Career: Sportscaster
As mentioned above, before working at the prestigious ESPN, Kolber started her career as a sports director for Dynamic Cable. Subsequently, the Pennsylvanian landed a job at CBS serving as a video coordinator.
Between 1985 to 1989, Suzy was part of WTVJ-TV based in Miami, where she worked as a producer and, along the way, won a Sports Emmy for her contribution.
After which, most jobs that followed were either as a freelancer or as a producer.
To illustrate, Kolber was a specials program producer for WPLG-TV and went onto produce Greyhound Racing and Cowboys Special Edition; both were magazine shows.
Similarly, she produced and reported for Breeders' Cup Newsfeed and Inside Edition.
If you are interested in buying Mic, click here.>>
Additionally, Suzy would also become a producer for WCIX-TV and, in a similar way, undertook producing director for NFL Films.
Simultaneously, the Philly native would work as an anchor for WPEC-TV before signing onto ESPN, come 1993.
Time At ESPN
In 1999, the Pennsylvanian rejoined ESPN after a brief stint at FOX Sports. Most importantly, the sportscaster gained prominence for her NFL games coverage while working as a sideline reporter.
In particular, Suzy and Michele Tafoya would jointly report on Super Bowl XL for Monday Night Football, a previously owned segment by ABC Sports. Added to that, at ESPN, the Philly native was part of a variety of programs.
To illustrate. ESPN X Games. Grand Slam Tennis competition and NASCAR pre-game coverages were some of the highlights of Kolber's career at ESPN.
In like manner, the sportscaster received the Maxwell Club Sports Broadcaster of the Year Award in 2006, becoming the first-ever female broadcaster.
In the same way, Suzy would serve as an on-site reporter as well as studio host, covering sports like Wimbledon, Summer, and Winter X Games, when NFL season would be on a break.
Further, the Philadelphian hosted a segment called Sports Figures, a special show that starred sports stars to teach math and physics.
Monday Night & NASCAR Countdown
Moving on, Suzy's appointment as the lead host for NASCAR Countdown in 2007 was as mysterious as the disappearance of Brent Musberger, who, up until that point, hosted the show.
However, there was no follow-up from ESPN regarding this matter, and everything progressed normally.
Talking about Monday Night, Ms. Kolber was part of two different Monday Night segments; Monday Night Football and Monday Night Countdown. To begin with, she worked alongside Michele Tafoya since 2006.
When Tafoya dropped from the role, hosts such as Ed Werder, Wendi Nix, and Rachel Nichols would step in the role, while Suzy came in as a fill-in.
Simultaneously, being a mother effectively ended her sideline career; henceforth, she served as a host for NFL32.
If you are interested in buying a Camera, click here.>>
When host Stuart Scott similarly battled his ailments, Kolber got appointed to Monday Night Countdown segment.
Unfortunately, when Scott passed away, a mourning Suzy had to step in as a permanent on-site host reluctantly.
After she left ESPN, Kolber joined Fox Sport in November 1996. There she worked as an anchor for Fox Sports News and other several NFL games. After working with Fox Sport for few times, she returned back to ESPN.
Suzy Kolber Net Worth | Salary & Income
For instance, with a 3-decades experience that shaped her entire life, rising to prominence in a nascent stage and remaining at the top is a commendable achievement on Suzy's part.
Therefore, after such a long service, an $18 million net worth shouldn't be astounding.
Suzy has an estimated net-worth of $18 Million.
Well, we have to admit we are taken aback. Additionally, Kolber is one of the highest-earning active sportscasters at the moment.
Similarly, sources also disclose that the blonde anchor makes a stunning $3 million salary annually.
Moreover, the amount that Kolber walks away with is not a mere digit and doesn't happen to come by with ease.
Years of struggle and hard work led the Pennsylvanian to such a height, where she is accomplished professionally and financially.
In fact, being a prominent television figure certainly has its advantages. In the same way, Suzy lent her voice to several videogame series, most notably Sega's video game, Microsoft's Xbox, Sony's Playstation 2, and ESPN NFL Football.
And these endorsements likely yielded her a significant income. In like manner, Kolber serves as a spokesperson for Pepsi and Chevrolet, and many commercial campaigns can attest to this fact.
Suzy Kolber Relationship Status | Husband & Kids
To begin with, the immensely talented broadcaster remains a married woman, having had a tied knot in 2008. Her husband is Eric Brady, with whom she was in a relationship for several years.
Nevertheless, her loving husband's life as of late is pretty much a mystery. The world is aware that Suzy and Eric are as inseparable as they were in their youths, being a modern testament to a healthy marriage.
Besides, the couple shares happiness with their one and only child, a daughter named Kellyn. Kellyn was conceived the same year Brady and Kolber announced their engagement; the mother was 44 years old at birth.
Likewise, there's no rumor of the separation or divorce between Suzy and Eric. The couples are enjoying their life with their kids.
Social Media Presence
Instagram: 6,086 followers
Twitter: 29,800 followers
Facebook: 8,639 followers
Some FAQs
1.W
ho is Suzy Kolber married to?
Suzy is married to Eric Brady.
2.W
ho got drunk and kissed Suzy Kolber?
When Suzy was interviewing former Jets quarterback player Joe Namath, he was drunk and told Kolber that he wanted to kiss her.
3.W
here did Suzy Kolber grow up?
Kolber was born and grew up in Philadelphia, Pennsylvania, United States.