Michele Tafoya is a former American sportscaster who served as a reporter for NBC Sports from 2011-2022. She currently works as a political advisor and makes television appearances.
In a male-dominated sports world, women sportscasters face a lot of challenges when entering the field.
Still, hundreds of women have a prominent role in sportscasting and have garnered many awards and critical successes.
One such woman is Michele Tafoya. With her positive vibes and gorgeous personality, the Californian girl has made her special mark in sports broadcasting.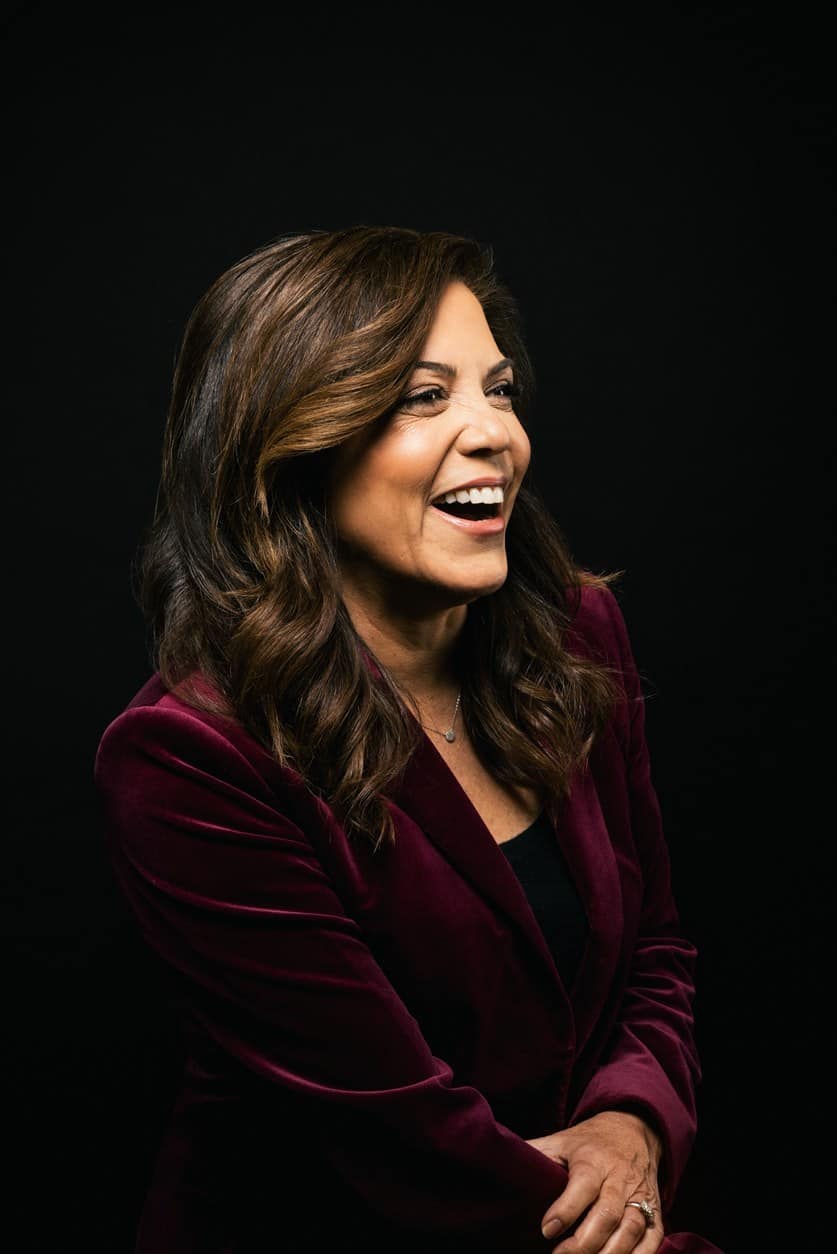 During her sportscasting career, she served for different sports news channels like CBS Sports, ABC Sports, ESPN, KQRS Radio, and more.
With her active involvement and charismatic performance, she also has been honored with several awards and accomplishments.
On January 11, 2022, NBC announced the departure of 5-time Sports Emmy Award winner, Michele Tafoya, with Super Bowl LVI as her final assignment.
As of 2023, the former sportscaster is busy with her podcast 'Sideline Sanity' and her political ventures.
The former NFL sideline reporter attacked former Monday Night Football anchor Lisa Guerrero and netizens tagged her as a horrible person in February, 2023.
So keep reading the article till the end to learn more about Michele Tafoya. But first, let's take a quick glance at the quick facts table.
Quick Facts
Full Name
Michele John Tafoya Vandersall
Popular As
Michele Tafoya
Birth Date
December 17, 1964
Birth Place
Manhattan Beach, California
Religion
Unknown
Nationality
American
Ethnicity
White
Education
Mira Costa High School

University of California, Berkeley

University of Southern California

Horoscope
Sagittarius
Father's Name
Orlando Tafoya
Mother's Name
Wilma Conley Tafoya
Siblings
Unknown
Age
58 Years Old
Height
5'7″/1.70 m/170 cm
Weight
62 kg/137 lb.
Build
Slim
Hair color
Light Brown
Eye color
Brown
Profession
Sportscaster
Early Ventures
KFAN-AM for Minnesota Vikings and the University of Minnesota women's basketball broadcasts

Sideline reporter for the Midwest Sports Channel

Play-by-play commentator for women's Big Ten basketball and volleyball

Host for WAQS-AM

Analyst to call UNC-Charlotte men's basketball games

WCCO-TV (Sports anchor and reporter)

Professional Affiliations
CBS Network, ESPN, ABC Sports, NBC Sports, The KQ Morning Show, Reporter in Super Bowl LII
Active Years
1993-present
Marital Status
Married
Spouse
Mark Vandershall
Children
Two (A son and a daughter)
Children's Name
Tyler Vandershall, Olivia Vandershall
Net Worth
$2 million
Social Media
Facebook
Last Update
November, 2023
Early Life, Parents, & Education
Michele Tafoya was born on December 17, 1964, somewhere around Manhattan Beach, California, United States, to her parents, Orlando and Wilma Tafoya.
As per reports, she spent her childhood in California watching sports commentary with her father.
Her father was a civil engineer and a huge sports fan, and her mother served as a teacher at South Bay Union High School.
Orlando and Wilma met for the first time at the University of California's calculus class and eventually got married in 1955. Her parents raised Michele along with her 3 siblings, namely Margaret, Geraci, and Matthew.
Margaret was one of the staff in the personnel office of former President Barack Obama's administration. Geraci owns an architecture and design business in Manhattan Beach and Matthew owns a cabinet and door company in Lawndale.
Talking about Michele's academic records, she joined Mira Costa High School and graduated with a B.A. in mass communication from the University of California, Berkeley.
Later, she attended the University of Southern California in 1991 to complete her master's degree in business administration.
Age, Height, And Physical Appearances
As of 2023, the sportscaster is 58 years old. She was born under the sun sign Sagittarius, and people born under this sun sign are known for being optimistic, honest, and intellectual.
In one of the interviews, the sportscaster revealed a secret behind her actual birth name.
When Tafoya's mother announced her pregnancy, both parents were expecting a boy because she used to kick her mother's womb.
So the parents of the sportscaster planned to keep the name of the boy Michael John.
But a girl was born into their family, so eventually, they decided to give her the name Michele John.
The former sportscaster stands around 5 feet 7 inches (1.70 meters) and weighs around 62 kg (137 pounds). Her light brown hair and brown eyes make her look pretty and bold.
Apart from all of these, her voice is resonant and charming, and as a person, she is approachable all around.
Career
Early Career
After completing her degree in 1993, she worked as a host and reporter at KFAN-AM for Minnesota Vikings and the University of Minnesota women's basketball broadcasts.
Michele served as a host and sideline reporter for the Midwest Sports Channel and a play-by-play commentator for women's Big Ten basketball and volleyball.
The Californian worked as a host for WAQS-AM in Charlotte, where she was paired up with sports talk show host Gerry Vaillancourt and became the first female analyst to call UNC-Charlotte men's basketball games.
Serving as a sports anchor and reporter, Tafoya spent three years at WCCO-TV in Minneapolis.
Professional Career
CBS
After joining CBS in September 1994, Michele worked as a reporter and studio host for the sports anthology show 'CBS Sports Spectacular.'
Moreover, she hosted the 'At The Half' and covered college football games. Tafoya made her on-air debut at the 1994 US Open Tennis Championships.
At CBS, Michele was a reporter for NFL, college football, and the 1998 National Championship Orange Bowl.
In 1998, she hosted late-night Winter Olympics programs and the Goodwill Games with her co-host Al Trautwig in Nagano.
Along with shows, Michele even hosted CBS' NCAA Tournament selection show, Goodwill Games, and the US Open Tennis Championships coverage.
After 5 years of collaboration with the CBS network, in 1995, the reporter decided to leave the CBS network. She then joined ESPN and ABC Sports in January 2000.
ABC & ESPN
The American native continued her service as a sideline reporter for ESPN Monday Night ABC Sports' Monday Night Football during the 2004 and 2005 NFL seasons.
Michele worked for Mike Tirico's show on ESPN radio as a co-host. After that, Tafoya, along with Suzy Kolber, served as a sideline reporter for the Super Bowl XL championship coverage.
Moreover, she also worked with NBC Sports as a reporter for Rhythmic Gymnastics and as the play-by-play woman for softball in the 2000 Sydney Olympics.
Not to mention, she also worked at NBA games on ABC and ESPN. On October 21, 2008, the talented and hardworking former reporter resigned from her responsibilities as head NBA sideline reporter to focus on her family and children.
After a year gap in her professional career, the reporter returned to WCCO-AM as the new evening drive-time talk radio on April 20, 2009, and lasted till January 27, 2012.
KQES Radio
The former sportscaster worked on KQRS-FM along with Tom Barnard on 'The KQ Morning Show on September 8, 2016. In the year 2018, Michele also worked as a reporter for Super Bowl LII.
However, after working for four years, in May 2020, the NBC sportscaster decided to leave 'The KQ Morning Show.'
NBC Sports
The former ESPN reporter was announced as the new sideline reporter on May 1, 2011, for NBC Sunday Night Football, and rejoined former co-worker Al Michaels, replacing Andrea Kremer.
Michele also covered swimming during the Summer Olympics for NBC. The network announced on January 11, 2022, that the former sportscaster would part ways after calling the Super Bowl LVI, to pursue other opportunities.
Awards And Achievement
In 1996, Michele became the first woman to call a television play-by-play of an NCAA tournament game on CBS.
After that, she was honored with the Gracie Award for 'Outstanding Achievement by An Individual On-Air TV Personality' for her play-by-play calling of WNBA games on Lifetime Television.
Tafoya made history to have been nominated for the Sports Emmy for Outstanding Sports Personality 7 times and won 5 times.
Politics & Podcast
A day after she departed from NBC Sports, on February 14, 2022, Republican Minnesota gubernatorial candidate Kendall Qualls announced Tafoya would be joining the campaign as co-chair.
The former reporter now hosts a podcast, 'The Sideline Sanity Podcast.'
Husband and kids
Michele or Ms. Vandersall is a happily married woman. She is married to Mark Vandersall.
As per the information, before tying the knot on May 30, 2000, the couple dated for nearly 7 years. They met each other in the year 1993.
The pair met when Tafoya worked as a host and reporter at the Minnesota radio station KFAN AM.
Mark Vandersall is a sports fan and was named the 1989 All-Football Conference Player for Robbinsdale High School. He is a financial advisor at Ameriprise Financial Services.
Mark and Michele are blessed with two children; a son, Tyler, born in 2005, and a daughter Olivia, whom they adopted as a newborn in 2009.
During the early phase, the couple faced some difficulties when starting the family. Michele went through 4 miscarriages altogether before the birth of Tyler.
Currently, Michele is living happily with her husband and child in Edina, Minnesota, and are not linked to any sort of rumors or controversies.
More On Personal Life
On Her Multiple Miscarriages
When Michele had her first miscarriage, she could convince herself to make peace, as it is something that happens with many people every now and then.
But when the second miscarriage happened, she remembers apologizing to her husband because she felt responsible. Being seven years older than her husband, Michele had biological reasons to believe so.
Michele then had her third miscarriage, identical twins, this time as the embryo had split. She remembers this time as the lowest of the lows for her and her husband.
And then, Tyler came into their lives after several failed attempts to conceive. Later, the couple adopted Olivia from Colombia.
On Being A Female Sportscaster
Tafoya loved her job. She is happy and proud of what she did. When asked about what it's like to be in a men's profession, she contemplated that there is no such thing as a men's or women's profession.
She knew that she might have to face little distinct consequences than men in the profession.
The former sportscaster also acknowledged that men dominate the business that she is in but firmly believed that domination does not make it a men's profession.
Net Worth And Salary
To begin with, as of 2023, the American former sportscaster accrued an estimated net worth of around $2 million. Well, the net worth is quite fitting, considering the passion and determination of the sportscaster.
Per different online sources, Tafoya pocketed about $200k as an annual average salary during her time with NBC Sports.
Similarly, Michele's husband, Mark, earns a satisfying amount of money, leading Vandersall's family to live a luxurious and happy life.
Social Media Presence
Michele Tafoya is one of the most popular and loved celebrities on television. Tafoya was active in this field from 1993-2022, and during these periods, she gained a lot of fans on her social networking platforms.
Twitter: 100.5k followers
I was often the only woman in the room. I didn't focus on that. I focused on the job. If you feel unwelcome somewhere, change your mind. Remind yourself: you are entitled to the space around you. Don't give anyone else power over the way you see yourself. #TuesdayTough pic.twitter.com/osAfJtOuc5

— Michele Tafoya (@Michele_Tafoya) October 4, 2022
Facebook: 25k followers
Popularity
Working in the reporting field from 1993-2022, Michele earned a number of fans from all around the world.
The above graph shows the fluctuating popularity of the former sportscaster Michele based on Google searches in the United States over a year.
Frequently Asked Questions
Where does Michele Tafoya live?
Michele Tafoya lives in Edina, Minnesota, United States, with her husband, Mark Vandersall, and children.
Where is Michele Tafoya from?
Michele Tafoya is originally from Manhattan Beach, California, United States, her birthplace.