Are you looking for tabletop arcade games to add to your game room collection? Then you have come to the right place!
The arcade games are the entertaining gaming machine that you can install at your home. They are old-school classic forms of entertainment, and getting one will let you experience the nostalgia.
As the popularity of tabletop arcade games is again rejuvenating, there are plenty of models on the market. The old school machines demand a huge space as they are bulky; however, many compact and light models are available now.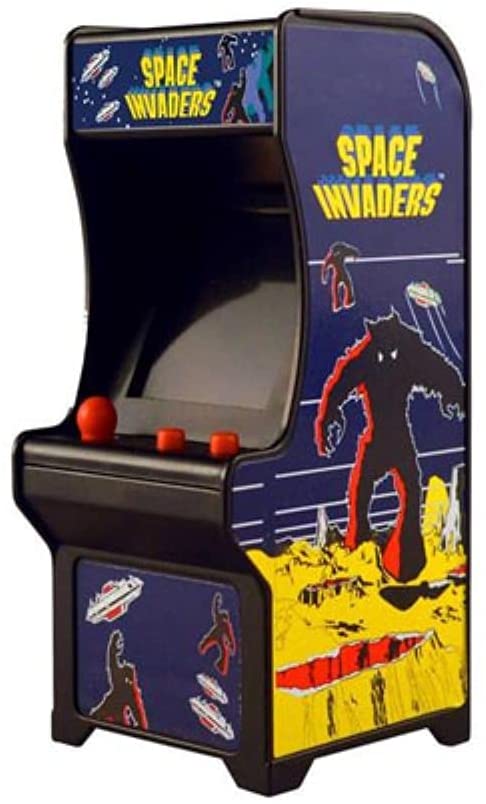 But with many options, it is easy to get confused and lost. Thus, to help you with your pick, we have compiled a list of five tabletop arcade games.
We have the required details about some of the best, high-quality tabletop arcade games. You can go through these options and decide which one is the perfect match for you.
Now let us get straight into our list!
5 Best Tabletop Arcade Games
But before diving into the details and features, let us peek at the summary of the list below. We have compiled the list from internet sources like IGN, SportsBrowser, etc.
5. Cocktail Arcade Machine with Classic
The first tabletop arcade game on our list is the Cocktail Arcade Machine with Classic by Prime Arcades, LLC. Get the nostalgic retro pizza parlor arcade experience with this high-quality game.
The game has a high-quality 26 inches LED monitor with a thick tempered glass top. The large screen provides immersive gaming. Similarly, it is a full-size commercial-grade arcade machine that comes with a set of two free custom quality stools.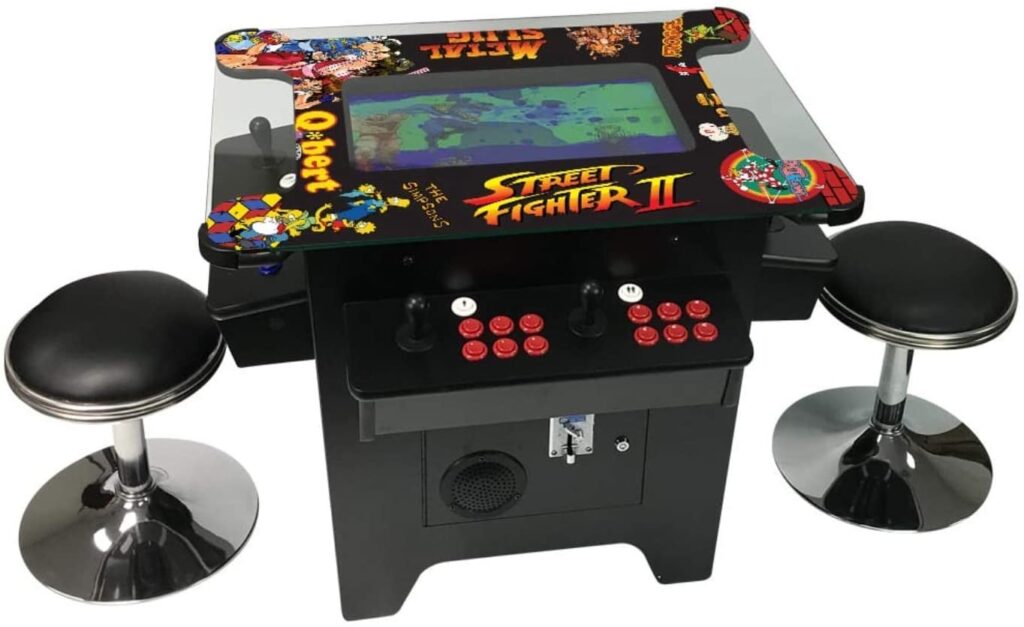 The game is fully assembled; therefore, you need to plug the machine in, and you are ready to play. The Cocktail Arcade Machine includes games like Galaga, Street Fighter II Turbo, and many other all-time favorite games.
This one will be a terrific addition to any game room with its modern and color-rich design. Likewise, its fine-quality loudspeaker further enhances your gaming experience. The Cocktail Arcade Machine game comes with a five-year warranty.
Are you a fan of vintage old-school arcade pinball machines and looking for some of the best pinball machines to buy? Read here about the top 10 best pinball machines!
4. My Arcade Data East Classics Mini Player
Dimension: 6.25 x 7 x 12 inches
On number 4, we have My Arcade Data East Classics Mini Player. The arcade game is a collectible mini-player packed with all-time favorite class Data East titles perfect for any game room or display case.
The game is a treat for retro fans and collectors since it includes hard-to-find classics like Burger Time, Karate Champ, and Bad Dudes. It has a 4.25 inches full-color screen that provides an authentic arcade experience.
My Arcade Data East Classics Mini Player is one of the lightest tabletop arcade games on the market. It has an external speaker that produces excellent sounds, volume controls, and a 3.5mm headphone jack for private gaming.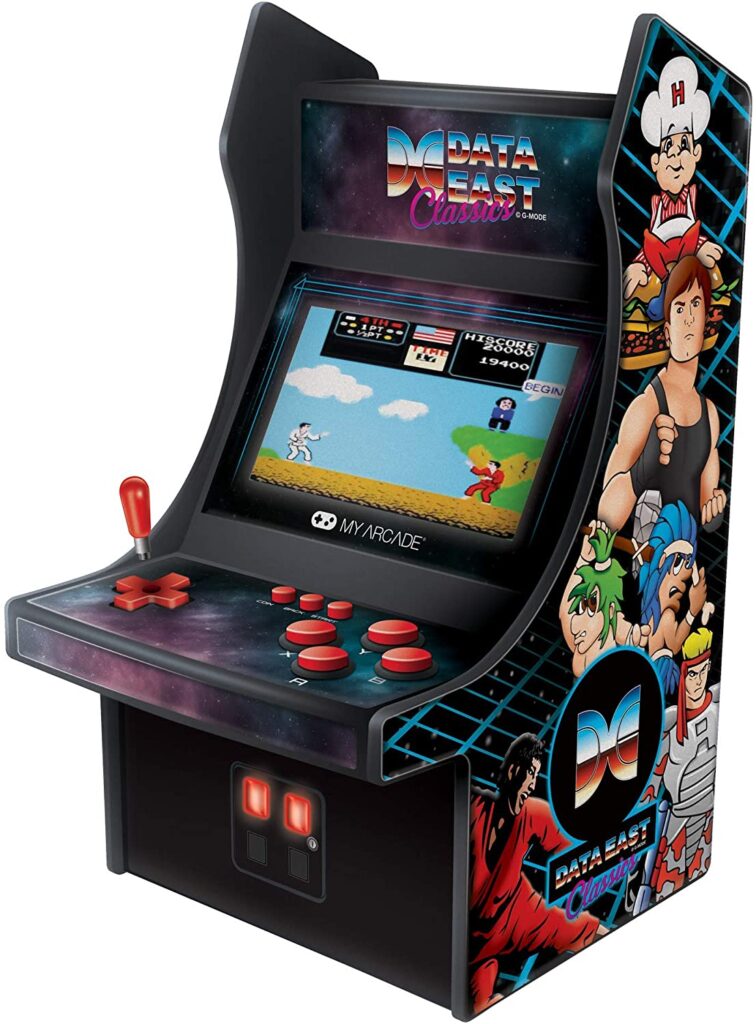 A unique feature about the machine is its glowing coin trap, with a premium model arcade cabinet. The joystick can be removed easily if you prefer to play with the directional pad.
The game is perfect for 14 years and above. This one from My Arcade is ideal if you do not have much space in your home or gaming room. It is a complete unlimited entertainment package that comes in a small package.
3. Doc and Pies Arcade Factory Classic Home Arcade Machine
Dimension: 32.9 x 21.9 x 20.7 inches
With vibrant red color, we have an arcade video game machine-themed tabletop arcade game. The Doc and Pies Arcade Factory Classic Home Arcade Machine are perfect for all ages.
The machine features 60 classic arcade games from the 1980s. Similarly, it has full size 19 inches LCD screen and full-size buttons with the joystick. It will perfectly fit any bar and gaming room.
Doc and Pies Arcade Factory Classic Home Arcade Machine has the state of the art electronics. Likewise, it also features authentic sound, graphics, and action. It has the 80s and 90s era gaming song that brings back the classic nostalgia.
Overall, the arcade game has a strong and durable build with an attractive design. If you want to experience the authentic gaming experience, then look no further as this game delivers it all.
2. Arcade1Up Galaga
Dimension: 18.9 x 23.62 x 47.64 inches
On number 2, we have the Arcade1Up Galaga. The arcade game is ideal for retro junkies or those looking to experience the golden gaming era of Pac-man that can easily fit anywhere.
The game features an upgraded 17 inches color LCD screen with solid visualization. Similarly, it resembles real arcade controls and operates without coins.
The Arcade1Up Galaga has the classic Galaga and Galaxian arcade games with original artwork on the cabinet. Have a great time maneuvering and shooting at the aliens invading earth!
Foosball tables are a great addition to your home as it is a suitable means of entertainment for your family, friends, and guests. Read here about the six best folding foosball tables!
1. Arcade 1Up Pacman Countercade
Dimension: 12.25 x 11.25 x 18.5 inches
Our top pick for the best tabletop arcade games of 2021 is the Arcade 1Up Pacman Countercade. Perfect for game rooms, offices, dorm rooms, or anywhere, this compact arcade game is suitable for everyone.
The tabletop design machine features Pac-Man, and Pac & Pal features two classic games. These two games were two of the most played games in the old times.
It has an upgraded eight inches Color LCD screen and a screen game selection menu with the original artwork. Similarly, the game has a coinless operation, and players can also control the volume as they wish.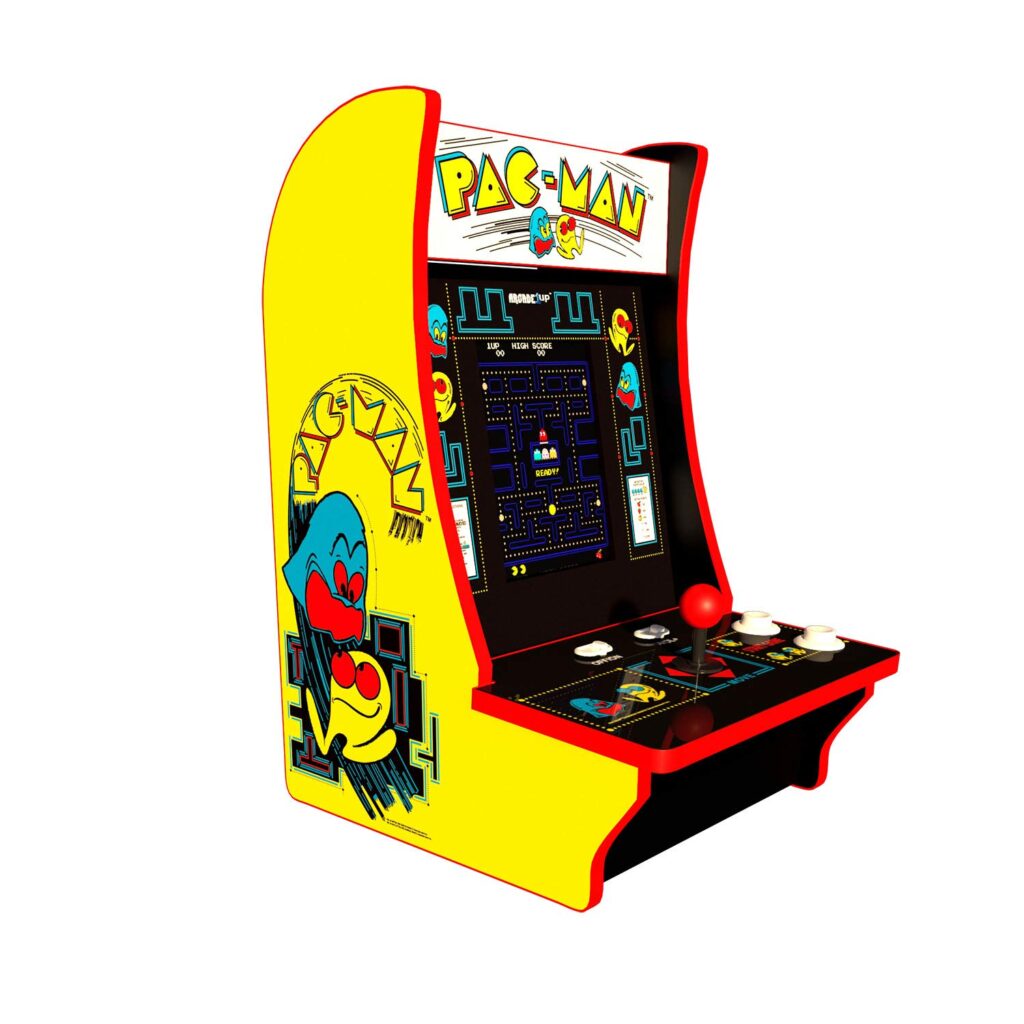 It has the real feel of arcade controls with Commercial-grade construction. The Arcade 1Up Pacman Countercade can be plugged directly with an AC outlet. In addition, it is one of the most affordable arcade games on the market.
This retro arcade game with a vibrant display will give you an authentic experience, all but at the comfort of your living space.
Honorable Mentions
Space Invaders Miniature Arcade Game
Namco Pac-Man Pixel Bash
GamesArcade1Up Midway Legacy 4 Foot Arcade Machine
Conclusion
These arcade games blend classic gaming experiences with the convenience of modern times. Therefore, now you can travel back through time to get the classic arcade gaming experience in your own living space.
There are many options, and you can choose the one that is best suited for you and your needs. With these arcade games, you can have hours of unlimited fun with your family and friends.
We hope our short list was able to assist with your choice. Thank you for reading to the end. Have a great time gaming!