NFL player Tom Brady is widely acknowledged to be one of the best footballers of this era. But did you know that he considers his eldest sister, Maureen Brady, a better athlete than himself?
Well, it's not just Tom; many other softball fans believe Maureen is the best player among the Brady siblings.
Tom Brady was born and raised in San Mateo, California, alongside three elder sisters, Maureen, Julie, and Nancy.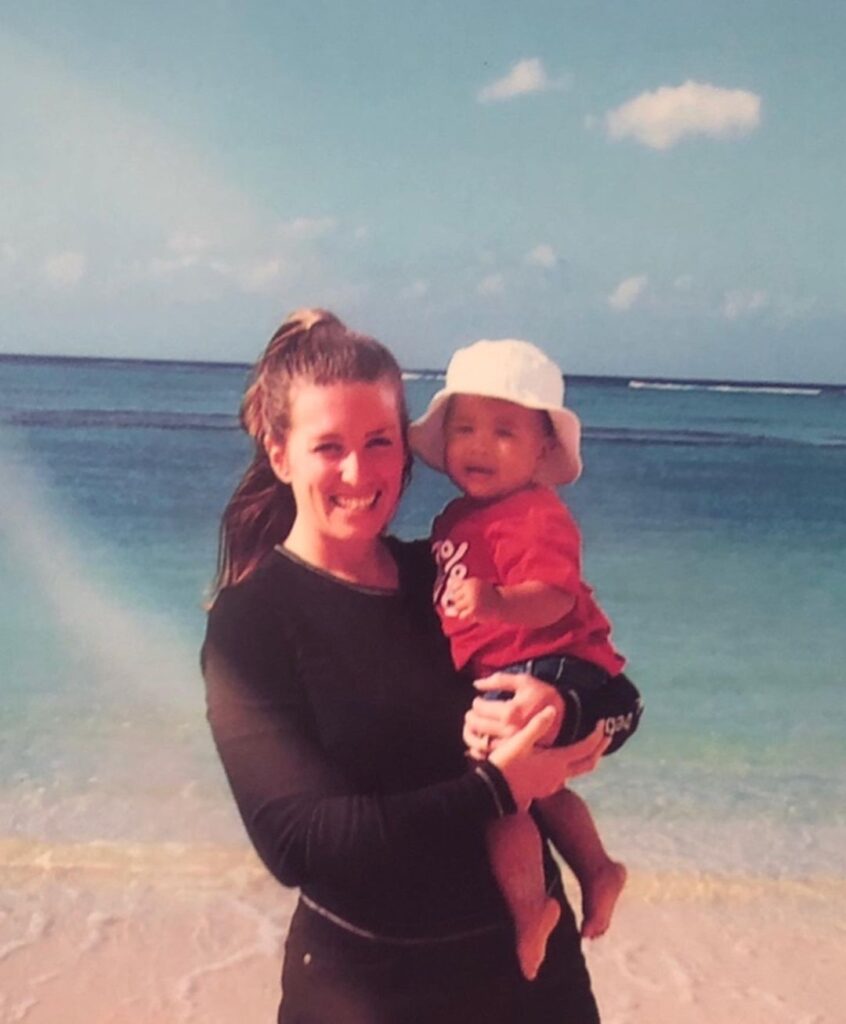 Being the youngest kid, he was always in the shadow of his sisters in all the aspects. However, athletically, it was his eldest sister Maureen who seemed to be naturally gifted.
She played softball in high school and set all kinds of records as a pitcher. After enrolling in Fresno state university, she continued pitching for them.
Though she did not continue softball for a long time, Tom has never failed to acknowledge his sister's great athleticism.
In this article, we will explore more about what kind of an athlete Maureen was. Similarly, we will explore the family life of Tom Brady. But before we begin, here are some interesting quick facts:
Maureen Brady: Quick Facts
| | |
| --- | --- |
| Full Name | Maureen Brady |
| Common name | Maureen Brady |
| Nick Name | Maureen |
| Birthdate | February 6 |
| Age | Unknown |
| Zodiac Sign | Aquarius |
| Mother's Name | Galynn Patricia Brady |
| Father's Name | Tom Brady Sr. |
| Siblings | Nancy Brady, Julia Brady, Tom Brady |
| Birthplace | San Mateo California |
| Home Town | San Mateo California |
| Citizenship | American |
| Residence | Bakersfield, California |
| School | Hillsdale High School |
| College | Fresno State University |
| Education | Marketing Major |
| Height | Around 5 feet 6- 10 inches |
| Weight | N/A |
| Eye Colour | Hazel Green |
| Hair Colour | Light brown |
| Shoe Size | N/A |
| Martial Status | Single |
| Partner | Brian Timmons (ex-husband) |
| Children | Two Daughters, Maya and Hannah |
| Sport | Softball |
| Profession | Nurse |
| Famous for | Collegiate softball player and Tom Brady's sister |
| Family | Maya Brady, Tom Brady, Gisele Bundchen, Vivian Lake, |
| Hobbies | Travel, Sports |
| Affiliated Brands | N/A |
| Social Media | Facebook, Twitter, Instagram |
| Website | SlotoGate Roulette |
| Merch | |
| Last-Update | June, 2022 |
Maureen Brady: Early Life
Maureen Brady is the eldest child of Galynn and Tom Brady. She was born on 6th February in the mid-1970s in San Mateo, California. Though her exact birthdate is unknown, we can estimate that she was born around 1975.
After Maureen, Galynn and Tom welcomed their second daughter Nancy.
Among the Bradys, Nancy is the least seen and heard on media. As a result, there is not much information about her in the public domain, unlike her other siblings.
If you had heard about his 'twin sister' before and wondered who she was, Julie Brady. Howver you would be surprised to know that she is not entirely his twin. They only share the exact birthdate!
Julie was born on August 3, 1974, exactly three years before Tom. Due to that, tom jokingly refers to her as his twin sister. However, both of them have a strong bond.
The Brady siblings grew up in an ordinary American family that shared a passion for sports.
Despite not being very well-off, they shared a very close bond. Although Tom Brady Sr. andGalynn tried to introduce their children to music and fine arts through dance, piano, and guitar lessons, the kids had other plans.
>>> You might also be interested in Top 50 NFL Fantasy Players for 2021 >>>
They all played sports in their childhood.
Maureen, Nancy, Julie, and Tom all played every sport imaginable during school. They used to go to each other's games to cheer and support their family.
Julie Brady once told in an interview that all of the Brady Children caught a competitive spirit early on. "We used to compete for absolutely everything," she said, even for the minor things such as controlling the television remote. Their favorite fight weapon used to be water pistols.
Tom fondly remembers how his eldest sister amazed everyone with her athletic strength during her school years.
"She'd pitch like six or seven games in a day," he remembers, "and she'd go 7-0 with two no-hitters. It was unbelievable." It was an exhausting effort, tom acknowledged, "she'd be exhausted, but she was the player that made it happen."
His sisters were consistently winning games and making them into newspapers. The youngest kid Tommy was known as 'little Brady' or 'Maureen Brady's brother.' Tired of being in the shadow of his sisters, he made a pact with his sisters.
He promised that he would be a household name someday, and all of them would be known by his name. Maureen fondly remembered this event in an interview and shared how proud she was of her little brother.
>>> You might also be interested in Patrick Kane Girlfriend: Amanda Grahovec Bio >>>
Maureen Brady: Softball Career
Maureen primarily played two sports, softball and soccer. In addition, she studied at Hillsdale high school in California.
During this time, Brady was a two-year letter winner in soccer. Similarly, she was a four-year letter winner in softball.
In 1990, she was named 'Junior of the year' by CaliHi. She ended her career with 29 no-hitters. In addition, Maureen set a state record with a 111-10 career record, including 14 perfect games, which is still one of the best in the state.
She earned all-league, all-country, and all-peninsula honors in softballs for four years in a row during high school. In addition to that, she was also named the league and team MVP for softball in each of those years.
She graduated from high school in 1991 with a 2.9 GPA.
In 1991, Maureen played in the Junior Olympic Games. In Australia. She considered it her biggest athletic thrill. The young athlete idolized Joe Montana.
University
After high school, Maureen had several reputed universities lined up to welcome her as an athlete student. These included UC Berkeley, Arizona, and the pacific. Howver, she chose Fresno state university as her alma mater.
The main reason for choosing this university was the excellent softball program in the college. Alongside that, they had beautiful coaching facilities, which included legendary Margie Wright. Her major was marketing.
During her time with the 'Fresno Bulldogs,' Maureen shined even better as an athlete. She was an all-American pitcher in 1994, and she even led the nation in wins.
At the end of her career, she had scored 80-31 on 748.2 career innings pitched. Mauren helped the Bulldogs reach the women's college world series twice.
In her senior year at FSU, she was honored with School's athlete of the year.
On the other hand, her younger siblings followed the same course as her and were athletes for their respective colleges. Nancy played softball at California university, and Julie played soccer at St. Mary's college in California.
Tom was always a baseball lover, but he pursued football during high school and at Michigan state university.
Maureen did not continue softball throughout her life, but her legacy has still not died. She is a highly regarded school athlete in the California. San Mateo County inducted her into their sports hall of fame in 1999 to acknowledge her outstanding contribution.
Maureen Brady: Personal Life and kids.
Maureen has two daughters together, Maya and Hannah. She had them with her ex-husband Brian Timmons. Howver, Maureen is a single mom now, and she is no longer with the father of her kids.
The daughters go by their mother's last name, Brady.
The family has their home in Bakersfield, California. There is not much information about her recent partners. However, her daughters take their uncle Tom as a father figure.
Maureen has left her athletic career behind to raise her family. Though she did not follow fame and fortune into the big leagues, she pursued her big dream.
The wonderful lady devotes her time caring for the needy by working as a nurse in a local hospital.
In addition to her full-time nursing job, she also works as a softball instructor.
The Brady family needs no introduction to anyone that is into popular culture. Tom Brady and his supermodel wife Gisele Bundchen are both some of the most famous people in their respective fields
Despite coming from a renowned family, Maureen does not like to draw attention and keeps a low profile.
Her daughter also plays softball!
Interestingly, the passion for athletes runs in her daughters as well. Maya Brady played softball for her high school Oaks Christian that lies in Westlake village. She was the finalist for Ms. softball state player of the year.
After graduating high school in 2019, she moved to UCLA. People remember Maureen and Maya as the top mother/daughter duo in California high school athletics.
Though Tom can not always be near his family due to his commitments, the rest is always finding time to be together. Whether it be to Maya's softball games, Superbowl, or a relaxed family vacation, they are always together.
Tom's twin sister Julie also went on to marry a baseball player. She tied Knots with Kevin Youkilis, the two-time world series champion, in 2012.
The other sister Nancy also got hitched in 2015, with the closest family to witness the ceremony.
>>> You might also be interested in: Who is Russell Wilson's wife? Career, Children & Net Worth >>>
Maureen Brady: About Brother Tom Brady
Thomas Edward Patrick Brady Jr. was born on 3 August 1977 in San Mateo, California. Born as the youngest among four siblings, Tom grew in the shadow of his three amazing sisters.
Although he did play basketball, baseball, and football since his childhood, people never imagined he'd be a star player someday. But, unfortunately, all the athletic limelight was stolen by his sisters.
He went to the University of Michigan with a football scholarship and helped his team win the orange bowl during his final year. However, he was not a significant prospect after graduating from college.
He got drafted only in the sixth round of the 2000 NLF draft by the New England patriots. Since then, he has continuously improved his gameplay with a combination of talent, intelligence, hard work, and work ethic.
He has helped his team win seven super bowls and is one of the most highly regarded footballers of the era.
>>> You might also like: Travis Kelce Brother, Jason Kelce: NFL, Stats & Jersey >>>
Social Media
Maureen Brady likes to keep her out of the spotlight. She is barely active on social media. Most of her posts are about her daughter and their achievements. Even if you find her social media, remember that she likes to keep most of them private.
Facebook: Private account
Instagram: 538 followers (private account)
Maureen Brady: Frequently Asked Question
Who is Tom Brady's niece?
Tom Brady's niece Maya Brady has followed her family's footsteps and is making her name as a bright collegiate baseball player. She is currently a freshman at UCLA.
Does Tom Brady's sister play baseball?
Yes, Tom's eldest sister Maureen was an all-American pitcher at Fresno State University in the 1990s. Howver, his other two sisters also played baseball and soccer.