If you love using social media, may we suggest a few athletes we feel you need to follow on social media?
Nowadays, you can follow your favorite celebrities and keep yourself updated with their latest news. It is no different with the athletes, and they have acquired the status of stars.
More and more athletes are now making their presence known on social media. They post various news updates about their lives and entertaining content for their fans.
Thus, we have come up with a list of the top athletes on social media that we feel you need to follow. It is fascinating to see what these athletes do aside from sports. Furthermore, we get to know their side of their story apart from their sports personality.
So, let us cut to the chase and get right into the details of the top athletes on social media you need to follow!
Top 10 Athletes On Social Media You Need To Follow [2023
We have composed this list primarily with the help of internet sources like 90Min, OSDBsports, etc. But before diving into the details, let us look at the quick preview of the list first.
10. James Haskell
James Haskell is the first athlete that we feel you need to follow. He is a 38 year-old former English rugby union player and currently a Bellator MMA fighter.
So the main reason we feel that you need to follow this player is because he participated in the nineteenth series of "I'm a Celebrity Get Me Out of Here!" Additional to this, Haskell is D.J., producer, and writer.
Haskell's popularity skyrocketed after his appearance in the series. He made 77 appearances before becoming the fourth person to be voted off.
Haskell is a busy man with many different hats. He is married to T.V. presenter Chloe Madeley and is expecting a baby girl.
Haskell's Twitter and Instagram are filled with many entertaining contents. He also posts snippets of his rugby podcast and DJing, from photos to video clips.
We are sure that you will find his content very interesting!
Female athletes have a comparatively massive number of followers on Instagram than male athletes. Read here about the most followed female athletes on Instagram!
9. Maria Sharapova
On our number 9 top athletes on social media, you need to follow former Russian world no. 1 player Maria Sharapova. She is an Olympic medalist and the only Russian female player to achieve a career in Grand Slam.
The Times named Sharapova one of the "30 Legends of Women's Tennis: Past, Present, and Future" in 2011. Likewise, Tennis Channel named her one of the "100 Greatest of All Time" in 2012.
During her playing career, she won five major titles and 36 titles. Her five notable titles include two French Open and one each at the Australia Open, Wimbledon, and the U.S. Open.
Although she is no longer active in tennis, you can follow her on social media to see her fascinating life. She actively participates in various charity works, and an autobiography about her life was published in 2017.
Sharapova has endorsed many brands, modeling assignments, and fashion houses. Forbes named her the highest-paid female athlete globally for 11 consecutive years.
So why not follow this former world no. 1 tennis player to see her colorful life and travel photos on social media!
8. Lewis Hamilton
Lewis Hamilton is a British racing driver who competes in Formula One currently. The 38 year old is credited with furthering Formula One's global following.
Hamilton is not only a high profiled athlete, but he is also known for environmental and social activism.
He has actively spoken to combat racism and increase diversity in motorsport. Likewise, he is also known for his exploits in music and fashion.
In Formula One, he holds the joint record of seven World Drivers' Championship titles. Similarly, he also has the record for the most wins, pole positions, podium finishes, etc.
Other than these, Hamilton has set many more records. He was the youngest Formula One Champion in history.
The Times named him one of the 100 most influential people globally in the 2020 edition.
He is a decorated athlete and a prominent advocate activist; therefore, he is one of the athletes you need to follow on social media.
7. Shaquille O'Neal
Shaquille O'Neal, or rather known by his nickname Shaq is our number 7 of the top athletes you need to follow on social media. He is a former professional NBA player.
Orlando Magic first drafted him as the first overall pick in the 1992 NBA draft. He is considered one of the greatest basketball players and centers. Currently, he is a sports analyst for a T.V. program, "Inside the NBA."
Shaq is a decorated player, and during his playing career, he earned many awards and accolades. He is a Naismith Memorial Basketball Hall of Famer and a FIBA Hall of Famer.
In addition to his NBA career, he has also released four rap albums, is an electronic music producer, and is a touring D.J. He also owns his reality shows, Shaq's Big Challenge and Shaq Vs.
Shaq has one of the most interesting Instagrams among the athletes. He posts regular content, but he also posts utterly hilarious stuff.
American football is a sport where size matters. Click here about the history's 10 biggest NFL players!
6. Roger Federer
On our number 6 top athletes on social media whom you need to follow, we have the Swiss tennis player Roger Federer. He is currently ranked No. 16 globally by the Association of Tennis Professionals (ATP).
Federer is one of the versatile all-court tennis players and is famous for his on-court demeanor. He was one of the players who dominated men's tennis during the early 2000s and has won the men's Grand Slam 20 times.
Likewise, Federer has a long list of achievements and awards. For example, he has won a record five times for Laureus World Sportsman of the Year.
As a result of his achievements and overall personality, Federer is one of the most famous tennis players. Furthermore, he is one of the top ten highest-paid athletes.
Additional to being a famous player, Federer is also an active philanthropist. He has a foundation under his name which helps impoverished children in Southern Africa.
5. Simone Biles
The next athlete we feel you need to follow on social media is 26 year old artistic gymnast. She is our number 5 of the top athletes on social media.
Simone Biles might be young, but she is an Olympian and considered one of the greatest artistic gymnasts. She has a combined 32 Olympic and World Championship medals.
Furthermore, she is the first American female gymnast to win the World medal in every event. Biles has many different records, and she is one of the most decorated gymnasts.
Her achievements at such a tender age have made her one of the most famous figures in America. Thus, she is among the top ten female athletes followed on Instagram with 6.9 million followers.
In the 2020 Summer Olympics, Biles partially withdrew from the competition to focus on her mental health. It earned her worldwide praises from fans alike. She is engaged to professional football player Jonathan Owens.
4. David Beckham
David Beckham is a former professional footballer regarded as one of his generation's greatest and most recognizable midfielders. His skill is unmatched, and he is hailed as one of the best set-piece specialists of all time.
The player is a star football player. He is married to Victoria Beckham, part of the famous pop music group Spice Grils. They have four children together.
Apart from his professional career, Beckham is a fashion icon and a celebrity. Just scroll through his Instagram, and see why he is considered a fashion icon. He is one of the top-looking athletes.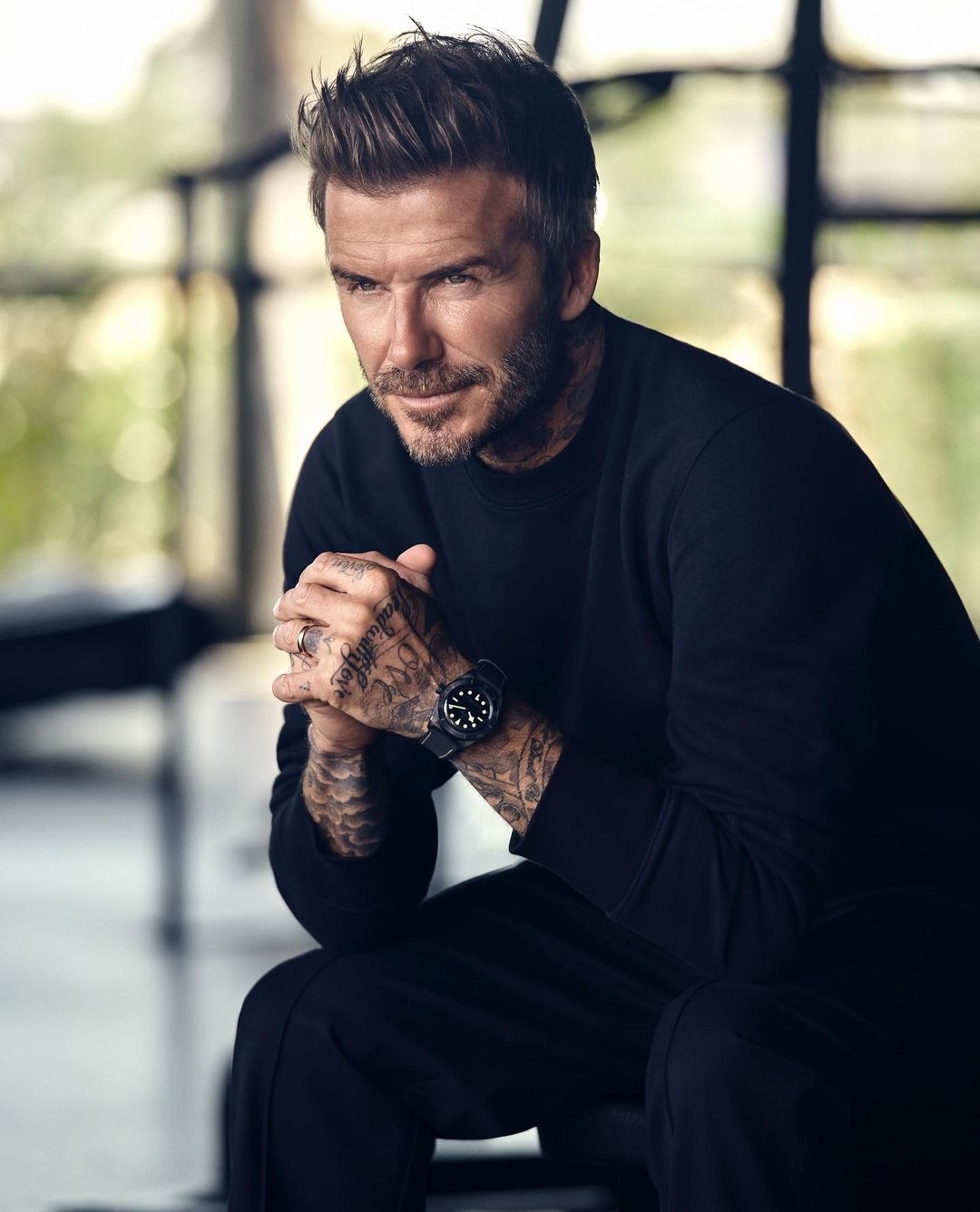 Beckham and his wife are among the most sought couples by high-end fashion designers, brands, and health and fitness brands. Furthermore, since 2005, he has been a UNICEF UK ambassador.
You can follow him on social media to keep up with his exciting life and activities. Beckham also posts much content related to UNICEF's events and programs.
3. Serena Williams
Our number 3 top athlete on social media is tennis player Serena Williams. Williams is the second most followed athlete on Instagram, with 14.4 million followers.
Williams is one of the most famous American athletes. Furthermore, she is a popular, iconic figure for aspiring girls worldwide. She is widely regarded as one of the greatest tennis players.
Her talent on the tennis court is unmatched. Williams won the Laureus Sportswoman of the Year award four times. Similarly, in 2015, Sports Illustrated magazine named her the Sportsperson of the Year.
Due to her status, Williams is a celebrity figure in the tennis world. She tied the knot with Reddit co-founder Alexis Ohanian and has a daughter with him.
She often posts photos with her daughter and also her highly fashionable lifestyle. Williams is genuinely an aspiring figure for women around the globe. Follow her to see all the glam and stylish life of a celebrity tennis player.
2. LeBron James
LeBron James owns his nickname "King James." Appraised as one of the greatest players in NBA history, James is one of the top athletes you need to follow on social media.
The NBA player made his NBA debut after Cleveland Cavaliers drafted him as the first overall pick of the 2003 NBA draft. Since then, he has become a celebrity star NBA player.
LeBron has been featured in books, documentaries, and T.V. commercials and has even hosted Saturday Night Live.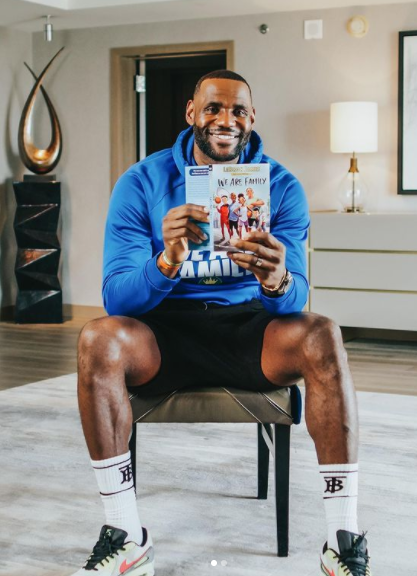 Many, including fellow NBA players, James is considered the "face of the NBA." His immense popularity has helped make him one of the most followed basketball players.
He is married to his high school sweetheart Savannah Brinson and has three children. On his Instagram pages, James often posts many entertaining contents. It must be the reason that he has over 373 million followers.
He posts his professional life photos and shares sweet snippets of his family life. James has his charity foundation, the LeBron James Family foundation.
Many NFL players have a huge fan following who supports the players through social media. Read here about the most followed NFL players on Twitter!
1. Cristiano Ronaldo
Cristiano Ronaldo is our number 1 athlete on social media that we feel you need to follow. Ronaldo is regarded as one of the best greatest players in soccer history. There is no argument when it comes to his skills and talent.
His talent precedes him, and thus, he is one of the most followed athletes on social media. So it is not a surprise to give him our number one spot.
Ronaldo started his career with Manchester United at 18 years old in 2003. His skills soon made him one of the top soccer players. He has signed some of the most lucrative contracts in his career.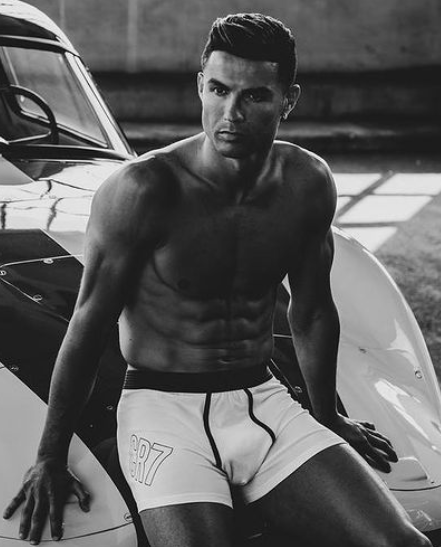 The Times has named him among the 100 most influential people in the world in the 2014 edition. Given his status and career achievements, he has a considerable following. He has over 419 million followers on Instagram.
Likewise, Ronaldo is one of the most decorated soccer players. Aside from his professional career, he is a family man. He has four children and is in a relationship with Spanish model Georgina Rodriguez.
If you follow him on his social media, you can see his professional life and his personal one. Ronaldo's fitness and workout photos will give you the necessary inspiration to hit the gym!
Get to know 5 Nike Deadlift Shoes To Hit Gym>
Conclusion
Social media has helped to connect athletes and their fans. It is a treat to see your favorite athlete posting various entertaining content.
Moreover, it helps to create a connection between the fans and athletes. As more and more athletes are pouring into the various social media platforms, we hope you can follow these best ones with our list!