Wrestling can be both entertainment and sports; some people pursue wrestling as sports and some as entertainment.
Tucker Knight chased wrestling in the entertainment world. The ambitious wrestler Tucker is currently assigned to World Wrestling Entertainment (WWE) Raw brand.
Tucker started his wrestling career in high school, which he continued in college, and finally signed with World Wrestling Entertainment Inc (WWE) in 2018.
He started his professional career with NXT, a development brand of WWE promotion. Then Tucker paired with Otis, another WWE professional wrestler, and created Heavy Machinery.
Moreover, Heavy Machinery was one of the most popular professional wrestling tag teams.
Otis and Tucker performed together as a Heavy Machinery team until WWE promoted both to WWE's leading roaster in 2019. However, they dispersed in 2020 due to the WWE Draft.
Levi Rolla Cooper, popularly known as Tucker, is an American Professional wrestler. He was born on July 24, 1990, in Clackamas, Oregon, USA.
He went to North Marion High School in Oregon, becoming a successful amateur wrestler.
Moreover, Tucker played collegiate-level wrestling for California State University, Portland State University, and Arizona State University.
Notably, he also earned All-America Status in 2011 and WWE 24/7 Championship two times in his professional career.
Before we go into Tucker's life and career, let's check some quick facts.
Quick Facts:
| | |
| --- | --- |
| Full Name | Levi Rolla Cooper |
| Birth Date | July 24, 1990 |
| Birth Place | Clackamas, Oregon, United States |
| Nick Name | Bull-Fit, Muckle Kite, Tuck Shop, Tucker Biscuit, Tucky |
| Religion | Not Available |
| Nationality | American |
| Ethnicity | White |
| Education | Portland State University, W.P. Carey School of Business – Arizona State University |
| Horoscope | Leo |
| Father's Name | Not Available |
| Mother's Name | Not Available |
| Siblings | Not Available |
| Age | 32 years old (as of July 2021) |
| Weight | 150kg |
| Height | 5 feet 8 inches |
| Build | Athletic |
| Eye Color | Dark Brown |
| Hair Color | Dark Brown |
| Married | Yes |
| Wife | Ashley Cooper |
| Profession | Professional Wrestler |
| Trainer | Performance Center |
| Finishing moves | Project Mayhem |
| Children | Kenzi Lovie Cooper (Daughter) |
| Net Worth 2023 | $1 million |
| Retirement | Active |
| Social Media | Twitter, Instagram |
| Last Update | May, 2023 |
Tucker Knight | Height, Age & Horoscope
The WWE wrestler Tucker turned 32 Years Old last July 2023. He weighs 320 lbs (150 kg) and is 5 feet and 8 inches tall.
Furthermore, the good-looking wrestler Cooper has long dark brown hair and brown eyes.
Moreover, Tucker falls under the sun sign of Leo; Leo people are natural leaders. Similarly, the lion means regal and big-hearted people.
They are generous and ambitious souls. Leo folks like to dominate, not another way around.
Tucker Knight | Early Life, Family, Wife & Children
Tucker Knight was born and grew up in Clackamas, Oregon. Sadly, there is not much written about Tucker's parents.
It looks like his parents are low-key regarding their son and his success. As for education, Tucker attended North Marion High School, located in Aurora.
The high school has produced some notable national players like Pat Chaffey ( NFL runningback), Steve Schrenk (MLB Player), Kory Casto (MLB player), and of course, Tucker Knight (WWE wrestler).
Success came early for the aggressive wrestler, Tucker. He was a successful amateur wrestler in high school.
After high school, he went to Arizona State University, where he got an accounting degree from one of the largest business schools in the United States, W.P. Carey School of Business.
Who would have known the indisputable wrestler would be interested in accounting?
Wife
Tucker is happily married to his beautiful wife, Ashley Cooper. The couple got married in 2016 on an eventful day in the presence of their friends and family.
They looked elegant on their wedding day. Tucker and Ashley look great together. Moreover, the gorgeous couple has a beautiful daughter named Kenzi, born in 2018.
Moreover, Tucker and Ashley have created a beautiful family with love and fun. As of now, the small family of three is living a happy and comfortable life.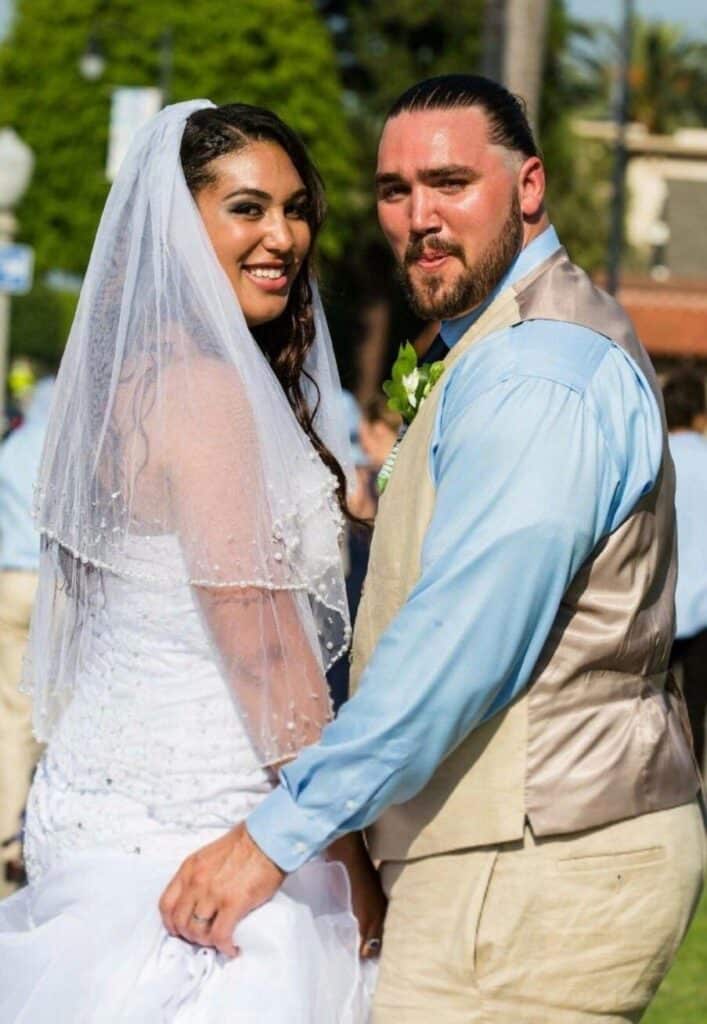 Also, read about another wrestler, Samoa Joe: <<Samoa Joe: Early Life, Career, Retired, Relationship & Net worth >>
Tucker Knight | Career
As soon as Tucker completed his college degree in accounting in 2013, he signed a WWE contract.
WWE then assigned him to the WWE Performance Center. There he got his ring name, Tucker Knight.
On January 24, 2015, Tucker got his first shot of professional wrestling at NXT. It was a live event when he went against Tye Dillinger, which went no contest.
The same year, Tucker appeared on television on the NXT, July 1 episode as an enhancement talent whose job was to lose.
Knight continued to develop himself in 2015 and 2016 as an enhancement talent.
Otis
Nikola Bogojevic, famously known as Otis, is an American professional wrestler assigned to WWE, the SmackDown brand.
He comes from Serbian origin but was born in Duluth, Minnesota, USA. The superstar started his wrestling career in high school as an amateur wrestler.
He had won many titles from an early age, such as the 2009 Greco-Roman Junior Nationals and the 2010 285lb WIAA State Championship.
He also played collegiate-level wrestling for Augsburg and Colorado State University.
Moreover, Otis wrestled at regional promotions before becoming a part of Heavy Machinery.
WWE paired Otis with Tucker Knight. Together they participated in various championships until they both went for Singles.
Money in the Bank ladder match gave Otis his first single world title. Tucker betrayed him at Hell in a Cell by hitting him with the briefcase.
After Tucker, Otis paired with Chad Gable on the December 10 episode of SmackDown.
Heavy Machinery
Finally, Knight's enhancement talent started rising as a wrestler when he teamed up with Otis Dozovic in 2016 to form a tag team called Heavy Machinery.
As the Heavy Machinery, the duo participated in the Dusty Rhodes Tag Team Classic, an annual professional wrestling tag team tournament.
They lost their debutant television appearance against Austin Aries and Roderick Strong in October 2016.
Tucker and Otis's dynamic duo got their first televised victory in March 2017 at the NXT against Jonathan Ortagun and Mike Marshall's team.
Next year in March, the Heavy Machinery returned to participate in the Dusty Rhodes Tag Team Classic Tournament and got disqualified in the first round by the Street Profits.
After announcing Heavy Machinery's entry on the main roster at the end of 2018, they made their debutant appearance on the January 14, 2019, episode of Raw.
Moreover, the duo got victory over the Ascension the following week, their first in-ring competition.
In February, Tucker Knight got shortened to Tucker and Otis Dozovic to Otis.
The journey of Heavy Machinery continued to WrestleMania 35 and then to SmackDown.
They lost the game when they faced Daniel Bryan and Rowan in the SmackDown Tag Team Championship.
The following month, Heavy Machinery won at Extreme Rules. The duo participated in many other championships with both victories and losses.
You might be interested in reading: <<Nikita Krylov Bio: Family, UFC, EFN, Tattoo, & Net Worth >>
Singles
Heavy Machinery's disbanding started when Tucker's partner Otis won the Money in the Bank ladder match and earned a world title.
Furthermore, another cleft arrived between the two during the 2020 WWE Draft, when Tucker got assigned to the Raw and Otis remained on SmackDown.
Finally, on October 25, Tucker betrayed Otis by beating him. After the dispersal and betrayal, on the November 9 episode, Tucker won the 24/7 Championship, which was his first single championship.
The brotherhood between Tucker and Otis
Tucker and Otis have trained together in NXT. They were together until Heavy Machinery dissolved at the end of 2020.
Besides their excellent performance together in the ring, they share a deep friendship. They relate with each other as brothers outside of the ring.
Moreover, Tucker and Otis are seen together on various occasions of their lives, birthdays, and family gatherings.
The fans and followers of Heavy Machinery would love to see Tucker and Otis together in the future.
The remarkable history they have created together through their fun play and brotherhood is unforgettable.
You might want to read about the world-famous wrestler: <<John Cena Bio: Wife, Career, Song, WWE & Net Worth >>
Tucker Knight | Net Worth and Income
The WWE superstar Tucker has earned most of his net worth from his wrestling career. Tucker has been a part of WWE since 2013.
He has made and increased his value as a wrestler in seven years. As of 2023, Tucker Knight has an estimated net worth of $1 million to $5 million.
Social Media Presence:
The RAW superstar, Tucker, seems quite active on social platforms. He has created an exciting profile description: ASU graduate, wrestler, Amateur Chef, and loving father.
Furthermore, Tucker has a Twitter account and an Instagram account. His Twitter account contains posts related to wrestling and some posts related to personal life.
Tucker has 67.2K followers and 266 followings. Unlike his Twitter account, Tucker's Instagram account contains more personal stuff, like family, cooking, and posts with Otis.
On Instagram, he has 53.7K followers and 60 followings. It looks like Tucker likes cooking; he shares different posts of dishes he makes.
Some FAQs:
Does Heavy Machinery still exist?
No. Heavy Machinery, a Tucker and Otis tag team, dissolved in October 2020 after Tucker betrayed Otis. In July 2016, Otis and Tucker formed the tag team.
Together they gained popularity, but later they were drafted into different WWE brands and started to wrestle in a single championship. But outside the ring, Otis and Tucker are still friends.
Did WWE release Tucker Knight?
WWE released Tucker Knight in April 2021. He got fired after being underutilized for several months.
Is Tucker Knight returning to SmackDown?
Maybe. There was news about Tucker returning to SmackDown after being drafted to the WWE Raw brand in the 2020 WWE Draft.
Is Tucker Knight in WWE 2L19?
Tucker Knight made his video game debut as a playable character in WWE 2K19. After that, he also appeared in WWE 2K20 and WWE 2K Battlegrounds.
Where does Tucker Knight live now?
Tucker was born in Oregon, but now he lives in Orlando, Florida, with his family.