Nikita Krylov, the competent mixed martial artist, is Ukraine's foremost fighter to sign into the Ultimate Fighting Championship (UFC).
As of today, the fighter features in the light heavyweight division, where he proudly stands as the number 8.
Apparently, Krylov is a great finisher and a wild fighter who has also competed for M-1 Global.
If we start talking about his achievements, Krylov stands as a proficient black belt player in Kyokushin Karate. Furthermore, he is advanced in hand-to-hand combat and submission fighting.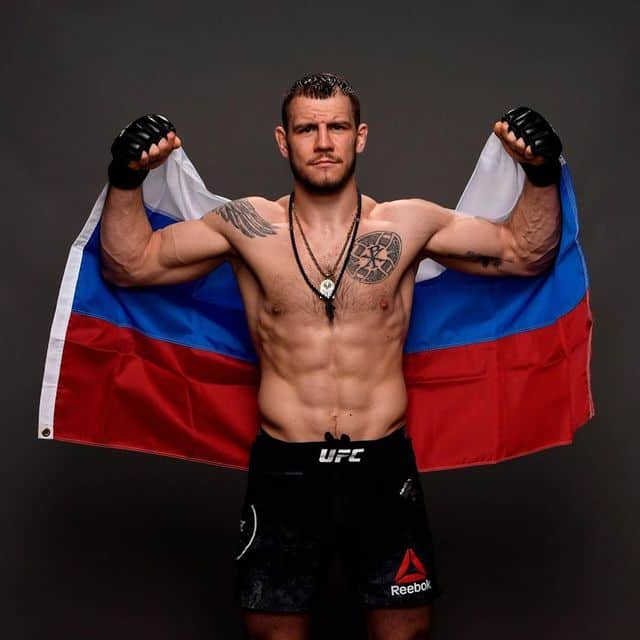 Starting up as a professional in 2012, Nikita Krylov has featured in teams such as Vale Tudo MMA Academy, YK Promotion, and Fight Club number one.
Quick Facts:
Full Name
Nikita Andreyevich Krylov
Date of Birth
March 7, 1992
Birth Place
Krasnyi Luch, Luhansk, Ukraine
Nick Name
The Miner
Al Capone
Religion
Christianity
Nationality
Ukrainian
Ethnicity
Russian
Zodiac Sign
Pisces
Age
31 years old
Height
6'3″ (1.91 m)
Weight
205 lb (93 kg)
Hair Color
Dark brown
Eye Color
Dark brown
Build
Athletic
Father's Name
Andrii Krylov
Mother's Name
Not Available
Siblings
A younger brother
Education
East Ukrainian National University
Marital Status
Married
Wife
Name unknown
Kids
A baby boy
Profession
Mixed martial artist
Stance
Orthodox
Reach
77.5 inches (197 cm)
Active Years
2012-present
Net Worth
$1.7 million
Social Media
Instagram, Twitter
Last Update
May, 2023
Nikita Krylov | Early Life, Family & Education
Krylov (fully named Nikita Andreyevich Krylov) was born on March 7, 1992, in Krasnyi Luch, Luhansk, Ukraine.
Apparently, Krylov is from a Russian family of miners born in Ukraine. Born to Andrii Krylov, Nikita has a younger brother and had his early days quite peaceful and useful.
To illustrate, his father, Andrii, is an accomplished karateka who taught his share of Kyokushin karate to Nikita at the age of 10.
Altogether, there is no wonder how Nikita was introduced into this world.
Following it, Krylov earned his blackbelt, becoming the Master of Sports in the discipline and hence, tried hand-to-hand combat.
Furthermore, there is no detailed information about his family and childhood days. Moreover, his family background is also in the shade.
However, after mastering those techniques, Krylov transitioned to mixed martial arts in 2012 after completing high school.
Nikita Krylov | Height, Weight, Body Measurements, and Tattoo
Nikita Krylov is a young athlete who has maintained his stature at 6 ft 3 in (1.91 m) while weighing 205 lb (93 kg).
He is a fair man with dark brown hair and eyes of similar color. Additionally, with years of effort into training, he maintains a wild side in his game.
Also, if most of you have noticed, Krylov has only one tattoo on his upper torso, which is quite special.
To elaborate, the tattoo was designed by his childhood friend using black and grey ink.
His tattoo bears a Thompson machine gun tattoo on his left arm, an angel with a Christian cross on his right. Apparently, the friend's duo has also doubled together.
"To become a champion needs many years of hard work, countless hours in the gym, and plenty of dedication and sacrifice. I'm willing to put that in, but first things first."
-Nikita Krylov
Nikita Krylov | Mixed Martial Arts
After an accomplished transition, Krylov commenced his professional career in 2012 through West Fight 4 in Donetsk, Ukraine.
During the event, he fought Alexander Umrikhin and took the victory via TKO. Ultimately, he went on to take eleven more victories with the debut victory at the side.
However, he lost for the first time against Vladimir Mishchenko at Oplot Challenge 22 via submission. As he continued to fight in the Gladiators Fighting Challenge, he had two victories.
This, he moved on to the M-1 Global to defeat Gabriel Tampu in St. Petersburg, Russia, through TKO.
You might be interested in reading: <<Israel Adesanya Bio: Career, Net Worth, Girlfriend & UFC >>
Ultimate Fighting Championship (UFC)
Afterward, gaining numerous accomplishments in the arena of Ukraine and Russia, Krylov signed into the UFC with a record of 15-2.
Therewith, he made his debut match on August 31, 2013, against Soa Palelei. As for the result of the UFC 164, Krylov had a loss via TKO in the third round.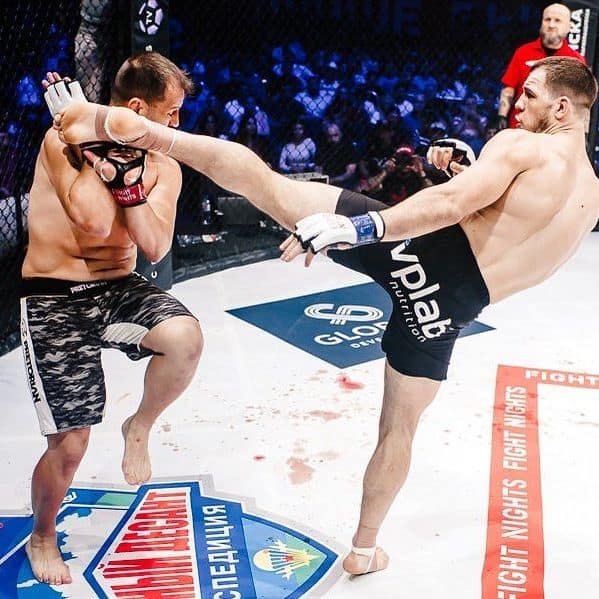 Following it, Krylov only returned on January 25, 2014, with the match against Walt Harris.
Apparently, his return match was an easy victory through TKO in just 25 seconds.
Right after the match, Krylov entered the light heavyweight division and debuted against Ovince Saint Preux at UFC 171.
During the match, he was made unconscious in the first round through the Von Flue choke.
UFC Fights
journey through the UFC came somewhat like the points highlighted below.
July 19, 2014 (UFC Fight Night 46): won over Cody Donovan via TKO in the first round.
January 24, 2015 (UFC on Fox 14): won through submission against Stanislav Nedkov in the first round.
August 23, 2015 (UFC Fight Night 74): matched against Marcos Rogério de Lima and won via submission due to a rear-naked choke in the first round.
May 8, 2016 (UFC Fight Night 87): victory over Francimar Barroso by submission due to a rear-naked choke in the second round.
July 30, 2016 (UFC 201): defeated Ed Herman by knockout due to a head kick in the second round.
December 10, 2016 (UFC 206): loss against Misha Cirkunov in the first round via submission.
"Before the fight with Misha, I had a streak of five straight victories. I worked with the UFC for two contracts, and the figures in the second were much higher than they were in the first one; and in the third contract, I was suddenly offered the same money that was in the second. I told them I wouldn't sign it, and they told me that the UFC could release me from my contract right now if that were what I wanted. My managers contacted the largest MMA organizations in Russia, and they offered me better terms than the UFC."
-Nikita Krylov
Eurasia Fight Nights/Fight Nights Global
After the matches, Krylov was released from UFC on February 17, 2017, and did not re-sign again.
Therefore, he signed into the Eurasia Fight Nights (EFN)/Fight Nights Global promotion, where he made his debut against the Stjepan Bekavac.
During Fight Nights Global 68, Nikita was expected to fight the former Bellator Light heavyweight Champion, Emanuel Newton, however, Newton withdrew, and he fought Bekavac.
Altogether, as for his debut, he won the fight by submission in the first round.
Later, he partook in the Donbas Association of Combat Sports promotion and defeated Maro Perak by knockout in the first round.
Next, he successfully challenged the former UFC fighter Fabio Maldonado.
His victory at the Fight Nights Global 87 came through knockout in the second round. Thus, he also claimed the FNG light heavyweight title.
Resign with UFC
In June 2018, Nikita Krylov was released from Fight Nights Global to re-sign into the UFC.
Nikita Krylov vs. Jan Blachowicz
On September 15, 2018, Krylov made his UFC return and faced Jan Blachowicz at UFC Fight Night 136.
During the fight, Nikita showcased his karate and was making the moves that were blocked by Jan.
Altogether, they ended the fight in the second round after Jan portrayed his title shot and won through submission in the second round.
"Before the fight with Blachowicz, I was in the worst shape of my entire career. Two weeks before the fight, I had back pain from a herniated disc and then suffered a cold. I never wanted to refuse the fight, even though my entire team advised me to. How could I turn down my first fight since returning to the UFC? The first 30 seconds of the fight showed I was wrong. I realized I didn't have the strength to compete. I was exhausted."
-Nikita Krylov
Nikita Krylov vs. Ovince Saint Preux
After five years, Krylov re-matched with Ovince Saint Preux on April 13, 2019, at UFC 236.
The light heavyweight bout stood as the main card at State Farm Arena in Atlanta, where Krylov had some success with striking aggression.
Advancing further, Nikita took the dominance in the second round after a few strikes and slipped and squeezed under the arm.
Altogether, the match ended at the 2:30 mark of the frame, and Krylov earned the victory through submission.
Nikita Krylov vs. Glover Teixeira
On September 14, 2019, Nikita Krylov faced Glover Teixeira at UFC Fight Night 158 inside Rogers Arena in Vancouver, British Columbia, Canada.
The clash started with Krylov's front kick and a body kick. Overall, Nikita had a lot of back-and-forth grappling and some heavy punch exchanges.
However, the Brazilian athlete Teixeira has the biggest punches during the fight.
Altogether, Teixeira won the match by split decision (29-28, 28-29, 29-28), which became the foremost decision loss of his career.
You might also want to read: <<Gheorghe Muresan Bio: Early Life, Career, Wife & Net Worth >>
Next, Krylov faced Johnny Walker at UFC Fight Night 170, held at Ginasio Nilson Nelson in Brasilia, Brazil, on March 14, 2020.
All in all, the clash took the victory for Krylov with his superior grappling. To illustrate, the fight was won by Nikita through a unanimous decision.
Afterward, Krylov was expected to face Volkan Oezdemir for the UFC Fight Night 180 on October 18, 2020.
Everything was set, but sadly, Oezdemir was injured and removed from the game.
Following it, they couldn't find a substitute to face Krylov, and hence, he sat out of the match.
Later, Krylov was preparing to face Magomed Ankalaev for UFC Fight Night 186, to be held on February 27, 2021.
After the bout between the two, Nikita took the fall in Las Vegas, Nevada, United States.
Their fight ended in the third round within five minutes. Overall, Magomed took the victory through a unanimous decision.
Nikita Krylov | Achievements and Records
Fight Night Global Light heavyweight Championship
Gladiators FC 2 Heavyweight Tournament Winner
Total fight
Wins (27)
Loss (8)
Knockout
Submission
Decision
Knockout
Submission
Decision
35
11
15
1
1
5
2
Nikita Krylov | Personal Life, Wife & Networth
We are all very familiar with the name "The Miner" as he came from a miners' family.
Altogether, he is also known as "Al Capone," and the backup story behind his nickname stuck to him is simple.
First and foremost is, of course, as he used to work in the mining industry before setting his foot into MMA. Secondly, he is known for his unbreakable will that resembles the miner.
Before knowing him as "The Miner," Nikita was known as "Al Capone," which was changed during the 2014 Ukrainian Donetsk coal basin War.
Back then, he took a diploma in International Law from East Ukrainian National University.
Contradiction
Apart from being a fighter, Krylov is well-known as a man of conviction.
As we all know, Krylov is a Ukrainian with a Russian ethnicity, and once he had stated if the Luhansk People's Republic was the one to be recognized, he would be the first one in the line for a passport.
Although he loves his home country, the Ukraine media pointed out how he wore a uniform bearing the Russian flag during Kyiv training.
"I read in the press that because of some of my statements in Ukraine, my position was considered pro-Russian, and because of that, I may have problems returning to my homeland. However, I'm not officially prohibited from entering there, and when I run out of free pages on my foreign passport, I plan to go to Kyiv."
-Nikita Krylov
Love Life
Nikita Krylov is a shady man who keeps his personal life very bear and private to him. Even for his love and marriage life, there are no details on the topic.
Additionally, though he always mentions his wife, he hasn't disclosed her identity and relationships.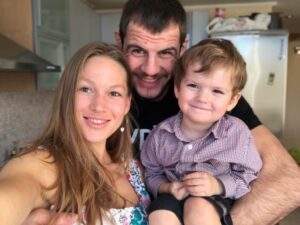 Altogether, we can only assume through his Instagram posts. Thus, yes, he is a married man and has a baby; we can say it's a cute family of three.
As per his uploads, we can see the relationship going strong and healthy.
Also, check out: <<Darrin Jackson Bio: Wife, MLB, Broadcasting & Net Worth >>
Net Worth
Nikita Krylov is estimated to have a net worth of $1.7 million and is expected to earn $8,000 per fight.
Apparently, he had a guaranteed earnings of $85,000 while his overall earnings are $180,000.
Social Media Presence:
Nikita Krylov is quite active on social media. You can follow him via these links.
Some FAQs:
Will Nikita Krylov ever return to the Heavyweight Division?
At present, Nikita Krylov is quite comfortable being in the light heavyweight division. Thus, there is no early sign of him returning to the heavyweight division.
What is Nikita Krylov's ranking right now?
Currently, Nikita Kryloe ranks number 19 in the light heavyweight division.