Tyler Naquin, also known as Billy, is a professional baseball outfielder who currently plays for the Cleveland Indians of Major League Baseball (MLB).
Not to mention, he was a first-round pick of the Indians.
The American League Rookie of the Month winner in 2016 impressively played his way to the major leagues.
However, there were a few instances where he was demoted to the affiliate teams because of some injuries.
Before he went pro, Tyler played for his high school team and his college varsity team and grabbed a few honorary titles as well.
"Billy" is not only a baseball fanatic but is an immensely enthusiastic hunter. He has collections of hunting equipment and gear.
It's like a tradition for him and his brother to go hunting together.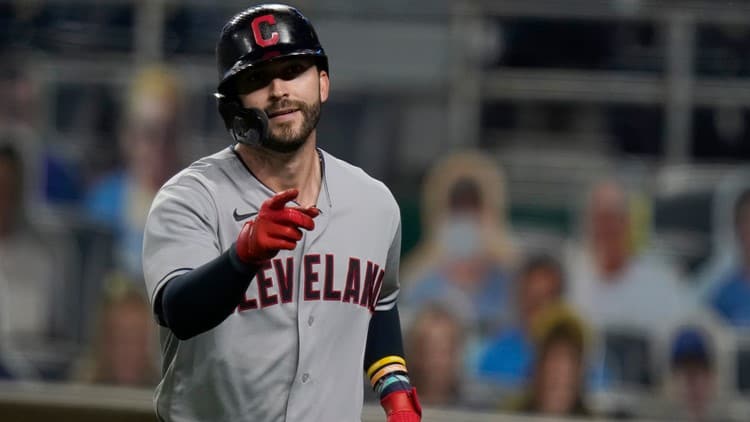 Let's check the quick facts before jumping into Tyler's baseball career journey and his life besides baseball.
Tyler Naquin | Quick Facts
Full Name
Tyler Wesley Naquin
Date of Birth
April 24, 1991
Birth Place
Spring, Texas, the United States of America
Known As
Tyler Naquin, Billy
Religion
Not available
Nationality
American
Ethnicity
White
Zodiac Sign
Taurus
Age
31 Years Old
Height
6 feet 2 inches (187 cm)
Weight
88 kg (195 lbs)
Hair Color
Dark Brown
Eye Color
Dark Brown
Build
Athletic
Father's Name
Ken Naquin
Mother's Name

Roanna Naquin

Siblings
One older brother, Zac Naquin
Education
Klein Collins High School
Texas A&M University
Marital Status
Married
Wife

Lindsey Bernard

Profession
Professional Baseball Player
Position
Outfielder
Teams
Cleveland Indians
Active Years
2012 – present
Net Worth
Over $1 million
Social Media
Instagram, Twitter
Last Update
February, 2023
Tyler Naquin | Early Life, Family, and Education
Naquin was born on April 24, 1991, in Spring, Texas. His maiden name is Tyler Wesley Naquin, and his parents are Ken Naquin and Roanna Naquin.
Moreover, Tyler has an older brother, Zac Naquin, who enjoys fishing and hunting. The two brothers often go together for such adventures.
Similarly, there is no information regarding Naquin's father, but his mother underwent a bilateral mastectomy following breast cancer.
But whatever obstacles she may face, she is always present in her son's games.
Furthermore, Tyler attended Klein Collins High School in Texas, where he played for the school's baseball team. In addition, he played for the school's varsity team for three years.
During that time, he received the All-State honors twice, the All-District awards thrice, and received the All-Greater Houston title.
In addition, Tyler is also known as "Billy" around his colleagues and friends.
"What's up, Billy" is a common statement to use in Texas to anyone, and that's what he told his teammate, Bradly Zimmer. Since then, he got entitled to the nickname "Billy."
Tyler Naquin | Height, Weight, and Physical Appearance
The Indians' outfielder, Naquin, stands tall at the height of 6 feet and 2 inches. Likewise, he weighs 88 kg and has a well-built, athletic body.
Similarly, Tyler has attractive facial features, and his well-groomed beard is like a cherry on top.
He has wavy dark brown hair and a pair of dark brown eyes with a dazzling smile to complement his good looks.
Harrison Bader – Career, Family, MLB, Net Worth & Wiki
Tyler Naquin | Early Career
Favorably for Naquin, the Baltimore Orioles selected him in the 33rd round of the 2009 Major League Baseball draft.
However, he decided to enroll at Texas A&M University to play college baseball for the Texas A&M Aggies baseball team.
Furthermore, Naquin received the Big 12 Conference Baseball Player of the Year award in 2011.
Additionally, it would be a lie to say that Tyler did not consider the Orioles. But maybe he wanted to complete his graduation first.
Tyler Naquin | Professional career
Cleveland Indians | Rookie Baseball
Naquin became a first-round pick when the Cleveland Indians drafted him in the 2012 Major League Baseball draft n the first round as a 15th overall selectee.
After signing with the Indians, Tyler made his professional debut appearance that same year with the minor league affiliate team named Mahoning Valley Scrappers of the New York-Penn League.
In addition, he recorded .270 hits on average in 36 games.
Subsequently, the Indians promoted Naquin to the Class-A Advanced affiliate team named Carolina Mudcats of the Carolina League.
Then they announced him to the Double-A Akron Aeros of the Eastern League in 2013
Nick Pivetta – Boston Red Sox, Career, MLB & Net Worth
After the 2013 season, the Indians assigned Naquin to an off-season league of MLB, the Arizona Fall League. He participated in the Fall Stars Game during the off-season period.
Further, Tyler Naquin started the 2014 season with Akron, but unfortunately, he suffered a broken hand in July.
Following his injury, he underwent surgery, due to which he missed the rest of the 2014 season.
Similarly, Naquin began his journey toward the 2015 season with Akron.
Moreover, the Cleveland Indians promoted Tyler to the Triple-A affiliate team named Columbus Clippers of the International League in June.
But sadly, because of a concussion and soreness in his right hip, he could only play 50 games with the Columbus Clippers.
In addition, Tyler played 84 games in total between Akron and Columbus for the 2015 season. He had a record of .300/.381/.446 hits with seven home runs and 27 RBIs.
Eventually, the Indians added Tyler Naquin to their 40-man roster after the 2015 season.
You might be interested in another Cleveland Indians player, Francisco Lindor Bio: Age, Career, Net Worth, Girlfriend, Instagram Wiki.
Cleveland Indians |
Major League Baseball
After the end of the 2015 season, Naquin stayed at the Cleveland Indians' facility in Arizona to participate in strength training.
Shortly afterward, he competed for a spot on the Indians' 25-man roster in 2016 during spring training. Consequently, he got nominated to the Opening Day roster.
Similarly, Tyler Naquin received the American League Rookie of the Month award for June and July 2016.
Moreover, on August 19, Naquin recorded a walk-off home run and an inside-the-park home run, leading the Indians to a 3-2 win over the Toronto Blue Jays.
Consequently, he became the first player in Indians' history to hit a walk-off inside-the-park home run since 1916, after Bragg Roth.
Overall, Tyler played 116 games where he recorded .296 hits with 14 home runs, 43 RBIs, and 18 doubles.
Similarly, for the 2017 season, Naquin started with the Cleveland Indians. However, he struggled with the Indians due to an injury and could appear in 19 games for Cleveland.
In those 19 games, Tyler recorded .216 hits without any home runs.
As a result of his injury, the Indians assigned him to Columbus for most of the season. Naquin scored .298/.359/.475 hits, including ten home runs and 51 RBIs in 80 games for Columbus.
Following it, in August 2019, Tyler portrayed an incredible inside-the-park walk-off that saved the game and turned it in their favor.
Well, that game against the Blue Jays streamed hard on the internet, stating it to be better than any triple.
But it is also understandable. Currently, we have more than 40,000 triples recorded; however, there is only 700 inside-the-park walk-off.
The 2020 season, or the 2020 Cleveland Indians, was the 120th season for the franchise.
Overall, Naquin played 40 games and recorded 29 hits with a .218 batting average. Also, he scored four home runs, 20 RBIs, eight doubles, and one triple.
Also, read about fellow Indians' player Domingo Santana Bio: Career, Net Worth, Stats & Wiki.
Tyler Naquin | Net Worth and Salary
In 2020, Tyler Naquin signed a one-year contract with the Indians worth $1.45 million. So basically, his salary for the 2020 season is $1.45 million, excluding the signing bonus.
As of 2021, Naquin's net worth is estimated to be over $1 million.
On top of that, he is expected to sign a $2.1 million contract with Cleveland for the 2021 season, but nothing has been confirmed yet.
To give details about Tyler's assets, it seems that he is very fond of glamorous pick-up trucks.
He owns a few of them, including the latest Ford pick-up series. Even though details about his house are not available, it is inevitable that he lives a pretty luxurious and adventurous life.
John Elway Net Worth: Career Earnings, House, Lifestyle, & Assets Wiki.
Tyler Naquin | Personal Life and Relationship
The Indian outfielder is married to his lovely wife Lindsey Bernard after dating for a couple of years.
Unfortunately, the details of their wedding are not available yet, and Tyler has not shared anything on his social media for us as well.
However, the couple planned the wedding a year before they tied the knot so that it would be a perfect dream wedding.
In addition, the pair is far from any rumors regarding their personal affairs, which is quite healthy in a relationship.
Even though we don't see much of the couple in the media, we're sure they see enough of each other as they have a strong husband-and-wife bond.
Apart from his love life, Tyler is incredibly fond of hunting, as well as fishing.
Zac and his brother gear up like professional hunters during the hunting season, with camouflaged suits and armor. The Naquin brothers often take their dogs with them while hunting.
Another thing Tyler is interested in is Archery. He says he is obsessed with hunting gears and baseball. Also, Naquin grew up as a Houston Astros fan.
Also read Ronald Torreyes – Career, MLB, Trade, Net Worth, Wiki.
Tyler Naquin | Social Media Presence
Instagram – @tyler.naquin – 59.8k followers
Twitter – @TyNaquin – 31.7k followers
Common Questions
What is Tyler Naquin's playing style?
Naquin plays a fast and aggressive game getting extra-base hits. Similarly, in the outfield, he tries to make big plays in order to stop the running game.
Who does Tyler look up to in MLB? What is his walkup song on the field?
He admires how former center fielder for Boston Red Sox, Jacoby Ellsbury, played a fast and smooth game.
Well, Tyler's walkup song on the field is The Stroke by Billy Squier.
What number is Tyler Naquin? What is his career statistic like?
He used to wear the #30 jersey for the Cleveland Indians and currently wears #12 for the Cincinnati Reds.
At present, Tyler Naquin maintains a career statistic of 50 home runs, 191 runs batted in with a batting percentage of .274.