Victor Olofsson is a professional ice hockey player from Sweden who currently plays for the professional ice hockey team Buffalo Sabers of the National Hockey League(NHL).
He is very popular among hockey fans with the nickname, Goalofsson. Olofsson started his career from the youth ranks of the Swedish Hockey League club Modo Hockey.
He played for J18, J18Allsv, and J20 before making his first-team debut for Modo in the 2013/14 season. After that, he played for Timra IK in the HockeyAllsvenskan league.
After spending a season with Modo Hockey Club, Victor completed his move to another Swedish club Frolunda FC.
He spent two productive seasons with Frolunda before completing his move to North America.
In 2018, Rochester Americans signed Olofsson from Frolunda FC. He impressed the American fans with his excellent performance in the AHL (American Hockey League).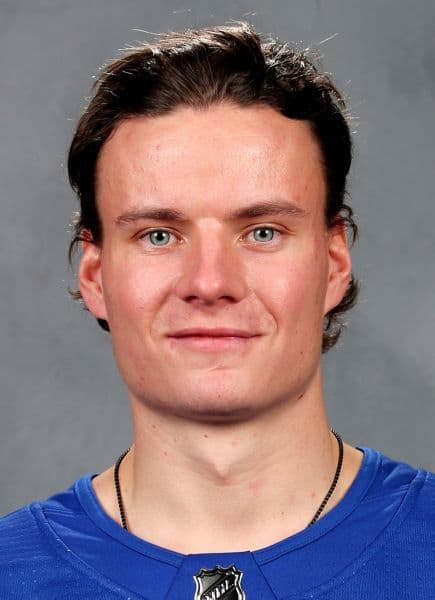 In April 2018, Buffalo Sabres signed him on an entry-level contract. Currently, he is one of the essential members of Buffalo's squad.
After the end of the 2019-20 season, he was selected in the NHL Rookie of the Year team.
Internationally, Victor has represented Sweden in the IIHF World Junior Hockey Championship-2015 and helped Sweden finish in fourth place.
This article will discuss his early life, professional hockey career, personal life, salary, and many more facts about Victor Olofsson.
Before that, take a quick look at some of the facts about Victor Olofsson.
Quick Facts:
Full Name
Victor Olofsson
Birth Date
July 18, 1995
Birth Place
Örnsköldsvik, Sweden
Nick Name
Goalofsson
Education
Not Available
Nationality
Swedish
Ethnicity
White
Religion
Christianity
Zodiac Sign
Cancer
Father's Name
Tony Olofsson
Mother's Name
Not Available
Siblings
Jesper Olofsson
Age
28 Years Old
Height
5'10" (1.78 m)
Weight
176 lb (80 kg)
Hair Color
Red Brunette
Eye Color
Blue
Relationship Status
Single
Girlfriend
Not Available
Children
Not Available
Sport
Ice Hockey
League
National Hockey League
NHL Debut
March 28, 2019
Position
Left-Wing / Right Wing
Current Team
Buffalo Sabres (#68)
Awards & Achievements
Champions Hockey League – 2017

Hakan Loob Trophy – 2017/18

NHL All-Rookie Team – 2020

Shoots
Left
Former Teams
Modo Hockey, Frolunda HC
Salary
$3.05 Million
Net Worth
$2 Million
Agent
Ross Gurney
Shoes
Not Available
Social Media
Twitter, Instagram
Merch
Rookie Card, Buffalo Sabres Unsigned Blue Jersey Skating Photograph, Gym T-Shirt
Last Update
November, 2023
Victor Olofsson | Early Life, Family, and Education
The NHL star, Victor Olofsson, was born on July 18, 1995, in the city of Örnsköldsvik, Sweden. Victor's father, Tony Olofsson, was a professional Ice Hockey player in the decade of the nineties.
However, we couldn't find any information regarding his mother and education. Tony Olofsson played in two different Swedish leagues throughout his 10-year-long career.
Turning on the history pages, he played as a defender for the Swedish Hockey League club MODO Hockey Ornskoldsvik from 1988 to 1991.
After that, Olofsson spent the rest of his career in the Swedish 1st division club Husums IF and Ornskoldsvik before retiring in 1998.
The Olofsson family has another member playing professional Ice Hockey. Victor's older brother Jesper Olofsson is currently playing for National League club SC Bern as a Left-winger.
Before joining National League, he played with his brother during his time at the Modo Hockey.
Read about another MLB superstar Ian Kinsler.
The Olofsson brothers were huge Hockey fans from a young age. He spent several hours in his backyard with a net, many pucks, and his older brother, Jesper, during his childhood.
Henrik Gradin, Olofsson's coach since he was 15 thinks, the time he spent playing with his brother helped him develop the powerful shot he currently has.
Also, their father taught them about the significance of wrist shots.
"We didn't feel like we were practicing anything at all," Victor said in an interview in 2019. "We had fun out there, and I don't know it turned out reasonably good."
How old is Victor Olofsson? Age, Height & Nationality
As we already know, Victor Olofsson was born in the mid-nineties; he is 28 years old as of 2023.
Moreover, he was born in Örnsköldsvik, Sweden, which makes him a Swedish national. The Sabres' player belongs to the white ethnic group and follows the religion of Christianity.
Furthermore, his zodiac sign is cancer. Like other athletes, Victor has a muscular body figure. He does different workouts and exercises to maintain his physique.
Usually, ice hockey players are tall and muscular. However, Victor is a little bit short when it comes to height.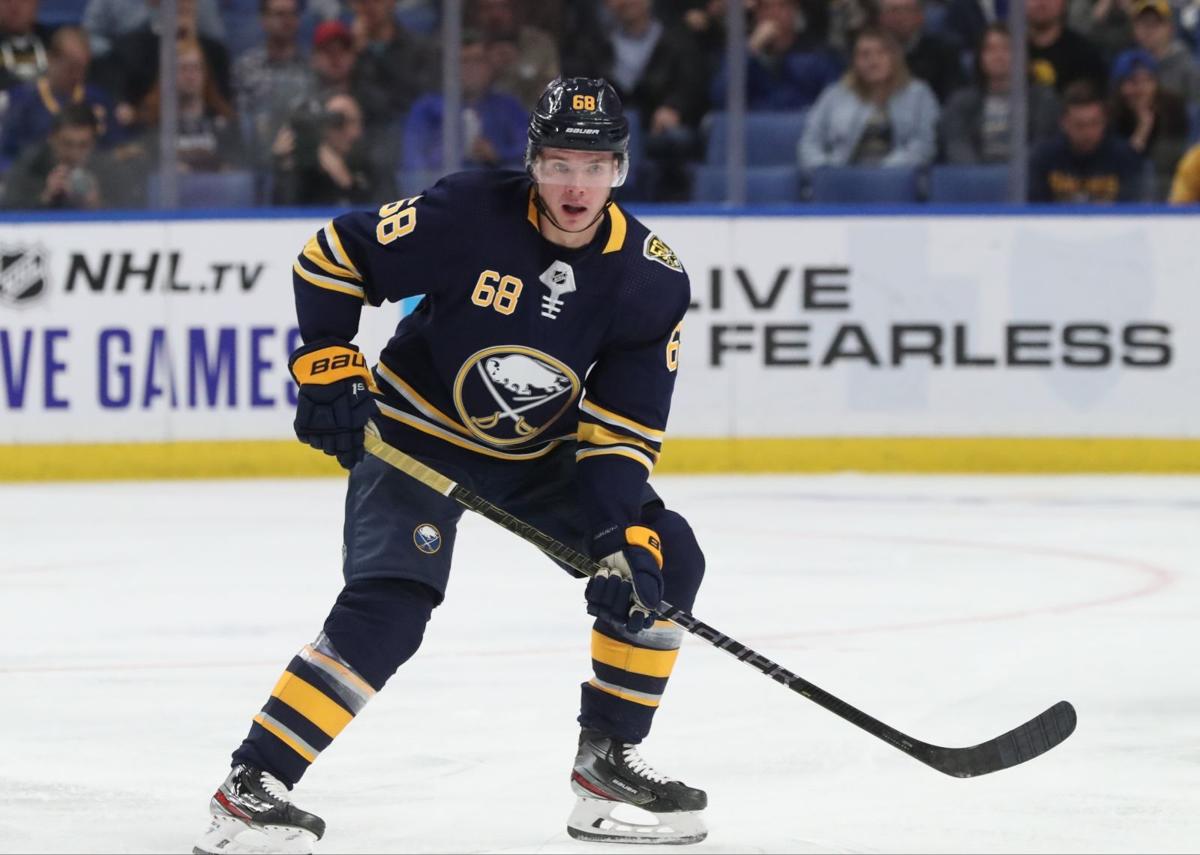 According to his official page, Olofsson stances at an average height of 5 feet 10 inches (1.78 meters). Moreover, the last recorded weight of Olofsson is reported as 176 lbs (80 kg).
Likewise, Olofsson is very popular among his female fans. He is regarded as one of the most handsome-looking athletes in his sport. Furthermore, Victor has red brunette hair and a pair of blue eyes.
Victor Olofsson, also known as Goalofsson, is currently represented by the agent Ross Gurney of R.W.G. Sports Management Ltd.
Victor Olofsson | Career: Ice Hockey
Modo Hockey
Olofsson started his career in the youth system of the Modo Hockey club. He first played for Modo in the J18 elite in the 2011/12 season.
He played 18 games and scored 15 goals, and provided 12 assists. Moreover, the Swedish-born won 27 crucial points for the team.
After the regular season, he played 18 games in the J18 Allsvenskan, scoring five goals. By the end of the season, Victor was already regarded as one of the top prospects of the J18 league.
In the 2012/13 season, he played 19 games in the J18 Elite, scoring 19, assisting 17 goals, and winning 36 points.
After that, he played in the J18 Allsvenskan league and scored 12 goals in 18 games. Moreover, he completed a few matches in the J20 League.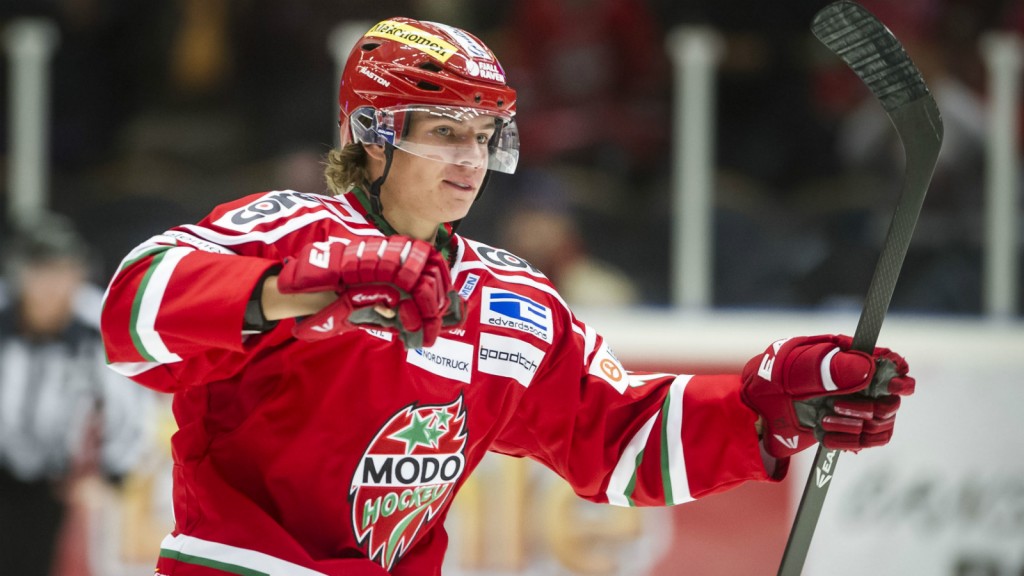 It's never easy for youngsters to gain promotion through the youth system. Olofsson's hard work paid off when he finally got upgraded to the under 20 teams before the 2013/14 season.
He kept impressing everyone with his magical performances, even in the J20 SuperElit. Victor scored 32 goals and provided 21 assists in 44 games.
Moreover, he also played 11 games with the central team in the top tier but failed to register a single goal or assist.
After an excellent season in J20 SuperElit, he got his long-awaited promotion to the first team. He kept up with his extraordinary performance but still couldn't stop his team from getting relegated.
Frolunda HC
On April 3, 2016, Victor left his boyhood club and signed a two-year contract with Swedish Hockey League club Frolunda HC.
In total, he scored 36 goals in 101 appearances for Frolunda HC. Victor Olofsson helped Frolunda HC win the Champions Hockey League in 2017.
Don't forget to check out: <<Dale Tallon Bio: Family, NHL, Wife, Net Worth & Allegation >>
Buffalo Sabres
After the end of his two-year contract with Frolunda, Olofsson accepted a deal from Buffalo Sabres to join the National Hockey League.
On April 24, 2018, he signed an entry-level contract of two years with Buffalo Sabres.
On March 28, 2019, Olofsson made his debut for the Sabres in a loss against Detroit Red Wings.
Two days later, Victor scored his first goal under Sabers' jersey but couldn't prevent his team from losing against New York Islanders.
On October 5, 2019, Olofsson scored two powerplay goals to give his team a 7-2 victory against New Jersey Devils at the home stadium.
A week later, Olofsson set a record for scoring the fastest seven goals in their NHL career.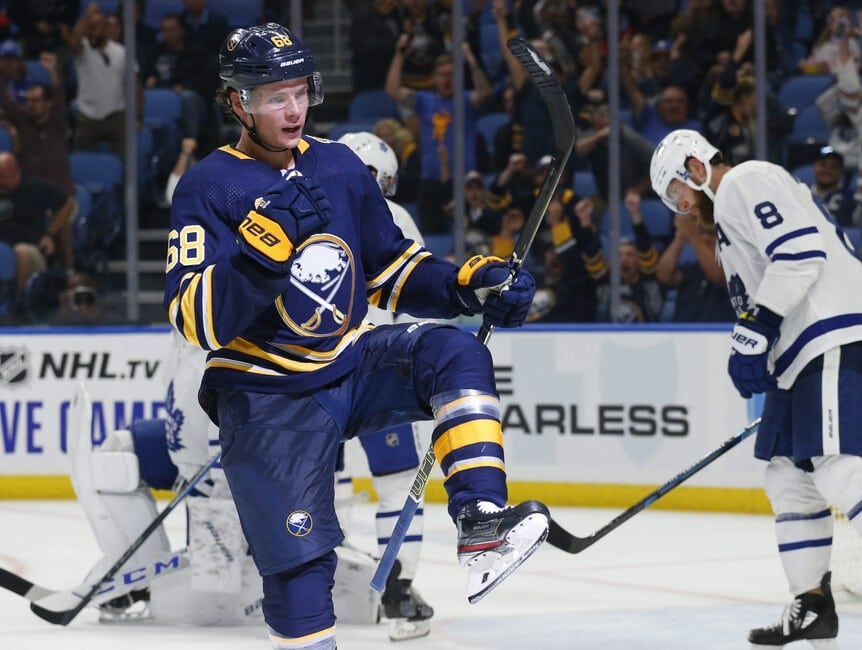 He a goal on a powerplay to give his team a 4-0 win over Dallas Stars. Due to his notable shot ability and dedication, Olofsson soon became popular among the Sabres fans.
After he scored some game-winning goals, he was given the nickname Goalofsson by the fans and national media.
In early 2020, Olofsson earned the third spot in the NHL rookie ranking on ESPN's list.
The Swedish player was also a strong candidate to win the 2019-20 Rookie of the Year (Calder Memorial Trophy). Due to unfortunate luck, Olofsson suffered an injury and got sidelined for six weeks.
That put a break in his sensational goal-scoring run. He ended the season winning the NHL Rookie of the month in November and December 2020.
Victor Olofsson has played 70 career NHL games, scoring 26 goals and winning 56 points.
A 4-3 victory over Islanders
Victor Olofson gave two assists, and Anders Bjork scored the last two goals lifting the Sabres to a 4-3 victory over the Islanders in May 2021.
Anthony Beauviller was also a part of the game and also made scores for Islanders. Ilya Sorokin made 28 saves.
Back to action with a 6-game point streak
Victor had points in six straight games after making a comeback this season. He made five powerplay assists, just one shy of his season total from 2019-20.
Changing the Jersey number again
The news made rounds when Buffalo Sabres declared that they were selling a Victor Olofsson Jersey online with the print of number 71 on the back.
Also, the club made it official that Victor will be switching his Jersey number from 68 to 71. To add on, this will be the third change in the Jersey number with the Sabres. He started with the number 41.
Regards himself as a threat to right-wing
As a rookie, Olofson scored 20 goals, and to date, he has accomplished his best in NHL.
His $20.85 salary is almost quadruple in the 2020-2021 season, as he was paid $6.1 million for a two-year contract with Sabres.
Olofson will be counting $3.05 million against the cap. According to him, he gets very comfortable on the right-wing as he is accustomed to being there on the power play.
Olofson adds, "I am more of a threat at right-wing."
Highlights and Awards
2017: Champions Hockey League
2017/18: Hakan Loob Trophy
October 2019: NHL Rookie of the Month
December 2019: Rookie of the Month
2020: NHL All-Rookie Team
Elite Prospect
Well, the website Eliteprospect has committed a few words in his favor. The site states that the Swedish ice hockey player is a winger with natural goal-scoring quality.
Victor knows how to play on ice tactically and has a good, hard shot. In short, he can be viewed as a decent playmaker.
Victor Olofsson | Personal Life
As of writing this article, there is no publicly available information about Victor's relationship or girlfriend public on the internet.
In short, Victor Olofsson is currently Single. This sounds like a piece of exciting news for his female fans out there.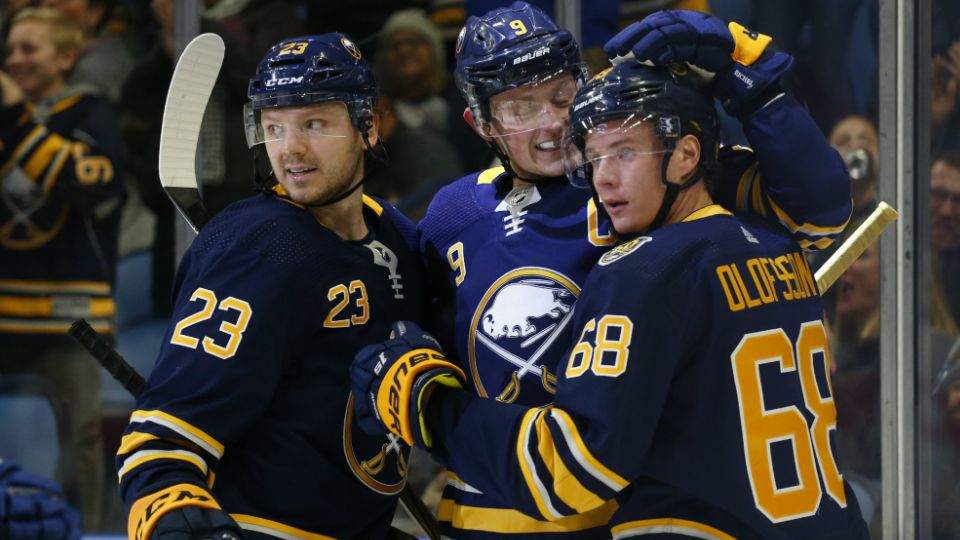 Many celebrities are so good at hiding their relationships, so we can't say for sure that he is not having any affairs secretly.
It looks like he is entirely focused on his career now. We will be the first to update this information as soon as we find any gossip or rumors.
Apart from his girlfriend, Victor has an intact relationship with his friends, brother, and parents.
When he does not score points on the Ice Hockey field, he is often seen hanging out with his brother and friends.
You might be interested in reading about:<<Josh Rutledge Bio: Early Life, Career, Wife & Net Worth >>
Victor Olofson's transformation
While playing in the Swedish Hockey League as a 19-year-old winger, Olofson was often reminded that he would not be big enough or capable enough to perform professionally in North America.
Those criticisms, comments, and doubts all got silenced when Olofson got drafted 18th overall by Sabres in 2014.
It was recommendable of him how he overcame all the suspicious negativism by his dedication and hard work.
In those five years, Olofson worked on himself and knew what his strongest and weakest points were.
As per Sabres defenseman Rasmus Dahlin, his left-handed shot was probably the best and helped him notch two goals in six NHL games this season.
And the focus on becoming an all-rounder player led him to kill penalties, shut down an opponent's top line, and outmuscle bigger, strong defensemen along the boards.
How much is Victor Olofsson worth? Net Worth and Salary
Victor Olofsson is still very young and has a huge career waiting ahead of him. He started his NHL career just two years ago, so his current salary is less than other NHL star players.
According to different media outlets, Olofsson has signed a $6.1 million, two-year contract with Sabers expiring in 2022. His current salary is reported to be $3.05 million.
Before NHL, he played in the Swedish Hockey league, which is also regarded as one of the most prestigious Ice Hockey leagues. In his eight-year-long Ice Hockey career,
"Victor Olofsson has collected a net of around $2.5 million."
Furthermore, he earns from the sponsorship and endorsement deals. Victor is still very young and has a big career waiting ahead of him, so he is expected to make a lot soon.
You can find the fantasy hockey rankings, season stats, news, game log, and much more information about Victor Olofsson on the Fantasypros website.
You might be interested in buying Victor Olofson's autographed items. Click to follow!
Social Media Presence:
Twitter: 5,169 followers
Instagram: 16.2k followers
Some FAQs:
Who drafted Victor Olofson?
He was drafted by the Sabres in the seventh round (No. 181) of the 2014 NHL Draft, including with Frolunda HC in 2017-18, when he scored 27 goals in 50 games. He played four seasons in Swedish Hockey League.
How many goals does Victor Olofsson have?
Victor Olofsson has scored 35 goals to date in his professional ice hockey career.
What number is Victor Olofsson?
Victor Olofsson currently wears number #71 as left-wing for the Buffalo Sabres of the National Hockey League(NHL).
Did Victor Olofson again sign with Sabres?
Victor Olofsson re signed a two-year contract with the Buffalo Sabres worth $6.1 million in October 2020.
How long is Victor Olofsson out for?
Victor Olofsson is reported to miss 5-6 weeks due to injury.
How many even-strength points does Victor Olofson have? What is his career statistic like?
Victor Olofson has 15 even-strength points in his professional hockey career. Out of his 35 career goals in 116 games, only 15 have occurred at even strength.
Well, Victor has played a total of 316 games to date in the regular season. Among these, he has had 95 goals, 100 assists, and 195 points. As for his playoff season, he played a total of twenty games. During it, he made seven goals, nine assists, and sixteen points.
Moving on, he has had seven international games and has maintained three goals, one assist, and four points.