A Spanish-born IndyCar racing driver Alex Palou has a net worth that is probably in the millions. It all thanks to his transition from the GP3 series to Formula V8 3.5 & now in the IndyCar Series.
No doubt, it saw money shower to the 2021 IndyCar Series champ, but given the risks, it's worth it.
Alex Palou currently competes for Chip Ganassi Racing & drives the No. 10 Honda ever since they signed him in 2021.
With the 2023 IndyCar Series on the trail since March 5, the Barcelona native is already standing as a strong competitor.
Seems quite convincing, as he already won three races- including the Sonsio Grand Prix at Road America, the Grand Prix of Indianapolis & the Detroit Grand Prix.
Although there were contract disputes between Palou & the CGR ahead of the 2023 IndyCar season regarding his move to McLaren Racing, they later settled.
As of now, Alex is also the McLaren reserve driver for the 2023 Formula One World Championship, besides the likes of Lando Norris.
There is no denying such a passionate persona & potential isn't a workout of a day.
Palou loved racing from a young age that, goes back to his karting days, followed by his victory in the WSK Euro Series championship in 2012.
Not to mention, he is the first Spanish racing driver to win a National Championship in an American open-wheel.
Alex Palou Net Worth: Income & Salary
As of September 2023, the IndyCar racing driver Alex Palou has an estimated net worth of $3 million.
Considered one of the highest-paid drivers in the world of motorsports, Palou's annual earnings sum up from a high 6-digit figure to a 7-digit figure.
No doubt, his source of income (i.e. his racing career) gets his hands into massive sums, but also with a possible life-threatening risk on the parallel.
As reported, the average payroll for an IndyCar racing driver is $500,600 in 2023, which went up from $485,000 in the last year.
Comparatively, the earning figure of IndyCar champs may seem a bit less than elite NASCAR drivers (earnings of 2022):
But, going with the figure of the minimum wage, IndyCar offers a bit more, i.e. $300K over NASCAR's minimum wage of around $200K.
Along with races & podium finishes, a racer contract with the auto racing team is another levitating factor for one's net worth- such is for Alex Palou.
Currently, the Spanish-born IndyCar racer is on a contract with Chip Ganassi Racing, having signed a multi-year contract in 2021.
The deal is believed to be worth millions of dollars.
Moreover, endorsements & sponsors pour a significant sum into Alex's account- his sponsors include Bryant Heating and Cooling Systems, Guaranteed Rate, and the American Legion.
Is Palou Leaving Chip Ganassi Racing?
There are rumors going on that he might be moving to Mclaren next season under full capacity.
If Alex Palou manages to strike this deal, his fortune will increase significantly starting in 2024.
Alex Palou Wife, Esther Valle
Palou is married to his longtime girlfriend-turned-wife Esther Valle. The pair have been dating since he was just 17 years old.
Neither Palou nor Valle has revealed the precise date of the couple's marriage. Nonetheless, Lex has been referring to Esther as his wife lately.
The native of Madrid works in the sports industry, according to Valle's LinkedIn profile.
Her LinkedIn profile mentions that she worked in public relations and communications at Campos Racing from February 2015 to February 2017.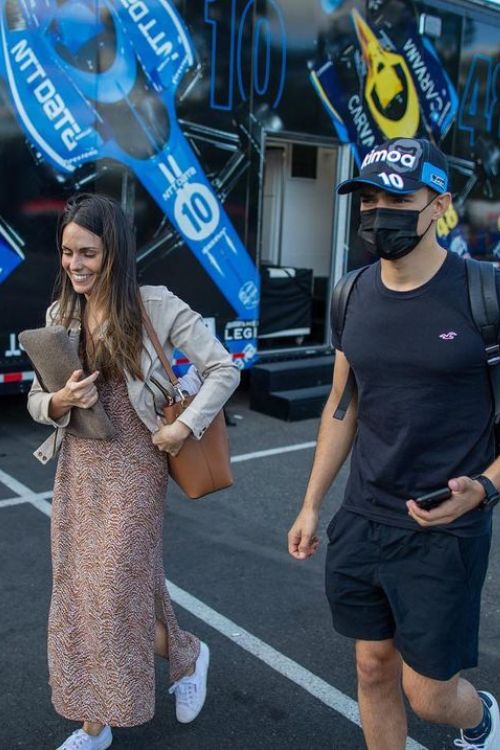 Furthermore, She managed teams for Jota Sport and Teo Martin Motorsport from 2017 and 2019.
The couple started their own coffee shop in 2020, called Coffee & Greens, and operated it until 2022, when they decided to sell it.
Esther studied at the ESIC Business & Marketing School.
Additionally, Esther mentions that in addition to Spanish, she also speaks French and English.
She seems to enjoy her own bubble as her Instagram is set to private with a very nominal amount of followers.