A former elite basketball figure-turned-entrepreneur, Magic Johnson is the father of three, including two sons: Andre and EJ Johnson.
Even though the retired NBA star's sons didn't follow in his basketball footsteps, they are successful in their own right.
The eldest, Andre, is a business executive, while his other son, EJ, is a television personality.
Johnson's son Andre is from his relationship with his ex-girlfriend. Later, he and his wife, Cookie, welcomed son, EJ, and adopted daughter, Elisa. Nonetheless, the Johnson family is a blend of familial love and support.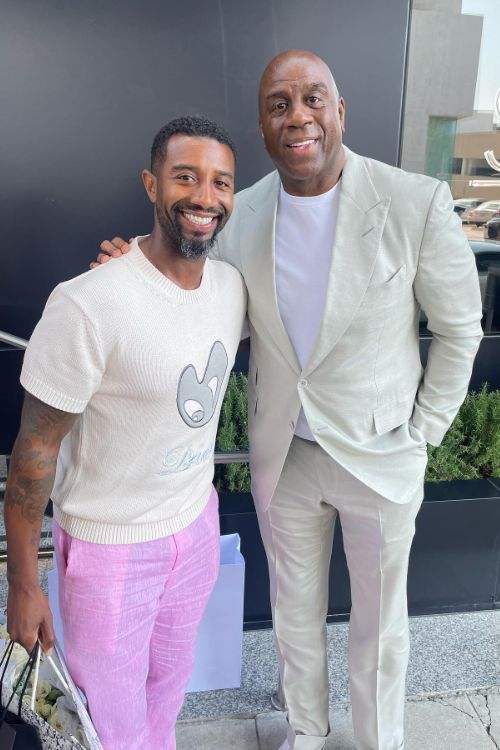 Earvin "Magic" Johnson Jr. barely needs any introduction and rests as one of the legendary basketball figures. Throughout his NBA career, he won 5 NBA Championship and became the 3-time NBA MVP.
Moreover, he became an Olympic gold medalist in 1992, joining Charles Barkley, Karl Malone, Patrick Ewing, and Scottie Pippen in the "Dream Team."
The Michigan native played in the NBA for 13 seasons, primarily with the LA Lakers, before retiring abruptly in 1991 after contracting HIV/AIDS.
Later, in 1996, he returned from retirement to play 32 games for the Lakers at 38 and retired from the NBA for good.
The two-time Naismith Memorial Hall of Fame inductee (2002 & 2006) has ventured into business since his retirement. He has ownership stakes in the WNBA's Los Angeles Sparks, the MLS' Los Angeles FC, and the NFL's Washington Commanders.
As of 2023, Johnson has an $800 million net worth– no wonder he is considered one of the wealthiest NBA players.
Magic Johnson Son: Who Are Andre Johnson And EJ Johnson?
Earvin Johnson Jr.'s sons, Andre Johnson and EJ Johnson, have ventured independently despite some early claims that they would pursue basketball.
The former leaped into business, while the latter found love with showbiz.
Even if the retired NBA player has three kids: two sons and a daughter, his son, EJ, is the only child with his wife, Earlitha "Cookie" Kelly.
His son, Andre, is from his ex-girlfriend, Melissa Mitchell, while his daughter, Elisa, was adopted in 1995 when she was three days old.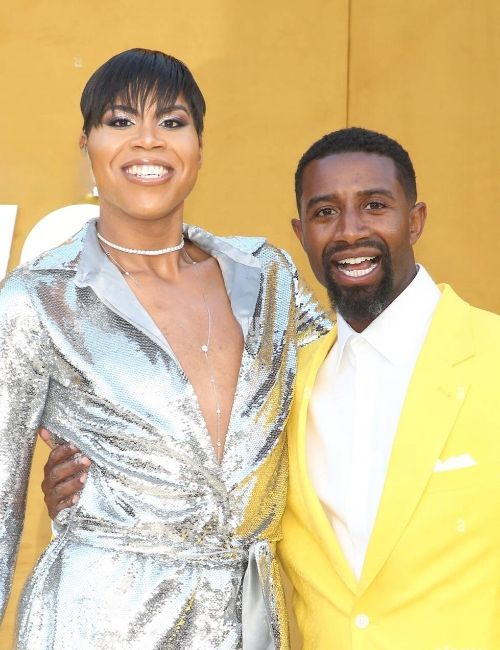 Born on February 20, 1981, Johnson's eldest child, Andre, is 42 years old as of 2023. The second-eldest of three, EJ, born on June 4, 1992, is 31 now.
The two brothers have an age gap of 10 years.
Their youngest sibling, Elisa (b. December 21, 1994), is 28 years old. She is 14 years younger than Andre and two years younger than EJ.
Despite the blend, the family with African heritage is an exemplary figure of a happy and prosperous family.
The former basketball star often makes red-carpet appearances with his wife and kids. His social media profile is full of adorable pictures of his family.
Is 'Winning Time' Truly About The Johnson Family?
Magic Johnson's life story, including his relationship with his sons and daughter, became the basis of the drama series Winning Time (2022-23).
However, there are several factual inaccuracies about Johnson's bond with his kids. Eventually, due to solid criticisms, the drama series was canceled after two seasons.
For instance, the series showcased that Johnson tried to dismiss his love child (i.e., Andre) altogether. But in reality, he flew out to see him the day he was born and would visit him every summer.
Andre Johnson Is A Business Executive And A Father
Johnson's eldest son, Andre Johnson, is a 2002 Santa Monica College graduate with a Business Management degree.
According to his LinkedIn profile, he is the Executive VP of Business Development at SimWin Sports (January 2022- present).
Earlier, he worked for his father at Magic Johnson Enterprises, serving as VP of Business Development (2004-2010) and later as the Executive Vice President (2012-14).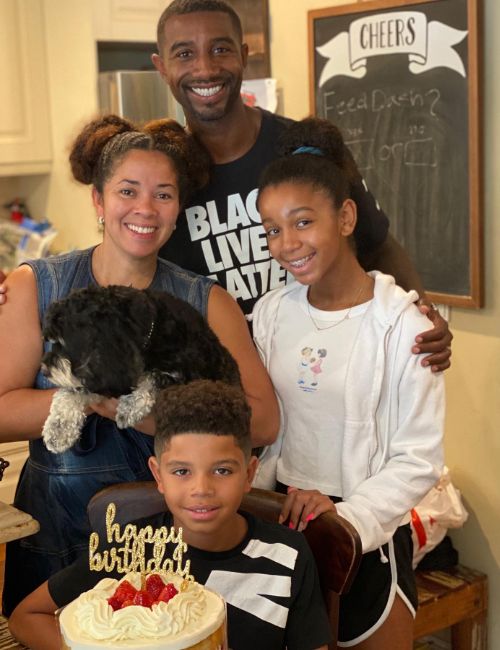 Andre has a family of his own and shares two kids, Gigi (b. December 2008) and Avery (b. August 2011), with his wife, Lisa Johnson (nee Meyers).
The duo has been together since February 2010; they shared an IG post on their 13th anniversary in 2023.
His wife, Lisa, is the founder and executive director of Private School Village (August 2018- present).
She is an alumna of the University of Virginia. Previously, she was the executive VP of Branding and Communications at Magic Johnson Enterprises (2007-09).
Magic Johnson's Son EJ Is An Openly Gay TV Personality
The former Lakers point guard's second-born, EJ Johson, is openly gay and came out about his sexuality publicly in 2013. He had already told his family about his orientation.
Earvin Johnson III's family has been his supportive backbone; in fact, when his son came out as gay, Magic described during an Ellen DeGeneres segment that he was 'happy.'
He said, "It's all about loving them no matter who they are, what they decide to do."
EJ is a recognized TV personality noted for his feminine and androgynous fashion style.
He appeared in Season 1 of Rich Kids of Beverly Hills in 2014 as a recurring cast and became its main cast in the latter three seasons until its cancellation.
Then, he appeared in his spin-off reality series, EJNYC, in 2016, which ran for a season.
EJ would then work as a news personality and commentator for E! News and guest starred in Real Husbands of Hollywood, Hello Ross, and The Real.