More often, it is a child who benefits from their parents' stardom. But sometimes it is just the opposite. There is not a single parent who is not thrilled about their chhrefild's achievements.
The same is the case with Naomi Osaka's parents. They are proud of their daughter's accomplishments.
Naomi Osaka is not a new name in the world of sports. This 22-year-old professional tennis player stunned the world when she defeated the 23-time Grand Slam singles champion, Serena Williams.
Also making her the first Japanese to hold the title. But with the accolades, many have been questioning her origin as well.
Latest News: Naomi Osaka designs a bold move after withdrawing from the French Open
So, today let's talk more about the people who encouraged Naomi to pursue her passion. And of course, we will go in-depth regarding their interracial marriage and the hardships that came along the way.
More on them right now!
Naomi Osaka's Parents Leonard Francois and Tamaki Osaka
Currently, number three(September 21, 2020) in the World Women Tennis ranking, Naomi Osaka represents Japan. Naomi is the daughter of her parents, Leonard Maxime Francois and Tamaki Osaka.
Even from the name alone, we can clearly see the two are from different communities. True to that, Naomi's mother was born in Nemuro, Japan, while her father is from Haiti.
Read about the sister of Naomi Osaka who is also a tennis player, Mari Osaka.
Likewise, Tamaki was raised in a part of Japan where racial purity was strictly upheld. Nemuro, the coastal town, had remained faithful to Tokugawa's decree and maintained a somewhat racially pure Japan.
Without a doubt, Tamaki too was raised in such an environment and grew with those principles set from generations ago. However, all of that changed for once, after she went to high school in Sapporo, Hokkaido's capital.
Meanwhile, Naomi's father, Leonard, was born in Jacmel, Haiti, and studied in New York, the United States of America. Contrary to her mother, there is not much information on her father's side.
Tamaki's Parents Were Not Happy With Her Relationship With Leonard
As mentioned above, Naomi's mother, Tamaki, grew up in a strict environment but changed her perception once she entered high school.
It broadened her perspectives regarding the races and the principle which she endeared her whole life.
Coincidentally, the two met for the first time in Sapporo, Japan. Naomi's father, Leonard, was among the first wave of foreigners who came to visit Japan.
Not to mention, Leonard further helped Tamaki clear the doubts she had against races.
Jada Crawley Age, Height, Tattoo, Parents, Husband, Children, Net Worth, Instagram >>
However, living in a country where racism is still prevalent in some parts, dating a foreigner, a black man at that, was not easy. Naomi Osaka's parents struggled even before they tied the knot.
Despite all that, Tamaki and Leonard dated each other for a while, hiding the fact from her parents. But soon, she had to reveal the relationship when her family talked about arranged marriage.
Read about the sister of Naomi Osaka who is also a tennis player, Mari Osaka.
And as expected, Tamaki's parents, especially her father, were not ecstatic over the news. He was enraged about the fact of her dating a black foreigner. She was even blamed for tarnishing their family name.
Even after the commotion, the two stuck together and moved to Osaka. Tamaki and her parents remained estranged for more than ten years.
Naomi Osaka Was Born In Osaka, Japan
Now, Naomi Osaka is an athlete that the whole world knows about. The humble and kind-hearted girl was born on October 16, 1997, in Chuo-ku, Osaka, Japan.
She was also raised by her Japanese mother and Haitian father with her sister, Mari, who was just 18 months older than her.
Why does Naomi Osaka not use her father's name?
Due to the Japanese Family Registration Law (Koseki), the two sisters were given their mother's maiden name. While growing up, Osaka's parents struggled for many things, including money.
Luckily, those struggles and time are the reasons why Naomi is humble and lives a moderate life.
"When I was younger I used to want a lot of expensive stuff, but now I'm just happy if I have basic things."
Likewise, Naomi held the citizenship of both Japan and America but gave up the latter to represent Japan in the World Cup.
Naomi Osaka's Father Taught Her and Mari To Play Tennis
After spending their early married life in Japan, Naomi Osaka's parents moved to Valley Stream, New York on Long Island, and lived with her father's family. At that time, Osaka was just three years old.
Likewise, Naomi practiced Tennis from an early age when inspiration struck her father after watching the Williams sisters compete at the 1999 French Open.
With his little knowledge, Leonard observed how Richard Williams trained his daughters to become the world's best players.
Not to mention, Leonard followed Richard's blueprint and DVD, the tactics used to train Serena and William to become virtually unbeatable.
Rochelle Roman Age, Height, Yoga, WWE, Husband, Children, Instagram >>
For the sake of their Tennis career and better opportunities, Naomi's parents again moved to Florida in 2006.
She started practicing on the Pembroke Pine public courts and later began working with Patrick Tauma at the ISP Academy once she turned 15.
However, training them was not easy for Leonard. Him being their daughter's coach meant Tamaki, Naomi's mother, had to handle the finance.
"My mum sacrificed a lot, We would go to tournaments and she would stay at home and work because someone had to pay for the flights and stuff. I'm very grateful for everything she's done and I can only hope that what I'm doing now can repay her in some way."
Naomi has often mentioned how her mother would get up at 4 AM and help her get the required funds for her tennis career. Because of their contributions and hardships, the young star now wants to give everything to her parents.
Naomi Osaka's Sister Mari
Inspired by the Williams sisters, Naomi's father also worked hard to make his daughters the best duo in the Tennis world. However, with multiple injuries and reset, Mari has somewhat fallen short on that.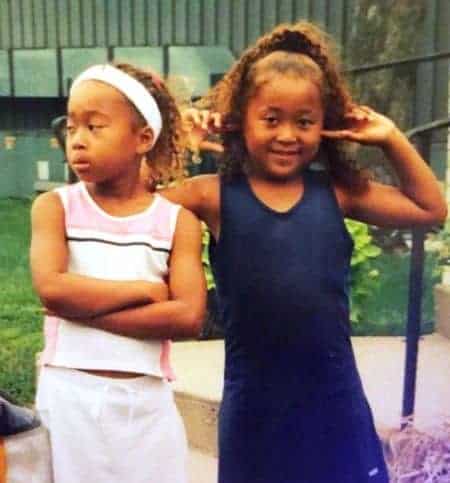 However, it was not the same when they were younger. The two sisters, especially Naomi, were very competitive and practiced hard to beat her older sister. Time and again, Mari took Tennis better than her and would emerge victorious on the court.
Talking about her time with Mari, Naomi told the New York Times,
"I don't remember liking to hit the ball. The main thing was that I wanted to beat my sister. For her, it wasn't a competition. Every day I'd say, "I'm going to beat you tomorrow."
As promised, after 12 long years, Naomi finally beat her sister, fair and square on the court.
Why Naomi and Mari Represent Japan Instead of the USA?
After the championship, many questions regarding Osaka and her origin emerged like wildfire. One of the significant issues was her representing Japan in international tournaments.
Likewise, this situation is not something that popped out of the blue but instead has been cultivating in the minds of Naomi's parents. Since her early Tennis days, Leonard and Tamaki decided that Naomi and Mari would represent Japan.
Simply put the girls are more connected to Japan than their father's home country, the United States. Since the two were born and raised in Japan, many of their relatives and friends are from there too.
Read about the sister of Naomi Osaka who is also a tennis player, Mari Osaka.
And more importantly, Tamaki and her parents have rekindled their relationship about a decade ago. When Naomi was 11, her parents took both sisters to meet their grandparents in Japan.
As expected, Naomi's grandparents accepted the family but remarked Tennis was more of a hobby than a profession. Nonetheless, the girls continued on their pursuit of becoming the best.
Lack of Support
Another major factor that helped set them the decision was the lack of support from the American side. Early on, the Tennis Association in the USA refused to help with Osaka's sister and their development.
If you are interested in buying a tennis racket, click here >>
Since the two young girls didn't have impressive rankings and failed to participate in tournaments, the association saw it as a waste to involve them. Little did they know, one of them would be the World Champion decade later.
After the setback, Naomi Osaka's parents decided then and there that the two would represent Japan. Talking about it to the New York Times, the 22-year-old Tennis player said,
"My dad thought that since I grew up around my mom and I have a lot of Japanese relatives… I don't know… I don't necessarily feel like I'm American. And I wouldn't know what that feels like."
Naomi made the headline after giving up her American citizenship to play for Japan in Tokyo's summer Olympics.
"I am Black and Asian"- Naomi Osaka
When talking about Naomi, questions regarding her ethnicity always creeps up. Many times, the two-times Grand Slam champion is asked to explain her ethnic background to people.
Unfortunately for them, Naomi is bold and proud when talking about her roots. "I am Black and Asian," said Osaka when one fan asked her about the player's ethnicity. Also, her nationality is Japanese.
Sam Mewis Age, Height, Sister, Wedding, Husband, Jersey, Position, Instagram >>
However, she used to hold dual citizenship of both Japan and the USA. But according to Japanese law, people need to choose between their Japanese citizenship and other passports when they turn 22.
Following the event, Osaka chose her Japanese citizenship in October of 2019. But she is also a Haitian. Moreover, Japanese people have become fond of this young athlete over the years.
Read about the sister of Naomi Osaka who is also a tennis player, Mari Osaka.
Despite that, Osaka is not fluent in Japanese. Once, she tweeted, "I can understand most Japanese, and I speak when I want to."