Wilfredo Leon is a Cuban-Polish professional volleyball player. He is a former team member of Cuba's national volleyball team and a current member of the Poland Volleyball Team.
Leon, known as the Cristiano Ronaldo of volleyball, decided to leave his native home country Cuba in 2013 and emigrate to Poland.
After moving to Poland, he got Polish citizenship six years later and debuted on Poland's national team.
Instantly he became a local hero. One of the Polish rappers released a song called "Only Gold," specially dedicated to Leon.
He is considered one of the top volleyball players worldwide and is even called the "Generation of Miracles" by many experts.
Born and raised in Santiago de Cuba, Leon started playing volleyball at seven. Leon was an active kid, always in full energy mode; thus, his parents stuck him toward volleyball to grind him down.
This article tells you all the facts about early life, career, immigration, personal life, and the net worth of the world's greatest volleyball player.
Quick Facts
But before that, let's have a look at some quick facts about Wilfredo.
Full Name
Wilfredo Leon Venero
Common Name
Wilfredo Leon
Date of Birth
July 31, 1993
Place of Birth
Santiago de Cuba, Cuba
Nickname
Leo
Religion
Christianity
Nationality
Cuban and Polish
Ethnicity
Black
Father's Name
Wilfredo Leon Hechavarria
Mother's Name
Alina Vanero Boza
Siblings
Unknown
High School
Escuela Nacional del Voleibol Cubano
University
Unknown
Zodiac Sign
Leo
Age
29 Years Old
Height
6 feet 8 inches (202 cm)
Weight
96 kg (212 lb)
Eye Color
Dark Brown
Hair Color
Black
Build
Athletic
Body Measurement
Unknown
Marital Status
Married in 2016
Girlfriend
Malgorzata Gronkowska Leon
Children
Daughter Natalia (born in 2017)
Residence
Poland
Profession
Professional Volleyball player
Position
Outside Hitter, Wing Spiker
Affiliations
Sir Safety Perugia
National Team

Cuba (2007-2012)
Poland (2019-present)

Idol When Growing Up
Cuban player Joel Despaigne
Awards and Achievements

2010 World Championship (Silver Medal)
NORCECA Championship (2009 & 2011)
Cuban Championship (2009,2010, 2011)
Russian Championship (2015, 2016, 2017, 2018)

Net Worth
$1.5 million
Residence
Warsaw, Poland
Endorsements
Zamst
Social Handle
Twitter, Instagram
Last Update
March, 2023
Wilfredo Leon: Early Life
Leon Venero was born in Santiago de Cuba, Cuba, on July 31, 1993. He is the son of Wilfredo Leon Hechavarria and Alina Vanero Boza. His mother, Alina, is a former volleyball player.
As for education, Leon attended Escuela Nacional del Voleibol Cubano in Cuba.
When Leo was small, his parents put him in a recreation program to keep him wandering and playing around the Santiago de Cuba streets.
He happened to play volleyball in the program, which came best for him. By eleven, Leon was already playing for the junior national team representing the team internationally.
When Leon reached the age of fourteen, he was already 6 feet 4 inches tall; thus, the coaches put him with the senior team for training.
Wilfredo Leon: Age, Weight, and Height
Leon is currently 29 years old, and his zodiac sign is Leo.
Leon, who stands 6 feet 8 inches high, looks like his knees are at the same level as the net bottom. He has maintained a fit, athletic body, weighing 96 kg.
Moreover, Wilfredo has an oval face, dark brown eyes, and black afro-style hair to talk about his physical appearance.
Earvin N' Gapeth Net Worth, Volleyball Career & Spike!
Why did Wilfredo leave Cuba?
Wilfredo is a long thread of Cuban volleyball players who have ditched their homeland for better opportunities in a professional career that can provide at least the basic life needs.
He wanted to be in a team that provides sufficient resources to train correctly without worrying about issues like leaking dormitory roofs.
Moreover, he needed an organization to provide reliable running water and proper medical treatment when injuries happen.
According to Wilfredo, when he was on Cuba's junior national team, eight among ten players left the team because of negligence and poor treatment, who were as good as him initially.
But Leon was hit with the reality once the junior national team went to Mexico to compete in a tournament. There he saw fancy restaurants and stores, good food and clothing.
Leo reflected he deserves a better life in return for all the hard work he pondered during that time.
In this way, the talented players who could one day in the future make an impressive Cuban National Team scattered around the globe.
Some of them are Yoandy Leal, who now plays for Brazil, and Osmany Juantorena and Angel Dennis on the Italy team.
New Life in Poland
In 2011, Wilfredo Leon gave an interview with a Polish journalist. The interview was held online, and Leon got an opportunity to talk to the same reporter a few more times.
Finally, Leon met the reporter face-to-face at the World League tournament in northern Poland.
The name of the reporter was Malgorzata Leon. Both Wilfredo and Malgorzata got an opportunity to spend four days together during the tournament, and a unique, respected bond developed between both.
Furthermore, the turning point for Wilfredo came after the 2012 World League Tournament, where Wilfredo helped Malgorzata's team, which was struggling. With the help of Leon, the team won a bronze medal.
In 2013, Wilfredo told Cuban officials he wanted to quit the national team and asked permission to move abroad.
Finally, in 2014 Leon got permission from the government. When Wilfredo Leon left Cuba in 2014, he earned multiple citizenship offers, including impressive money.
But, Leon chose Poland because he had a Polis girlfriend, Malgorzata Leon, who is now his wife and mother of his children.
He gave priority to his personal life rather than taking the opportunity as a business plan.
Wilfredo Leon: Professional Career
Leon started playing when he was just seven, and his first coach was his mom Alina Venero.
In Dusseldorf at fourteen years, he made his debut in the Cuban national team on May 24, 2008.
Wilfredo bagged the title of Best Receiver at World League 2009. In addition, on July 31, 2009, he earned the silver medal in the World U21 Championship.
In 2009, the Cuban national team where Leon was also a team member won NORCECA Champion alongside three individual awards.
Cuba won a silver medal against Brazil in the 2010 World Championship.
Soon at the age of just seventeen, Wilfredo became the youngest captain of the Cuban national team. In the 2012 World league-Sofia, Leon won the bronze medal.
In 2014, Leon joined the Russian club Zenit Kazan after leaving Cuba. He won several CEV Champions League, national leagues, and cups also.
Wilfredo also played for Qatar club Al Rayyan in 2015 and 2016 as a part-timer. In September 2018, he joined the Italian team, SIR Safety Perugia.
Once again, Leon experienced success with gold medals at the Coppa Italia and the Supercoppa Italia in 2019.
Wilfredo & Poland National Team
In 2019, Wilfredo Leon became qualified to play for Poland's national team. It was a moment of joy for Leon because finally, his adopted home welcomed him.
He got an opportunity to play for the country as a Black resident, where most of the population is filled with white residents.
Now, Wilfredo, his only goal is to bring a gold medal for Poland and build his legacy in the game he loves.
12 Most Handsome Volleyball Players in The World
Volleyball is the second most loved sport in Poland after soccer, and its craze is increasing day by day.
Meanwhile, Poland won the bronze medal at the 2019 Men's European Volleyball Championship, and Wilfredo was named one of the best outsider spikers among the two.
Again in the 2019 FIVB Volleyball men's World Cup, Poland won silver, and Wilfredo secured the status of the 'best player in the world in the game.
Wilfredo Leon: Playing Style
Leon is blessed with the ability to use his jump serve as an attacking weapon.
His serving was so influential in the first Olympic match that it knocked down the opponents defending it to the floor.
He lies down one moment and suddenly attacks from the back or side by flying to finish off a point.
Leon has powerful attacks and serves, which surprise opponents. For example, in a game against Canada in Tokyo Olympics, Wilfredo achieved 78 miles per hour in one case, making him the best server.
Wilfredo Leon: Wife and Children
While Leon was living in Poland, he met Malgorzata Gronkowska and fell in love with her.
On June 24, 2016, he married Malgorzata, and the couple was blessed with a daughter Natalia in May 2017.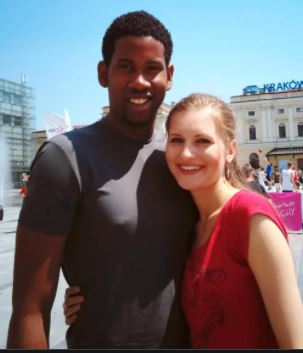 One of the main reasons Wilfredo decided to leave Cuba was to be with his wife.
Wilfredo Leon: Net Worth
According to some sources, Wilfredo's net worth is estimated to be around $10 million. Also, there is news of him receiving a salary of over $1 million a year when he played at Zenit Kazan.
His name falls on the list of the highest-paid volleyball players. The primary source of income for the volleyball player comes from matches and tournaments.
Whereas investments and brand endorsements also add some portion to the net worth.
Wilfredo Leon: Social Media Presence
Leon is active on social media platforms like Instagram and Twitter.
Sadly, Wilfredo is not much active on Twitter, but on Instagram, he shares pictures of practices, family and friends, and memorable events of his life.
On Instagram, Wilfredo has over 228k followers.
Harpel Hempel Volleyball Career & Net Worth.
Frequently Asked Questions (FAQs)
How many languages can Wilfredo Leon speak?
Wilfredo can speak Polish, Spanish, Italian, English, and Russian. Since he is a Cuban native who later moved to Poland and played for Russian and Italian teams, he knows all these languages.
What is the serve speed of Wilfredo Leon?
Currently, Leon holds the world record of 138 km/h serve speed.