With a few years of experience on the NFL field, Will Hernandez has not been a household name but is indeed a name that most know about. From his rookie days, he has been one of the top athletes in his game.
At present, he plays as the football guard for the Arizona Cardinals. He is a man of virtue and often looks forward to turning his hurdles into a positive outcome in his games. Not to mention, he always finds ways to make a different path for his works.
This article will look forward to discussing Will Hernandez's lifestyle, career, and life decisions. However, before the discussion, let us first get through a quick dose of general facts.
Quick Facts
Full Name
William "Will" Hernandez
Date of Birth
September 2, 1995
Birth Place
Las Vegas, Nevada
Nick Name
Will
Religion
Unknown
Nationality
American
Ethnicity
Unknown
Zodiac Sign
Virgo
Age
26 Years Old (As of July 2022)
Height
6 feet 2 inches (1.88 meters)
Weight
335 lb (152 kg)
Hair Color
Black
Eye Color
Black
Build
Athletic
Father's Name
Robert Hernandez
Mother's Name
Angelica Lemus
Siblings
A younger sister named Kathy Hernandez
Education
Chaparral High School
University of Texas at El Paso (UTEP)
Marital Status
Unmarried
Girlfriend
None
Kids
None
Profession
Football player
Position
Guard
Affiliations

New York Giants
Arizona Cardinals

NFL Draft
2018 / Round: 2 / Pick: 34
Roster Status
Active
Net Worth
$6 million
Social Media
Instagram, Twitter
Last Update
July 2022
Body Measurements
Will Hernandez depicts a massive muscle build with a towering body structure. He stands tall at 6 feet 2 inches (1.88 meters) while weighing 335 lb (152 kg). Likewise, he depicts a hand size of 32 inches and an arm's length of 9 7/8 inches.
As for his appearance, Will has a tan skin tone with well-trimmed hair and a jet black beard. Moving on, he has eyes that match his hair color.
Additionally, Will has several tattoos on his hands and other body parts. He has 3/4 of the right sleeve tattooed with Aztec and Mayan art representing his origin. Not to mention, this tattoo is also one of his motivating factors. Altogether, Will stated to have spent $3000 for his tattoo alone.
J.J. Watt embodies the ideal gentleman. Since his first draft, the top NFL player of 2015 has played for the Houston Texans. Here's everything you need to know about him>>
Will Hernandez | Early Life
Hernandez (fully named William "Will" Hernandez) was born on September 2, 1995, under the star sign Virgo. He is one of the two children of Angelica Lemus and Robert Hernandez, held in Las Vegas, Nevada.
According to the sources, he grew up in a struggling household, and his parents worked hard to make ends meet. His family moved from Mexico to Las Vegas before Will was born.
Talking about his father, Robert Hernandez used to be professional soccer in Mexico, and hence, it did influence his life. Due to this, Will also commenced playing soccer until 8th grade, when he found the game of football.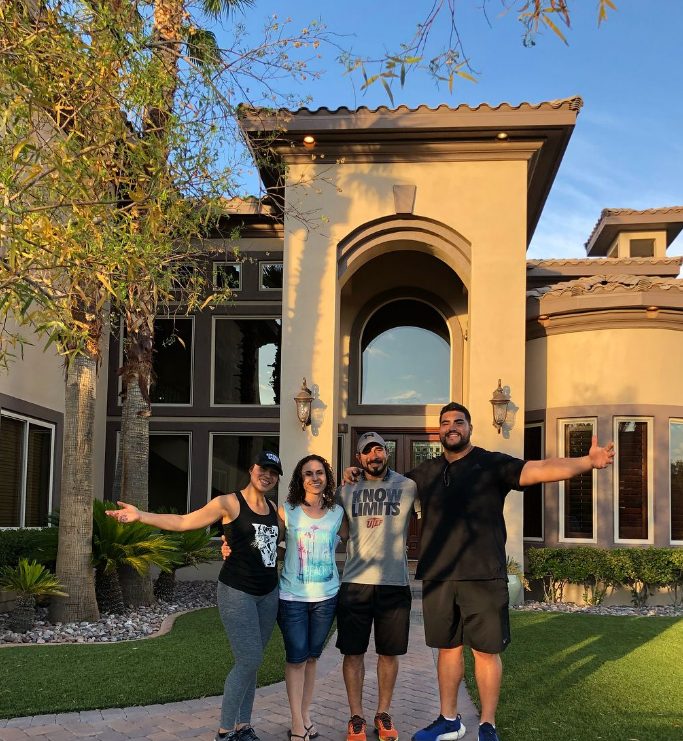 However, not much is known about what his mother and sister do. Well, his sister's name is Kathy Hernandez. In the day, Will's family was initially hit with a financial crisis that forced them to move out of their home and into a tiny storage unit.
When they moved to the unit, it consisted of one bedroom with two beds, one living room, and a kitchen for four people. The family stayed on the team for two years before finally moving back to their old house.
Education
For his early education, Will Hernandez attended Chaparral High School in Las Vegas, Nevada. During his high school days, he discovered his dream of the NFL.
It was also when Will's family had to move out of their home to live in a shed they bought from Home Depot. However, the tragedy does not stop here, as right then, Will also had a drop in his grades.
Hence, he started to drop out of high school and then dedicated himself to helping his Dad with the construction company. During his tenure, he took several job responsibilities that included shoveling cement and hauling concrete blocks.
However, after seeing his condition, Will's coaches from high school convinced him to get back to school. After the coaches had seen his potential, Will returned to the field and started dedicating his time to upgrading his grade.
Following his high school graduation, Will enrolled at the University of Texas at El Paso (UTEP).
Will Hernandez | Career
During his collegiate years, Will Hernandez played for the UTEP team, where he first stood as the redshirt player in the first season. After coming out of college, Will joined the 2018 NFL Draft.
The NFL Arena
The New York Giants then drafted him as the 34th overall pick in the second round. Right after, he signed a four-year deal with the team and was named the Giants starting left guard.
During his tenure with the Giants, Will fell into the reserve list due to COVID-19; hence, when he came after his tenure, he stood as a backup for the remainder of the season. Later, in March 2022, Will came to sign a year contract with the Arizona Cardinals.
"If you look at my life back then and where I am now, it's completely night and day. I did go through a lot. A lot of it, I can't complain too much about it because it made me the person I am and shaped me into the player I am. And honestly, I think if I wouldn't go through all that, I don't know if I'd be here."
– Will Hernandez
Injury
Fortunately, Will Hernandez does not have many injuries during his professional tenure. However, in October 2020, Will struggled with novel coronavirus when he tested positive for it.
Hence, he returned from the reserved list in November of the same year. Indeed, Will made a healthy return but remained a backup for the remainder of the season as Shane Lemieux took his position.
As for his recent injury, Will faced an ankle injury in Week 5 with the Arizona Cardinals.
Career Highlights
Second-team All-American (2017)
PFWA All-Rookie Team (2018)
First Team All C-USA (2017)
Famous NFL defensive lineman Derrick Brown plays for the Carolina Panthers. He is regarded as one of the top draft picks and possibly the best defensive lineman. Learn about him here>>
Will Hernandez | Net Worth
As per the sources, Will Hernandez maintains a net worth of $6 million. Talking about his contract, his four-year deal with the New York Giants was worth $7.45 million. The agreement then included $5.08 million guaranteed and a signing bonus of $3.49 million.
As for his recent one-year contract with the Arizona Cardinals, Will earns an annual average salary of $1,047,500 with a fully guaranteed $1,047,500.
Breakdown OF His First Earning
With his initial contract with the New York Giants, Will Hernandez made a whopping $7.45 million. Before NFL, he would work in El Paso, where he made $10 per hour.
"I woke up, checked my account, and boom. I have seen maybe one comma throughout my whole college career, and I wake up and have two in there. Yes, I jumped out of bed. I was excited."
-Will Hernandez
As he got his money, his mother urged him to save it, but he had already decided how to use it. First and foremost, he bought a house in Las Vegas, Nevada, that he showed his parents as a surprise.
Initially, he asked his parents to drive with him after stating that he wanted their involvement in a financial planning meeting, and they agreed. Well, he took them blindfolded and then presented them with a surprise.
After the house, he spent about $4,500 for each bidet he installed. He also bought himself a GT-R R35 car at $115000. The car was originally white, but he wrapped it and made it black.
Likewise, he had another truck for his father, Chevy Silverado 2018, for $68,000 and a 0.5 Mustang Convertible for $45,000 for his sister. Altogether, his whole family took a trip to Hawaii that cost him $12,000.
Some of his other purchase includes a Batman statue for $3k, suits and clothes for $20,000, sushi for $3k, and an infinity gauntlet for $1k. Moving on, he spent $20,000 on his living room setup that included PS4, XBOX, 70-inch Tv, and a massage chair.
Charity
His earnings also went to charity when he invested in El Paso Youth Foundation and El Paso Community Foundation. Hence, he donated to help the affected families.
Will Hernandez | Personal Life
At present, Will Hernandez is currently single. He is not involved in any romantic relationship with anyone or dating. He has not been linked with any affairs and dates before.
Social Media
If you are interested in following Will Hernandez's posts and uploads, check out his social media site.
He is on Instagram as Will Hernandez (@willhernandez71) with 57.8k followers. Similarly, he is also on Twitter as Will Hernandez (@willhernandez76), with 18.2k followers.
One of the few players who could alter the course of a game was Anthony Carter. He was a wide receiver who caught impossible balls with lightning speed. Click here to learn about him>>
Will Hernandez | FAQs
Which jersey number does Will Hernandez wear? How many games has he played to date?
Will Hernandez wears jersey number 76 for the Arizona Cardinals. To date, he has played 62 games and started 56 of them.