Willie Green has appeared in the NBA playoffs seven times in his 12-year career. He thrived as a second-round draft pick who saw starter minutes on some nights and never left the bench on others for a dozen years.
He blazed a trail that everyone in the NBA admires. Willie's NBA career came to an end after a season with the Orlando Magic in 2014-15.
He had played a total of 731 games. When he was asked to try out for teams at the age of 34 against much younger players in the summer of 2015, he knew his time was up.
Willie has led the Suns' summer league team and helped guide Phoenix to the top of most defensive metrics, despite most everyone complimenting his ability to develop and strengthen relationships.
Green's next task is to lead the New Orleans Pelicans to the NBA's top spot. He has the championship ring to knock on the table thanks to his time with Golden State, but the athlete was hired in part to add a more calming, considerate touch to the lead chair.
Quick Facts
Full Name
Willie Julius Green
Known As
Willie Green
Nickname
Not Available
Birth Date
July 28, 1981
Birth Place
Detroit, Michigan
Residence
Not Available
Religion
Christianity
Nationality
American
Ethnicity
African American
Education
Cooley (Detroit, Michigan) and Detroit Mercy (1999–2003)
Zodiac Sign
Leo
Father's Name
Willie Green Sr.
Mother's Name
Not Available
Siblings
Tamara Green (sister)
Age
41 years old
Height
6'3″
Weight
227 lb (203 kg)
Eye Color
Brown
Hair Color
Black
Body Type
Athletic
Profession
Basketball Coach
Marital Status
Married
Wife
Terrah Green
Children
Ross, Aaliyah, and Mason
Active since
2003–present
Teams

Philadelphia 76ers
New Orleans Hornets
Atlanta Hawks
Los Angeles Clippers
Orlando Magic

Achievements

Horizon League Player of the Year (2003)
First-team All-Horizon League (2003)
Second-team All-Horizon League (2001)
No. 34 retired by Detroit Mercy Titans

Endorsements
Not Available
Net Worth
$1.5 million
NBA Draft Pick
2003, Round: 2, Pick: 41st overall
League
NBA
Merch
Basketball Card
Social Media
Twitter
Last Update
June 2023
Early Life
Willie Green's support system included his loving parents, aunts, uncles, cousins, coaches, and fellow parishioners at the family's church, Greater Grace Temple when he was growing up in Detroit.
He is the son of Willie Green Sr. As a kid, Green didn't require much encouragement. He was always the first one out the door for school.
Moreover, he was always the first basketball player to request that he stay late in the gym to take extra shots.
He kept a sort of diary as a child in which he listed his long-term objectives. Among his ambitions were to become a great high school basketball player, earn a college scholarship, and make it to the NBA.
Willie Green, a Detroit native, was a part of four winning seasons between 1999 and 2003, including two 20-win seasons and two postseason appearances.
Green helped Detroit Mercy advance to the NIT semifinals as a sophomore, as the Red, White, and Blue defeated Bradley, Connecticut, and Dayton all on the road.
The Titans made their way to Madison Square Garden in New York City. They finished the season with 25 wins, tying a school record, and returned the following season with 18 wins to qualify for the NIT.
Willie is still fourth all-time in scoring with 1,779 points, including 678 as a senior, ranking ninth in Titan history.
After he averaged a league-best 22.6 points per game as a senior, he was named the Horizon League Player of the Year, an AP Honorable Mention All-American, and the 12th highest in school history.
Junior Season
As a freshman, Green was named to the Horizon League All-Newcomer Team, and as a junior, he was named to the Second Team All-League.
He improved each season as a Titan, going from 8.4 points as a freshman to 13.2 points as a sophomore, 13.7 points as a junior, and 22.6 points as a senior.
The basketball player led the team in scoring in 24 of the team's 30 games as a senior, with 20-point games, five 30-point games, and two 40-point games, including a career-high 43 points at UIC, the sixth most in school history.
Age, Height & Weight
Willie Green is a basketball player who was born on July 28, 1981. He is now 41 years old.
The NBA coach is also 6'3″ tall and weighs around 103 kilograms. He is of African-American ancestry and holds American citizenship.
Green was born under the zodiac sign of Leo.
You might like Sim Bhullar Bio: Career, Awards & Net Worth>>
NBA Draft
Green graduated from Cooley High School in 1999, and after a college career at the University of Detroit Mercy, he was drafted in the second round (41st overall) of the 2003 NBA draft by the Seattle SuperSonics.
He was dealt with the Philadelphia 76ers in exchange for Paccelis Morlende's draft rights and cash on the same day.
Green was set to re-sign with the Sixers in the 2005 offseason, but he was injured on the day of the contract signing, putting the deal in jeopardy.
Carrer High
On March 23, 2006, Willie officially re-signed with the Sixers, and on April 4, 2006, he was activated and played 11 minutes in a loss to the Cleveland Cavaliers, scoring 9 points on 4-for-6 shooting.
Green scored a career-high 37 points against the Toronto Raptors on April 4, 2007, in the Sixers' final game of the 2006–07 season.
He defeated Rodney Carney for the starting shooting guard position with the Sixers.
Green set career highs in games played (74, all as a starter), minutes played (26.6), rebounds (2.5), field goal percentage (.436), assists (2.0), and points (12.4) during the 2007–08 NBA season.
NBA Teams
On September 23, 2010, Green was traded to New Orleans along with forwarding Jason Smith for rookie forward Craig Brackins and forward Darius Songaila.
Green joined the Atlanta Hawks on December 22, 2011. He was signed and traded to the Los Angeles Clippers on July 30, 2012, in exchange for the rights to Sofoklis Schortsanitis.
The Clippers waived him on June 29, 2014. He was claimed off waivers by the Orlando Magic on June 30, 2014.
Get on Anthony Tolliver Bio: Career & Net Worth>>
Willie Green intended to take a vacation and relax after signing a lucrative contract with the Philadelphia 76ers over a decade ago. Green hurt his left knee, and the $20 million, six-year deal he was about to sign was suddenly jeopardized.
According to Sixers coach Maurice Cheeks, he was effective in the series opener because he blended his game with the team's offensive plans.
He returned home and scored a career-high 17 points in Game 1 of their first-round series against the second-seeded Detroit Pistons, turning an unfortunate tale into a happy ending.
Green got his knee back in shape at his alma mater, Detroit Mercy, and was able to sign a prorated deal to play ten games in the 2005-06 season.
Green's Inspiration
A former Eastern Michigan University basketball player, Gary Green taught the game to his nephew Willie and many other Detroit children.
By opening a cafeteria/small basketball gym at Greater Grace Temple Church at night, he coached and mentored countless Black Detroit boys and kept them off the streets.
When it was time to leave, Gary Green crammed up to 16 kids into an old church van and drove them home if needed. He worked the night shift as a Wayne County, Michigan, sheriff's deputy after dropping off the last child.
Gary Green coached his nephew on his AAU teams and as his head coach during his senior year at Cooley High School in Detroit.
Gary Green remained his biggest supporter, mentor, and confidant throughout Willie's NBA career. Green's uncle kept telling him that as his playing days dwindled, he would have a bigger impact when he retired.
According to Kerr, Green also showed promise as a coach while in the NBA. During the pandemic, Green died of a heart attack at the age of 64 while attending a drive-by college graduation party for his niece, Precious, at Eastern Michigan University.
Sister's Death
Willie Green's sister or cousin died in a car accident after a Hornets-Pistons game in 2019. At around 12:40 a.m., Troy police responded to a call.
On southbound I-75 near Adams Road, they discovered a 2008 GMC Envoy that had run off the road, hit several trees, and rolled down an embankment.
Officials believed Gary Benjamin Green, 27, a fellow UD Mercy graduate, was thrown from the driver's seat while Tamara Lynette Green, 30, was trapped inside.
Green's sister and cousin went to a restaurant following the Hornets' overtime loss. Green had left for another game in Indianapolis before learning of the accident, forcing the Cooley High alum to return home under difficult circumstances.
Willie Green: Wife
Willie Green is married to his beautiful wife, Terrah Green. The couple has three children together named Ross, Aliyah, and Mason.
Terrah Green is the only person who knows Willie Green very well. She is familiar with the calm, thoughtful, and other adjectives that are frequently used to describe her husband.
Willie Green's super-competitive side, which he displays regardless of the game he's playing or the competition he's up against, is also well-known to her, even if it's just a game of golf with Mason, their 9-year-old son.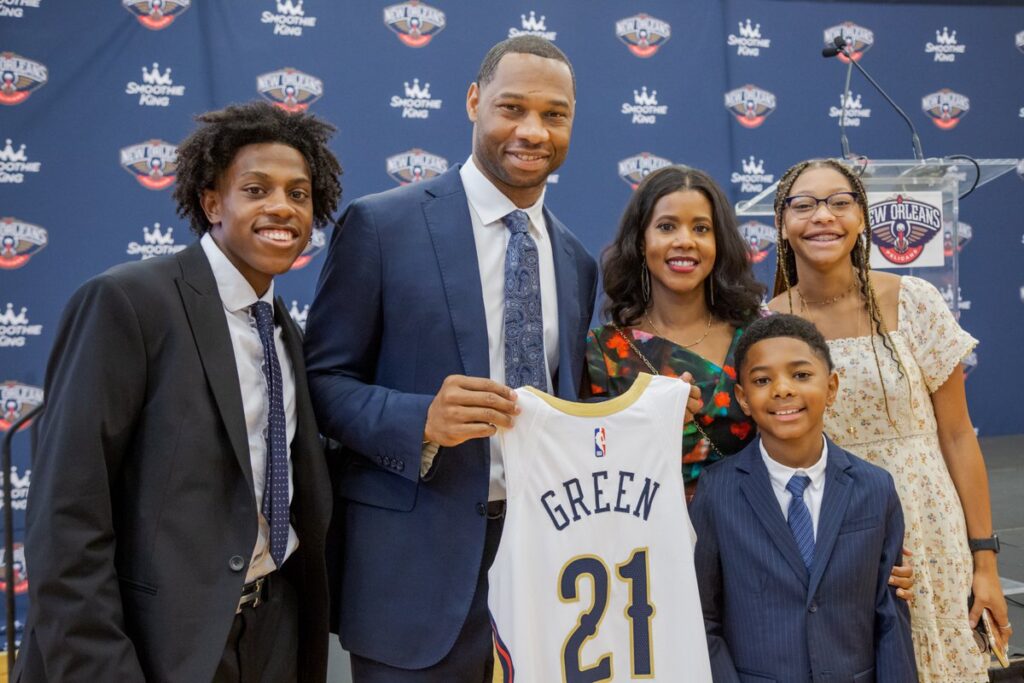 Green's wife literally nudged him to throw his hat into the coaching ring as the 2015-16 NBA season came to a close without him in it.
Green was approached by the Warriors, Clippers, and Denver Nuggets about becoming an assistant coach. In the end, his connection with Kerr brought him to Golden State.
Willie Green: Net Worth
Willie Green has accumulated a staggering wealth from his decade-long career in basketball. According to different sources, the former NBA player has an estimated net worth of $1.5 million.
Willie's primary source of income is mainly his coaching career. As a coach of NBA players, he certainly earns a massive amount.
Green agreed to a five-year, $17 million contract with the Sixers. The wait was well worth it for a player who earned around $600,000 in his second season in the league, averaging 7.7 points per game.
Green's contract was put on hold when the Sixers announced the signings of teammates Samuel Dalembert and Kyle Korver, who were restricted free agents like Green in 2005.
Don't miss out on Tyrus Thomas – Net Worth, Contract, Trade, Draft & Wife>>
Green's only season in the Crescent City was the 2010-11 season, which was also his first as an NBA head coach.
Green signed as a free agent with Atlanta after a tumultuous 2011 offseason that saw Chris Paul traded to the Clippers.
Before Williams was transferred and eventually retired from the game, Williams and Green were teammates with Philadelphia at the beginning of the 2003-04 season.
Coaching
After finishing his NBA career with 52 games for Orlando in 2014-15, Green joined Golden State as an assistant coach in 2016-17 and went on to win two back-to-back championships with the Warriors (also reaching the NBA Finals in 2019).
In 2019-20, he joined the Phoenix and Williams coaching staff. Green has appeared in the league's championship round 4 out of the last 5 seasons after the Suns qualified for the Finals.
Green is the eighth head coach in the history of the New Orleans Saints but the first to have also played for the team.
Willie was named head coach of the New Orleans Pelicans on July 22, 2021. Since Griffin took over the front office about two seasons ago, Green is the Pelicans' third coach.
Willie Green Connection with NBA Players
Green started calling players soon after the NBA Finals ended. In addition, he quickly connected with stars like Williamson and Ingram, as well as role players like Garrett Temple.
Ingram claims that he and Green, who is similarly laid-back, have great basketball conversations regularly.
The Pelicans have had a difficult start to the season, but Ingram believes they are in a better mindset now that they have a new coach.
"We've made a good connection," Ingram said.
The NBA was chastised a year ago for its lack of African American head coaches in an 85 percent black league. Thirteen of the NBA's thirty head coaches are now African Americans.
Temple stated that he was "excited that a young, Black former player had a chance," which influenced his visit to New Orleans.
Social Media Presence
FAQs
Is Willie Green a good coach?
In Phoenix, Green has a good mix of young and veteran players, and they love his communicative coaching style. Green has worked under "players" coaches like Steve Kerr and Monty Williams, who know how to get the most out of their players.